Travel Guide to Barbados – How, Where & Frequently Asked Questions
The island is a famous tourist destination, and it welcomes millions of visitors every year. To know more, take a look at our travel guide to Barbados!
Located in the Atlantic Ocean, 100 miles (161 km) due east of St. Lucia, the island of Barbados stands apart from its neighbors in the Lesser Antilles archipelago, the chain of islands. It stretches in a graceful arc from the Virgin Islands to Trinidad. Barbados is a sophisticated tropical island with a rich history, lodgings to suit every taste and pocketbook, and plenty to pique your interest both day and night. The island of Barbados that is situated on the eastern Caribbean Sea is an independent island nation within the British Commonwealth. Locals are crazy for afternoon tea, cricket (which is also their national sport), golfing and scuba diving.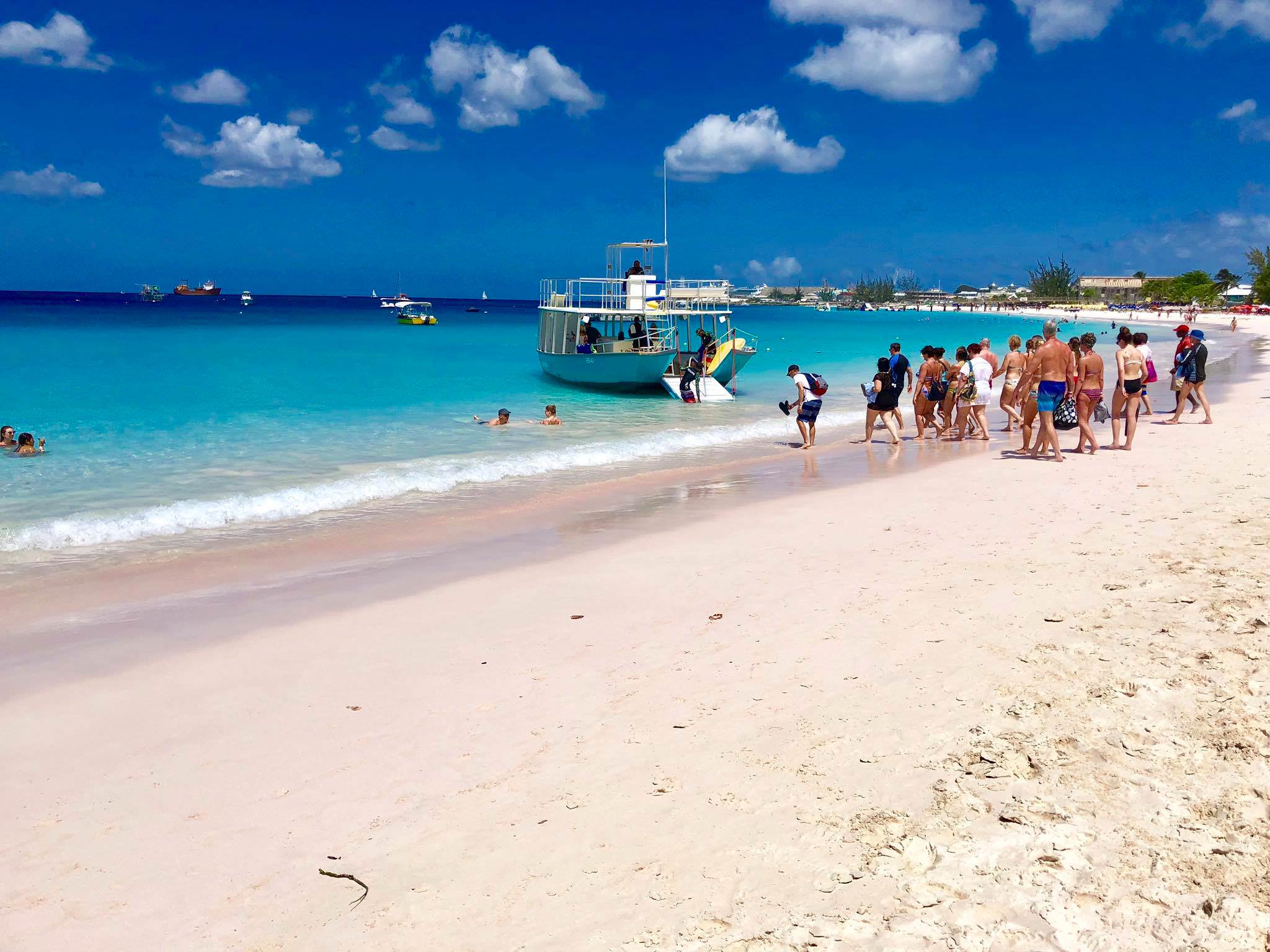 The island of Barbados is such a wonderful and beautiful Island. Even though Barbados is especially known for its fantastic beaches, its warm climate, and polite friendly locals, the country is also a very scenic island. As the country is very small, the island is approximately only 14 miles by 21 miles. This gives a great advantage to being able to explore it. The island of Barbados is a green and luscious island full of vegetation as well as the sugar cane fields. The country is also made up of hills and valleys as well as the low calm clear beaches of the Caribbean Sea and the rugged cliffs and shoreline of the Atlantic Ocean.
Questions and Answers about Barbados
Where is Barbados?
If you've got a map of the world or a world atlas, take a look at South America. Right at the tip of South America, pretty much in the center, is Venezuela. And off the north coast of Venezuela is the island of Trinidad. Trinidad and its tiny neighbor, Tobago, are the southernmost of the Caribbean Islands. A little further north of them and to the east you will see the small island of Barbados that is the easternmost of the Caribbean islands. Closest islands to Barbados are St Vincent and the Grenadines, great to cruise to by yacht if you are on vacation in Barbados.
Is it safe to travel to Barbados?
The island of Barbados is generally a safe place to travel. Like in most places, crime and drugs are present in the country. Tourists, though, are not usually victims of violent crime and generally enjoy better security than local residents. However, there have been incidents of crime including armed robbery and sexual assault. Females should travel in groups and avoid walking home alone at night. Gap is one place where you can expect a hassle. Several reports indicate that at night, this restaurant/bar/nightclub strip tends to attract hustlers who may offer you illegal drugs and beggars who may pester you for money. Few reports also mention that some areas of The Gap are a bit run down, not well lit at night, and may not be family-friendly.
How to Change Money in Barbados?
Barbadian dollar is the local currency of Barbados. Tourists can use US dollars everywhere in Barbados but they'll get their change in Barbados dollars. The majority of the places also accept credit or debit cards, although there may be a small charge for using credit cards. Travelers can bring your dollars and sterling to change at the banks in Barbados, or they can withdraw cash at one of the many ATMs on the island which tend to offer better rates than most currency exchanges (do check with your own bank regarding what charges they apply).
What is Unique about Barbados?
As a matter of fact, it is not prominent anymore; however, a long time ago people would travel from all over the world to come to Barbados for its healing properties. The individual seeking healing would be cover from the neck down in the sands of Cattlewash Beach in St. Andrew. This unique sand treatment was believed to cure a wide variety of illnesses. However, with the passage of time, the popularity of this treatment waned.
The island of Barbados exports $57 million worth of rum across the world every year. The country is known as the land of the flying fish, no coincidentally, half of the nation's national dish is also flying fish (the other half is cou-cou). In Barbados, there is a Lord Nelson statue in Bridgetown's Trafalgar Square that was erected in 1813, which predates the Lord Nelson statue found in London, England. The island of Barbados is completely surrounded by the Atlantic Ocean.
What is the culture of Barbados?
Local culture emerged out of the plantation slavery economy as a distinctive synthesis of West African and English cultural traditions. This mixture of cultural influences makes the learning of Barbados a fascinating and unique melting pot. Race, regional, and class cultural variants exist, but all locals identify with the national culture. In line with the historical significance of the sugar cane crop, the major annual cultural festival of the island is called Crop Over that signifies the end of the sugar cane crop harvest. In the lead up to the Grand Kadooment Day finale parade, the festival features numerous calypso and soca music competitions amongst other events and cultural activities, all of which have historical ties back to the original African slaves.
What is the Geography of Barbados?
The country is the most easterly in the Caribbean chain of islands (Lesser Antilles). Barbados' splendid isolated location is at Latitude 13 10 N and Longitude 59 32 W. Measuring 23km (14 miles) at its widest point, 34km (21 miles) long and a mere area of 430 square km (166 sq miles). The highest point is 1,100ft (336m) above sea level at Mount Hillaby in St Andrew and the lowest in the Atlantic Ocean (0 m). The population of Barbados is approximately 280,946 (2007) and growing.
How to travel to Barbados?
If you are planning to travel to Barbados, here are some of the airlines that will take you to Barbados from these countries.
London: TUI, Thomas Cook Airlines, British Airways, Air Canada, Virgin Atlantic, and American Airlines offer flights from London to Barbados.
USA: American Airlines, Caribbean Airlines, Jet Blue, US Airways, Air Canada, and West Jet offer flights from the USA to Barbados.
Dubai: Air Canada, Virgin Atlantic, and American Airlines offer flights from Dubai to Barbados.
Singapore: Air Canada, British Airways, and Virgin Atlantic offer flights from Singapore to Barbados.
How to travel in Barbados-Transport in Barbados
Air Travel: When flying to Barbados, passengers will arrive at the Grantley Adams International Airport on the south side of the island. About 20 flights arrive in Barbados on a daily basis.
Taxis: Taxis are easy to find at all major international entrances and hotels, enabling visitors to take advantage of a government-monitored flat rate system.
Public buses: Public buses are a good transportation choice for visitors on a budget and those eager to experience the customs and hospitality of the local people.
Bikes and Mopeds: Bikes and mopeds are also widely available and are a perfect option for a day trip through the scenic countryside.
Private transfers: A rental car is the most convenient way to locate on Barbados.
What's the food like in Barbados?
Bajan food and drinks make culinary arts in Barbados truly stand out. An amalgamation of a strong Indian, English and African influence fused with the availability of freshly grown local produce has added further impact to what we now know as our very own Bajan food and drinks. If tourists want to eat like a local then ask for the staple food of 'Bakes', which is also known as survival food. It is made up of just three ingredients – sugar, water and flour, and other staple ingredients of the local cuisine include rice, vegetables, chicken and fish.
What is the weather like in Barbados?
The country's weather is generally warm and sunny all year round with an average daytime high of 30°C / 86°F. As a matter of fact, the island of Barbados has over 3,000 hours of sunshine each year! The prevailing northeast trade winds blow steadily so that although it is bright and sunny, it is not unbearably hot. In Barbados, nights are usually slightly cooler. The rainfall typically comes in quick showers while the dry season lasts from January to June.
Important things to pack for a trip to Barbados
Clothing: Bring natural fabrics, like cotton, t-shirts, tanks, shorts, and khakis. Never forget to pack your swimsuit,
Shoes: Athletic shoes and hiking boots will provide you with the most support on long walks.
Toiletries: Bring toiletry bag (and ziplock bag per TSA regulations for any liquids/soaps).
Health kit: It is always advised to bring first aid kit and essential medicines with you.
10 Amazing places to see and things to do in Barbados
1. Touring Downtown Bridgetown
Bridgetown, the nation's capital, is home to a wealth of attractions, but it's also simply a beautiful place to wander around.
Suggested Tour: Bridgetown Walking Tour in Barbados
2. The Beaches of Carlisle Bay Trip
One of the most "Intagrammable" destinations in Barbados is Carlisle Bay. Its gorgeous blond beaches and long stretches of clear turquoise waters make this one of the most visited areas to dive in the sea or set up a beach chair.
Suggested Tour: Barbados Shore Excursion: Carlisle Bay Turtle and Shipwreck Adventure
3. Explore Animal Flower Cave
At the northern tip of Barbados, the Animal Flower Cave is one of the must-visit, not just for the cave, but for the magnificent views. A short stair takes you down into this unique cave. Large natural openings offer views of the ocean outside. These openings also provide light and will remove the claustrophobic feeling that is often found in dark caves.
Suggested Tour: Animal Flower Cave Shore Excursion
4. Bathsheba Bay Trip
Bathsheba Bay offers a wonderful glimpse of the ocean. The beach here is popular with surfers and not a place for swimming. These rocks are created by the remains of the earliest coral reefs.
Suggested Tour: Half-Day Barbados Tour: Harrison's Cave, Hunte's Gardens and Bathsheba
5. Barbados Wildlife Reserve
Barbados Wildlife Reserve is a great place to see and enjoy some of Barbados' most notable creatures, including the island's famous green monkeys.
Suggested Tour: Barbados Harrison's Cave & Wild Life Reserve
6. Friday Fish Fry at Oistins
If you're wondering what to do in Barbados at night, Oistins' Friday Fish Fry is the answer. Every Friday night, you can try locally caught fish fresh off the grill. Several vendors set up here and offer a full range of fish and side dishes. Furthermore, locals and tourists come to enjoy the food and atmosphere.
Suggested Tour: Oistin's Fish Fry and The Barbados Rumshop Tour
7. Enjoy Crane Beach
Crane Beach is a beautiful soft-sand beach tucked in a cove on the Atlantic coast, surrounded by high natural walls. The white sand, tinged with a hint of pink, looks out over blue and turquoise waters, while offshore waves break on the reef.
Suggested Tour: Barbados 360 Full-Day Island Tour
8. St. Lawrence Gap
St. Lawrence Gap, about 20 minutes from Bridgetown on the south coast, is a colorful 1.3-kilometer section of the street. It's known for its restaurants and shops.
Suggested Tour: St Lawrence Dinner and Cocktail Tour
9. Farley Hill National Park
Like an undiscovered Mayan ruin in the jungle, the remains of the great house on Farley Hill are overgrown with trees and vines. It creates a scene perhaps more dramatic than when the hall was in its full glory.
10. Harrison's Cave
Harrison's Cave is a huge underground stream system. Its world-class beauty is unique in all of Barbados. Inside, you can find magnificent caverns and crystallized formations. Upon touring, you'll be placed on a tram as you are taken through some awesome caves and a guide will teach you about the history of the caves and how they are formed. The tour itself is very educational and enjoyable. Never miss this one out!
Suggested Tour: Harrison's Cave Signature Tram Tour
Final thoughts on Barbados
Barbados is a unique and fascinating small island. It's only 166 square miles, full of rich history, oddities, and wonderful heritage, that we take a special delight and enthusiasm in sharing with you through our hiking and walking tours, scenic bus tours, and fishing trips. We "show and tell", so that the seemingly "take for granted objects", take on a fuller meaning within the Barbadian context. In this way, the web of life, and interrelationship is developed in your mind and a resultant higher appreciation for Barbados.

Are you on Pinterest? Pin these!