10 Things To Do in Russia [Best Places to Visit in Russia]
Russian vodka, anyone? It's debated whether this hard drink came from the Polish or the Russians, but there's no doubt that it has long been associated with the latter. Even the word vodka itself came from the word "Voda" which means water in Russian.
Aside from the famous clear liquor, another thing that made Russia a household name was the USSR or most often called the Soviet Union. During its peak, the Union spanned from Russia to Azerbaijan and Tajikistan. Even after its fall, Russia remains to be the biggest country in the world up to this day, with centuries worth of stories that need to be shared, from the imperial times up to the modern and powerful force that it is right now.
Key Cities in Russia
Moscow – This city is the country's capital and also the most popular destination among tourists. Moscow is home to almost 12 million residents and also to its rich artistic and cultural heritage which leaves most of its visitors in awe. One of this city's pride is its ballet performances, one of the things the whole country is most known for.
St. Petersburg – Also known as Leningrad, Russia's second-largest city held a very important role in the country's history as the former capital of Imperial Russia. This was where the tsars and tsarinas once held court before they were ousted by revolutionists in 1918. As Imperial Russia's capital, this city is filled with grand palaces and majestic cathedrals that will instantly bring you back to the time of the monarch.
Yekaterinburg – Here's another city in Russia that played a huge part in history. In particular, the Ipatiev House where the last Tsar and his whole family were executed by the revolutionaries is situated here. This is also where Boris Yeltsin, the first president of the Russian Federation rose to power.
Sochi – This city made its name to the news in recent times by being the venue of the 2014 Winter Olympics and the 2018 FIFA World Cup. It lies by the Black Sea and is a famous summer destination for Russians because of its subtropical climate and beautiful beaches.
Vladivostok – Russia's key city in the east and is the center of the Far Eastern Federal District is the final destination of the Trans-Siberian Railway. Vladivostok is the primary port of the country in the Pacific and is the bordering town to North Korea and China.
What You Should Do in Russia
1. Watch a ballet performance
View this post on Instagram
Russia might be one of the leading countries in the world when it comes to the art of ballet dancing. And as such, it should be included on your list as one of the things you should try when in the country.
Bolshoi Theatre is the famous theatre in Moscow where you can score passes to shows like The Nutcracker and Swan Lake. However, you need to be quick with getting your tickets as there are lots of resellers clamoring for those as well to sell them for almost 4 to 5 times its original prices.
The best way to get awesome seats to any of their shows is to buy them off the theater's official website which you will find here.
In case you are planning to watch ballet in St. Petersburg, you can also drop by Mariinsky, another world-famous theater in the country. You can also get tickets to any of their shows using their website which you will find here.
2. Visit Russia's Kremlins
Here's a fun fact: Moscow isn't the only city in Russia where there's a Kremlin (a Russian citadel). There are 11 more of these scattered in the country.
Of course, the first one that comes to mind is the Moscow Kremlin (most commonly known as "THE" Kremlin to visitors) which holds a very important place in the history of the country as it was the residence of the Great Prince and also a religious center. It was built between the 14th and 17th centuries by some of the best architects within the country and beyond.
Nowadays, it has become one of the country's centers of tourism with people traveling from all over the world just to see famous Russian Orthodox churches like the Church of the Archangel and the Assumption Cathedral where royal weddings and coronations used to take place.
Probably the most unique kremlin within the country is that of Kazan, the Russian city famous for being a cultural mixture of the east and west. This Kremlin sitting by the Volga River has a strong Islamic character than the rest of its contemporaries which can be traced back to the city's large Muslim population. Sitting next to its 16th century Orthodox Cathedral is Europe's largest mosque. This kremlin also houses Russia's largest halal meat warehouse.
Another notable Kremlin that one must not miss is the one in Veliky Novgorod called The "Children's" kremlin which got its name from the prince's men-at-arms called "youngsters" or "children" who used to live there.
Under Ivan the Terrible, the city underwent a huge political turmoil and, according to the legend, only came to a halt when a pigeon from far away perched on the cross at St. Sophia's Cathedral and turned to stone.
3. Have a glass of authentic Kvass
View this post on Instagram
Kvass, a fermented Slavic brew made from rye bread has been a staple drink at this side of the world. You'll often find it being sold in street stalls and monasteries and has been a famous refreshment during summertime.
Aside from its thirst-quenching abilities, kvass is also filled with good bacteria that are beneficial for your digestive system.
4. Go sunbathing under the Sochi sun
It's surprising to know that while most of us envision Russia as a cold, frozen country during the winter season, it has towns where you can enjoy a subtropical climate like Sochi. Situated by the Black Sea, it's a summertime destination that you won't want to miss when you're in Russia.
One thing that makes Sochi's beaches stand out from what we're used to is that the shores are rocky and full of pebbles, unlike most beaches with fine sand. That doesn't take away the fun in diving into its warm waters, though.
Most of these beaches are managed by exclusive resorts so to make sure you'll have the best time while visiting, you may book the best one that fits your taste in advance.
5. Familiarize yourself in Russian Art and History by visiting museums
As a country with its history spanning hundreds of years, it's not surprising to find a multitude of museums and art galleries housing important artifacts and historic art pieces that will surely tickle the fancy of anyone who visits the country.
One of the most famous art museums in all of Russia and the world is the State Hermitage Museum in St. Petersburg. It has more than three million art pieces and artifacts consisted of thousands of paintings, graphic art, sculptures, archeological documents and more. It's also famous for being the former palace of Russian emperors in the past.
Khizi Island might not ring a bell to most of us, but this small island is the location of one of Russia's largest open-air museums. In this complex, you'll find monuments, churches, and even houses that showcase the life and culture of the Karelia people.
6. Witness the perfect mixture of the East and West in Kazan
Known as the Russian Republic of Tatarstan (home to the Tatars, a Turkic people), this country is the perfect mix of eastern and western influences within Russia. Here you'll find Muslims and Christians living peacefully within this historic yet modern city.
Kazan is where the most unique Kremlin in all of Russia can be found, with the Kul Sharif Mosque standing in the same space as the Annunciation Cathedral of the Russian Orthodox Church.
It is also right outside Kazan where you'll find the Temple of All Religions, a site that pays tribute to the peaceful co-existence of Christians and Muslims within the city.
7. Visit the Church on the Blood
This church stands on the same spot where the ill-fated Romanov family, including their father, Emperor Nicholas II met their demise in the hands of the Bolsheviks during the revolution.
Today, the Russian Orthodox church which was erected on the same site hosts holidays and pageants in honor of the Romanov dynasty. There's also a museum in the complex in memory of the imperial family. If you are a history buff and have always been interested in the story of the last Russian empire, this place is for you.
8. Experience Russian winter season
Of course, what would a visit to Russia be if you don't get to experience their cold winter season at least once in your life?
Unlike most of the world which celebrates Christmas on December 25, the Russians hold their feast on January 7. Christmas season in Russia is a much more quiet festivity than it is around the world, but there are still festivals that you can still enjoy around this time in the country.
Russian Winter Festival in Moscow features ice sculptures, events and lots of pretty attractions in commemoration of the season. You might find yourself shopping for Russian-themed Christmas gifts at the Revolution Square if you visit around this time as there are shops lined up within the area with Matryoshka dolls and other traditional Russian crafts.
You should also never miss seeing The Nutcracker at the Royal Moscow Ballet as well as the fireworks display towering over the Red Square during New Year's Eve.
Winter season is also the perfect time to go Northern Lights hunting in the country. Join a tour to the Kola Peninsula to witness this majestic sight for yourself.
9. Take a trip to Lake Baikal
Lake Baikal in Eastern Siberia is like no other lake in the world in the sense that it is the deepest and biggest of its kind.
People from all over flock to this ancient lake to swim in what's considered as some of the purest water in the world. It's also believed that the water in Baikal has miraculous properties, giving people the youthfulness they've always wanted to preserve.
During the winter season, Lake Baikal also becomes the perfect playground for anyone who enjoys ice fishing, ice-biking, and even dog sledding.
10. Discover the mysteries of the City of the Dead
View this post on Instagram
If you're up for something that's a bit out of the ordinary, the City of the Dead in Dragavs might pique your interest.
Within the city, there lies an ancient cemetery where people used to bury their family members along with their clothes and belongings. The cemetery stretches for around 17 kilometers and is the resting place of some 100 stone crypts. 
It's believed that a local plague swept throughout the city in the 18th century so people are either forced to live in quarantine houses or wait in the expansive graveyard until they die.
Nowadays, it can be a bit hard to reach the location of the said cemetery, but it still attracts the attention of tourists from all over the world due to its history.
What You Should Know Before Visiting Russia
There are a few ways to get to Russia, depending on where you're from. People from European countries like the UK can travel to Russia by land onboard a train or by driving a car.
Of course, you can always go the usual route and get plane tickets to Russia. It has several international airports where you can make a landing.
Most nations are required to have a visa to stay in Russia. Single entry tourist visas to Russia are valid up to 30 days and cannot be extended. It will take you anywhere between 4 working days to 6 weeks to get your visa to Russia, depending on the exact type you need.
When applying for a Russian visa, you must gather all the important documents such as your passport, a filled-out application form, a passport-sized photo, and supporting documents like your hotel voucher, tourist voucher, and booking confirmation.
In general, Russia is a safe country to visit, especially if you're staying in the bigger cities like Moscow or if you're traveling the Trans-Siberian route. However, certain places like the border with Ukraine and the North Caucasus region are risky places that you can consider not visiting for the meantime.
Aside from this, other things that you should pay close attention to when traveling to Russia are petty crimes like theft, pickpocketing and scammy taxi drivers. As with any other destination, always be vigilant whenever you're out and avoid traveling outside the city at night.
The police might also stop you at any given time to have a look at your documents, so it's always important to keep them handy. Always have your passport with you as well as any other documents that will help prove your identity. If you fail to provide any of these while being questioned by the police, you might face detention or heavy fines.
Another thing to keep in mind when in Russia is to NEVER drink their tap water. Even locals do not do this, so do not risk your health by trying it out and get yourself bottled water instead. Since the water pipes in the country are already very old, the water can be really bad and improperly sanitized.
Some people fear that when going around, they might have a hard time communicating with the locals since most of them speak Russian. You don't have to fret, though, as more and more Russians learn to speak English nowadays. However, if you do find yourself in a difficult situation, you may approach receptionists, guides, or even the police to help you get out of it.
Since July 2014, the Russian government launched a special police force for tourists in Moscow to help visitors within the country. It's made up of security patrols and English information available to tourists visiting Moscow.
Russia's national currency is the Ruble (RUB) and it's against the law for any establishment to accept any other currency except for this one. When in Russia, you may exchange your US Dollar or Euro so paying can be much easier. British Pounds, on the other hand, can be quite hard to exchange as you may only do it in major cities like Moscow and St. Petersburg. You may also use credit and debit cards when paying, but it's still best not to run out of cash.
To get the best out of your travel to Russia, you may visit from May through September. During these times, temperatures can go anywhere from 21 to 31 degrees Celsius during the day and as low as 10 degrees during the night.
Going around, on the other hand, isn't that hard when you're in the country. You may use the metro or local taxi services. The only downside of hailing taxis is that the traffic can get pretty bad, so it might cost you a lot.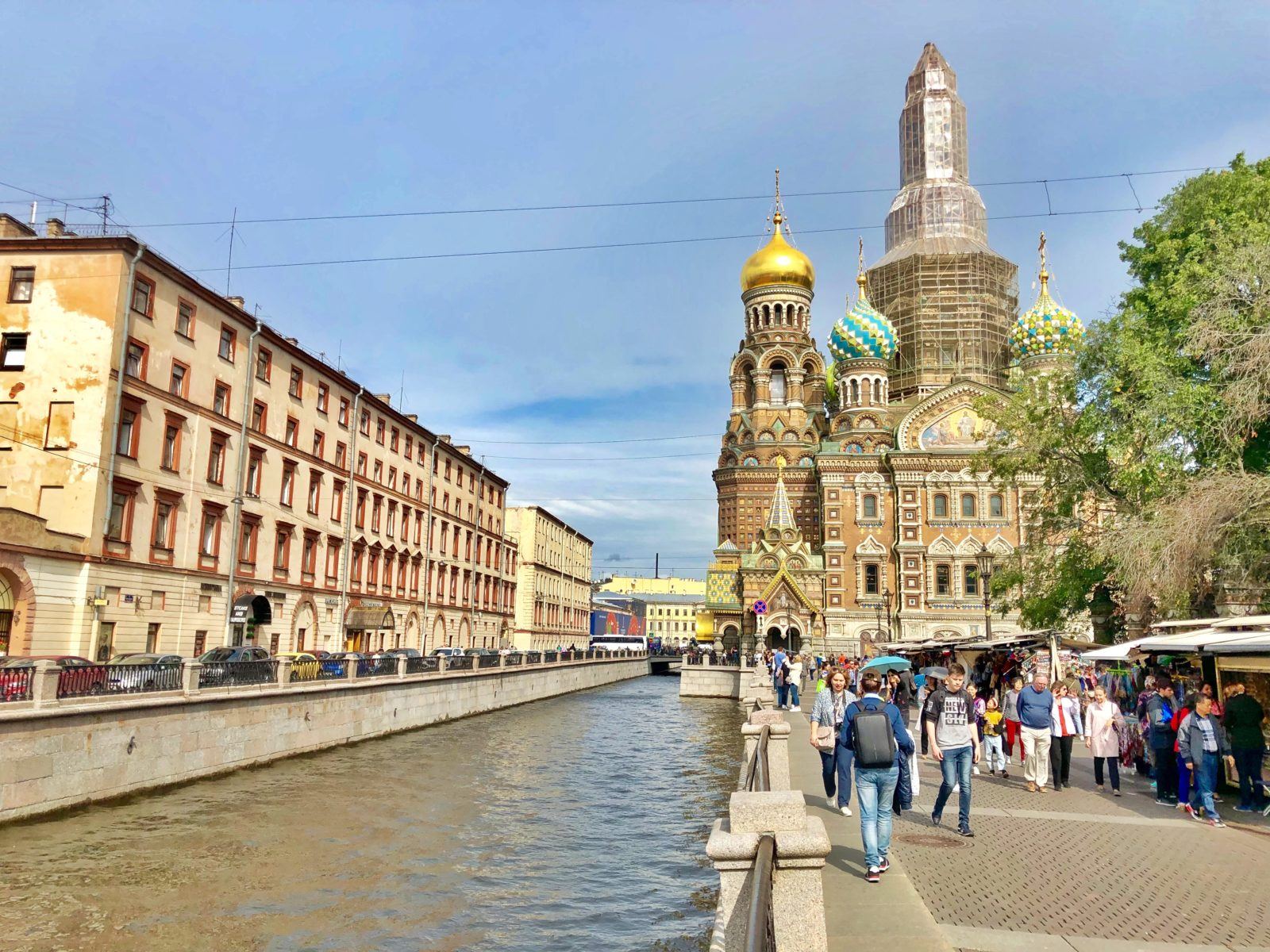 Yes, Russia might be considered as one of the countries with the coldest winter season, but their people are anything but that. They are friendly and hospitable once you get to know them. It's typical for Russians to put on a straight face in public and not to be all warm and chummy with you upon your first meeting, but this is more of a cultural thing and not out of spite.
This is very reflective of Russia as a country as well. Most people see it as harshly cold and distant. However, once you get to know what Russia's all about, with its rich history and incomparable beauty, you'll surely fall in love!

Are you on Pinterest? Pin these!