25 Things To Do in Dallas, Texas [With Photos]
Dallas, Texas, they say big things happen here, and they have indeed. Dallas is the ninth most populous city in the US and is known for its cotton, cattle, and oil. It is also where President John F. Kennedy was assassinated, so you can know where he was shot and where his assassin was. It's also big in diversity as lots of many ethnicities are living here; mainly Hispanic, Blacks and Asians, plus it also has a thriving LGBT community.
With countless things to offer, you will surely get confused about what things to do in Dallas. However, we will sum it up here, and you could do all or if you don't have enough time to select something that piques your interest.
Other articles you can read:
Here are 25 Things to do in Dallas:
1. Know more about the JFK Assassination
John Fitzgerald Kennedy, the 35th U.S. President, was shot on November 22, 1963, while riding through Dealey Plaza in a presidential motorcade. Check out Dealey Plaza's Sixth Floor Museum, which depicts JFK's life, death, and legacy. It is also where the assassin was. You can get your detail audio guide so you can check out.
Suggested Tour: Sixth Floor Museum at Dealey Plaza Admission
2. Enjoy nature at The Dallas Arboretum and Botanical Garden
One of the Most Breathtaking Gardens in the World, The Dallas Arboretum and Botanical Garden, is a 66 acre garden filled with floral displays throughout the year. The best time to come here is from February to April when the Cherry Blossoms bloom. On Autumn, September to November, a pumpkin village arises. You can sit and meditate and appreciate the beauty of creation.
Suggested Tour: Three-Night Stay in Dallas Plus Attraction Pass and City Tour
3. See Dallas on Reunion Tower
This iconic landmark will give you a rotating 360-degree view of the Dallas skyline. It is 561 feet tall and offers an indoor or outdoor observation deck.  If you are famished, there are dining options there; try the Revolving Restaurant as it is quite an experience.
Suggested Tour: Dallas' Reunion Tower GeO-Deck Observation Ticket
4. Tour inside Dallas Museum of Art
Dallas Arts Museum (DMA), one of America's largest art museums, is located in Dallas City's Arts District. The collection of the museum consists of over 24,000 objects from millions of years ago until today. Look for "The Icebergs" by Frederic Edwin Church; check out why it is a crowd favorite, it will be hard to pull away. There are also events and concerts held, so be sure to check the schedule.
Suggested Tour: Dallas Art District & Museum Of Art Walking Tour
5. Get Thrilled at Zero Gravity Thrill Amusement Park
Offering five extreme rides, this is the world's only "Thrill Amusement Park." Do all; Bunjee Jump (7 stories), Skycoaster (hand gliding or flying), Texas Blast Off (rocket straight to 150 ft), Nothin' But Net (free fall from 100 feet), and Skyscraper (towering propeller). Just reading would either give you the thrills or make you cower. However, don't worry you can bring a friend along, and you'll get scared together. For adrenaline-junkies, you will absolutely love this.
Suggested Tour: Zero Gravity Thrill Amusement Park in Dallas
6. Eat Tex-Mex Cuisine
You can't leave Dallas without eating the recipe the place is known for; Steaks, Tacos, Barbecue. Reading this makes you drool and hungry, because I am, while writing. Imagine the juiciness of the meat and the one of a kind sauce they have; a must thing to do in Dallas. Do not leave with your stomach and taste buds crying!
Suggested Tour: Dallas Food and Culture Tour
7. Walk along Klyde Warren Park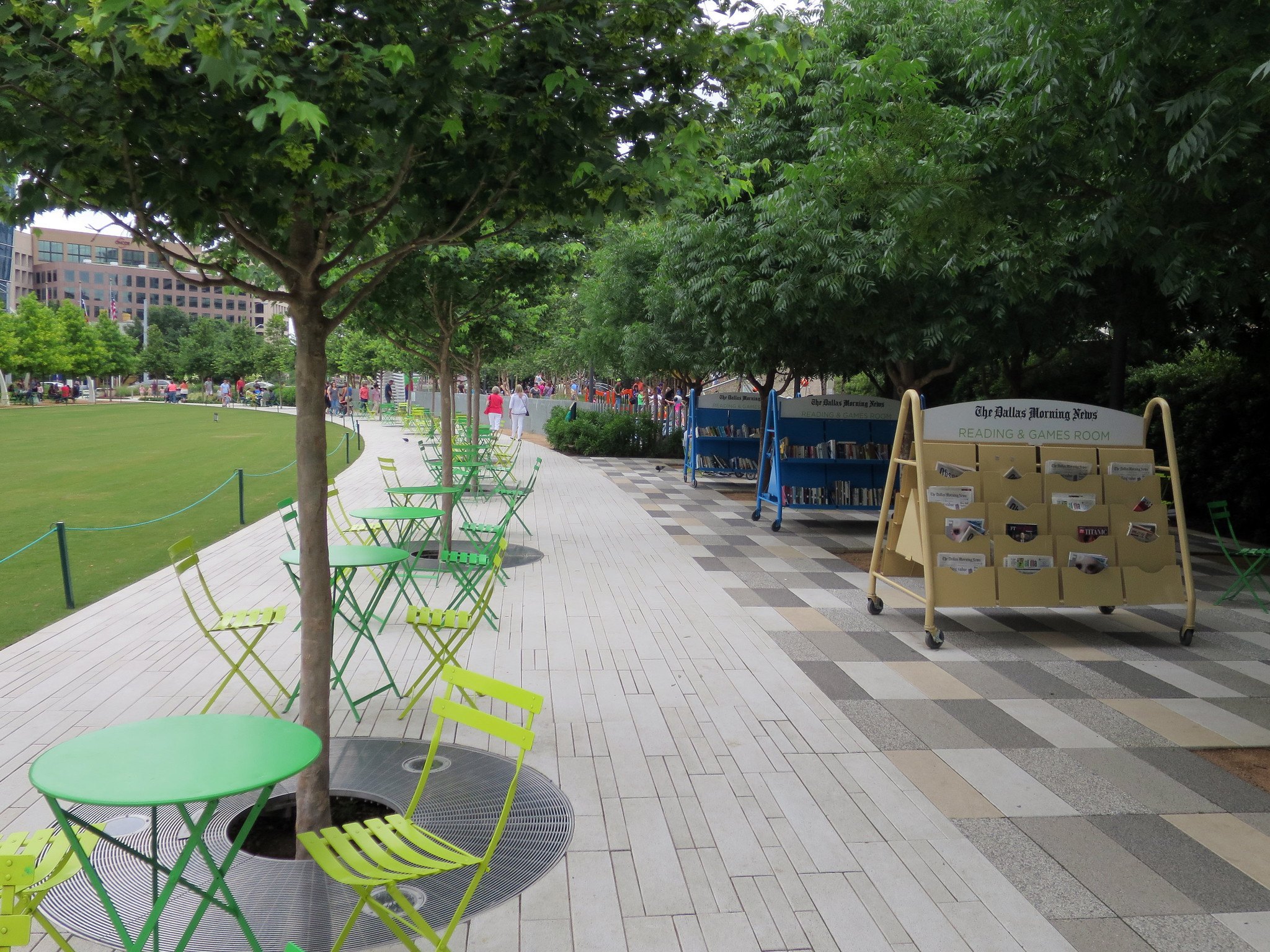 In the middle of this bustling city jungle, is this charming public park. Buy food in the line of food trucks or have a picnic on the grass. As it opens at 6 am to 11 pm, this is a perfect place to walk in early mornings or relax after a tiring day.
8. Watch the Dallas Cowboys
The AT&T Stadium the home Dallas Cowboys (their NFL team); it's also an art museum and a classroom. You can do a VIP Guided Tour, a Self-Guided tour, Educational or Art Tour. See the schedule and cheer for the home team.
Suggested Tour: Small-Group Dallas Cowboys Stadium Tour with Transportation
9. Visit the Perot Museum of Nature and Science
The Perot Museum is a natural history and science museum suitable for all ages. There are 2 campuses; the Victory Campus with 11 permanent exhibits and 6 learning labs and the Fair Park campus.  There are interactive displays, go to the top floor and try to fly like a bird. Check out their 3D movie too.
Suggested Tour: Dallas CityPASS
10. Bike the Katy Trail
Katy Trail is a great trail to run, walk or bike. It is 3.5 miles long but filled with shade against the sun.  Fall in love with Dallas through this trail as it will give you great views of the city.
11. Check the Architecture of Dallas County Courthouse
Built in 1892, the Dallas County Court House is a historic public building with red sandstone with rustic accents of marble. It was also known as the Old Red Courthouse and now the Old Red Museum.  Tourists should visit here to know more about Dallas.
12. Hike at the Cedar Ridge Nature Preserve
The Cedar Ridge Nature Preserve is a picturesque place, abundant in wildlife. Choose trails from easy to difficult; it's a nine-mile hike. Bird watching is a popular activity all year-round and can witness a wide variety of wildlife. You can see butterfly gardens and picnic areas too.
13. Shop at Highland Park Village
Highland Park Village is an open-air center with world-class boutiques and a dozen restaurants. This place is also a declared National Historic Landmark.  You could also see the charm of the neighborhood as it is breathtaking.
Suggested Tour: 3-Hour Explore Dallas Sightseeing Tour – History, Landmarks, Culture 
14. Read at the George W. Bush Presidential Library and Museum
From JFK (in Dealey Plaza) to George W. Bush, get an in-depth look at the life of US's 43rd president here.  This opened on April 25, 2013, and was attended by Presidents Obama, Carter, H.W. Bush, Clinton, and George W. Bush. It is the 2nd biggest presidential library in the US, measuring 207,000 square feet. Get a book and relax at this tranquil place.
Suggested Tour: George W. Bush Presidential Library and Museum Tour
15. Walk around Bishop Arts District
This district is filled with unique shops and it is fun to walk around too. Check out the boutiques and quirky art galleries. Prepare your camera as it is filled with artwork and therefore an instagrammable spot in Dallas
Suggested Tour: Bishop Arts Food and Walking Tour in Dallas
16. Witness the Annual State Fair
The State Fair of Texas is held in Fair Park beginning on the last Friday of September and ends after 24 days. It is the signature event of the town, so even though it's crowded, go and attend it. There are parades, football games, and an auto show. Prepare your stomachs and wallets too as the event features delicious foods.
17. Relax at White Rock Lake Park
White Rock Lake Park is found in the heart of the big city. After a tiring day of going to museums or busy tourist sports, relax here and enjoy the scenery. From boating to fishing, biking, and jogging; it's an excellent spot for anything.
18. Party at Deep Ellum
Deep Ellum is a former warehouse district now filled with restaurants and pubs. Enjoy the street art during the day and party during the night. Hang out with friends and bar hop or listen to live music. This is one fun thing to do in Dallas.
Suggested Tour: Party Bike Pub Crawl in Deep Ellum and Downtown Dallas
19. Step Back in time at Dallas Heritage Village
At the Old City, you will see Dallas Heritage Village. See the well-preserved buildings and houses. Check out the blacksmith working with irons and do some hands-on activities. You will surely be enlightened about the history of Texas.
20. Roam around Pioneer Plaza
Pioneer Plaza contains large sculptures of cattle. There are about 49 steers and 3 riders; you will appreciate the size and the details of the statues. After the Pioneer Plaza, go to the Park Cemetery where the Confederate War Memorial is located.
Suggested Tour: Sightseeing Tour of Dallas
21. Cross the Margaret Hunt Hill Bridge
Check out a remarkable piece of architecture and engineering; the Margaret Hunt Hill Bridge. Not only is it beautiful to look at but the skyline views are also great from this bridge. See this bridge at night too as it is lit up and makes it even more gorgeous.
Suggested Tour: Dallas Highlights Tour
22. Shop at NorthPark Center
With over 230 stores and restaurants, you will find what you need in NorthPark Center. This mall isn't only for shopping though; arts are located as well as a garden, a pond, and a library. You won't be in Dallas if you haven't been here.
Suggested Tour: Dallas Shopping Tour
23. Find sculptures at Nasher Sculpture Center
The Nasher Sculpture Center houses the contemporary and modern statues collected by Patsy and Raymond Nasher. They have more than 300 sculptures made by the creative talents of the 20th century. It is a spectacular museum with an enchanting garden.
Suggested Tour: Nasher Sculpture Center Admission
24. Watch a movie at Texas Theatre
The Texas Theatre is a movie theatre and a landmark in Dallas. This is where Lee Harvey Oswald, the assassin of JFK was captured. Find where his seat is; his name is gold painted in his chair. Now it hosts classics and host events.
25. Drink Margaritas
Dallas is known for its frozen margaritas so don't leave the city without drinking one. Check out restaurants with happy hours for cheap margaritas. You can also do a barhop and judge where the best margarita in town is.
Suggested Tour: Party Bike Pub Crawl in Deep Ellum and Downtown Dallas
Frequently Asked Questions
1. Is it safe to travel to Dallas?
Dallas is relatively safe; however violent crime rates are high due to gun-related violence. Try sticking to touristy neighborhoods like Arts District and Uptown. Deep Ellum and West End are a bit safe. Don't walk alone at night; most sidewalks are empty since most people drive. However, in case of emergencies, dial 911.
2. Should I get travel insurance before heading to Dallas?
I always recommend buying travel insurance since we don't know what will happen to us. Check out Safetywing, my insurance provider.
3. Is it expensive in Dallas for tourists?
Dallas is cheaper compared to big cities in the US. It is less expensive than Houston, Texas (link) too. However, be careful to not spend over your budget.
4. When is the best time to visit Dallas?
September to November (fall) is an excellent time to visit Dallas as the temperature is excellent. On the last Friday of September to 24 days will be the Annual State Fair so it would be a great time to witness it. May to July are also busiest months for tourism, so try to avoid that. March to May (Spring) is a great time too, especially when you visit the parks and gardens.
5. Where should I stay in Dallas?
Downtown Dallas is a great place to stay if you are sightseeing as it is close to the tourist attractions.
6. What souvenirs should I buy in Dallas?
You can buy Texas-themed stuff; be it the treats or the fashionable cowboy boots or hat!
7. Are there any great places near Dallas?
Fort Worth is amazing! You can go to Turner Falls or Austin too.
8. How to get to Dallas?
There is Dallas-Fort Worth International Airport, for domestic and international flights, and Dallas Love Field, with only domestic flights.
9. How to get around Dallas?
Dallas has light rail lines, biking, and footpaths, wide sidewalks, a carriage system, and bus services.
We hope you have fun on your trip to Dallas and enjoy this list of 25 things to do in Dallas.

Are you on Pinterest? Pin these!