Singaporean Food: 10 of the Most Popular Singapore Dishes
Discover some of the best Singaporean dishes here!
Do you know the smallest country in Southeast Asia? Yup, that's Singapore! Although this country is small in size, it has so many ethnicities. The Malayan is the native Singaporean. England came centuries ago and left some of their descendants and live in Singapore since then. Other ethnicities who inhabit Singapore are Indians, Chinese, and a small part of another ethnicity.
With so many ethnicities that are inhabiting Singapore, the mixture of its culture made a unique combination. That applied to its cuisine as well. We can see that their cuisine is influenced by other cultures. And here we have a list of the Singaporean dishes that'll be helping you to decide on the dish you want to try.
Any of these Singaporean dishes will surely make you go back to this prosperous country. Have a taste of the best Singaporean cuisines!
1. Chili Crabs
You can say that Chili Crabs is Singapore's National Dish since it's really popular and has a lot of fans, not only by locals but also tourists. The dish also constantly on the list of CNN best 50 cuisines every year. In 2017, it was placed on number 29, and in 2018 it was placed on number 35. And for Muslim tourists, you don't have to be worried since Chili Crabs considered to be halal food. But for safety, you better ask the seller if their menu is halal or not.
There are so many types of processed crab menus, like black pepper crab, salted egg crabs, grilled cheese crab, and so on. But Chili crab always becoming the best choice among those dishes. The spices on this dish are not only chili, but also tomato sauce, garlic, broth, ginger, extract lime, and others.
One of the best places that served Chili Crabs is Roland Restaurant, located in Block 89 Marine Parade Central No.6. But for Muslim travelers, there are some places with Halal certification that serves Chili Crabs, like Home of Seafood in Joo Chiat Place No.1 and Chai Chee Seafood in Changi Road No.359.
2. Chicken Rice
Another popular dish from Singapore is Chicken Rice. Besides Chili Crabs, Chicken Rice also constantly made a place on the list of CNN best 50 cuisines every year. In 2017, it was placed on number 13 and in 2018 it was placed on number 45.
Chicken Rice is made from steamed or boiled chicken and served along with white rice and sliced cucumber. Because of its popularity, you can find this dish literally anywhere in Singapore. The best place that served Chicken Rice is Tian Tian Hainanese Chicken Rice that is located in Stall 10, Maxwell Food Centre, or Boon Tong Kee in Balestier Road, No.401.
For Muslim tourists, there are some places that served Chicken Rice with halal-certified from the Government, like Tong Fong Fatt in Bedok Food Centre No.01-28, and Evertop Hainanese Boneless Chicken Rice in Joo Chiat Road 89/91 and in Clementi Avenue 2 No.01-259.
3. Roti Prata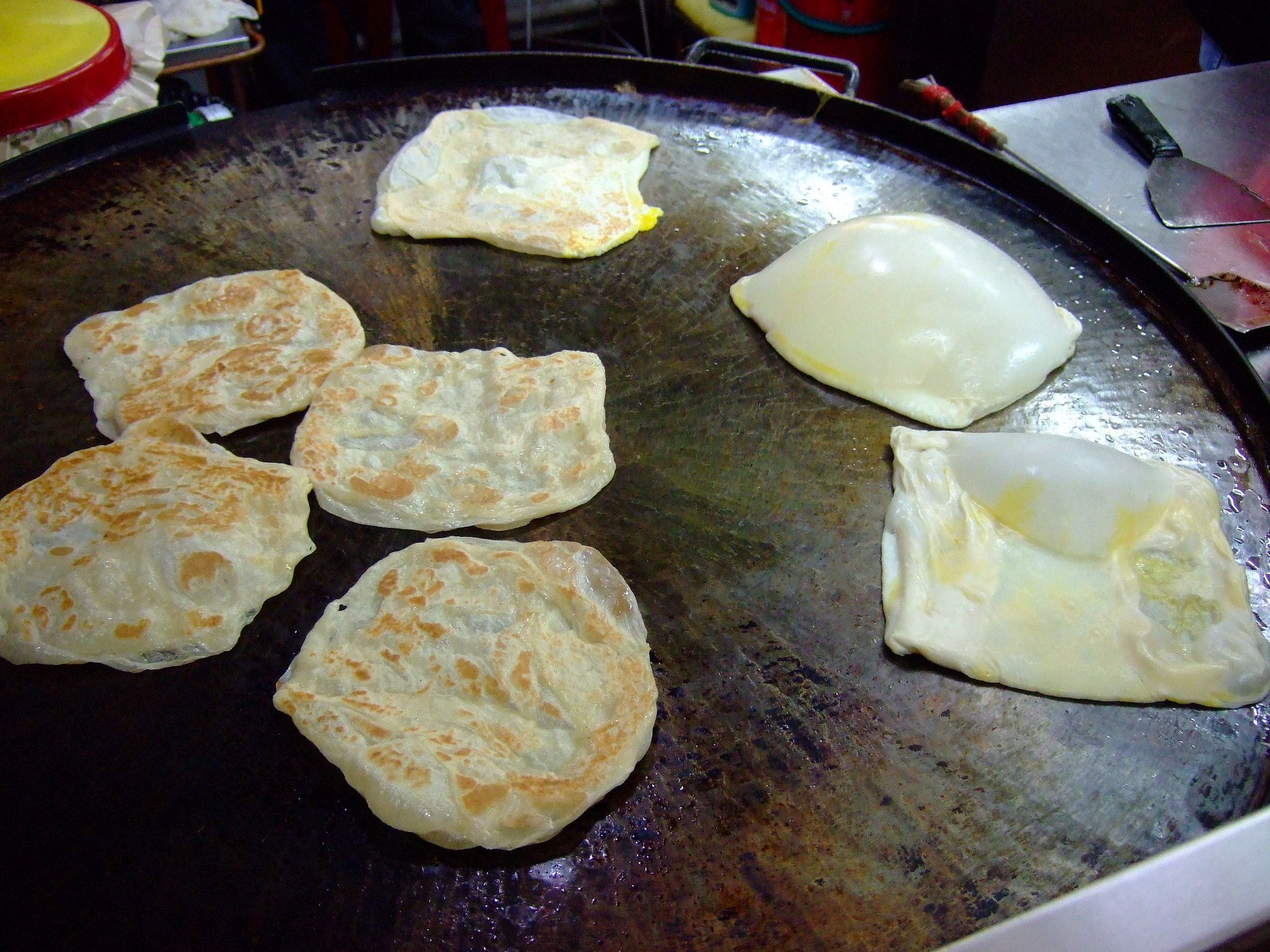 Singapore was also inhabited by India and it has been influencing its cuisine since then. One of the proofs is Roti Prata. This dish is quite unique, it is originally from India, has Melayunese name, and consumed by Chinese. Roti itself means bread in English.
Roti prata is a type of pancake. The dough was made from flour and pressed until it has a thin layer. Cheese, eggs, mushrooms, garlic, or even chocolate added on the pressed dough and heated or fried on the pan. Roti Prata often served along with fish or chicken curry, or sugar if you want a sweeter taste.
One of the best places for you to visit is The Roti Prata House located in 246M Upper Thomson Road. And for you Muslim tourists, you can go to Al Tasneem. They serve crispy and fluffy Prata. It's located at 709 North Bridge Road.
4. Laksa
One of China's cuisines which influencing Singaporean dish is Laksa. This influence created umami, fresh, and spicy Laksa tastes. Its deliciousness even registered on 2017 CNN 50 best foods.
Laksa was made from glass noodles, spicy broth, and shredded chicken or shrimp as the topping. Based on the broth, there are two types of Laksa, they are Curry Laksa and Sour Laksa. Curry Laksa is more popular in Singapore and Sour Laksa is more popular in Malaysia. The broth of Curry Laksa usually made from coconut milk, mashed Ebi, and many other spices.
There are so many places serving Laksa on their menu. You can try Junggut Laksa in 1 Queensway Shopping Centre.
5. Kaya Toast
One more Singaporean most popular dish, Kaya Toast. Actually it's not too different from other toast we've ever tried in other places. But what makes it different is the jam made from Kaya Jam.
Kaya Jam is made from coconut pudding which has a sweet and heavenly aroma. Singaporeans usually enjoy their Kaya Toast along with coffee and omelet for the breakfast menu.
You can find this menu in almost every stalls, cafes, and restaurant in Singapore. Ya Kun Kaya Toast which located in 18 China Street, Far East Square is one of the best places that serve Kaya Toast. And for a halal-certified restaurant that serves Kaya Toast is in Heavenly Wang. It is a franchise place and has various outlets in Singapore
6. Nasi Lemak
Nasi means Rice and Lemak means Fat, so Nasi Lemak literally is rice that contains fat in it. Singapore's Nasi Lemak is quite similar to Malaysia's Nasi Lemak and Nasi Gurih in Indonesia. But, Nasi Lemak in Singapore is also worth a try. It has a savory taste comes from coconut milk that is used for cooking the white rice instead of the regular water.
Singaporean usually enjoyed this dish as a breakfast menu and they served it along with fried chicken, fish, peanuts, sliced boiled egg, and spicy sambal. Sambal is a sauce made from red chilis combined with garlic, shallot, salt, and many other seasoning depends on your taste.
There are so many Nasi Lemak stalls in Singapore. You can go to Ponggol Nasi Lemak in 965 Upper Serangan Road, Selera Rasa Nasi Lemak in 2 Adam Road Centre, Chong Pang Nasi Lemak in 44 Sembawang Road, or Boon Lay Power Nasi Lemak in 221B Boon Lay Place Market and Food Centre.
7. Char Kway Teow
Another Singaporean dish that was influenced by Chinese dishes is Char Kway Teow. It's a noodle-based dish that stir-fried along with egg, pork fat, clam, Chinese sausages, fish cake, and caisim. They used flat noodles to make this dish and seasoned it with sweet and dark sauce and served with bean sprout and pork meat as the topping.
It can be said that almost all of the Chinese restaurants in Singapore have Char Kway Teow on their menu. You can go to Hill Street Char Kway Teow in 16 Bedok South Road Market and Food Centre or Guan Kee Fried Kway Teow in 20 Ghim Moh Road, Ghim Moh Market and Food Centre.
Although the original Char Kway Teow using pork on their ingredient, there's a halal-certified restaurant that serves halal Char Kway Teow. You can go to Soon Lee Fried Kway Teow and Carrot Cake in 1 Bedok Road, Bedok Food Centre, Stall No.2.
8. Mee Siam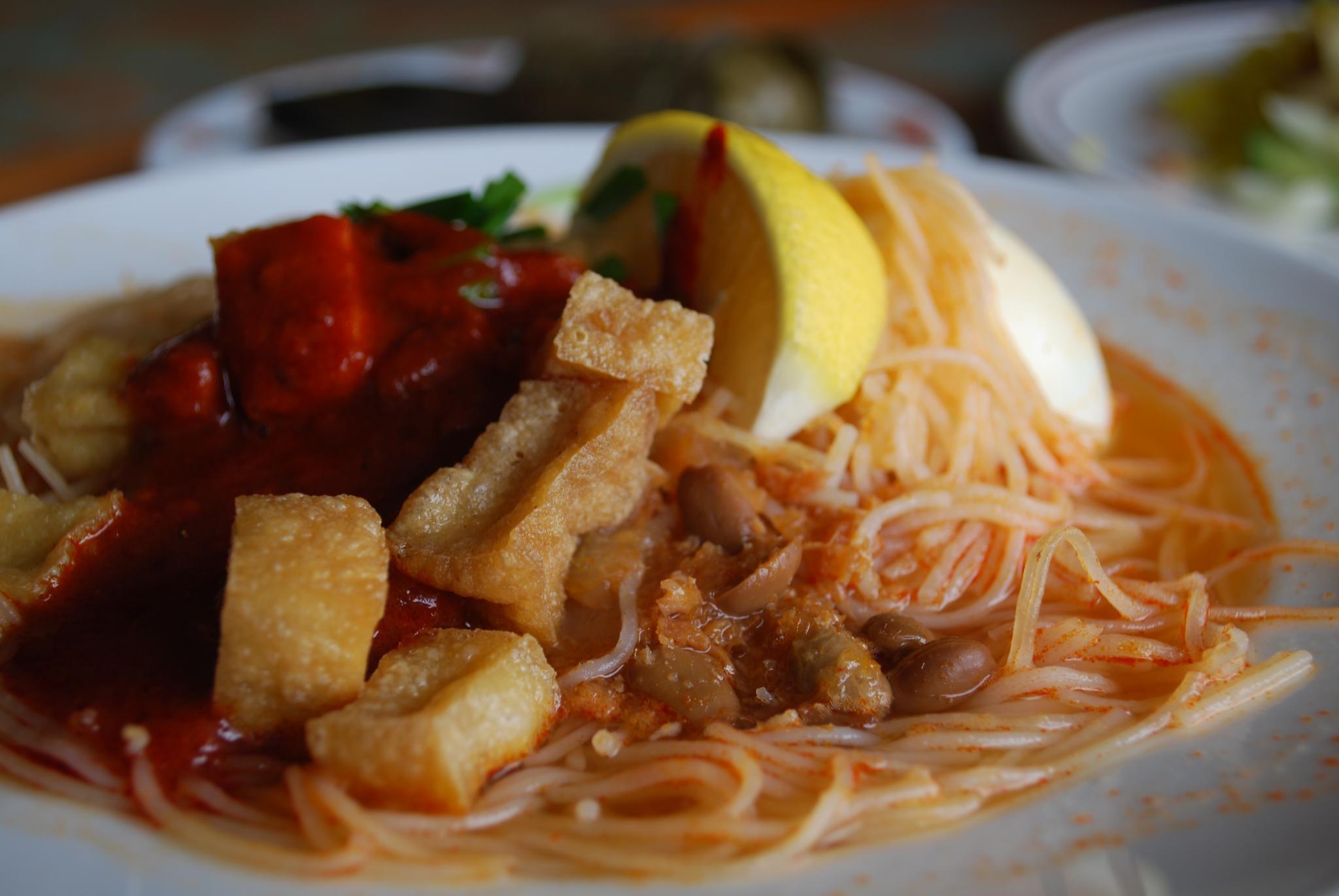 Mee Siam is another breakfast menu that you can choose in the morning. Locals call it Mee Siam as "Mee" means noodles which is the main ingredient of the dish. Pre-fried rice noodles served with a spicy sauce made from fermented bean paste, tamarind, chili, Ebi, seafood broth, and sugar. But if you are not too keen with spicy taste, you can ask the seller to make it less spicy. Mee Siam usually adding fried bean, minced green onion, and boiled egg as the topping.
This dish is quite popular among Chinese even Muslims. You can find this dish in the restaurant like Robert Mee Siam Lontong in 91 Whampoa Drive No.01-43 Makan Place; Dju Dju Indonesian food in 304 Serangan Ave 2, No. 01-14; or Wak Limah Stall in 320 Shunfu Road, No. 02-15, Shunju Food Centre.
9. Popiah
One of the most unique Singaporean dishes. The appearance looks like the Chinese spring rolls, praised to be Asian's burrito, but this dish is Popiah. Popiah is not fried like Chinese spring rolls but steamed. The skin dough of Popiah made from wheat and rice flour and press to be as thin as paper. The dough filled with carrot, sausage, bean sprout, shredded boiled egg, peanuts, shrimps, or crabs. This filling seasoned by hoisin, chili sauce, and minced garlic.
This dish often enjoyed as a snack. If you want to try to make your own Popiah, you can go to Kway Guan Huat in 95 Joo Chiat Road. They offer DIY party sets and you can make every part of the dish by yourself and seasoned it depends on your taste.
10. Ice Kacang
We can't leave out the dessert from this list. You might have tried many kinds of shaved ice, but you have to try this Singaporean shaved ice called Ice Kacang. Kacang refers to beans in English, it can be peanuts, red beans, or other kinds of beans. With Singapore's weather that always hot enough, Ice Kacang could be your escape to cooling your body. Its sweet tastes make Ice Kacang more tempting to try.
The shaved ice in a bowl being poured with sweet syrup, condensed milk, Malaka's sugar and sweet corn as a topping. Then you might be wondering "Where are the beans? It's called Ice Kacang with a reason, isn't it?" Well, when you dig on to the ice, you'll be meeting the beans inside. The seller not only adding beans, but also jelly, attap chee or palm seeds, cendol, cincau, or many others. Sometimes they add fruits like jackfruit as well on the ice. You should never forget to try this one of the most delicious Singaporean dishes.
There are so many places sell this dessert. You can go to Annie's Peanut Ice Kacang in 20 Ghim Moh Road No.01-35, or An Ji Xiang Hua Ice Jelly in 335 Smith Street No.02-183. You can also find it in street stalls and it is way cheaper than in restaurants or cafes.
Singapore is not only popular as a business and travel destination. Those menus above can prove it. Singaporeans also love to add twists to their dishes. The mixture of culture supports the development of its culinary diversity. So, which one of those Singaporean dishes that you want to try for the first time?

Are you on Pinterest? Pin these!