Cuba Travel Guide for Filipinos and British Passport Holders
(Aside from some specific visa and travel details for my fellow Filipinos, this article applies to any nationality!)
We don't claim to be experts on Cuba as we only had a week visiting this beautiful country. However, we wanted to share our experience of British and Filipino traveling to Cuba, as well as useful Cuba travel information for any nationalities. So here are my tips for fellow British and Philippines passport holders who are planning to travel to Cuba.
In this article, I'll be talking about the following topics:
Other articles you can read:
1. How to Get a Cuban Visa or the Tourist Card for Cuba – UK and Philippines Passport (Requirements, Cost, and Process)
2. How to book flights to Cuba and which airlines to use? (list of all airlines flying to Cuba)
3. How much money should you take to Cuba? What currency should you take to Cuba?
4. ATMS in Cuba and Cash Withdrawals in Cuba
5. How to find accommodation in Cuba 
6. The Internet in Cuba – Is there Wi-Fi in Cuba?
7. Is it safe to travel to Cuba?

How to Get a Cuban Visa or the Tourist Card for Cuba – UK and Philippines Passport
Both British and Philippines passport holders are required to get an entry tourist visa. Jonathan holds a British passport and just like me (with Philippines passport), he needed a tourist card to enter Cuba. All foreign tourists traveling to Cuba require a Cuba Visa or Cuba tourist card, with the exception of a select few countries, such as Russia, who are historical 'politically friendly' with Cuba.
There are four ways to get an entry visa to Cuba, here's how to get a Cuba tourist visa or Cuba tourist card:
1. Cuba Tourist Visa from the Cuban Embassy
This is only for Philippines passport holders because British Citizen can get the Cuban Tourist Card instead (details below on how to get it). According to the Cuban Embassy / Foreign Affairs website, you have to prepare the following requirements to be granted a visa. Our Filipino friend who is based in Suriname (South America) was able to get the Cuba Tourist visa this way, and it only took him a week to apply and get his passport back with the stamped Single Entry Cuba Tourist Visa on his Philippines passport.
Requirements:
$15 payment

Flight Tickets (inbound / outbound)

Travel Itinerary

Bank Statement (last six months!)

Work Permit / Certificate

Working Visa (if applicable)
If you are coming from the Philippines, then you need to get the Cuba Tourist Visa in Cuban Embassy in Kuala Lumpur, Malaysia with almost the same requirements as above but excluding the working visa, you just need a proof of your residence. Must be a great side trip too!
2. 30-day Single Entry Cuba Tourist Card from your Airline
Update: They no longer provide this for Filipinos in Cancun.
Please note that the Cuba Tourist Visa is different from Cuba Tourist Card – the Card is just an extra blue paper while the Visa is stamped in your passport and you can only get that from the Cuban Embassy!
Any airlines flying to Cuba can provide you with a single entry Cuba tourist card which is valid for 30 days; you just have to pay around $14 – $16 (depending on the exchange rate). In our case, we got our 30-day single entry Cuba Tourist Card with Interjet, a low-cost Mexican airline, the day before our flight to Havana. Simply go to the airline customer service desk with all of the following requirements to purchase a 30 day Cuba Tourist Card.
Requirements: Flight tickets and money (we paid 500 Mexican Pesos for both of us which is $14 each). Travel Insurance is required in Cuba, but they might not ask you that when acquiring your visa, or when you land in Havana airport. Of course, it is best to have valid travel insurance for Cuba. (This is my recommended Travel Insurance for Cuba as it is one of the most comprehensive on the market).
Please note that Filipinos require a Mexico Visa or need to have a valid USA Tourist Visa to enter Mexico.
Update: I have friends (Philippines passport) who attempted to fly to Cuba from New York and weren't allowed to board because of the visa issue, I highly suggest you get the Cuban Tourist Visa in Washington DC if you will be traveling from the USA, my experience was based on how I got my Cuban Tourist Card in Cancun, Mexico)
Some of the Airlines that provide the Cuba Tourist Card / Cuba Tourist Visa:
Interjet – from Mexico or Miami

Avianca- from Colombia

Air China

Air Canada – from Canada but you need a valid Canadian visa
…and some other Caribbean Airlines. (you can check my full list of airlines flying in/out of Cuba below)
3. Get a Cuba Tourist Card  or a Cuba Tourist Visa from a Registered Travel Agency
Same requirements as above with but if your trip to Cuba is going to be arranged by your travel agency – they might require you to book the hotels, transportation, tours and flights with them and they will ask you for your valid travel insurance plus the processing fee. They can process it for you at the Cuban Embassy or from the airlines depending on your nationality and requirements provided.
4. Buy your Cuba Tourist Card when you arrive at Havana Airport
We heard that this might be possible and we confirmed it when we arrived at Havana airport. You might be asked for a return flight ticket, confirmed hotel bookings, travel insurance and payment (the exchange rate might not be good at the airport!) We're also unsure if this option applies to all nationalities. As it's so easy to obtain before flying, we don't recommend this without being certain you qualify (most of the time, the airlines official would stop you before boarding the flight!)
How to book flights to Cuba and which airlines to use?
Cuba has 10 International and 15 Domestic Airports and the main one that serves most International flights from Europe, and North America is Jose Marti International Airport in Havana.
Our round trip flights from Cancun to Havana were only $456 USD for both of us with Interjet ($218/ person) but if you aren't able to make it to Mexico then here are the other airlines offering flights to Cuba who can also provide you with the 30-day Single Entry Cuba Tourist Visa.
International airlines which fly to Cuba (as of May 1, 2016):
Aeroflot – Aeroflot – Russian Airlines, commonly known as Aeroflot is the flag carrier and largest airline of the Russian Federation.
Aerogaviota –  the youngest airline of Cuba. The airline is operated by the Ministry of Defense of the Republic of Cuba. It provides flights to the main resort-islands surrounding mainland Cuba, as well as regional flights to Jamaica, etc.
Aeroméxico – a Mexican airline, based in Mexico City. Is the second largest airline in México. It operates scheduled domestic services and international services to Asia, Europe, North America and South America
Air Canada – Canada's flag air carrier, headquartered in Montreal, Quebec.
Air Europa – an airline based in Majorca, Spain,

Air France 
Air New Zealand – the national airline and flag carrier of New Zealand, based in Auckland, New Zealand.

Air Transat

 – based in Montreal. They operate regular and charter flights from mainly Montréal-Pierre Elliott Trudeau International Airport and Toronto Pearson International Airport.

Avianca  – the largest airline in Colombia and a major one in Latin America.
Blue Panorama Airlines– is an airline based in Rome, Italy.
Cayman Airways – Airline, based in Grand Cayman, Cayman Islands.
Copa Airlines – the national airline of Panama-based in Panama City.
Cubana de Aviación – the leading airline of Cuba. It is in charge of passengers' transportation, cargo and mail transportation.
Insel Air –  an airline based in Curacao, Netherlands Antilles. They offer flights between the islands of the lower Netherlands Antilles and Aruba, as well as to St. Maarten and other Caribbean destinations.
InterCaribbean Airways –  a passenger airline, based in the Turks and Caicos Islands.
KLM – (usually called Royal Dutch Airlines) and is the flag carrier of the Netherlands, with Schiphol Airport in Amsterdam as home base.
Sunwing Airlines – a 

Canadian airline which offers mainly scheduled and charter flights between Canada and tourist resort destinations in the Caribbean, such as Cuba.

Virgin Atlantic – UK-based airlines
Taxi to the Main Havana Center:
From the airport, you have to pay between 20 to 25 CUC (around 30usd for the taxi), so it's better if you could arrange a deal with your Casa Particular or Hotel to pick you up for 15 or 20 CUC.
How to find accommodations in Cuba?
There are two main types of accommodation in Cuba – hotels and Casa Particulares.
Casa Particulares in Cuba
Casa Particulares are essentially private family houses, which are licensed to rent individual rooms to tourists.
There are three options that we recommend for you on how to find a good Casa Particulares in Havana, Cuba:
1. First, you can check CubaCasa.co.uk. This website offers a reliable and friendly service to book a casa particular in Cuba even before your arrival, particularly in cities like Havana,  Baracoa, Camaguey, Cienfuegos, Santa Clara, Santiago, Trinidad, Varadero, and Viñales. This company only features authentic and clean casas they have visited personally. For me, this option is the most convenient one especially if you'd only want to book your first few days in the country until you figure out your itinerary around Havana or anywhere in Cuba.
2. Second is what we did when we visited Havana and Varadero in Cuba — simply arrive at the airport, take a taxi into Havana Central and then start walking around. It's perfectly normal for men to walk up to you in the street asking if you want casa or a room. If you do, they'll take you to the house of their 'friend' so you can have a look around and decide if you like it or not. They are just earning commission from the owners if you decide to stay there. A good price for a casa particulares in Cuba, in particular, Havana, is about 30 to 40 CUC per night (this was in 2016, I heard the prices are higher now!). Make sure your Casa has a blue sign by the door with an anchor, as these are only issued to official cases.
The big issue here is there's no assurance of finding a great deal, and you have to haggle and spend hours upon arrival finding a place to stay in Havana. You need to have cash too and in local money (so you also have to look for money exchange place before looking for your accommodation)!
Another option is to use Airbnb, as more and more Casa Particulares in Cuba is finding their guests online through this sharing economy service. Be prepared to pay a little more, but it's worth it if you like the extra security of user reviews. You can use my referral link to get a free $32 credit when you sign up.
Hotels can be an interesting experience in Cuba, being expensive and a little run-down at the same time, but the service will probably be incredible. With ageing buildings and infrastructure, many of the simple things you may take for granted in hotels may simply not work properly – hot water, electric sockets, televisions among others, yet the hotels in tourist centers like Havana Vieja (Old Havana) have a genuine antique charm about them that many modern hotels would love to imitate. Here's my list of Hotels in Cuba – catering to international tourists!
When booking hotels in Cuba, it pays to get online and book early to get good deals, or you could end up paying over $200 USD per night in Havana. In other areas of the country, try to do the same – Varadero is seen as the Cancun of Cuba, with a long string of all-inclusive hotels to choose from, but again book online to get the deals.
Which neighborhoods are the best to find accommodation in Havana, Cuba?
1. Old Havana – Havana Vieja – The oldest part of the city and by far the most touristic. Worth a day of exploring, but full of tour groups, souvenirs, and very expensive food. If you like plazas and historic colonial architecture, then you'll enjoy it here, as well as the many museums around the area.
2. Central Havana – Havana Central – You could draw a line between Old and Central Havana. The difference is so clear! Take one step past the Hotel Inglaterra for a taste of the real Havana. The old buildings are crumbling, and the classic American cars are dented and tinged with rust, unlike the shiny tour cars on offer in the old town. Life takes place in the streets here, vibrant and energetic until all hours of the morning. There are many casa particulares in this area, and it's very safe to walk around, even at night. The best photography in Havana is probably found right here.
3. The Seafront – From any part of the city, the sea is never far away so take a stroll along one of the city's seafront promenades. The Malecon area alongside Havana Central is one of the best, busy with tourists and locals alike.

How much money should you take to Cuba? What currency should you take to Cuba?
Money in Cuba and Cuban Currency Exchange
Cuba has two currencies, the Cuban Peso (CUP) and the Cuban Peso Convertible (CUC). Tourists will most likely pay for everything in CUC, although sometimes a change may be given in CUP. The usual rate 1 CUC = 24 CUP. The CUC was introduced in the late 1990s to replace any US$ being used in the tourist industry. By doing this, the government can avoid a black market US$ economy. This dual currency also ensures at that tourists will almost always pay more than local Cubans in most situations. (Please check the recent updates on the exchange rate, the rate below was when we visited)
1 CUC = .87 cents
1 CUC = 24 COP
Traveling from Mexico, we decided to take Mexican Pesos to Cuba. We withdrew around 400USD in Mexican Pesos for our 1-week trip before traveling to Cuba. There are plenty of places to exchange currency in Cuba, called a Casa de Cambio. It's way better to take Euros, British Pounds or Mexican Pesos to Cuba instead of US Dollars as there is an extra 10% charge for exchanging US dollars in Cuba.
Also, you need to know that Cuban (the locals) are often paying a different rate for many services than tourists. The cost of food, transportation, entrance fees, etc. is often more expensive for tourists than the locals. Don't get offended or think that people are scamming you; it's a normal thing here, and in Cuba, it's not simply a question of not earning as much money as we do – they are suffering from their current economy and are not legally permitted to leave their own country. You can still haggle if you think that the price is too high, just like anywhere else.
ATMS in Cuba and Cash Withdrawals in Cuba
There are also plenty of ATMs in Cuba, although we've heard that US cards won't work in them. Jonathan had no problems withdrawing cash with his British bank cards.
Apparently, the question of your card working or not could be more complicated than that, as non-US are issued cards may have a parent company in the US, therefore following the same US regulations. Some ATMs in Cuba may only accept MasterCard while others will only accept Visa. Overall it is best practice to check with your card issuer before traveling, regardless of where you or your cards are from.

The Internet in Cuba – Is there Wi-Fi in Cuba?
YES! There is the internet in Cuba! It's pretty easy to find too, although not as widespread as most other countries. You have to go to designated areas and buy Internet access cards from the government store for 2 CUC per hour, or people in the park sell the cards for 3 CUC per hour. These public hot spots are usually in parks, plazas and the larger hotels and can be found all over the city.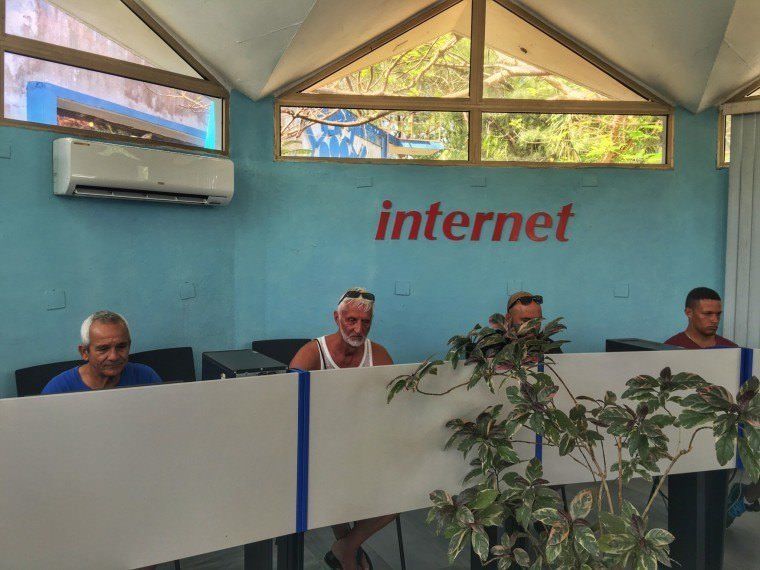 If you don't have any smartphone or laptop, you can also use the computers at some of the stores where you buy internet cards.

Is it SAFE to travel around Cuba?
We felt very safe the whole time we were in Cuba. Cubans themselves are extremely friendly, helpful and respectful, so you'll never be lost for long! The only real issue is between Cuba and the United States, which even then is between the governments, none of the real Cubans we met showed any anti-American or anti-foreigner sentiments. Exactly the opposite. You might meet a lot of locals in the street trying to sell you Casa Particulares and cigars, but they are not going to do anything to you, they're just trying to earn a living.
Having said that, there are some hustlers (jinteros/as) around the streets, just as there are anywhere. Also, if anyone offers to take you somewhere or show you something – restaurant, car rental, casa, hotel, anything – there is a good chance that they'll be earning commission, may be inflating your price. There aren't many opportunities in Cuba at the moment, so people make their own, but if you don't want to be shown something or led around, just be firm and polite. 'No gracias, no lo Quiero,' and walking away is usually enough!
If you're a solo female traveler, just be aware that Cubans can be quite "carinoso," or very forward and confident approaching women! Cuban women are incredibly pretty, though, so you may not get any attention next to them!
Next Article: Our 1-week DIY Travel Itinerary in Cuba – where we stayed, how much we spent days and some cool information!

Are you on Pinterest? Pin these!