14 Best Cities to Visit in China with Tips on Places to Visit
When we hear about China, we imagine that big country in Asia, so big and a challenge to explore. The journey there will be filled with awe of the place and its fascinating history. There are about 55 World Heritage Sites, 14 Natural, 37 are Cultural and 4 Cultural Natural Sites. IT is also one of the 17 megadiverse countries in the world. Though most of us only know Bejing, Shanghai, the Great Wall, and Pandas; China has a lot more to offer.
China or the People's Republic of China (PRC) is the world's most populous country and the third-largest country. It includes 22 provinces, 5 regions, 4 DCM, and 2 special administrative regions. The Disputed territory, Taiwan, is claimed by China as its 23rd province; however, Taiwan doesn't consider itself as the Republic of China rather than PRC.
If you're planning to visit this intriguing country, there you're in the right place. We will tell you the 15 best cities to visit in China and popular tourist attractions in China. This post will help you with your China itinerary. So prepare your pen and paper and read this list:
North China
Beijing
Beijing is the capital of China; filled with modern architecture and a long marvelous history. Start with the pride of the country; the Great Wall of China. After that, walk around 72 hectare Forbidden City, the emperor's home for almost 500 years. Relax like a royal as you go to the Summer Palace or the Temple of Heaven. If you want to be in awe of modern architecture visit CCTV Headquarters or Taikoo Li.
North West China
Dunhuang
One of the most unique cities in China since it is on the edge of the Gobi Desert. Tour the Mogao Caves which is also known as Thousand Buddha Grottoes. Stop by and hang out at an oasis in the middle of the dessert; Crescent Lake. Ride camels along the silk road and see at Yumenguan Pass or Yangguan Pass.
Xi'an
If you want to learn more about ancient China, Xi'an is where to go. Home to 4 dynasties, this city is famous for Emperor Qinshihuang's Mausoleum Site Museum – where the Terracotta Army, a collection of sculpture of the First Emperor of China, is. Have a stopover at Giant Wild Goose Pagoda or Bell Tower of Xi'an. Bike around the Fortifications of Xi'an and afterward unwind at Huaqing Pool.
East China
Shanghai
Shanghai is the biggest city in PRC; it is a financial center and the world's busiest port. Most of "made in china" items were shipped from Shanghai. As it sits beside the Yangtze River, take a walk day or night at The Bund. You may also view the whole city at Oriental Pearl TV Tower or Shanghai Tower. If you want to be free from the buzzing capital, visit Yu Garden. Plus, for those children at heart, Shanghai Disney Resort is a must.
Hangzhou
"Above there is heaven, below there are Hangzhou and Suzhou," a famous saying says. Hangzhou has inspired poets. The most popular attraction is West Lake, a UNESCO World Heritage. Check out the Lingyin Temple and Leifeng Pagoda. Take a ride along the Grand Canal. You can hike and try skiing at Mount Daming.
Huangshan
Huangshan means "Yellow Mountain" as the city this city prides itself on its Mount Huangshan, one of the country's most beautiful mountains. Walk around ancient Xidi Village and Hongcun Village. Trek to Lianhua Peak (Lotus Flower Peak) and place your lock a wish.
Suzhou
Dubbed as the "Venice of China," this city is famous for its canals and classical gardens. The Classic Gardens of Suzhou are a UNESCO Heritage; Humble Administrator Garden and Lion Grove are two included in the list. Ride a boat along the waterways of Pingjiang Road or Shantang Street. Climb to Tianping Mountain to see the more natural beauty of this city. Relax also at the picturesque Emerald Valley.
South Central China
Guilin
Known for its landscape of limestone karst hills, you should book a cruise on Li River and look out for the Elephant Trunk Hill; it looks like an elephant sipping on water. Check also Reed Flute Cave, colorful limestone cave or the Longsheng Rice Terraces. Pick between the Seven Star Park or Yangshuo Park.
Hong Kong
An autonomous territory of China, offers 145 countries visa-free entry as its policy is different from mainland China. Hong Kong is a vibrant port and financial hub filled with a skyscraper-studded skyline. Witness the Symphony of lights of the Victoria Harbour and see it at Victoria Peak. Feel the magic at Lantau Island for Hong Kong Disneyland, tour inside Ocean Park too.
Macau
Another Special Administrative Region, Macau has a different visa policy as mainland China; they offer visa-free entry to 66 countries. Macau is the Las Vegas of Asia, feel the vibe at Venetian Macao. However, Macau isn't only full of casinos, they also have the Historic Centre of Macau, a world heritage; the Ruin of St. Paul's and A-Ma Temple is a part of it. Go up the Macau Tower for a panoramic view.
Zhangjiajie
Zhangjiajie is home to Wulingyuan Scenic and Historic Interest Area, a UNESCO world heritage, due to jagged sandstone columns covering forests, falls and land bridges. Hike to Zhangjiajie National Forest Park and cross the famous Zhangjiajie Glass Bridge. You can also try going to Tianmen Mountain and ride the world's longest cable car. Explore Huanglong Cave or loosen up beside the Baofeng Lake.
South-West China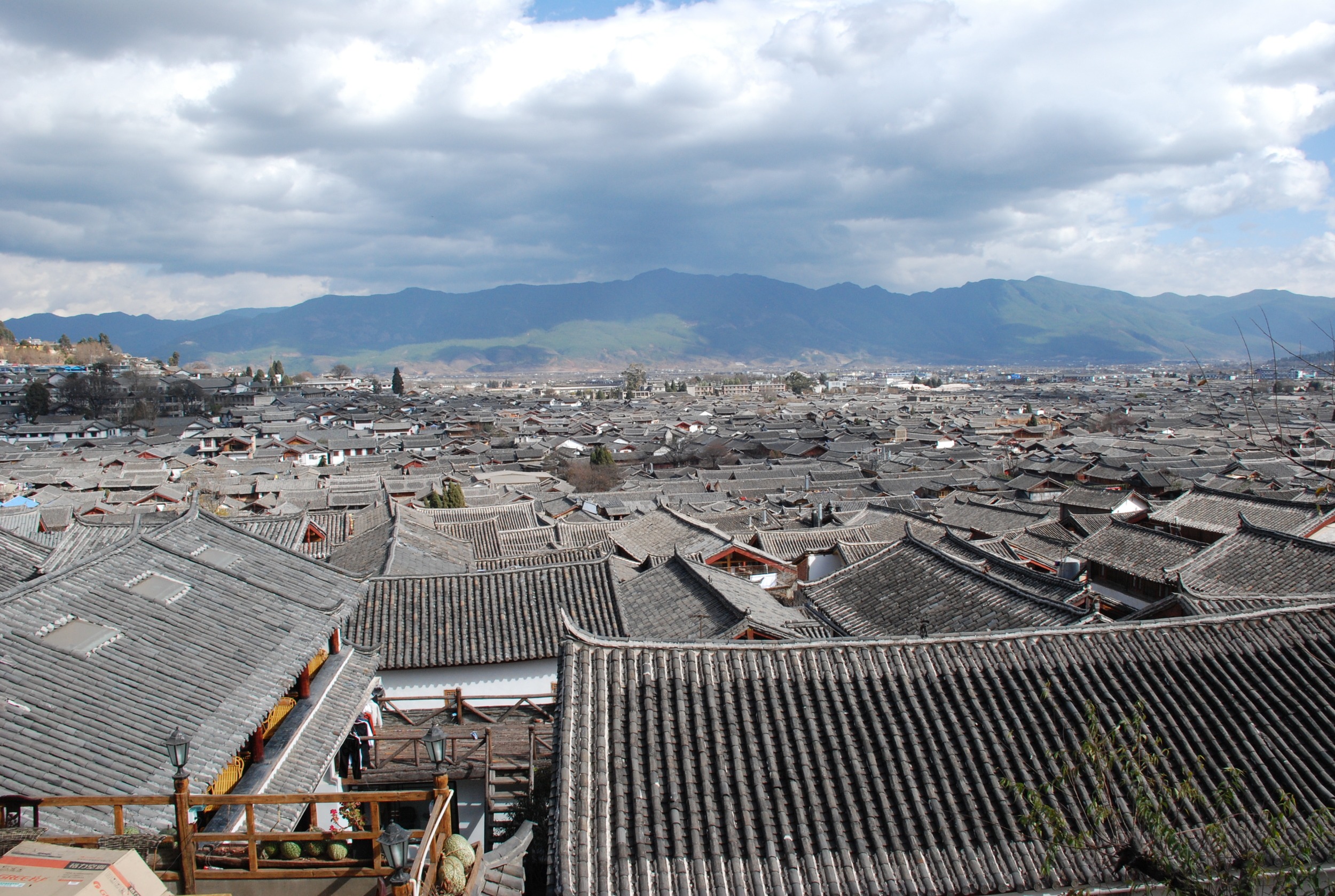 Chengdu
If you love pandas this is the place to see one! Chengdu is the capital of Sichuan province and home to the Chengdu Research Base of Giant Panda Breeding. If you want to hold a baby panda, prepare your cash and visit the Dujiangyan Panda Base, you can stop by at Dujiangyan Irrigation System after that. Journey to Mount Qingcheng and see Taoist Temples or relax at Du Fu Thatched Cottage, home of a Tang Dynasty poet.
Lhasa
Lhasa, meaning "place of the gods," is the capital of the Tibet Autonomous Region, where part of Mount Everest lies. Feel like royalty as you roam around Potala Palace and Norbulingka. Trek to the iron mountain Chagpori. Learn more about Buddhism at Jokhang Temple or see monks at Sera Monastery.
Lijiang
In this city visit the Old Town of Lijiang, a UNESCO heritage site, built on the Song Dynasty. Hike towards the Jade Dragon Snow Mountain. Unwind and enjoy the scene at Black Dragon Pool or Lugu Lake. Nearby, visit the Baishu Terrace (White Water Terrace) were spring water flows.
Visiting China soon?
I bet you don't know where to start or what to choose?  China is indeed a place you want to spend at least a month in, if possible. I feel that touring here for a week is not enough as there are such gorgeous and unique places. Each city offers a different vibe, such intriguing historical artifacts, and scenic natural views.
China allows 17 countries visa-free entry for 90/60/30/15 days. If you want to visit there, you might need a Chinese Visa. If you're a Filipino, check out my Chinese Tourist Visa Guide so that you can enter this stunning country. However, visa policies for Hong Kong, Macau, and Taiwan are separate. There are also region-specific visa regulations that allow you to tour without a visa for a limited time especially if you are part of a group tour.
Brush up your Chinese, prepare your passport and visa, and we hope that this list will help you where to go in your China adventure. In this 15 Best Cities in China List, may you enjoy the country and its culture and ready yourself to be mind blown by its beauty! Happy Travels!

Are you on Pinterest? Pin these!