20 Best Car Interior Accessories for an Awesome Roadtrip!
Make your next road trip more convenient with all these car interior accessories that we listed! Your vehicles will not be the same anymore with all these.
Do you love going on a road trip? If yes, then you might want to consider having any of these car interior accessories as it would make your trip more convenient and less hassle. Not only that but these car interior accessories can make your vehicle look more stylish, clean, tidy, as well as organized. Who would want that in our car? So if you're planning to buy car accessories, we made you an awesome list that you can buy on Amazon.
| Product Names | Product Images | About this Product | Price |
| --- | --- | --- | --- |
| Car Windshield Sun Shade | | High quality and durable sun blocker screen protector that will maintain your car interior temperature. This sunshade easily pops out and folds back in seconds making it convenient for daily use. It has a dimensions of L = 59" (150cm), W = 29" (73cm), and Ring Diameter = 27" (68cm). | |
| BDK PolyPro Car Seat Covers | | BDK Poly Pro Car Seat Covers are the perfect seat covers for your new car or even a car that's just new-to-you. It provides protection against spills and stains that might occur inside of your vehicle. The high-quality poly outer layer provides enhanced ventilation so that you stay cool and comfortable during your drive. | |
| Motor Trend MT-923-BK Black FlexTough Contour Liners | | These Advanced Performance Rubber Polymers are tested for extreme conditions to ensure they don't crack, split, or deform. It has a rubberized nibs on the bottom so the mat does not move. It also has an Ergonomic Grooves on top to give your foot traction & comfort. | |
| Enovoe Car Window Shade | | This mesh fabric design on our car sunshade is guaranteed to provide protection from sun glare and heat. It blocks over 97% of harmful UV Rays. Enovoe Baby Car Sun Shades also has a dual-layer design that gives the best of both sides. | |
| EPAuto Waterproof Car Trash Can | | A 2.0 Gallon Capacity big trash bin to maintain your vehicle clean, organized, and free of trash. It has a built-in waterproof interior with a good structure to keep the bin away from collapse. It also has a lid with an elastic opening to remain trash out of sight while keeping access to the bin easily. | |
| Yankee Candle Car Jar | | A pure cherry fragrance with hints of almond and cinnamon. It measures 1"L x 3.2"W x 5.4"H. It can be an added design as well. Furthermore, it is 100% recyclable in partnership with TerraCycle. | |
| Cutequeen car 1pcs Eating/Laptop Steering Wheel Desk | | This Cutequeen car eating/ laptop steering wheel desk is very light to carry but sturdy enough to support a laptop, lunch, and notepad. It can be Intended to mount on the steering wheel in seconds and can also be stowed. | |
| New Diamond Leather Steering Wheel Cover | | A High-Quality PU Leather and Top diamond craftwork. This Bling Steering Wheel Cover for Women is Universal Fit for Steering Wheel with 37-38 cm/14.5-15 inches in Diameter. | |
| Drive Auto Products Car Cargo Trunk Organizer | | A perfect automotive organizer Christmas gift for new drivers on a road trip. To keep it upright & sturdy every panel is reinforced with stiff base plates. | |
| Drop Stop - The Original Patented Car Seat Gap Filler | | Drop Stop provides 100% Gap Coverage in front of, surrounding, and behind seat belt catch. It attaches to the seat belt catch via built-in slot moves with the seat and no need to readjust or reinstall. | |
| SAVORI Auto Hooks Bling Car Hangers Organizer | | This car headrest hook is perfect to keep your car well organized for an enjoyable ride. No more leaving things on the floor or seat rolling around and spilling. It converts your car's headrest into a convenient storage space to hang groceries, clothes, umbrella, handbags, kids' toys, baby supplies, and much more. | |
| KMMOTORS Jopps Foldable Car Garbage Can | | KMMOTORS Jopps Car Garbage can have a big capacity. The trash bag is a handy and convenient way to stay organized while traveling or vacationing. It is also is constructed with high-quality durable materials and leak-proof design. It is also constructed out of rugged pack cloth that it can provide maximum strength, durability, and longevity. | |
| Valleycomfy Microfiber Leather Steering Wheel Covers | | A Custom made for Prius, Civic, and Camaro. It also fits small-size steering wheels with a diameter of 14 inches to 14 1/4 inches. It is made of HQ microfiber leather steering cover. | |
| VicTsing 2 Pack Car Safety Hammer | | An essential safety tool. One end is a seat belt cutter for cutting seatbelt, and the other end is the window breaker tool with two hardened sharp and heavy carbon steel points. It comes with a set of 2 car safety hammer and 2 mounting brackets. | |
| IPELY Universal Car Vehicle Back Seat Headrest Hanger Holder Hook | | It converts your car's headrest into a convenient storage space to hang groceries, clothes, umbrella, handbags, water bottles, kid's toys, baby supplies, and much more. It also organizes back seat clutter and opens up seat, floor, and legroom. | |
| Shynerk SH-M-02 Baby car mirror | | This product is perfect if you have a baby. Always have full sight of your precious infant and surroundings with the Extra-Large Wide angles this mirror provides. It has a 360-degree pivot for full maneuverability. Furthermore, it is made from Acrylic Safety Glass surrounded by a black plastic frame. | |
| RESQME Family Pack of 3, The Original Emergency Keychain Car Escape Tool | | A combination of a seat belt cutter + car window breaker. It is compact, lightweight, and powerful.  | |
| Lusso Gear 2 in 1 Car Seat Gap Organizer | | A car seat gap filler allows you to configure uniquely sized slots, providing optimized storage for all your essentials. Its water-resistant, ultra-durable constructed rich PU leather car gap filler car seat pocket organizer adds style, convenience, and space for your keys, cards, money, charger, phone, and remote, then easily wipes clean whenever the need arises. | |
| Everlasting Comfort Car Seat Cushion | | Memory foam is known for its durable nature, supportive structure, and comfort quality. The u-shape cutout at the rear of our wedge seat cushion suspends your tailbone above hard seating surfaces. The memory foam's heat-responsive technology also uses your natural body heat to adjust the material's firmness. It is 17" x 13" x 3" in size. | |
| Motor Trend Black Universal Car Seat Cushion | | Add some style and protection to your automobile with this Motor Trend Seat Covers. It uses only high-quality microfiber leather to provide cozy yet durable protection for your car upholstery. They're not only soft to the touch, but also waterproof. The entire seat mat is lined with high-density foam to provide maximum comfort and relief during long trips and daily commutes. | |
Most Common Types of Car Interior Accessories
Car Interior Accessories: Car Mats
One of the most common types of car interior accessories. If you want to avoid your car looking like a dirty trash bin, then car mats are really helpful. It prevents dirt and dust as well as stains from spills because it protects the floor of the car from such grime. So if you're always on the road with kids or pets, car mats are a must-have.
Car Interior Accessories: Windshield Sun Shades
The next one is the windshield sunshade. We all know that when we park our car outside under the sun, the interior gets extremely hot, and that's really annoying and uncomfortable. Not only that but the sunlight may also damage the dashboard as well as cause discoloration of the seat upholstery. For this reason, you should consider having a windshield sunshade to block the sunlight.
Car Interior Accessories: Seat Covers
Not only the floor of your car is vulnerable to dirt, but your seats as well. They prone to stains, as well as wear and tear. Seat covers do not only protect the seat from damage but it also gives comfort, style, and appearance to your car. This is also one of the most common types of car interior accessories.
Car Interior Accessories: Mobile Holder
In these modern times, some people need to have their phone within reach to access GPS or any other important things that can be found in their phones. For this reason, a mobile holder is necessary. It is installed to keep mobile phones in place while you're driving. However, you have to choose the high quality, durable, as well as a stylish holder that can hold your phone really well.
20 Car Interior Accessories that You can Choose From
Pro's and Con's of Each Car Interior Accessories
Pros:
This windshield sunshade protects you from the sun's heat as well as harmful UV radiation rays;
Your vehicle's seats stay cool, and will not also get your hands burned on the steering wheel

;

They have 5 custom size sunshade variations(Classic, Standard, Large, XL);
Lastly, it's easy to set up.
Cons:
The material is a bit thin.
Pros:
It has a stylish design;
It is also easy to install

;

Made with Premium "Rome" cloth material so it feels like neoprene;
Lastly, the package includes seat covers for front driver & passenger seats, a rear bench cover.
Cons:
Though it is stated that it's a "Universal Fit", it might not fit with your vehicle so you need to double-check the questions and reviews before you purchase.
Pros:
It is designed for compatibility;
It is also made from Odorless EVA Rubber & Approved by SGS European Standard

;

Lastly, you can cut your mats to fit your vehicle's contours and gas pedal with only a pair of scissors.
Cons:
Pros:
The mesh side provides protection while maintaining visibility for the driver;
The static cling back allows easy car sunshade window application as well as removal without any adhesives or suction cups

;

Enovoe car window shade also comes in a pack of two and size of 21" x 14";
Lastly, it's very easy to install – just place the sunshade on your side windows and run your hand across it.
Cons:
Due to its ability to fold so small and so well there is a constant crease/fold that won't fix even over the past couple of weeks of not being folded.
Pros:
It can keep your car clean and tidy;

It has an adjustable buckle;

Since it's waterproof, you don't have to worry about throwing away liquids;
It is also sturdy;
Lastly, it holds a decent amount of trash.
Cons:
It's big and bulky so it might be a bit troublesome if you have a smaller car.
Pros:
Hangs easily in the car, home, or any space

;

It has a fragrance life of up to 4 weeks;

Available in 3 design options;
You can also easily change or refill your Charming Scents fragrance locket;
Lastly, it features a slider bar that lets you adjust fragrance strength.
Cons:
The smell is not strong enough.
Pros:
This wheel desk is flat for writing on one side, then on the other side for lunch or snack with a place for a cup holder;

In addition, you will be able to enjoy your fast food to the maximum just moments after it arrives through the window;

It is also sturdy and has a decent size;
Lastly, easy to store in a locker.
Cons:
If your steering wheel is padded at all then it might not fit;
The cup indent is also a bit small.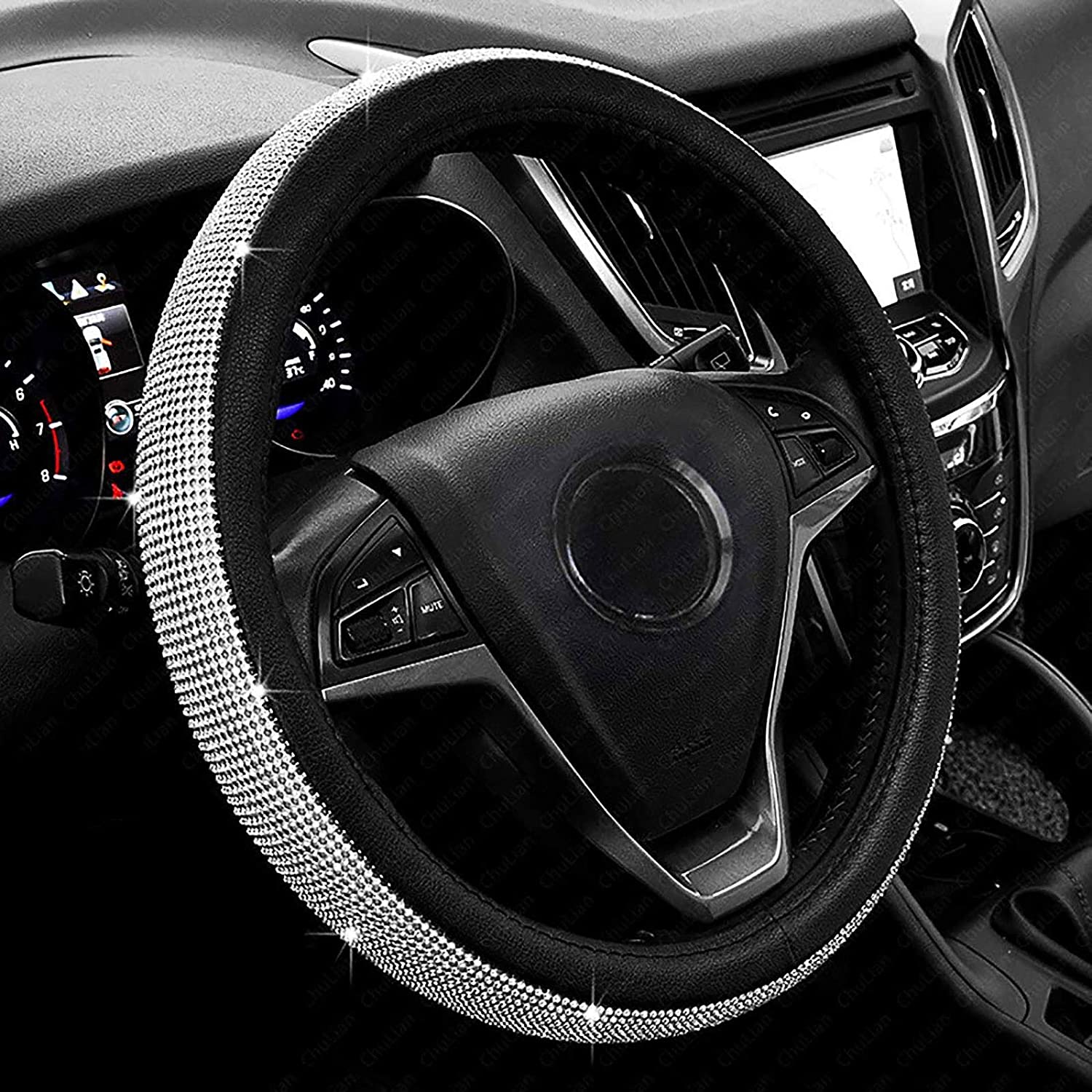 Pros:
The crystal rhinestones will massage your palm as well as relieve driving fatigue;

It is also easy to install;

Perfect gift for women who drive;
Lastly, it's durable and heats or cold resistant and wear-resistant.
Cons:
 It's not the most comfortable on your hands due to the gems on it.
Pros:
It has a c

ollapsable design so it allows adaptable sizes to fit your car, large or small

;

Its accessories include car wastebaskets, organizers, natural air purifying bags, vehicle seat protection, window shades, as well as mirrors;

Lastly, it can keep your car clean and organized.
Cons:
 The bottom part is slick so it slides.
Pros:
Each package comes with 2 Drop Stops, a Slide Free Pad, as well as a LED Credit Card Light;

It blocks that annoying yet ever so dangerous gap between your car or truck seat and center console;

It also prevents keys, phones, change, jewelry, makeup, bottle caps, pens, gum, and more from falling down the Carmuda Triangle;
Lastly, one size fits most vehicles.
Cons:
 The bottom part is slick so it slides.
Pros:
It's easy to attach as well as simple to use;

It also has a gorgeous design;

Perfect gift idea for women;
Lastly, there are a lot of designs to choose from.
Cons:
Pros:
It can keep your car clean, organized, as well as free of trash;

It has adjustable straps which are long enough to fit around anything in the car such as your headrest;

This car trash can is not only a trash can but can also be used as a storage bag for toys, drinks, or important documents;
Lastly, it is also useful to keep drinks and snacks in the car or picnicking.
Cons:
Plastic bags are not included so you have to buy them separately;
It is not waterproof.
Pros:
It increases safety as a better grip on the steering wheel so it gives you more control on the road;

It can also make your vehicle look stylish and sporty.
Cons:
You may need to measure your steering wheel thoroughly to avoid any issues.
Pros:
High performance and durable;
It is light only weighing 0.3lb;

It is also very sharp and easy to break out the window for life-saving; 

Lastly, it is easy to keep in the glove compartment, door pocket, or armrest Box, etc.
Cons:
Mounting screws are not included in the package.
Pros:
The swing hook around to either the front or back of the seat to use as desired;
It keeps shopping bags from rolling around the floor, spilling their contents;

It is also designed for easy and fast installation, no need to disassemble the headrest; 

Lastly, it contains 2 hooks with a rotatable design and can be hidden when not use.
Cons:
Remember that you will not be able to put the headrests all the way down because of the thickness of the product.
Pros:
It is easy to fit-mirror that attaches in seconds to rear seat headrest as well as rotates and pivots for a clear view;
No assembly required and it also fits in all vehicle types;

It fits most cars, trucks, vans SUVs, as well as any place of the back seat; 

Lastly, you can easily ensure that your baby is safe.
Cons:
The straps might be too small even at their loosest point.
Pros:
It is small and very easy to carry;

Tested and certified by TUV

;

Easily accessible, thus, there's no installation required

; 

Lastly, It's cheap insurance that could save your life.
Cons:
A number of newer cars use laminated glass in the side windows, this tool will not break this type of glass so this tool works better on tempered glasses.
Pros:
Fill and experience peace of mind knowing you don't have to take your eyes off the road the next time something drops;
Side pocket organizer for car seat stops coins, cash, important as well as expensive items from falling into the abyss;

It's easy to install, thus, no tools required

; 

Lastly, it has a lifetime warranty.
Cons:
It might slip too easily to the floor without any intervention;
Doesn't hold a lot – possibly only a cell phone, or coins, as well as money.
Pros:
It's a fantastic addition to your road trip essential checklist;
It remains in position no matter how much you shift because of its rubber material;
Provides optimal support so your legs, butt, and back won't feel tired;
It also works perfectly as an office chair seat cushion, car pillow, gaming chair cushion, or stadium seat pad;
Lastly, it is designed to conform to your natural curves and provide custom support throughout the day.
Cons:
The non-slip rubber bottom may stain light-colored leather/vinyl.
Pros:
The backside is coated with small rubber nibs to prevent any movement when in use;
You can easily store your cellphone, wallet, and more using the built-in front pocket;
The stitched divider also helps to keep your goods organized;
This seat cushion measures 61" x 20.5" so it fits most vehicles;
Lastly, it has non-slip features including anchors and hooks.
Cons:
It might be difficult to find a place to anchor the straps under the front seat, especially the driver seat;
There are also no slots to slip the belt buckles through the cover;
Lastly, some people might find it hard to install.

About the Writer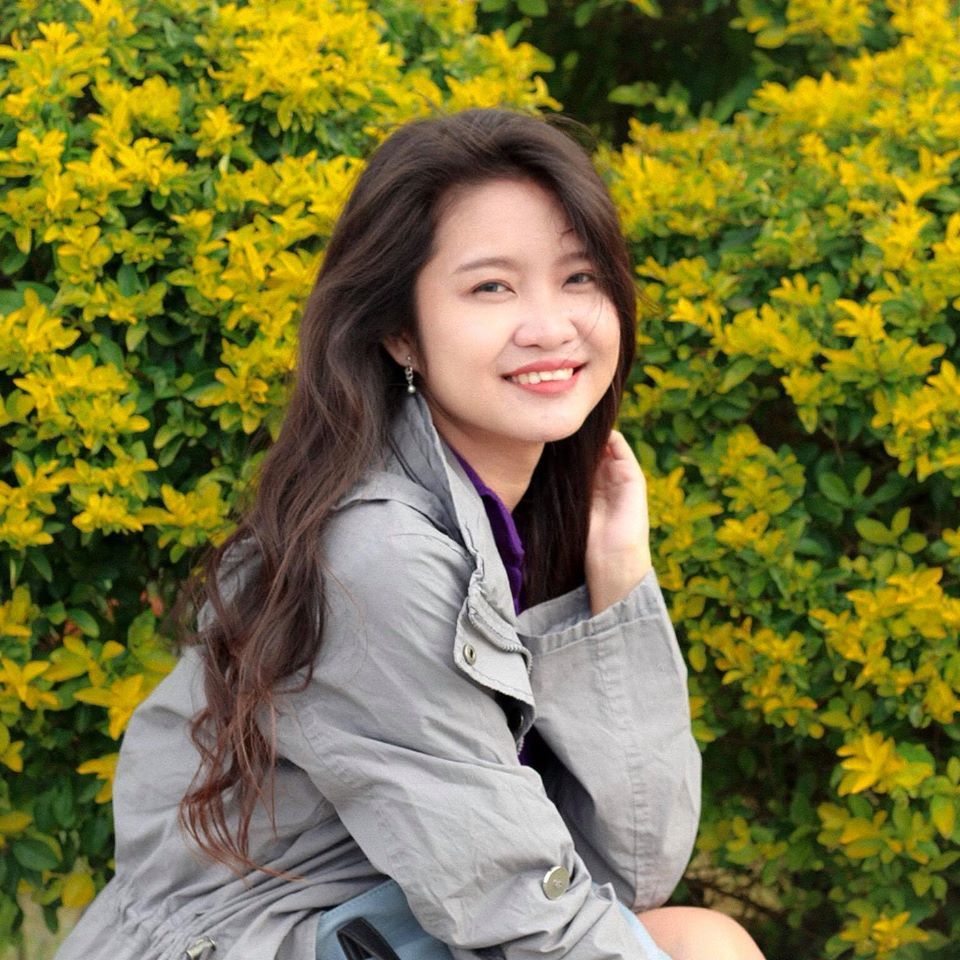 Hi there! I'm Fatima. My first major travel was in 2016 in the beautiful city of Cebu. After that, I got interested in traveling. Now I enjoy learning languages and other country's cultures. My goal is to visit at least one country each year and to share my experiences with other people through writing or blogging. Witness my journey by following me on Instagram.​​​​​​​​​​​​

Are you on Pinterest? Pin these!