Adults Only All-Inclusive Resort in Dominican Republic: Our Stay at Hideaway at Royalton Punta Cana
It has been ten days since we arrived in the Dominican Republic– we didn't intend to stay this long, but we love the people here, the lifestyle and the fresh fruits and vegetables which you can get for a very low price, so we're planning to stay longer. Since the day we got here, we've just been working on boat projects and my online clients non-stop!
We thought we needed a break, so we decided to have a staycation for four days at Hideaway of Royalton which is a part of the bigger hotel called Royalton Punta Cana. I know you've been wondering who's taking care of Ahab. Don't worry because we found him a trusted pet-sitter who updated me about him all the time while we're on our little getaway! 🙂
About the Property
Hideaway at Royalton Punta Cana is an elegant adults-only vacation experience. It is a resort within a resort where you can enjoy full access to all amenities, services, and facilities at neighboring Royalton Punta Cana and, Memories Splash.
You can also find the latest price or discounted deals thru Travelocity.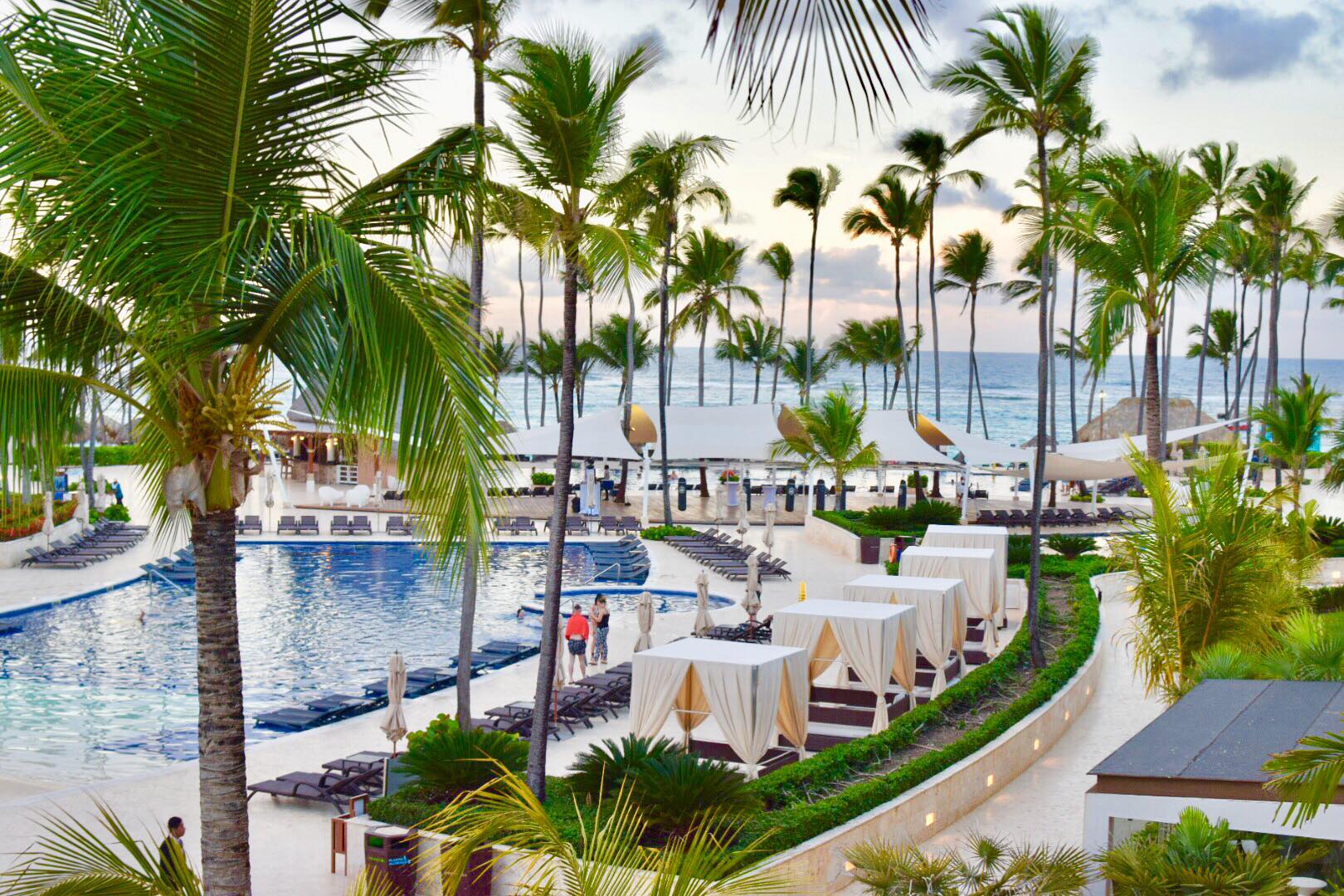 It is situated on the white sands of Bavaro Beach in the Dominican Republic which is only 30 minutes from the Punta Cana International Airport.
All-inclusive Royal Service at Hideaway
The inclusive All-In Luxury™ concept is devoted to providing guests with a unique vacation experience which incorporates the laidback, fun and funky Dominican Republic culture with a luxury product that features top quality service, and luxurious resort. When you check-in, you get an all-inclusive service which includes:
Unlimited reservation-free dining 24/7

All drinks – domestic beer, cocktails and select international brands

Unlimited free calls to North America and parts of Europe

USB charging station and Bluetooth audio station

24-hour concierge service

Sports Event Guarantee

Weekly themed pool & beach parties

Non-motorized water sports

Fitness centre

Free resort-wide Wi-Fi
Rooms at Hideaway Royalton Punta Cana
The rooms at Hideaway are perfectly designed and built for you to enjoy. Guests can get a Luxury Room which overlooks either the pool or the garden. Members of the Diamond Club™ could also choose between the Luxury Ocean View Room, Luxury Suite which has a semi-private swimming pool,  Honeymoon Suite with a jacuzzi which could still be upgraded to one with an ocean view.
We had the Luxury Ocean View Room and waking up to such a good ambiance and atmosphere made us feel yayamanin again. The room has plenty of natural light coming in which we love. It has a ceiling mounted rain shower and satellite television which we've missed a lot (living on a sailboat means you have to give up these little luxuries!). Their premium handcrafted DreamBed™ gave us the most-relaxed sleep we had in months. I seriously want to take this bed home if it could fit in our sailboat haha.
We were treated like Diamond Club™ members. We had an exclusive á la carte restaurants and bar, in addition to a shimmering pool and pristine beach area for the sole use of Diamond Club™ guests.
We were also able to access the dedicated bar forDiamond Club™ Members and waiter service, private Diamond Club™ lounge access, and had an upgraded room service menu.
P.S. We even had our own butler!
The Facilities
Pools and Beaches- Whether you want it fresh or salty, tranquil or funky, Hideaway has everything for you. Choose between luxurious pools and beaches surrounding the area including the Signature Pool, Diamond Club™ Pool, Infinity Pool, Hideaway Pool, Royalton Beach, Diamond Club™ Beach, Hideaway Beach, and Hideaway Diamond Club™ Beach. Shall we grab a cocktail too?
Tennis Courts- If you're up for some exercise, you can book an appointment with the onsite Tennis Court. If you don't have a partner, their instructors are very much willing to join you.
Non-motorized water sports- Add extra spice to your beach trip with an afternoon of kayaking or beach volleyball. This is a great way to lose weight and meet new people too!
The Royal Spa- To complete your relaxing getaway, head on to The Royal Spa which features a hydrotherapy circuit and a full range of massage, body and facial treatments featuring time honoured healing practices.
The Food
Whether you're craving for Mexican, Italian, International, Asian, Mediterranean Cuisine, or perhaps some steak, teppanyaki, or gelato, they have it all! Want a 7-course meal? Sure you can get it. I told you they have it all 🙂
Choose between Gourmet Marchè, Grazie, Opa!, Jade, Hunter, Zen, Under The Sea, Bella Cucina, Mexicana Cantina, Scoops, and C/X Culinary Experience Restaurants which are all located within the complex. They use only the freshest and best ingredients, so your food is guaranteed to be delectable and mouthwatering!
We got access to Dorado Restaurant (which is exclusive for Hideaway guests) where I had steak for lunch and dinner. It's so good it melts in the mouth! Since it's an all-inclusive resort, we can eat whenever and wherever we want. The best part is every time we return to our room; they have bottles of drinks for us- red wine, champagne, Bombay Gin, and a lot more!
The service was beyond excellent, and we really appreciate everyone especially Angelo (the bartender) and Luddy (at the Dorado restaurant). They made us feel at home to the point that whenever we arrive, they already know what we want to drink or the appetizer we want to eat! Haha.
What to do in Punta Cana?
Join a Small Group Sailing- Punta Cana's oceans are like gems waiting to be discovered. Join a small-group tour, make new friends, and snorkel at fish habitats!
Take a Historical Tour of Santo Domingo- From Punta Cana, you can easily explore the oldest city in the Americas. Santo Domingo is the oldest continuously inhabited European settlement in the Americas and one of the most populous cities in the Caribbean as per Wikipedia and TripAdvisor. Here, you can see 5th-century colonial monuments, Las Damas Street and Diego Columbus Alcazar, the first cathedral built in the new world.  
Join a trip to Hoyo Azul and Zipline Adventure– For adrenaline junkies, this is for you! Join this tour, and you'll end up ziplining through cliffs with a mesmerizing view of the ocean. To cap it off, you might end up on the turquoise blue waters of Hoyo Azul on your last zip!
Get a spa treatment- Punta Cana is home to luxury resorts where you can get a five-star spa treatment. As if it's not enough, they also have a 3-hour spa cruise where you'll join a Pilates instructor for a series of guided stretching and breathing exercises on a gorgeous upper deck with a wonderful view, enjoy a therapeutic head, back, and foot massage, and let Garra Rufa fish, or Doctor Fish, naturally exfoliate your feet.
Horseback Riding– This is not your ordinary horseback riding. Here you get to see the Anamuya River and Dominican countryside– while riding your own horse.  You'll also get to visit a local village, cattle ranch, and get a tour of plantations.
FAQS about Hideaway at Hideaway Royalton Punta Cana:
1. How much is the room rates at Hideaway Royalton Punta Cana?
Check the latest room rates at their Website, Agoda, Hotels.com, Hotelscombined, or Expedia.
2. What is the check-in and check-out time?
Check-in time is 3:00 PM and check-out time is 12:00 PM.
3. Is there Wi-Fi?
Yes, free Wi-Fi is available in all areas– and it's super fast!
4. Is smoking allowed?
Yes in some areas.
5. Are pets allowed?
Sorry to say but no.
6. Is it open for children?
No. It is an adults-only resort. Those below 18 y/o isn't allowed to stay in the resort.
NOTE: Our stay at Hideaway in Royalton Punta Cana was sponsored but rest assured that my opinion are all based on my honest personal experience 🙂
Are you on Pinterest? Pin these!