Top 10 Awesome Beaches in Cebu, Philippines @shermansdreams
If you are looking for an amazing tropical getaway for your next holiday, Cebu should be one of those places on your radar. Located in the central part of the Philippines, it is an awesome place to spend your vacation. It may not get the same attention like other parts of the Philippines, but once you have seen some of its beaches, I think you too will fall in love with Cebu's charms. Filled with plenty of activities and tourist spots from waterfalls to some fantastic diving it's the complete package. What I love about this part of the Philippines are the awesome beaches. They easily compare to some of the best beaches in Asia and because they are not as well known, they are less crowded. For me, some of Cebu's best tourist attractions are these amazing tropical beaches.
From my years of traveling around Cebu, I have compiled a list of my favourite beaches in Cebu. As I have mentioned in my video, lists like this are very subjective and not everyone will agree.  Keeping the list to just 10 means some worthy beaches will miss out.  With that said that here is my ultimate list of the top 10 beaches in Cebu:
1. Bounty Beach (Malapascua Island)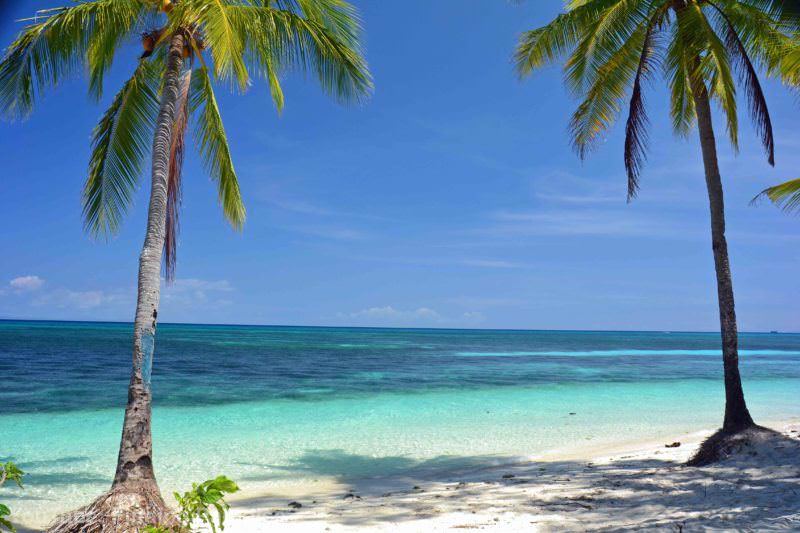 One of most spectacular beaches in Cebu or even the Philippines for that matter. It's a lovely stretch of white sandy beach on Malapascua Island (in Cebu's north). This island became famous for the thresher shark dives which attracts divers from all over the world. You don't necessarily have to be a diver to enjoy this piece of paradise, Bounty Beach is a beach lover's dream. Swaying Palm trees, warm tropical clear turquoise waters and soft sand make it an ideal destination. If you plan to stay on the island, this is the place to be. There are a number of resorts, restaurants, and bars dotted along the beach. A great place to unwind, laze, or chill out with a cocktail and watch the amazing sunsets in this beautiful part of the Philippines. Bounty Beach makes for an awesome tropical getaway.
2. Paradise Beach (Bantayan Island)
This aptly named beach on Bantayan Island is a gorgeous little spot that everyone should visit if you are staying on the island. It's located in a peaceful, secluded area on Bantayan, a little out of Santa Fe Town. You may be lucky and get the place to yourself to enjoy the beauty and serenity. There is not a lot to do here other than swim or work on your tan, but what more do you want to do in paradise?
3. Sumilon Island
This is an amazing island in Cebu's south with a stunning little sandbank. It makes for a wonderful place to swim and enjoy this delightful beach. The waters here are just amazing with those aqua blues. Not only is it popular for a day trip (from Cebu City), but if you want to spend more time here, stay overnight (or longer) at the island's only resort – Sumilon Bluewater (rates from approximately $316 – $514). The resort offers some nice rooms or check out their glamping (upmarket camping) for something a bit different. The island is also not far from Oslob, where you can swim with the whale sharks, one of Cebu's most popular tourist attractions.
4. Santiago Bay (Camotes Islands)
This is one of best-looking beaches on the Camotes, especially if you staying at Santiago Bay and Garden Resort. The resort offers arguably the best views in the Camotes Islands from its hilltop location. Santiago Bay waters are crystal clear, calm and shallow. Along the beach, there are a number of small low key resorts and some open air restaurants offering great affordable food. It's also a perfect spot if you love watching sunsets. Over the years I've seen some specular ones here.  Santiago Bay is a perfect place to spend your vacation in Cebu.
5. Bakhaw Beach (Camotes Islands)
Staying with the Camotes, but less touristy (and less crowded) than Santiago Bay is the beautiful Bakhaw Beach. It's a nice beach to chill out at. Rent out a cottage, bring some drinks or food and enjoy it with friends and family. There are plenty of palm trees to shade you from the sun or cool off in the amazing waters.  While there are a couple of small resorts here, it's more popular to come here for a day trip, and it is fairly close to Santiago Bay (if you are staying there) making it easy to get to.
6. Tingko Beach (Alcoy)
This pretty little beach in Alcoy in southern Cebu is a popular place for locals. In the summer months particularly, when the weather is good, it looks stunning. In the video, you can get a better idea of what I mean. Keep in mind, on the weekends and holidays it can get a little noisy. There are a number of resorts in the area, but if you want to stay at a resort with the best views in town hands down the best place is Voda Krasna Resort. It occupies the best piece of real-estate in Alcoy. See video below for more details.
7. Badian Island
This lovely beach is part of the Badian Island Resort an upmarket resort (rates starting from around $252 – $395) in Cebu's south. Some of the more expensive rooms come with their own private plunge pool.  I love the tranquillity of the place, a wonderful place to laze by a beautiful beach while enjoying some of the finer things in life. Saviour a relaxing cocktail (at happy hour) sit back and enjoy an amazing tropical sunset.
8. White Beach (Moalboal)
Moalboal has two main beach areas, Panagsama Beach and White Beach. Panagsama is more rocky than sandy, while White Beach is a lovely sandy beach. Not only do the waters look great, there is some terrific snorkeling offshore. A reef runs along Moalboal and there is lots of sea life to discover. If you're lucky you may be able to snorkel and see some turtles. It is a fairly popular place so on weekends and holidays it can get busy. There are cottages to rent out for day use or if you plan to stay longer there are a number of resorts dotted along the shore. Moalboal offers some good diving in the area as well, so a lot of these resorts have their own dive shops.
9. Santa Fe Beaches (Bantayan Island)
Bantayan Island (as I said in the video) is my favourite island in Cebu. The best beaches are located in the town of Santa Fe, the most popular place to stay on the island. Bantayan has some wonderful beaches that particularly in summer months (March – April) just look divine. The colours of the waters just blow me away. Not only that, it has that great island feel which I love. It's laid back, friendly and a fantastic place to holiday in. There are a number of great beach resorts to stay at, nothing luxurious though. It is more suited to the budget to the mid-price bracket. If you want a nice resort on the beach (depending on your budget) you could look at Kota Beach Resort, Anika Island Resort, Budyong and Santa Fe Beach Club to name a few. Check my other videos for more info on this.  During Easter, it does get busy here with thousands of local tourists. Expect room rates to triple in price at this time of year.  If I only had one island to visit in Cebu, this would be my preference.
10. Virgin Island (Bantayan Island)
This island is a must do when you stay in Bantayan Island. Around a 30-minute boat ride from Bantayan, it makes for an awesome day trip. If you like Virgin Island in Bohol (Philippines), this Virgin Island I think is even better. Its beaches are what you expect to find in a postcard. The island's beauty just blows me away. From its gorgeous white sands to those beautiful colours of the waters -just makes this feel like heaven. It's uncrowded and peaceful. If you wish to spend more time here, there are a couple of simple cottages to stay at – I go into details in the video above.
Other Beaches in Cebu
One of the popular places to stay in Cebu is on the island of Mactan. Here you will find some of the most luxurious resorts in Cebu. I'm not overly impressed with beaches in Mactan as they only ones worth mentioning are the man-made ones. It's not on my top 10 list of beaches in Cebu, but if pressed to choose one, I would say Shangri-La Resort and Spa's (man-made) is the best beach in Mactan Island. It does look impressive and as you would expect from the Shangri-La brand, the whole resort is an excellent place to stay at.  See below video for an in-depth guide to this resort.
So there you have it, I hope this list can give you some ideas on where to go and stay in Cebu. Or even if Cebu wasn't on your plans maybe you will inspire you to consider this part of the Philippines. I think Cebu doesn't get as much recognition as it should. Palawan and Boracay attract more attention. If you love the beach, Cebu offers plenty of places to choose from. I think it's a fantastic place to visit.

About the Writer
I'm Rob and do lots of video reviews of resorts and hotels mostly around Cebu in the Philippines. I give my opinions of what to do and where to stay. Check me out on YouTube videos or follow my blog BeyondCebu.
Social Media:
Facebook: Finding Paradise
Twitter: @shermansdreams
Instagram: paradise_shack

Are you on Pinterest? Pin these!