Best 25 Things to do in Seattle, Washington, USA [With Photos]
Looking for the best things to do in Seattle? The city that never sleeps, Seattle has the perfect mix of nature and modern city. Home to tech industry giants like Google, Amazon, and Microsoft, but surrounded by waters, mountains, and evergreen forests.  It is the largest city in Washington and not only home to big businesses but also of music history, like jazz and rock.
There are countless things to do in this bustling city, so we rounded it up to the top 25.
Here are the best 25 things to do in Seattle:
1. Go up in the Space Needle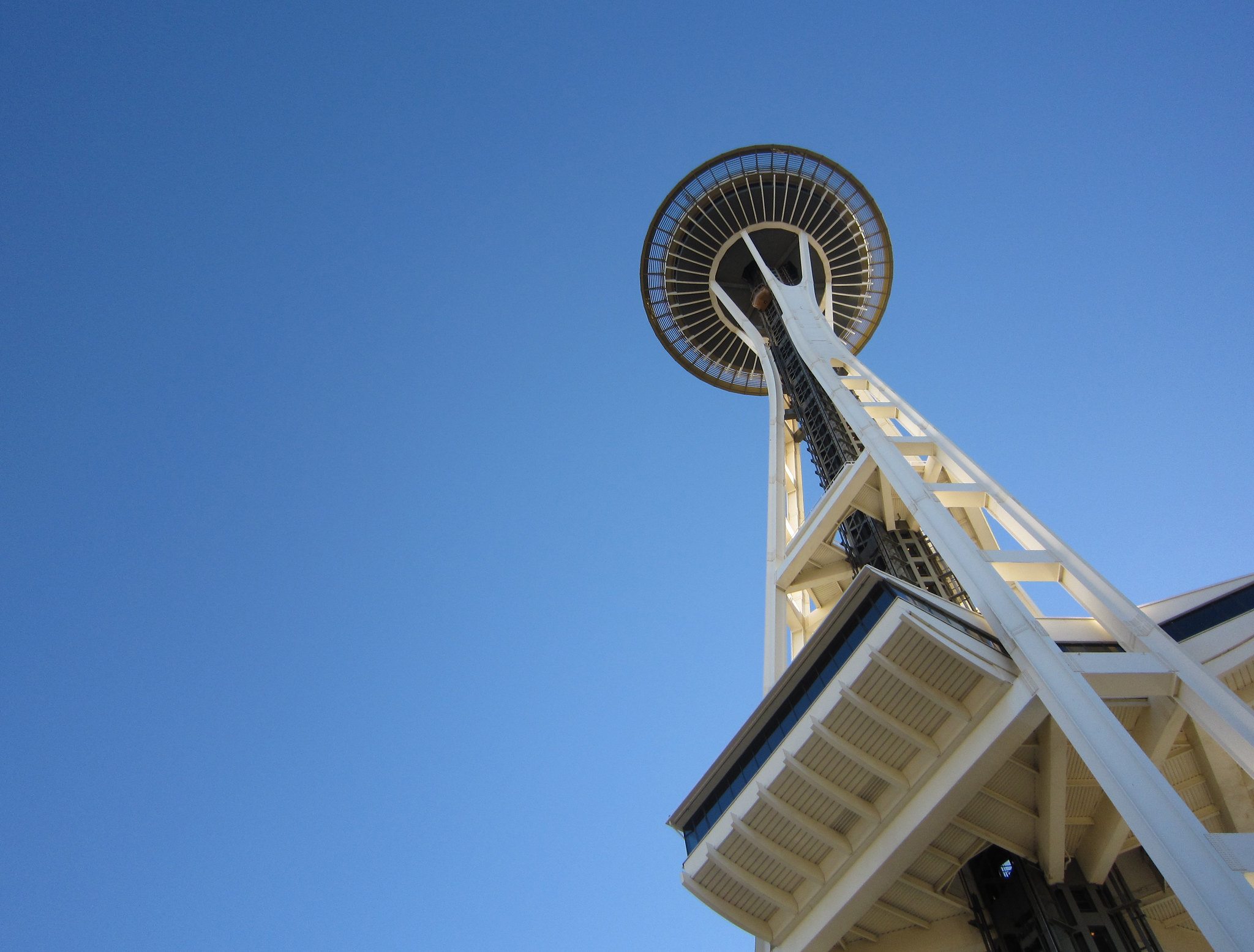 See the whole city in its iconic landmark and observatory; the Space Needle. It is 605 feet high and built to withstand 9.0 magnitude earthquakes, so it's pretty safe here. Try eating in the rotating restaurant for an added experience
Suggested Tour: Space Needle and Chihuly Garden and Glass Combination Ticket
2. Shop at Pike Place Market
Pike Place is a public market overlooking Elliot Bay. It is one of the oldest public farmers' market in the US. There are not only selling fresh produce or seafood out here, but also there are antique, collectable and comic book shops. Family-owned restaurants are available too; so in case you are hungry after shopping, get inside one and eat your hearts out.
Suggested Tour: Food and Cultural Walking Tour of Pike Place Market
3. Visit the Chihuly Garden and Glass
This attraction is an exhibit in the Seattle Center showcasing the studio glass of Dale Chihuly. You'll get many pictures, especially if you tour near the dusk as the exhibits and garden looks spectacular at night. You also get to learn the process of making it; so you'll be amazed by the creator's talent.
Suggested Tour: Chihuly Garden and Glass in Seattle
4. Hike to Discovery Park
A 534-acre natural park overlooking Puget Sound giving you a spectacular view of the Cascade and Olympic Mountain ranges. Have a picnic on the open meadows, feel the breeze at the sea cliffs, walk at forest groves, then, discover active dunes, thickets, and streams.
Suggested Tour: Premier 3-Hour Seattle City Tour
5. Tour the Seattle Underground
One of the coolest things to do in Seattle is The Underground, which is a network of underground passageways and basements in downtown Seattle. This was ground level before the streets were elevated. Don't tour this alone as there are only a few safe and accessible spots.

Suggested Tour: Beneath The Streets Underground History Tour
6. Barhop at the Ballard
Ballard has microbreweries, so for beer fans out there, this is heaven. This neighborhood is also a local capital of Nordic culture; so make sure to see Vikings or taste what they drink. Most importantly, just relax and have a fun night!
Suggested Tour: Private Tour: Seattle Highlights
7. Get a tan at Alki Beach
Alki Beach is a famous tourist attraction at Alki Point; though not popular for swimming due to cold waters, you can hang-out, people watch or get a tan. Check out the view of the Olympic Mountains, unique local restaurants and the iconic Alki Point Lighthouse.
Suggested Tour: Georgetown Neighborhood and Alki Beach Tour: historic, funky and beautiful!
8. See the Klondike Gold Rush
This is a free museum and one of the most interesting things to do in Seattle that documents the city's history from the fire that burned it down to the gold rush that built it back up again. Check the two floors of exhibits and see films that follow the adventures of would-be Klondike Kings and Queens.
Suggested Tour: Scandals History tour
9. Eat sweets at the Theo Chocolate Factory
Book a factory tour and have a chocolate-filled day, as you get to learn the process of making one and get to eat samples along the way. Prepare your sweet tooth and bring lots of water because, the chocolates are divine.
10. Watch a Concert
Check out one of the more cultured things to do in Seattle and book a concert; be it the world-renowned Seattle Symphony or a Rock concert in a bar. The music scene is legendary in the city so, don't wonder what to do in Seattle, just go get involved! 
11. Ride the Seattle Great Wheel
Located on Pier 57, this giant Ferris wheel is 175 feet tall. On Fridays to Sundays, there is a colorful light show you shouldn't miss. It can be customised for special requests, so you might get to witness a proposal or a special event. Ride times are 12-20 minutes; so it will be worth it.
12. Relax at Green Lake Park
If you're for some more relaxing things to do in Seattle, the city's scenic side found in Seattle's' north-central part is perfect for you. Enjoy the serene lake and walk on great trails. You can also swim, canoe or row here. There are lots of things to do here; it all depends on you.
13. Stroll Around the University of Washington
Feel like a student and check out the main campus of the University of Washington. Springtime is a great visit here as the Cherry trees are blooming. See the red square, Suzzallo Library, Drumheller Fountain and exhibits or events.
Suggested Tour: City Sightseeing Seattle Hop-On Hop-Off Bus Tour
14. Cheer in a Seahawks Game
If you're looking for truly local things to do in Seattle, go to CenturyLink Field, the home field of Seattle's National Football League – Seattle Sea Hawks and Major League Soccer – Seattle Sounders FC. Cheer and be one with the locals on a game day. Moreover, check out the vast array of high-quality food stands!
15. Ferry across Puget Sound
Puget Sound is where the saltwater of the Pacific Ocean mixes with the freshwater of the watershed in Washington. From here you can take day trips to places near Seattle or simple enjoy the views from the ferry.
Suggested Tour: Seattle Locks Cruise – Round trip Boat & Bus Package
16. Appreciate sculptures at Olympic Sculpture Park
Visit this free open Art Museum; Olympic Sculpture Park. Try to find all the sculptures in the park and take a picture of them, or just walk around aimlessly enjoying the open spaces with one of the more serene things to do in Seattle!
Suggested Tour: Culture, art, and music in Seattle
17. Read at Seattle Public Library
When deciding what to do in Seattle, don't forget about the library. That's right, the library! Read books or appreciate the architecture of the Seattle Public Library. The interior and exteriors are both fantastic with super helpful staff. Find a space, cool down and read your favorite book.
18. Take a walk at Post Alley
This is one of the weirdest things to do in Seattle! Walk along the famous alleyway and don't forget to take a picture at one of the top 5 germiest tourist attractions; the Gum Wall.
Suggested Tour: Secret Food Tours Seattle
19. Visit the Museum of Pop Culture
MoPOP is home to exhibits, interactive activity stations, sound sculptures, and various educational resources. Feel like a DJ in the Sound Lab or a star at On Stage. Learn loads of cool stuff about famous bands and films.
Suggested Tour: Fall Morning Tour

20. Whale Watching
See orcas, mikes, humpbacks in the wild in the Salish Sea. Book tours that are responsible too – no propellers (that mostly give injuries) and quiet vessels. You'll see one as Seattle has one of the highest concentrations of whales and dolphins in the world, making this trip of the most important things to do in Seattle! 
Suggested Tour: Whale Watching from Friday Harbor
21. Explore Washington Park Arboretum
The Arboretum is an oasis on the shores of Lake Washington so, use your feet or a canoe to explore the 230 acres and 4,000 species of trees and plants. If you need inspiration or to relax, this is the way to go.
22. Eat Seafood!
Eat fresh Oysters or Dungeness Crab which are both iconic food staples and the tastiest things to do in Seattle. Get ready for your stomachs to be full. You won't have trouble finding them, because seafood is everywhere in this city! 
Suggested Tour: A feast for foodies in Seattle
23. Stroll along Hiram M. Chittenden Locks
Walk along the Ballard Locks, a complex of locks at the west end of Salmon Bay, in Seattle, Washington's Lake Washington Ship Canal. Furthermore, don't forget to see the Fish Ladder; to see fish migrate from the river to the sea or vice versa.
24. View Seattle at Kerry Park
Witness the Seattle skyline at a small public park and viewpoint in Queen Anne Hill. See the Space Needle, Elliot Bay, and Mount Rainier. For added effect, get there around sunset time, to get the best view of the day and the night!
Suggested Tour: 4-Hour Seattle City Tour
25. Learn about planes in the Museum of Flight
The Museum of Flight is the largest private air and space museum in the world. So, check over 150 aircraft including the one used by Amelia Earhart, Boeing prototypes and warplanes.
Suggested Tour: 1-Day Seattle Sightseeing City Tour From Seattle, WA
26. Find accommodation in Seattle, Washington
Frequently Asked Questions
1. Where to stay in Seattle?
2. What are the languages spoken in Seattle?
English is the most common Language in Seattle. However, there is a percentage of Spanish and Chinese.
3. Is it safe to travel to Seattle?
Seattle is one of the safest cities to walk in the US. You can walk day and night, and violent crime is rare. Just stick to the touristy areas and avoid South Park. In case of emergencies, dial 911.
4. Should I get travel insurance before traveling to Seattle?
Although Seattle is safe; I always recommend buying travel insurance since we don't know what will happen to us. Check out Safety Wing, my insurance provider.
5. Is it expensive in Seattle for tourists?
Seattle is one of the most expensive US cities to visit. With a lot of tourist attractions and costly restaurants; budget your way, so you still have money left.
6. How to get to Seattle?
Seattle-Tacoma International Airport universally nicknamed "Sea-Tac", is a major hub for Northwest and West Coast destinations, and internationally handles especially frequent trans-Pacific routes, as well as direct flights to the major European airports.
I hope you now know the best 25 things to do in Seattle! You can check out more things to do in my blog. Enjoy your travels!

Are you on Pinterest? Pin these!