13 Things To Do in The Pamir Highway Roadtrip from Tajikistan to Kyrgyzstan
Through the highs and the lows– I've probably seen it all as we traversed the towering mountains, long rivers, and dry deserts along the Pamir Highway in Tajikistan. Flying from Croatia, I landed in Dushanbe Airport and headed straight to my hotel so I will be ready to begin my roadtrip and the beginning of my 2 months solo travels in Centra Asia.
I had a blissful business classroom which is definitely needed to prepare myself for a once-in-a-lifetime journey that's ahead of me– a long drive along the rugged Pamir Highway, which not a lot of people have been to. I was over the moon to be on this trip but I had to ask my Tour Guide, Alisher of Paramount Journey if it's safe. His answer is "definitely". True enough, along the road, we had to go through more or less 10 Military Checkpoints which checks the Visa and the GBAO Permit (which costs 70 USD). 
Now that I've seen it all during my 1 week roadtrip, here are 13 Things You Shouldn't Miss When You Travel To The Pamir Highway in Tajikistan.
1. Just enjoy the beautiful scenery of the river and mountains
Depending on how much time you have, you would probably spend the whole day driving and this is not just your usual route. You'll come across the beautiful landscapes of the Fann and Zarafshan Mountains in the Northwest, the scenic Murghab Plateau where you can meet a lot of friendly locals, and the breathtaking (albeit remote) Bartang and Wakhan Valleys.
May I suggest that you take your time, breathe, and take in all the beauty that's in front of you. Stop when needed and then again, take your sweet time. Whether you're stopping for a break, a drink, or some photos, do not forget to enjoy yourself. This is not an easy journey but it will definitely be an epic one!
2. Visit the Natural Hot Springs
One thing that's special about the Pamir Highway Route is there are plenty of things you can do in between, only if the time permits. Given the chance, wouldn't you want to soak your tired body in a refreshing Natural Hotspring? Stop by the Wakhan Valley, Bibi Hotsprings, or the Garam Chashma to get this and probably some friends thanks to the very kind locals living around the area.
3. Get a  glimpse of Afghanistan located at the opposite side of the Panja River in Wakhan Valley
Yes, Tajikistan and Afghanistan are separated by a river and on your journey through the Pamir Highway, this is impossible to miss. If you want to "feel connected" to both countries, then get out of the car, walk across the bridge over the Panja River, and have that very special photo taken. How often is it that you could see 2 countries in one frame, anyway??
4. Attend a local wedding
Now, this is something you can't do as planned but if you're lucky, you might just get to be invited over a wedding in one of your stopovers. If ever you are, don't say no! I was and it was one of the highlights of our trip where I learned so much about their culture– music, dance, festivities, and of course, marriage! I got the chance to dance with the locals and I even got paid for it haha. It's their wedding tradition 🙂
5. Play and enjoy the local music
What better way is there to enjoy an epic road trip other than listening to music?? For this one, I suggest you let your driver choose a local playlist and enjoy! Most of their songs are really upbeat and energizing, perfect to soothe your tired body (especially your driver's). I'm sure you're going to enjoy it too. Music connects us afterall
6. Eat the local food
One thing I love about this tour with Paramount Journey is that everything is included– Guest Some of my favorites are the freshly cooked fish which was freshly caught from the river, rice soup, and my not so favorite– the YAK! I have tried it but it's something I won't eat every day, I guess :p I really enjoyd the local food because they make it with so much passion, especially for visitors! 
P.S. Mention "KACH" when booking with them and get a 5% Discount 🙂
7. Shop at their local bazaars
Whether you want to shop for souvenirs, handmade products, spices, clothes, or you just want to see how the locals get about in their everyday lives– the bazaars are the perfect spot for you. They have one at Khorog, Ishkashim and Murghab and I was able to buy some clothes and a pretty bag made of Yak 🙂 Shopping from them is a good way to support their livelihood too. #SupportLocal
8. Spend a night at Bulunkul Village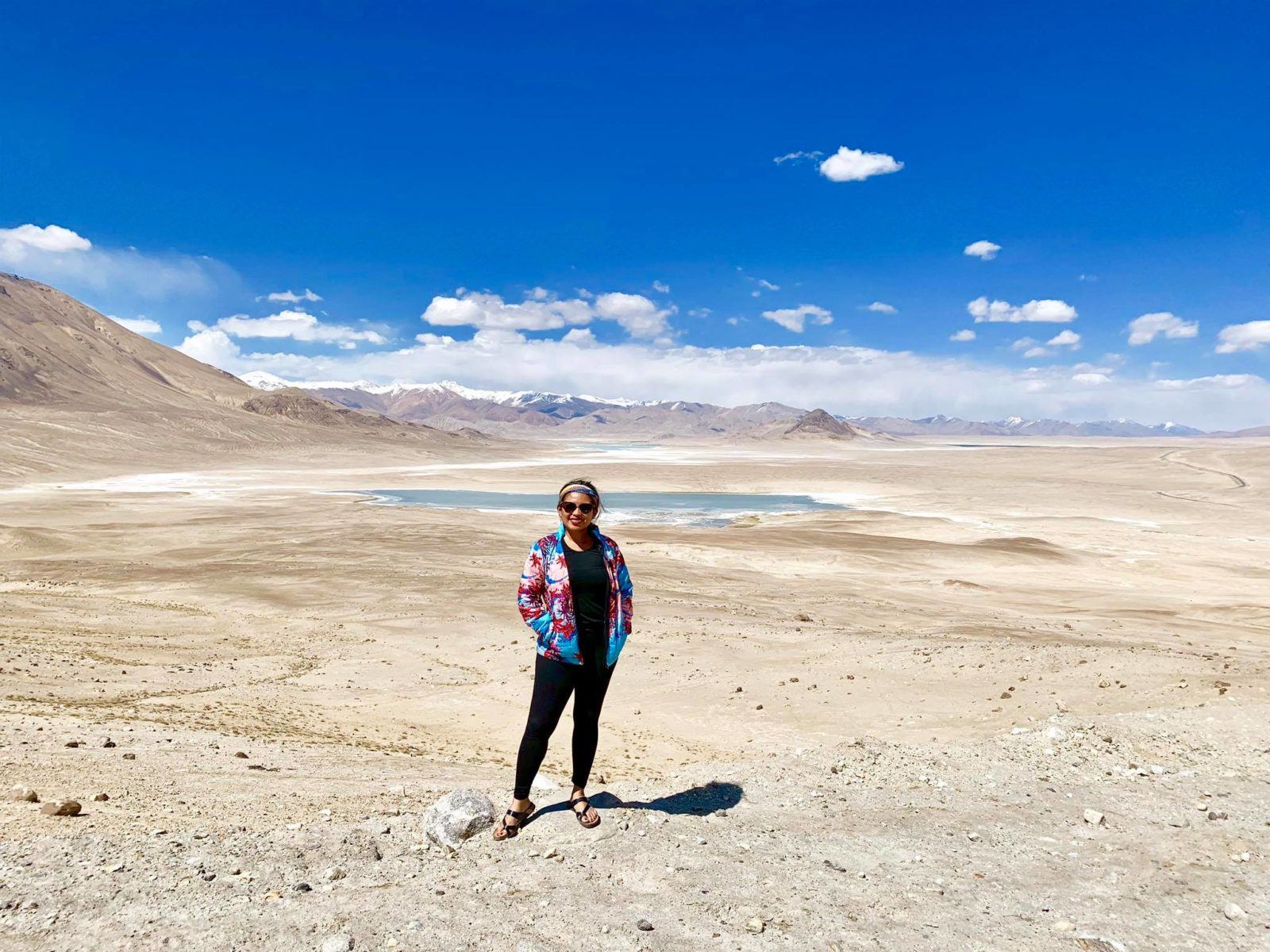 This very remote village is located at the Bulunkul Freshwater Lake in the Upper Gunt Valley of Tajikistan's Pamir Mountains. Having an altitude of 3,700 meters, this is where the coldest temperature in Tajikistan was recorded– a freezing -63 degrees celsius! True enough because the view changed from greeneries to snow capped mountains. Anyway, having stayed here for a night, I highly recommend you do the same. The village is remote yet it is home to very friendly locals. Observing their way of life is just an eye opener for me.
9. Learn how to make their local bread
Most locals are friendly and are eager to welcome foreigners. This is how I felt during all our stopovers. In fact, for a lunch stopover at a local house, the owner showed us around her house and even taught us how to make their local bread. Yum! I think this is one of the perks you'll get from arranging a tour with a local agency– you'll learn a lot from the local's perspective. 
10. Check out their beautiful lakes along the way
The Pamir Highway is home to highly elevated lakes including the Yahilkul Lake and Bulunkul Lake which I'm sure you're going to enjoy. The best one is probably in the isolated Murghab Plateau where the Karakul Lake is located.  It is 3,914m above sea level which makes it one of the highest lakes in the world. Here, you'll definitely experience seclusion and serenity. 
11. Learn how to milk a Yak
Yes, Yak Milk can be drank by humans too! You'll even find candies and butter made of Yak Milk. Haha. While you're in Tajikistan, why not learn how to milk a Yak yourself? It's not very often you'll get to see a yak anyway, much more milk them :p 
12. Enjoy the local Homestays and Guesthouse
If you're expecting a bathtub, hot showers, and a cozy mattress on your stopovers, then I'd say you're expecting too much. You'll most likely be staying in guesthouses or local houses / homestays with comfortable beds, shared bathrooms, and home cooked meals. There's no over-the-top treatment, just sincere welcome from the locals and a complete immersion in their local way of life. I would say enjoy it!! This is the best way to learn about a country and these memories are the best souvenirs you could take home with you. Don't worry you can find hotels in Khorog though if you really miss it along the journey!
13. Go on a trek
You can do a lot of trekking on this journey, only if your time permits. You can tailor your own trip with any tour provider and they will be glad to add treks in your itinerary which would suit your level. Whether you're a beginner or an expert, there's definitely something to see for you in the Pamir area.
14. Find accommodation in Pamir Highway, Tajikistan
That's it for this post! If you have more time, you can also go on a side trip to Ishkashim, Afghanistan and do the Wakhan Corridor. However, in order to do this, you need to get your Afghanistan Visa in Khorog and another e-visa to enter Tajikistan again. Note that this could take 3 weeks to process! 
Note that this won't be an easy journey but it's going to be epic! <3 

Are you on Pinterest? Pin these!