Popular Home-based Jobs for Filipinos [Tips on Where To Find Work From Home Opportunities]
Tired of waking up early just to beat the traffic for work? Hate going home late every workday? Want to enjoy more time with your kids ay home? Well, you can work online – you can work at the comfort of your home and if you are lucky, at a flexible time. 
Home-based jobs can be done online and depending on your client or employer. You can do it part-time or full-time. There are a lot of employers who like to employ Filipino workers as they are known to be hard workers and can give quality results and are able to communicate well in English.
If you want to be a digital nomad, travel and work anywhere in the world, then these jobs can be for you. If the terms are right.
Almost all jobs have a home-based counterpart except those that need you to do service (like housekeepers or waiters or cooks, obviously kailangan mong lumabas sa bahay mo; di mo bahay yung lilinisin mo at yung serbisyohan mo di mo anak o asawa, ibang tao.) If you think something is suited for you and you have the skills to do so, you can definitely have a home-based job.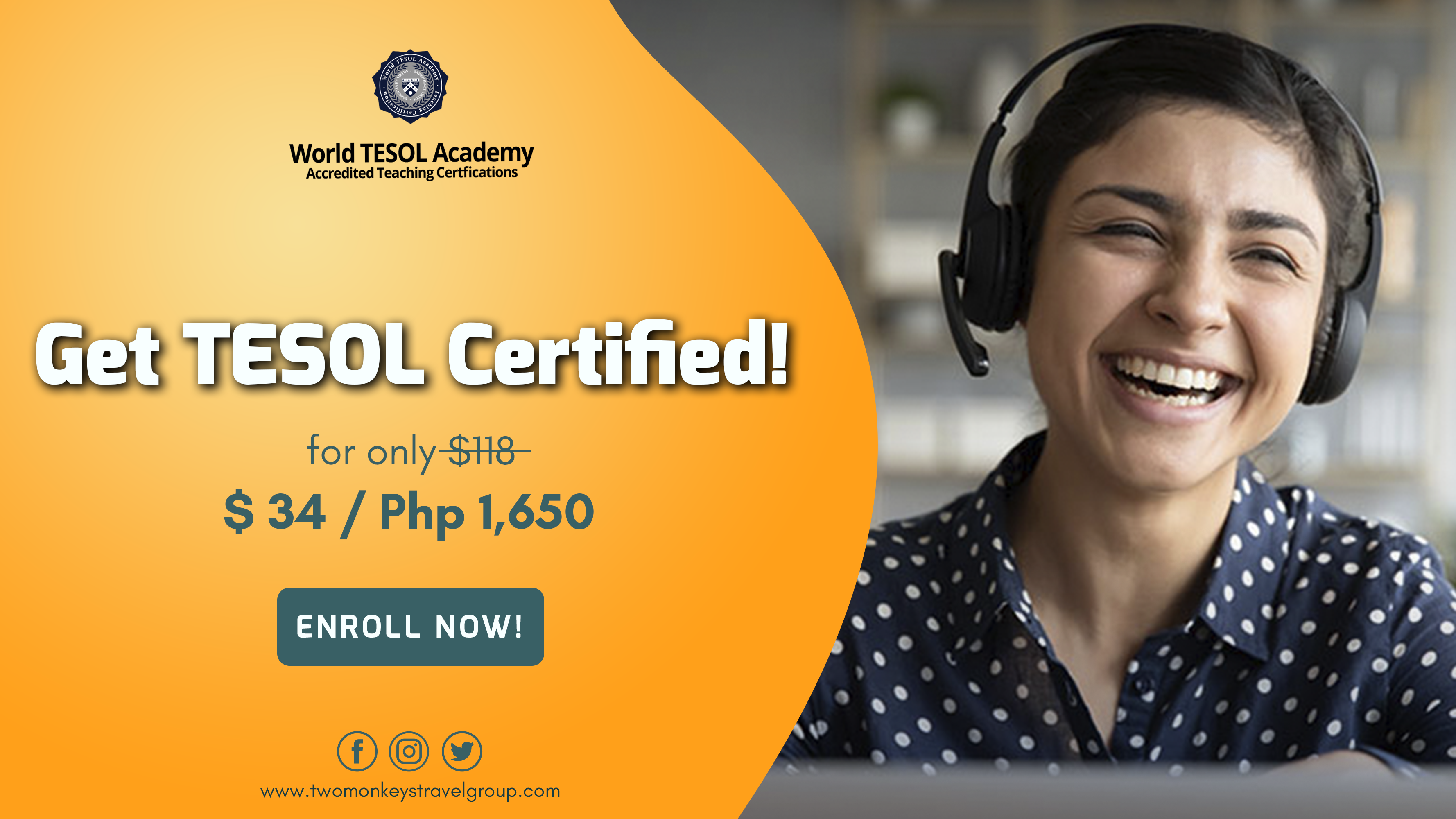 We have also partnered with World Tesol Academy to provide an 
online TESOL certification course
for the lowest price you will find anywhere – $34 USD! We recognised how badly affected many people around the world have been by the Covid / Coronavirus situation. So, we spent a lot of time discussing with this great company how they could come up with an affordable solution to help people afford the opportunities that an online TEFL / TESOL certification can bring.
Here are the popular categories of home-based jobs and some online work you could do:
Accounting and Consulting
Accounting (Xero, Quickbooks, etc.)

Bookkeeping 

Payroll

Taxation
Admin Support
Data Entry

Virtual Assistance

Transcription

Web researchers
Customer Service
Customer support

Technical support
Design and Creative
Animation

Graphic Design

Photographers/Videographers

Photo or Video Editing
Engineering and Architecture
3D and CAD Engineers

Architecture Designing

Product Designing
IT and Web, Mobile, and Software Development
Computer Programming

Data Administration

Software Development

Game Development

Beta Testing

Web and Mobile Design
Language
English Teaching

General Translation

Medical Translation
Sales and Marketing
Advertising

Marketing Strategist

SEO (Search Engine Optimization)

Social Media Marketing
Writing
Academic or Technical Writing

Content Writing

Copy Writing

Editing

Proofreading
Popular Homebased Jobs for Filipinos
1. Virtual Assistants
Pay – a minimum of USD 2 per hour
A virtual assistant basically does what his client asks him/her to do, be it scheduling, researching, e-mailing customers, booking tickets and the like. You need to have great communication and organization skills plus are tech-savvy. Most virtual would work at the same time as their client. Here's our guide on how to become a virtual assistant.
2. Online English Teacher
Pay – a minimum of USD 5 per hour
Teach Non-native English speakers at the comfort of your own home. English teachers are on-demand in East Asian countries, so most of your students will be Chinese or Japanese. You must have a good grasp of English skills, a fast working laptop or PC with a webcam. Having a TEFL qualification is also great as it can let you easily be hired. You could also check out where you can get an onsite class for a TEFL or TESOL certificate in the Philippines.
See our complete article about How to be TEFL English Teacher Abroad.
3. Customer Service or Chat Support
Pay – a minimum of USD 2 per hour
You will be trained on the basics of the company and how to answer customer inquiries or complaints. Basic knowledge of English and the computer is needed. It's quite easy are answers are a bit repetitive (as you will be given a guide) or you just need to check about the customer's order. For example, "what are the ingredients of this product" – ProdutX is composed of Sugar, Spice and Everything Nice, or "I haven't received my order, where is it?!" – We are very sorry for the delay' as of the moment it is at Post Office A. Please wait for 48 hours for the arrival of your order. Ganun lang yun, however, kailangan mo minsan ng patience as may customers talaga na galit na galit o di nakakaintindi.
4. Writers
Pay – a minimum of 0.01 per word
There are many types of writers you can be an Academic Writer – for essays, business reports, etc. There are web content writers- for blogs or websites of a client. There are also book writers. It all depends on the instruction and topics given by a client. You need to have good English writing skills, follow instructions and be able to pass on time. 
5. Transcriptionists 
Pay – a minimum of USD 2 per hour
As a transcriptionist, you need to have good typing, hearing and English skills. You will mostly be transcribing from videos or audios like calls, pay rate or client rate may be based if you have an excellent transcription. It is a great home-based job even if you have no experience.
6. Graphic Artist/Designers
Pay – a minimum of USD 5 per work
Are you good at drawing or designing? Then this is a great home-based job for you. You just need to follow what your client is asking and be able to interpret it well. You may be asked to make a logo for a company, draw characters in a storybook, design for t-shirts, and many more. You need to have the right computer software or apps to give your clients a great output.
7. Bookkeepers
Pay – a minimum of USD 3 per hour
You need to have basic accounting or bookkeeping knowledge to apply for this. Most clients also will want you to have an experience with either Quickbooks, Xero, or MYOB (accounting software). Like in a normal company, you will be given sales receipts and expenses of your client and make entries and reports from that. This job is high demand in the US or Australia.
8. Website Developer
Pay – a minimum of USD 5 per hour
As the internet is popular, many companies would want to make an online presence. However, not everyone knows how to make one from scratch and making it is really tricky process (I know, kasi mahirap gumawa ng blog.) So you might want to develop and build a client's site. You need to have great computer skills and knowledge of WordPress, CSS or HTML.
9. Proofreader
Pay – a minimum of USD 3 per page
If there are writers who write for a client, there are also proofreaders who will check the writer's submissions. You must have a strong command of English and a great vocabulary. If you are a grammar-nazi then this job is perfect for you.
10. Lead Generation Specialists
Pay – a minimum of USD 2 per hour
A lead generator basically communicates to a stranger or potential customer and make them buy your client's product or avail of their services. You can either e-mail, call or post in sites to attract potential customers. Basic computers and English skills and great Sales or Marketing skills.
If you want to know how to get that online job – here are tips on how to get jobs online. Try applying to popular sites like Upwork, Freelancer or onlinejobs.ph as you can get a wide range of jobs up there. However, know your worth (don't accept jobs that have low pay even if you have a great experience) and avoid scams too. 
Home-based jobs are a great opportunity to be closer to your family, avoid traffic and avoid stress. You can definitely have time for your personal growth too! So don't be scared of leaving your office job for a home-based one, if you surely know it is worth it. Good luck!

Are you on Pinterest? Pin these!