10 Traditional Jamaican Dishes You Must Try [Best Local Food in Jamaica]
To have the best experience on the Caribbean coast, you should not miss the chance to try local food in Jamaica for a memorable vacation.
Jamaica and Reggae will never be apart. Thanks to Bob Marley who introduced their music to the world and made Jamaica more popular internationally. Besides reggae and Bob Marley itself, Jamaica which is located in the Caribbean has a lot of beautiful places and dishes that are worth exploring.
Sharing similar cultures and history with other Latin America's countries, their cuisines sometimes quite similar as well. But it doesn't mean that local food in Jamaica is not authentic. Here we have 10 best local food in Jamaica that will be perfectly matched to accompany you to enjoy the country while staying there.
1. Ackee and Saltfish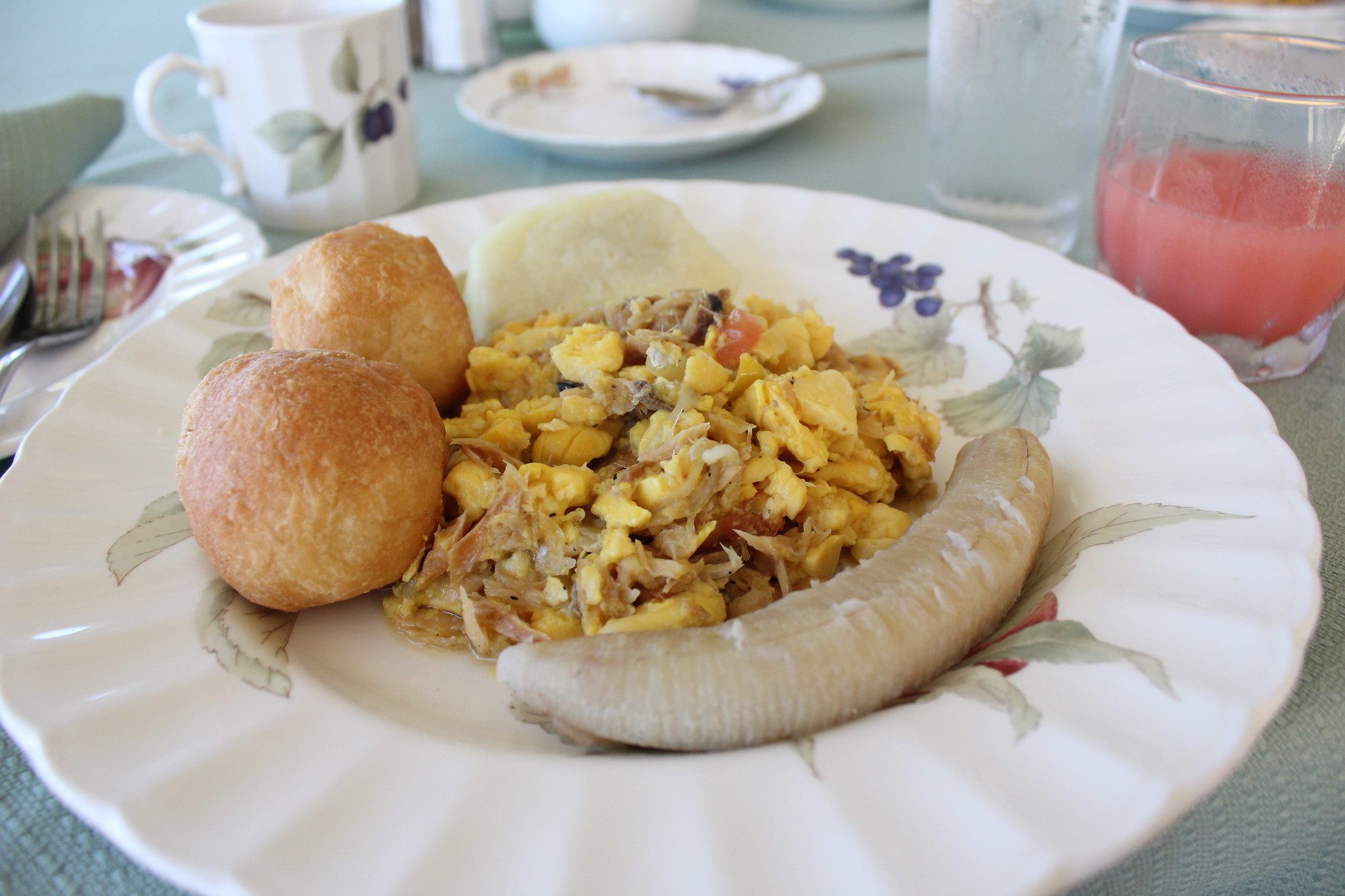 Ackee is a fruit similar to cashews and came from Africa, precisely from Ghana and imported to the Caribbean in 1725. It's poisonous but with the right way to process it, Ackee can be a delicious dish. Processed Ackee is quite similar to a scrambled egg and cooked along with salted fish (usually cod) and served with fried dumplings, breadfruits, or potatoes. This dish is so popular and considered to be a Jamaican national dish. Locals enjoy this dish on weekends or a special occasion.
The Ackee's fruit shouldn't be picked while it's raw and let it ripe by itself. The sign if Ackee had been riped enough is the petals that are perfectly opened before you can harvest it. To remove its poison, the seeds and veins are removed from the fruit and the yellow meat is boiled little by little. After that process, Ackee can be used to make a new dish.
2. Jerk Chicken or Jerk Pork
Jerk is a Jamaican traditional technique to cook meat. The dried meat being soaked on the mixture of spices like pimento leaves, scotch bonnet peppers, garlic, thyme, and ginger. Besides Ackee and Saltfish, Jamaican Jerk Chicken is also very popular with locals and tourists.
This dish usually is enjoyed with bread or Johnnycake and served using foil. Jerk chicken and pork are quite popular as a late-night snack.
This technique was invented in the 16th century when the Maroon used this method to cook the wild boar. Nowadays, the Jerk technique used to cook many types of meat but mostly chicken and pork. You can find this dish easily from the street stalls to restaurants. Of course, the price will be quite different, depending on the place.
3. Oxtail Stew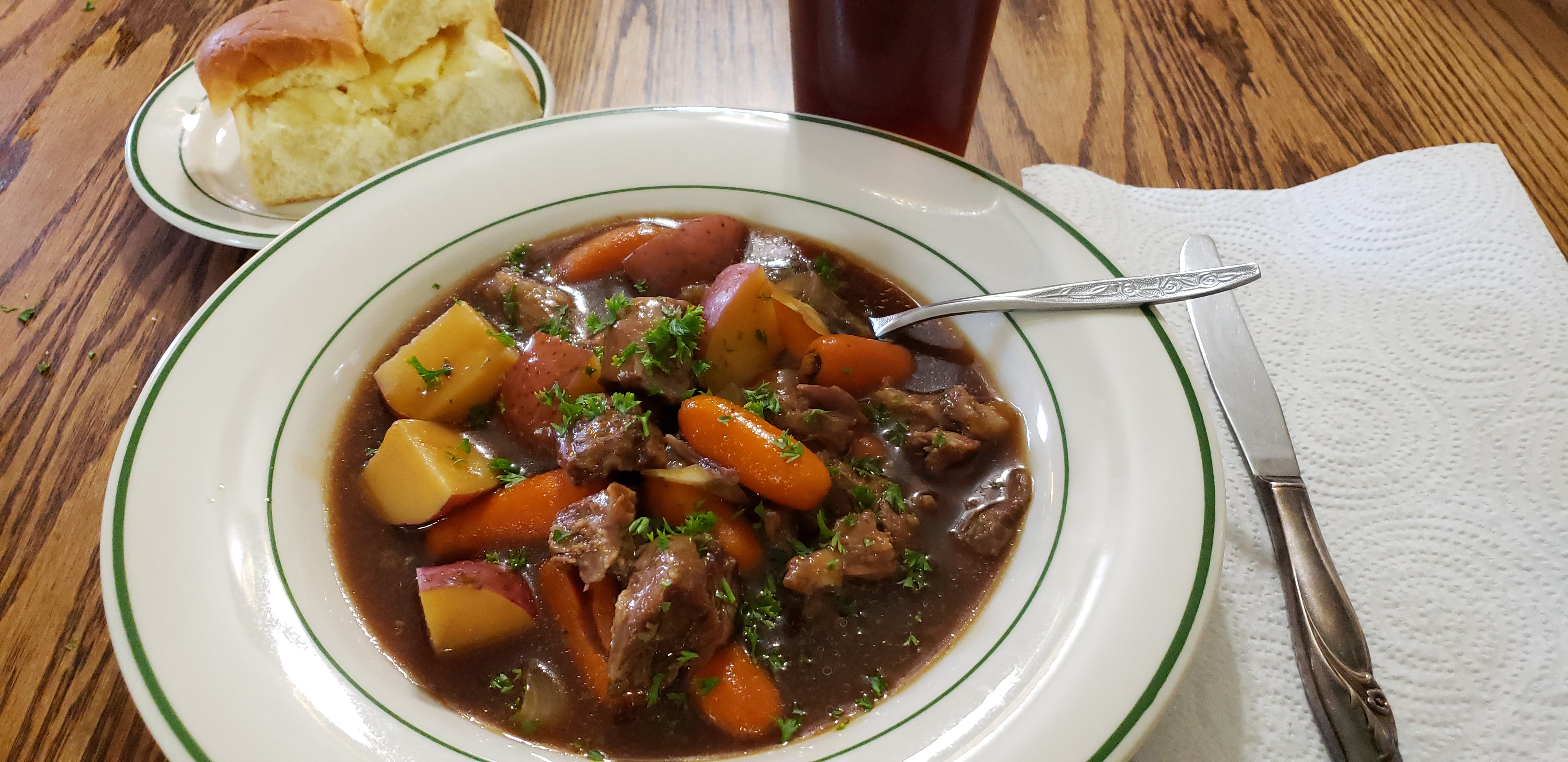 Oxtail stew is very popular worldwide. It has so many fans from all over the world. In Jamaica, they also have their type of oxtail stew. Oxtail seasoned with local spices and fried then cooked under high pressure. This technique resulting in tender meat and spices absorbed perfectly on the meat.
What makes Jamaican oxtail stew different from other places is the ingredient they use to cook the oxtail. Jamaican oxtail stew adding kara beans on to the stew and cook it together with the oxtail with the purpose to make the oxtail more tender. These beans also had a high protein in it.
Because of the long time to cook this dish, Oxtail stew is usually cooked on a big scale. You can find oxtail stew in almost every restaurant in Jamaica.
4. Beef Patty
Every place in this world has its authentic pastry. That's applied to Jamaica as well. Beef patty from Jamaica is the main dish to be eaten during lunch. This pastry is made from flour that processed to be a shell that is shaped like a half-moon and filled it with minced beef and mixed it with chili then baked it. Nowadays, Beef patty not only filled with minced beef, but also chicken, cheese, shrimp, lobster, or even soybean.
The meat filling seasoned with curry spices, garlic, onion, and scotch bonnet pepper. One of the most popular variants is chicken curry patty or vegetable patty. But every places or restaurant have their specialties and you better try it all if you have a loose schedule.
5. Red Peas / Red Beans Soup
One of the best local food in Jamaica is probably the Red Peas Soup. Sometimes we can find red peas or red bean soup in other countries. But the Jamaican Red peas soup will be giving you another pleasure when you try it. This dish has unique flavors and colors although using the same red peas as other places because it's using the different seasoning.
This soup is best served while warm on rainy or cool weather, and you can find it easily all over the island. But the homemade soup is always the best, moreover if you enjoyed it with your beloved one.
6. Callaloo
View this post on Instagram
Callaloo is a vegetable that is similar to spinach or amaranth and the main ingredient for this dish. This Callaloo is the best food for vegetarians while you're staying in Jamaica. It's steamed or stir-fried and seasoned it with garlic, tomatoes, thyme, and scotch bonnet pepper. Callaloo usually to be eaten along with steamed plantains as a breakfast menu.
Sometimes locals adding salted fish on the ingredient and when not served it with plantains, they use Johnny bread or steamed bulbs.
7. Manish Water
View this post on Instagram
Another popular goat stew, it's called Manish Water. This stew is made from various parts of goat and cooked with seasonings like garlic, green onion, plantains, paprika, scratch, and sometimes white rum. Besides goat meat, it can be added with vegetables such as carrots, potatoes, snaps, or other kinds of vegetables.
This dish has a spicy flavor and locals usually eat it before enjoying their rum or as an appetizer before the party started. Manish water can be easily found from the street stalls to classy restaurants. It served with roasted sweet potato.
8. Escovitch Fish
View this post on Instagram
If the Dominican Republic has Pescado Frito, Jamaica has Escovitch. Surrounded by the beach, it's not complete if you're not trying Jamaican's seafood while you're staying there. Escovitch Fish is a special dish that is always served on Easter.
Escovitch is seasoned with vinegar, garlic, and other spices and served with vegetables like carrot, paprika, and onion.
You can find stalls who sell this dish easily throughout the coast. Usually, the stall looks like a cottage or shack with a beach view that will make your eating experience more special.
9. Gizzada
View this post on Instagram
Now we'll be talking about Jamaican most popular dessert, it's called Gizzada or sometimes called pinch-me-round. Gizzada has a base dough like coconut tart and is made from roasted flour, filled with coconut, brown sugar, and cinnamon then seasoned with ginger and nutmeg.
The shell of the Gizzada is pressed like a pie before being filled and roasted. It can be a perfect gift for your relatives after you left Jamaica. Most of the gift shops sell this dessert, so you won't have a  hard time finding it.
10. Sorrel
View this post on Instagram
Last but not least, there is a wonderful drink called Sorrel. It has a sour taste and kinda similar to a raspberry. It's made from Sorrel spathe and soaked like a tea. Sorrel or Flor de Jamaica is a flower came from Africa.
This drink is often found at the holiday season like Christmas. It has a warm taste thanks to a mixture of the ginger on its ingredients. Sometimes it is combined with anise, cinnamon, and pimento. Although it's not Christmas, you can enjoy sorrel easily since so many places have this drink on their menu.
The Sorrel spathe itself believed to have an effect to reduce pain and swelling on the respiratory tract. So it's common if you find a dried sorrel spathe to be used as a medicine in Jamaica.
Jamaica which shares cultures with other Caribbean countries still had so many dishes that are absolutely a must-try. It's African and Spanish influence on their dish made local in Jamaica more special. So, which one of the local food in Jamaica you want to try it right away?

Are you on Pinterest? Pin these!