10 Reasons Why Digital Nomads Should Go on a Bootcamp
A lot of people envy digital nomads for a number of reasons. For one, we can work practically anywhere. It can be in a fantastic beach or in a luxurious hotel in God – knows – where. Also, most of us do not follow a 9 to 5 routine which gives other people an impression that we have a more balanced lifestyle.
Those are true. But not everything about digital nomads is rainbows and butterflies. It has some downsides as well. Of course, we miss a lot of things especially family gatherings or reunions. But if there is one challenge that digital nomads commonly face, I would say it's about maintaining a good health.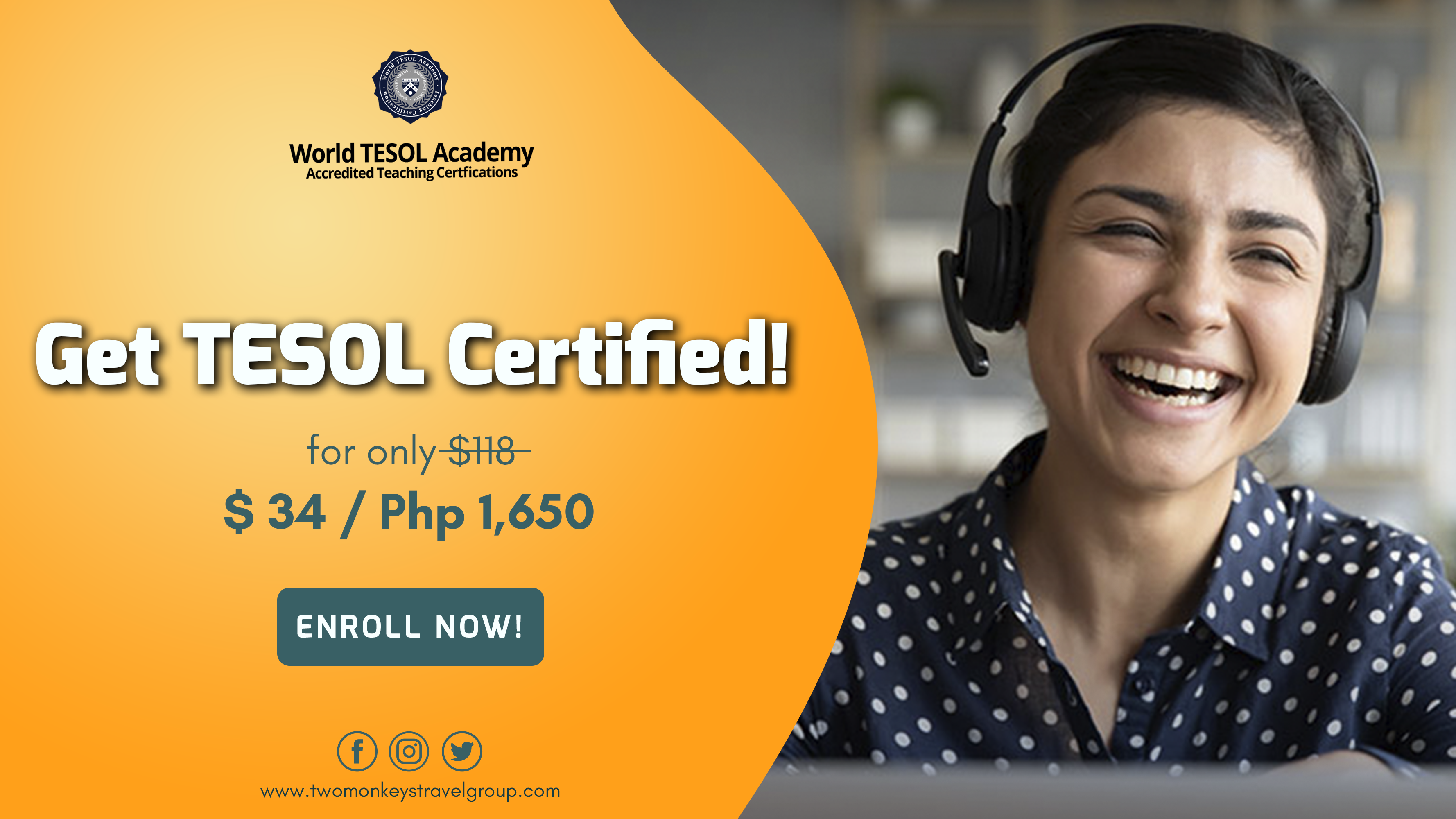 We have also partnered with World Tesol Academy to provide an 
online TESOL certification course
for the lowest price you will find anywhere – $34 USD! We recognised how badly affected many people around the world have been by the Covid / Coronavirus situation. So, we spent a lot of time discussing with this great company how they could come up with an affordable solution to help people afford the opportunities that an online TEFL / TESOL certification can bring.
Just so it's clear when I say digital nomads, I mean people who do not have a home base and move from one place to another as often as possible. Let's try to omit first the folks who work from home and travel whenever they feel like it.
Some of you might think, "Digital nomads can't be unhealthy. They live an active lifestyle. Don't they?"
Reality check, friends! Moving from one country to another doesn't equate to having an active lifestyle. I'm pretty sure one bungee jumping experience or some walking tours will not help you lose or burn the sweets or street food you had during your 'low' or 'inactive days' when traveling.
Common Health Problems of Digital Nomads
For the first few months, you won't exactly feel the effects of being a digital nomad to your health. But if you have been one for years, then you could see and feel it. Just try browsing your old photos and you would know what I mean.  Anyway, based on my experience, these two were my challenges:
Weight gain
If you are a digital nomad and you visit different countries, there's always this urge to try out local delicacies. While you can try to burn it out, it's quite a challenge if you have deadlines to beat. In my case, long-haul flights and long train rides leave me exhausted, and hungry! So instead of trying to run or jog or walk upon reaching our destination, I would often choose just to eat and sleep, which we all know is the perfect combination to gain pounds.
Weakened immune system
Traveling without really giving importance to your health can make you weak. Recently I noticed that I would always get sick. I mean, I visited 69 countries, and you can just imagine the different weathers my body had to endure. Since we move a lot, it didn't give much time for my body to adapt. Thus, I would always catch colds or flu.
Don't get me wrong, I still love to travel, and I want to add more countries to my list. However, I cannot continue my journey if that means I have to jeopardize my health. For all digital nomads, or for those who are planning to become one, it is important to rest and 'reset' to a healthier lifestyle. There's no better place to do that than in a fitness boot camp. And here are the reasons why I recommend digital nomads to try it out.
1. Your body needs to rest
This is a no-brainer, but most of us take our bodies for granted. I know you are still young and can still endure different activities each day even without enough sleep or eating the right food. However, your body will have its way to tell you to stop. If you are getting sick most of the time, that's your cue to give it a rest.  A fitness boot camp is a great place to stay for a couple of months to give your body the rest it deserves. It's about time to wake up without worrying about your flight or train schedules.
2. You need to reassess your healthy lifestyle
A healthy lifestyle isn't just about being fit, or having a bikini – perfect body but is more complex than that. One must ask a lot of questions to himself to have a firm evaluation if they are living a healthy lifestyle. Let's try to answer a few.
Are you getting the right amount and proper sleep?
Do you eat the right food?
Can you easily combat stress?
Do you easily get sick?
Can you still complete physical activities?
3. You need to get out of your sedentary lifestyle
A lot of travelers suffer from having a sedentary lifestyle. This could be blamed to the long flights, or days of road trips where you are forced to sit down for hours, making you inactive. Some of the few disadvantages of a sedentary lifestyle are as follows.
Obesity
Risk of having malignant tumors or cancers
Aging due to damage of telomeres
Risk of having heart ailments
Brittle bones and weakened muscles
4. You have to be stronger
If you want to continue your life as a digital nomad and still be able to enjoy what each destination has the offer, make sure you are strong enough to face most kinds of activities. You can't jump off a cliff or hike mountains with a weak body, can you?
5. You get to work as a team
Believe it or not, fitness boot camps can also improve your team play. There are some activities in boot camps wherein you need to work together to be able to finish a task. You know this is something to look forward to because as a digital nomad, most of us are used to working on our own. Being a team player is healthy for the mind.
6. You establish new relationships
Traveling can be fun because you get to know different people. The downside though is that you can build real friendship and relationship to only a few. In fitness boot camps, you are required to stay in one place with other fellow boot 'campers,' making it possible to create real friendship and camaraderie.
7. You can have better and fresh ideas
I'm sure that a lot of travelers are guilty of eating junk food. This is something you can avoid in fitness boot camps. Aside from losing weight, eating the right food helps you in becoming more mentally fit. Scientifically speaking, what you eat affects your mental performance because as you chew down your food, it is broken down into energy. A big part of that energy goes directly to your brain. Junk food has a very few, or even no nutritional value that will likely help you to bake and mold great ideas.
8. You become more disciplined
Entering a fitness boot camp will make you more disciplined by teaching you how to have an active and healthy lifestyle. In here you can find yourself slowly creating a more active routine. Plus, you can easily avoid tempting foods. Such control will be embedded before you leave the camp and can be very useful when you hit the road again.
9. You get faster results
Let's face it; digital nomads have the itch to travel. We all want to get fast results because we need to see the world once again. In fitness boot camps, you can achieve your goal faster with the help of well – thought of programs and highly – skilled health and fitness professionals.
10. You can still work online
And lastly, most fitness boot camps have facilities that will allow you to work remotely. Thus, joining one will not stop your cash inflow. You can consider the program as your investment for personal development.
I can still list more reasons why digital nomads need to join a boot camp. But so far, these ten should be able to convince you to find the best and the no one fitness boot camp that will improve your healthy lifestyle. Choose the one that has been around for years, and that can offer you flexible terms and programs perfect for your needs.
Are you on Pinterest? Pin these!