DIY Travel Guide to San Francisco, California
From world-famous landmarks like the Golden Gate Bridge and Powell Street cable cars to world-class cuisines, San Francisco has so much to offer, for tourists and locals alike.
TRAVEL TIPS
Attractions: San Francisco is a city of freebies. Most of the attractions are for free so, before paying for something,  research first to see if you really need to pay for it or you might end up being scammed.
Accommodation: Don't book a room just because of its cheap rates. Make sure it's also in a convenient location. It will save you time and transportation costs. The best areas for tourists to stay in the city are Union Square and Fisherman's Wharf.  With an average rate of $397 per night, San Francisco was named as the world's most expensive city for hotels. Fortunately, there are also budget hotels and cheap hostels around ready to be occupied. Whenever I visit San Francisco, I stay in my uncle's house so I can't really suggest a specific place for you to stay but here are the 30 Best Hotels in San Francisco that you can choose from.
Getting Around: Make sure to bring a comfortable pair of shoes since you'll be walking a lot. Dense and compact, San Francisco is filled with attractions that are just next to each other. The city also has an extensive transportation system – Muni (Trains, Buses & Street Cars), BART and, of course, the iconic Cable Cars. Hold on to your Muni single fare ticket since you can use it multiple times on all Muni services for up to 90 minutes of travel.
Clothing: Even in the summer, the city's average temperature is 62° F( around 17 ° C) so bring your warm clothes. However, the city, it seems, has a split personality. So, if possible, dress in layers and don't forget to bring comfortable shoes!
Now, the question is: how long should you stay in San Francisco? I say, as long as you possibly could. Despite its small geological size, it is a city where there is so much to do and see. It doesn't matter whether it's your first time, next time, or 10th time – the city's charm will (still) surely work on you. However, if you don't have the luxury of time, don't fret! You can still have an awesome vacation. Below is an itinerary designed to help you make the most out of your trip!
Day 1
Start your day by setting foot on the world's most crooked street, the iconic Lombard Street.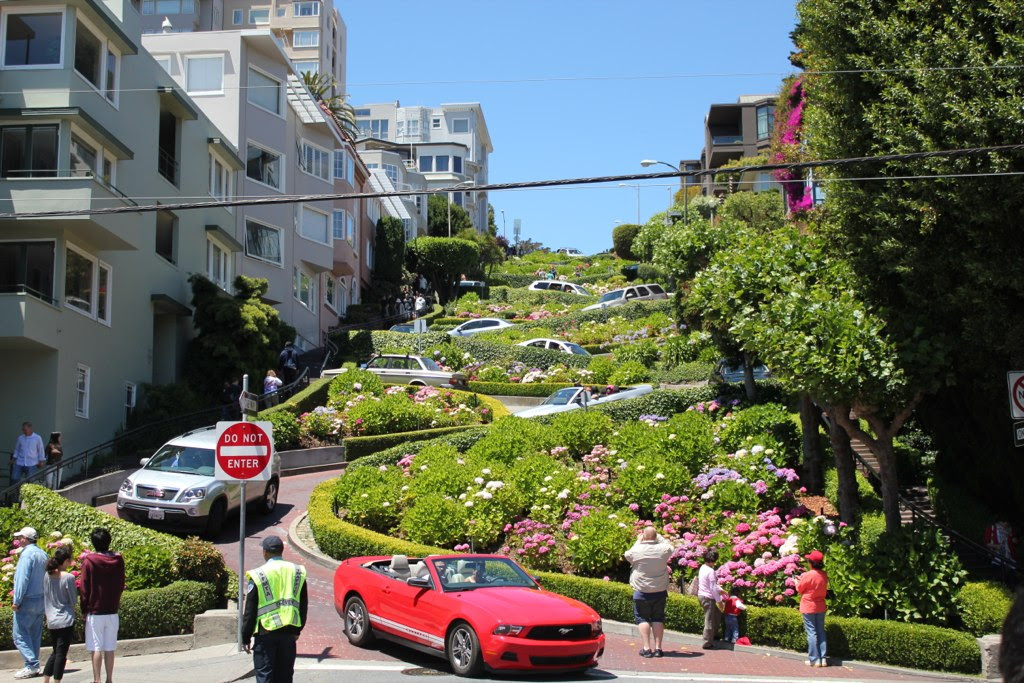 LOMBARD STREET
With its steep one-block section with eight sharp turns, Lombard Street has earned its title as the most crooked street in the world. Being the most popular street in San Francisco, having heavy traffic in this area is no surprise. Expect up to an hour-long queue if you plan to drive your way on its steep, narrow road. Though driving your way down seems fun, I suggest you take the cable car, which stops at the top of the hill, then walk your way down. Then, head to Ghirardelli Square by foot (20 minutes) or via cable car.
GHIRARDELLI SQUARE
Its name may be synonymous with chocolate, but Ghirardelli Square is more than just a home to the Ghirardelli chocolate factory. Aside from the chocolate outlet and dessert shops, there is also a wide variety of restaurants, galleries and small specialty shops that you can find there.  After treating yourself a world famous hot fudge sundae from the Ghirardelli Ice Cream and Chocolate Shop, walk towards the iconic sign of the Fisherman's Wharf.
FISHERMAN'S WHARF
Filled with great restaurants, fine shops, and a variety of tourist attractions, a day could be easily spent on the Fisherman's Wharf. This historic neighborhood is the most touristy spot in San Francisco since a San Francisco trip isn't complete without a visit at the wharf. Who doesn't like to eat seafood while having a relaxing view of the bay? For non-sea food lovers: Don't worry. With the wide variety of restaurants present at the wharf, you can still leave with a happy stomach! From here, you can also see Angel Island, Alcatraz, the Golden Gate Bridge, and the Bay Bridge. After having a scrumptious seafood lunch, walk towards the most popular destination in the neighborhood, Pier 39.
PIER 39
Pier 39 is still part of the larger Fisherman's Wharf area. With a wide selection of restaurants, shops and attractions, it is pretty much the same with the central Fisherman's Wharf area. However, here you'll see a bunch of California sea lions laying on wooden platforms at the end of the pier. Watch them as they stretch, yawn, flap their tails and make the most adorable barking sound you'll hear. Then, board to the boat heading to the infamous Alcatraz Island.
ALCATRAZ ISLAND
From 1934 to 1963, Alcatraz Island used to be home to some of America's most dangerous convicts. The felons housed in Alcatraz were not necessarily the country's worst criminals, but they were the convicts that are difficult to handle: those who had attempted escape and bribed guards. Escaping Alcatraz would be almost impossible due to its isolation from the outside world and the treacherous, cold water with strong currents surrounding it. After the boat tour, which will take you around two hours, you will be back in Pier 39.
Day 2
Rent a bicycle. Then, head over to "The Wiggle," a flat bike route that will lead you to the world's largest man-made urban park, Golden Gate Park. On the way, you'll pass a beautiful area called Alamo Square.
ALAMO SQUARE
A slice of nature in one of the world's most beautiful city? Apparently, San Francisco is filled with these. One of these gems is Alamo Square, a neighborhood characterized by Victorian architecture. After enjoying the good view of the historic Victorian 'Painted Ladies' and downtown San Francisco that the neighborhood could offer, take a detour over to the  Haight-Ashbury district, the city's epicenter of the hippie culture. Then, continue the route to the Golden Gate Park.
GOLDEN GATE PARK
Here you can find California Academy of Sciences, The de Young Museum, Conservatory of Flowers, Japanese Tea Garden, San Francisco Botanical Garden, Stow Lake, National Aids Memorial Grove, Buffalo Paddock, Beach Challet, Dutch and Murphy Windmill, Rainbow Falls, Strawberry Hill, Music Concourse, and Hippie Hill. Sightseeing is not the only thing that you can do in this park. You could also take the segway tour, play tennis, have a picnic, skate with your friends, and of course, bike around. If you're lucky, you might be there in time for their annual music festivals. Next stop is Ocean Beach.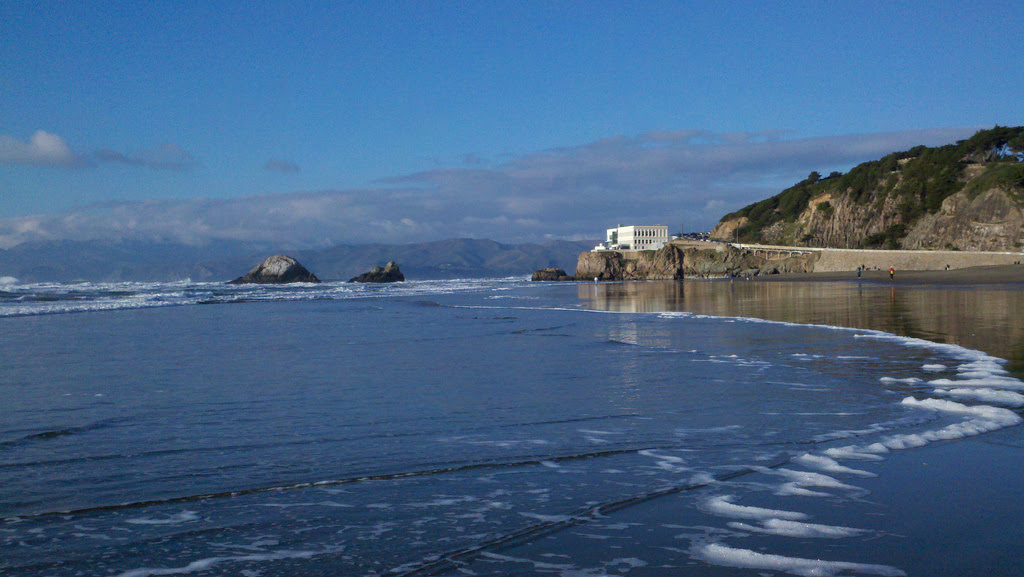 OCEAN BEACH
Take a walk and enjoy the picturesque view that this beach can offer. Running along the west coast of San Francisco, Ocean Beach undoubtedly gives you a clear sight of the Pacific Ocean. However, if swimming, be wary of its strong currents and waves. North of the Ocean Beach, you'll find the Cliff House, a restaurant situated on the headland above the cliff. Though a little bit pricey, the stunning view of the great Pacific, its delectable food and wonderful service make it all worth it. When you're ready to leave, go north through the Presidio until you reach the Golden Gate Bridge.
GOLDEN GATE BRIDGE
Ah, the iconic Golden Gate Bridge! Who could possibly forget about it? Connecting San Francisco to Marin Headlands for 1.2 miles, this suspension bridge was once called "the bridge that couldn't be built" and now part of the Seven Wonders of the Modern World. Designed to withstand winds up to 100 mph and sway up to 28 feet, the Golden Gate Bridge is not just a pretty face! There are also different places to view this magnificent architecture. Cycle over the bridge all the way to Sausalito and go back to San Francisco via ferry. If you take a rain check in visiting Sausalito, just head straight to the Palace of Fine Arts.
PALACE OF FINE ARTS
End your day by relaxing at the Palace of Fine Arts. Originally constructed for the 1915 Panama-Pacific Exposition and rebuilt in 1965, the historic Palace of Fine Arts is an iconic San Francisco monumental structure inspired by the Greek-Roman architecture. It offers a romantic outdoor setting, characterized by magnificent columns, an elegant rotunda, and a tranquil lagoon that some swans and ducks call home.
Day 3
Head to Twin Peaks to see a spectacular 180-degree view of the San Francisco Bay Area.
TWIN PEAKS
Originally called "Los Pechos de la Choca" (Breast of the Maiden) by early Spanish Settlers, Twin Peaks offers a breathtaking view of the city. With an elevation of 922 feet, it is the highest point in San Francisco with a view. You can either drive all the way to the top or park down the street and hike up your way up. When ready to continue the day's adventure, ride a bus heading to the lively Castro District.
THE CASTRO
Known as San Francisco's gay village, the Castro District played a great part in the LGBT movement in North America. Here you'll see plenty of rainbow flags and even rainbow-colored pedestrian lanes. This interesting neighborhood is filled with fine restaurants of different cuisines, unique shops, and friendly locals. After strolling around or maybe having brunch at one of its fine restaurants, you can visit its one of neighboring area, the Mission District, or head straight to the Union Square.
UNION SQUARE
If you love city life, Union Square is the place for you! Surrounding the plaza for several blocks and located centrally downtown, it is the central shopping, hotel, and theater district of San Francisco. Aside from being the "mecca" of SF shopping, Union Square has much more to offer. It is a home of many events, from public concerts to private parties. During Christmas season, the square turns into an open ice skating rink and a grand Christmas tree is set up. Directly on its North East is the largest Chinatown outside of Asia, Chinatown San Francisco.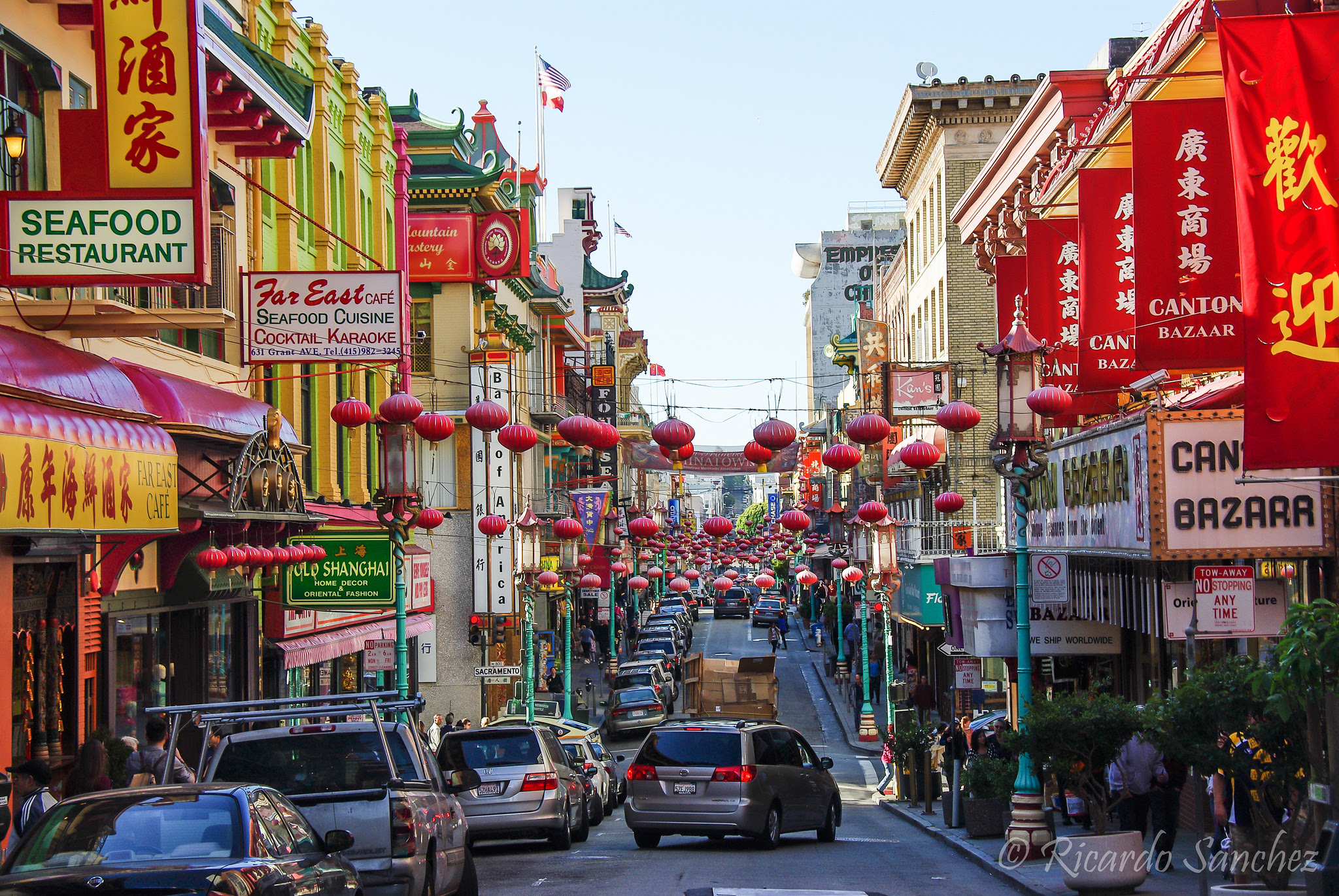 CHINATOWN SAN FRANCISCO
Enter the city's Chinatown by passing through its famous Dragon Gate, the only authentic Chinese gate in North America. It is not only the largest Chinatown outside Asia but also the oldest Chinatown in North America. This is a good place to stroll around and shop for some souvenirs. You'll never run out of things to do and see in this area as it is packed with history, culture, restaurants, shops, and tours. After your unique cultural adventure, explore more of the city by paying a visit to the North Beach.
NORTH BEACH
Adjacent to Chinatown, you'll find the San Francisco's little Italy. Home to a large Italian American population, North Beach has a high density of Italian restaurants, cafes, galleries, gelato parlors, pubs, and boutiques. Sitting atop Telegraph Hill, the Coit Tower rewards you a stunning 360-degree view of the city upon reaching its top. Have  little snack at Mama's on Washington Square then make your way to the top of the Coit Tower. Then, head to the Ferry Building Market Building for some fresh air.
FERRY MARKET BUILDING
The San Francisco Ferry Building is not only a terminal for ferries that travel across the San Francisco Bay, but it is also a food haven for both locals and tourists alike. Inside the building, there are plenty of shops and restaurants to choose from. It also has a nice outdoor setting, which offers a good view of the Bay Bridge and some parts of downtown.
Ready to leave San Francisco? Just hop on the BART and get off at the San Francisco International Airport station.
TRAVEL BUDGET:
VISA REQUIREMENTS: 
For Philippine Passport holders, a U.S. Visa is needed to travel to San Francisco. Read more about it here.
About the Contributor 
Isabela Mariano, Of all the U.S. cities that Isabela has visited, her favorite is San Francisco. Currently, she is in New York and blogs over at I See Bela . Follow her on Facebook and Instagram.
Are you planning your awesome trip soon? Let us help you! 
Check out the different travel services that we offer!
Have you purchased your Travel Insurance? If not, check out this article on why travel insurance is so important and how to choose the right insurance for you. 
Are you on Pinterest? Pin these!