10 Best San Francisco Food Trucks You Have to Try
San Francisco is one of the food trucks paradise in America. The food trucks are scattered in multiple locations, and they are ready to welcome you with its authentic, delicious, and mouth-watering dishes. Places such as Soma Streat Food Park, Spark Social, and Off the Grid are the most common locations for popular food trucks to gather in San Francisco.
Here are the top 10 San Francisco best food trucks stalls that you can use as a reference
Senor Sisig began operating since 2010 and features a Filipino-style tacos and burritos menu, Sisig. Originally, this stall uses minced pork shoulder meat spiced with a spicy seasoning and then baked. Now they add chicken and tofu to the menu. This shop is quite popular among locals.
Roli roti is one of the longest-running food trucks in San Francisco. This tavern founded by a third-generation Switzerland butcher and uses products from local farmers. The signature dish of this tavern is the rotisserie chicken, but the porchetta is also popular. You can enjoy both of the menus such as sandwiches that are using bread from Acme bakery.
Roli Roti is at 1 Sausalito – San Francisco Ferry Bldg, San Francisco, CA 94111.
Curry Up Now is a food truck tavern made in 2009 by an Indian couple who settled in San Francisco. The tavern is offering Indian specialties and already has several branches in several regions. Besides Indian specialties, Curry Up Now also provides burritos, tikka chicken, and other dishes.
Curry Up Now is at 659 Valencia Street, San Francisco, CA, 94110.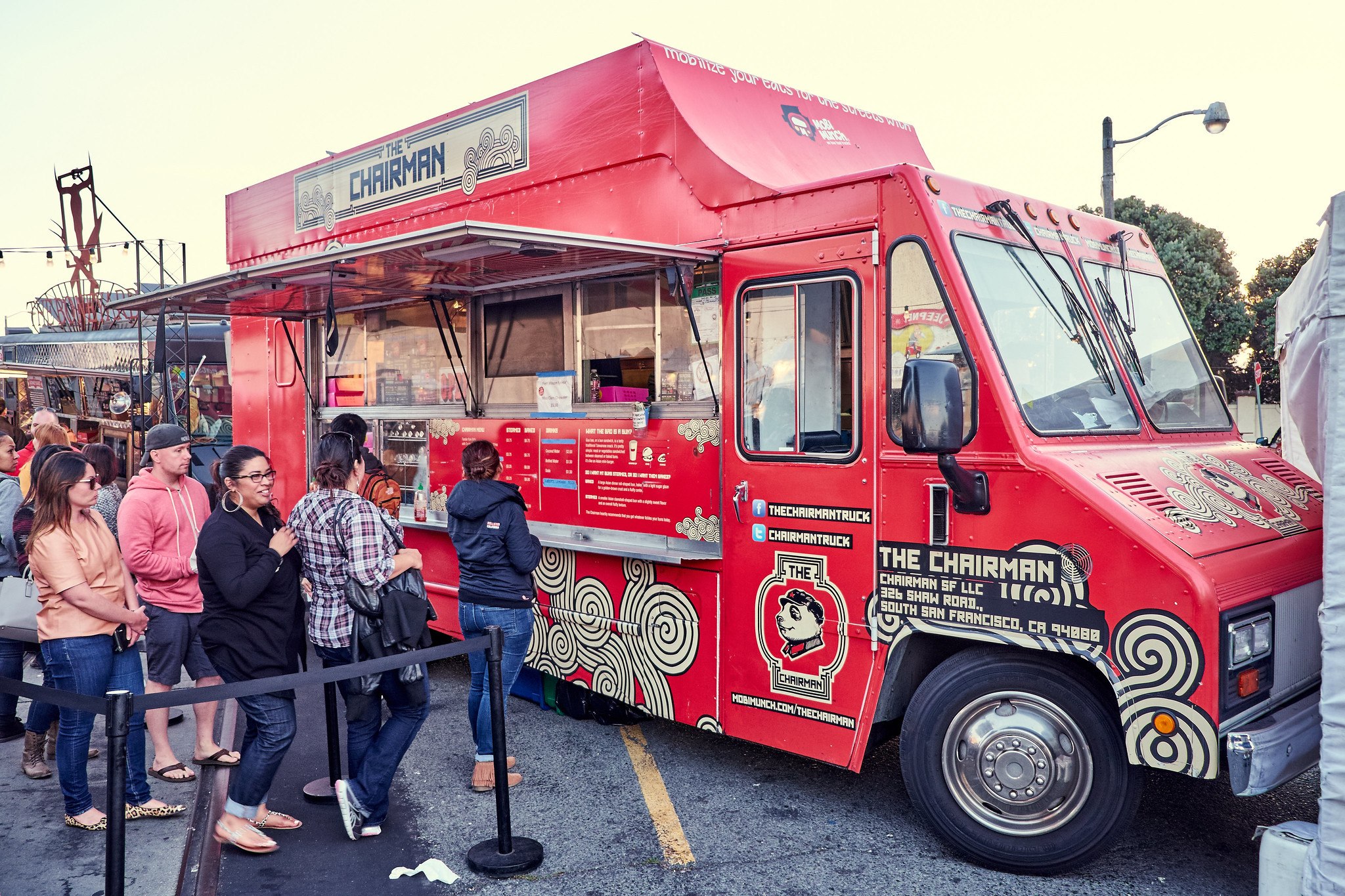 The Chairman is a food truck specializing in Asian cuisine and founded by former Charlie Bar's Chef in Las Vegas, Chef Hiroo Nagahara. This tavern's signature dish is baos, with four different types of variations.
Tender pork belly consists of red miso glaze, pickled turmeric, daikon, and green shiso;
Braised pork coca-cola consists of savoy cabbage, preserved mustard seeds, and garlic mayo;
Spicy chicken consists of toasted sesame puree, banchan pickled carrots and cucumber, and Cilantro;
Miso cured tofu consists of Tofu mayo and Baby Choy-sum.
The Chairman is at 670 Larkin St, San Francisco, CA 94109.
Del Popolo inspired by Neapolitan Pizza, which uses ingredients from small and local producers. This tavern is made from a delivery truck that turned into a kitchen with a full glass window that shows the interior, including a traditional wood-fired oven. This food truck provides a complete menu, from appetizers, main courses, to beverages.
Del Popolo is at 855 Bush St, San Francisco, CA 94108.
The Frozen Kuhsterd (FK) founded in 2012 by Jason Angeles and Chef Tim Luym. Now this tavern is owned by three people after Justin Sakurai became a partner of FK. FK has the taste of burnt caramel, Andytown coffee, and salted chocolate peanut butter. Besides, there are also FK with alcohol flavors, such as Mexican mezcal chocolate. Once you try FK, you will be addicted and want to enjoy it repeatedly.
Frozen Kuhsterd is at 791 Haight St, San Francisco, CA 94117.
Adam Lee is the owner of this food-truck, and he provides Asian flavors food. The menu at this tavern is consist of a Drako sandwich made from pork, Falkor, which uses fried chicken, and the most popular is the spicy Kraken sandwich. Besides, you can also find jumbo-sized french fries with pork topping, chicken nuggets, bacon, cheese, jalapenos, or corned beef.
Adam's Grub Truck is at 1084 Montgomery St, San Carlos, CA 94066.
8. Liberty Cheesesteak
Liberty cheesesteak is perfect for your lunch menu. This tavern presents authentic cheesesteak and is second to none. The original Liberty Cheesesteak uses steak, chicken or portobello mushrooms and added with selected cheese. There is also the pepper steak that you should not miss.
Find Liberty cheesesteak food trucks that operate in the Bay Area.
Acai is a South American endemic berry that has a myriad of benefits. Bowl'd Acai stall are well aware of these benefits, and process Acai berries into smoothies, fresh juices, pokes, and acai bowls. The base component of this dish made from organic frozen acai roots, acai fruit, coconut water, and ice that blended until it produces a condensed liquid. The Mixture poured onto the glass or bowl and added berries, bananas, young coconut, honey, and extra bougie as the toppings. Smoothies in this tavern do not use any sugar, so it can be a healthy diet menu but still delicious.
Bowl'd Acai is at 14 Mint Plaza, San Francisco, CA 94103.
Japanese food that is rarely found in San Francisco. Japacurry claims that they are the first in the Bay Area. The signature dish of this food truck is Japanese curry, such as Kare span katsu, sausage kurobuta, and fried or grilled tofu katsu. Besides curry, there are also other menus, such as bento, which uses roast beef or salmon, and serve along with seaweed salad and brown rice.
Japacurry is at c California St, San Francisco, CA 94104.
Those are some of the best food trucks in San Francisco that are not only famous but also provide the best menus that you can try.

Are you on Pinterest? Pin these!