Crowne Plaza Perth – A Wonderful Hotel Experience Enhanced by an Expected Reunion
Jonathan and I experienced an adventure of a lifetime with our 10-day Swag Camping & Road Trip in Australia. An unforgettable camping under the stars and a 4,000-kilometer road trip filled with thrilling activities from crossing the vast Nullarbor Plain to swimming, hiking, and sandboarding, starting from Adelaide and ending in Perth with Nullarbor Traveller. I was the one who chose this particular schedule and destination because the trip will end in Perth which is where my first cousin is now based. Essentially, this was also an opportunity to reunite with her who I grew up with and have not seen in 8 years.
Oh, did I forget! She now has two beautiful daughters!
The city of Perth is known for its wonderful weather and captivating sceneries. Unlike the more famous cities in Australia like
Sydney
and
Melbourne
, Perth has an easy-going, relaxed vibe to it which is why it has been voted as one of the world's most livable cities. Visitors will love the friendliness and closeness of the community residing here. Perth's relatively small size makes it a more intimate city, and after reuniting with my cousin, I can say, Perth will make you cherish the simple and good things in life.
For three days and two nights, we stayed in the luxurious Crowne Plaza Perth which offers a spectacular view of city's renowned Swan River and the large Langley Park where people exercise regularly. It is favorably located near the Perth Airport which is perfect for travelers. Furthermore, Crowne Plaza Perth is a 15-minute drive away from Perth Convention and Exhibition Centre while the Perth CBD (Central Business District) is a short 5-minute drive away. The superb hotel provides thoughtful and modern accommodation, fantastic facilities, and an awesome dining experience which are astonishing in itself. However, being able to enjoy the experience with someone I grew up with whom I had not seen in a long time along with my two adorable nieces truly enhances the stay.
Hotel Accommodation
Crowne Plaza Perth has 187 spacious guestrooms and suites thoughtfully distributed among its twelve floors. Out of the 187 rooms and suites, 83 rooms and two suites offer a perfect, relaxing view of the Swan River. All rooms and suites are suitable for both business and leisure stays. For business travelers, Crowne Plaza Perth provides workstations, high-speed internet, and a rest area which are perfect for those seeking for a calm and productive environment.
Most rooms here boast a private balcony. The suite we stayed in had one which was terrific for viewing the captivating Swan River. It is also handy if your want to fully capture the scenery through photographs.
In addition, Crowne Plaza Perth provided us with amazing amenities like a high-quality bed, pillows, bathrobes, and linen which help guarantee a comfortable stay and a good night sleep. The hotel also gave us with a complimentary buffet breakfast. Aside from the good amenities, the thoughtful staff gave us a warm, welcoming gesture in the form of a handwritten letter and a platter of fresh fruits and chocolates. How sweet! =)
This is the first time I met my two beautiful nieces and one of them gave me this lovely note. I think I will bring this with me on all of my trips from now on!
Facilities – Outdoor Pool, Gym & Laundry Area
This 20-meter open-air infinity pool, located at level 3 of Crowne Plaza Perth, is open daily from 6:30 am to 10:00 pm. The organic feel of the wooden sundeck combined with the amazing infinity pool and the marvelous view of the Swan River makes this area a perfect place to relax and recover. However, during our visit, winter was fast approaching, so the water was freezing cold. As you can see here, Jonathan just chose to enjoy the view and chill.
Unlike her uncle Jonathan, my fearless niece here did not mind swimming in cold water. I wonder where she got that adventurous attribute from. Also, the pool is big enough to accommodate guests who want to get some serious exercise.
Also found at level 3 of Crowne Plaza Perth is a fully air-conditioned fitness center. Open daily from 6:30 am to 10:00 pm, guests can find every necessary equipment here to be in tip-top shape. TVs are strategically placed at the gym for added entertainment and to help keep your mind out of the rigorous strength and conditioning workouts.
Laundry and Dry Center
I absolutely loved Crowne Plaza Perth's free offering of its on-site laundry center. Located at level 1, the facility which features washing machines and dryer is available 24 hours to its guests. On the other hand, a same-day dry cleaning service can be scheduled by guests through the receptionist.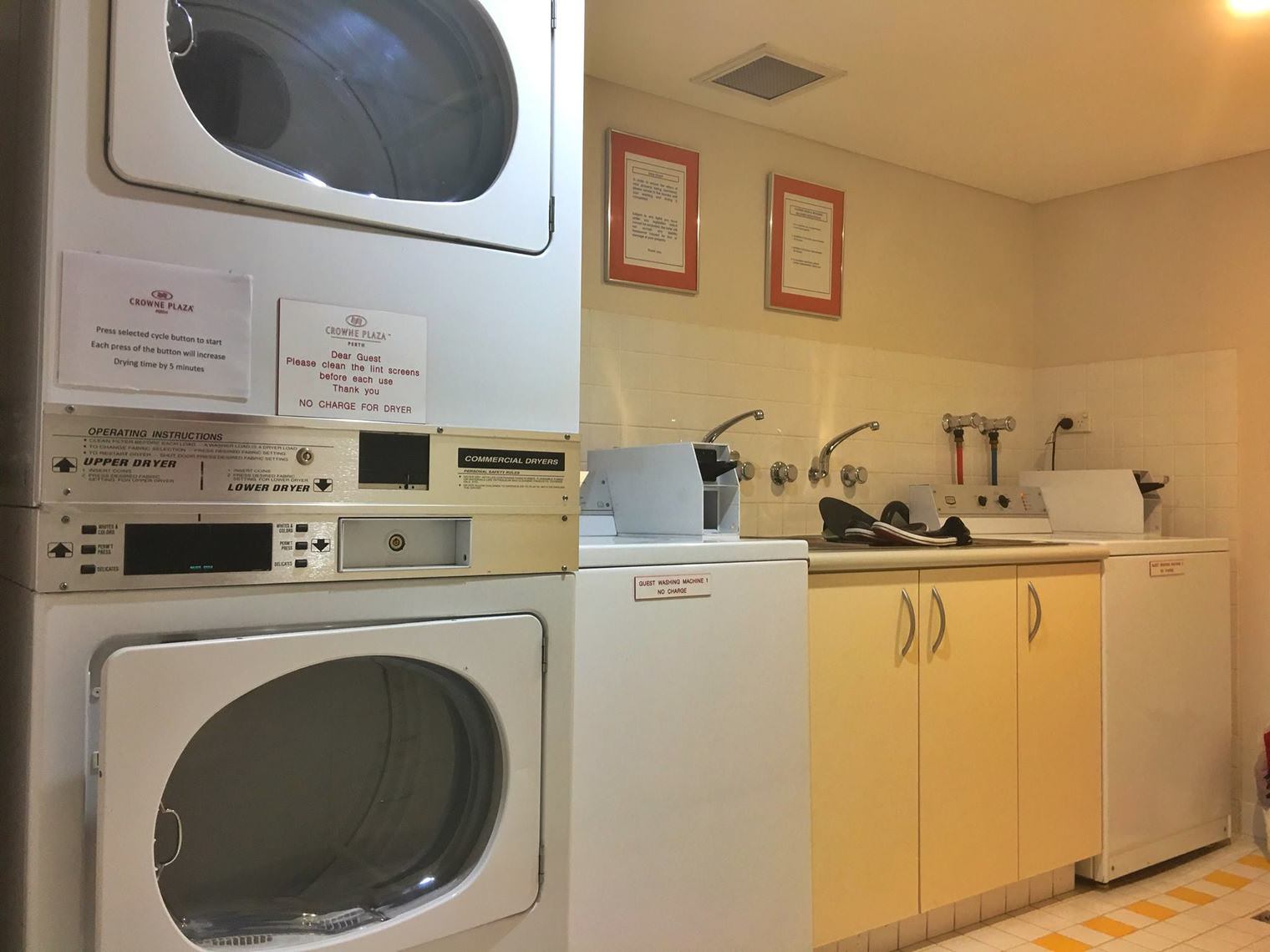 Dining
Gusti Restaurant & Bar
I highly recommend dining at Gusti Restaurant & Bar which offers a wide variety of delicious, modern Australian cuisine made from fresh and local ingredients from Western Australia. Located on the ground floor of the hotel, guests can choose between indoor and outdoor dining. The Gusti Palm Deck is a unique open-air dining experience, where guests can experience dining under the soothing canopy of the surrounding palm trees, complemented by the serene view of the Swan River.
Lounge Lobby Bar
The Lounge Lobby Bar, located on the ground floor, is open to guests and the public for the whole week until late in the evening. It serves beverages like espresso, beers, wines, and delectable cocktails. Bar menus are also served from tapas to snacks and sweet treats which make it a popular area for meeting and relaxation. Visitors are delighted when they are made aware that they have a 2-hour free Wi-Fi access at the bar.
Outdoor Experiences We Recommend
Perth Bridges Ride
Aside from getting in shape inside the gym, another nice option to get fit is to experience the Perth Bridges Ride. This is not only a great way to stay in shape but also an opportunity to explore Pert and a chance to view Perth's gorgeous city skyline through a rental bike ride around a 10 km loop around Swan River.
Kings Park
For guests in Crowne Plaza Perth looking for a great place to explore while at the same time being able to keep your heartbeats up, should go to Kings Park and Botanical Garden. Walking, jogging, and cycling tracks are available in the park while being just seven kilometers away from the hotel. This famous city park, tracks, and botanical gardens are fantastic to explore while working out.
The Swan Valley
The Swan Valley is an awesome site to visit some reputable wineries and chocolate factories. The numerous wineries and chocolate factories give an educational tour on how the products are created. Furthermore, the ability to breathe fresh air and to see some unique Australian wildlife are additional reasons why the Swan Valley is a fantastic outdoor experience.
Different kinds of outdoor activities are also available in the area from the rugged paintball gun skirmishes to the cool and calm vibe of golf. The Swan Valley is a great representation of what Perth can offer.

Fact Sheet: Frequently Asked Question about Crowne Plaza Perth
1. How much is the rate in Crowne Plaza Perth?
The rate in Crowne Plaza Perth starts at $87.
Own website | Booking.com | Tripadvisor | Expedia
2. What cards/modes of payment are accepted in the hotel?
They accept every all methods of electronic payment. American Express, Diners Club International, and JCB have a 3% merchant service fee while Mastercard, Visa, UnionPay, and other cards have a 1.5% merchant service fee.
3. Are pets allowed in Crowne Plaza Perth?
No, pets are not allowed except for service animals.
4. What are the check-in and check-out time in the property?
Check–in time: 14:00 – 00:00
Check–out time: 10:00 – 11:00
5. Are children welcome in Crowne Plaza Perth?
Yes, you may bring your children along. Children from 0 to 2 years of age can use a crib for free when requested. Requesting an extra bed will cost 65 AUD per child.
6. What are the parking options?
The hotel offers three parking options:
Valet parking at $34 per day
Secure parking at a nearby self-car park
Street "pay-and-display" parking
7. What are the languages spoken in Crowne Plaza Perth?
The languages spoken are English, German, Indonesian, and Norwegian.
8. How far is Langley Park from the hotel?
Langley Park is about a 15-minute walk from Crowne Plaza Perth.
9. What are the equipment and services available at the onsite business center?
The spacious business facility supports comfortable chairs, touch screen desktop computers operating Windows 7, high-speed Internet, and printing facilities. Furthermore, arrangements through the reception are available for color printing, photocopying, and faxing services.
Crowne Plaza Perth is also perfect for groups or professionals looking to conduct a meeting. The hotel's meeting team will generously provide the necessary equipment to groups like a whiteboard, flip chart, and projector screen for an efficient and successful conference. Also, other audio-visual devices are available like microphones, sound systems, and conference phone.
10. Are guests allowed to smoke on the balconies of the rooms in Crowne Plaza Perth?
No, smoking on the balcony of each room is prohibited. This is a completely smoke-free property.

Note: We stayed as guests in Crowne Plaza Perth. All opinions are mine.

Are you on Pinterest? Pin these!