Our Guide to Visiting the Best Waterfalls in the Philippines
It is not new to us that the Philippines is rich when it comes to natural resources. Having one of the most scenic nature views in the world, this country is home to several wonders of nature. A lot of you might know the Philippines for its beaches and mountains. But have you ever heard about its waterfalls? If not, then we will discuss them with you here. In this article, we listed the best waterfalls in the Philippines.
Although there are a lot of waterfalls in the Philippines, these 20 are the best that you can explore. You'll be surprised by how enchanting and majestic these waterfalls are. This will give you an urge to visit even just one of these. 
Location: Lanao del Norte
Height: 73 meters (240 ft)
Located in Iligan, the city of Majestic Waterfalls, Tinago Falls is one of the main tourist attractions in the area. The name "Tinago" is a Filipino term that means "hidden" in English since the falls are hidden in a deep ravine. The cold water that flows down majestically into a deep basin that looks like a blue-colored lagoon is a sight to see. 
Location: Lanao del Norte
Height: 98 meters (321 ft)
If we're going to talk about beauty and power, Maria Cristina Falls should be the first one. Located again in Iligan, this fall is so powerful that it even provides electricity to most of the Northern region of Mindanao. It is also sometimes nicknamed the "twin falls" as it appears like twin waterfalls due to the rock at the brink that separates the flow of the water. 
However, the beauty that it has doesn't mean that you can swim in its water. Unfortunately, it is prohibited to do that because of the water's strong current. Admiring these majestic falls is already enough. 
Location: Cebu
Height: Approximately 80-100 meters (260-330 ft)
Tumalog Falls, sometimes called "Toslob Falls" or "Mag-Ambak Falls" on Cebu Island is also considered one of the most beautiful waterfalls in the Philippines. Although its water is not as turquoise as the water in Kawasan Falls, the unique and perfect size of the waterfall makes it an ideal place to unwind. 
Suggested Tour: Oslob Whale Shark and Tumalog Falls Day Trip from Dumaguete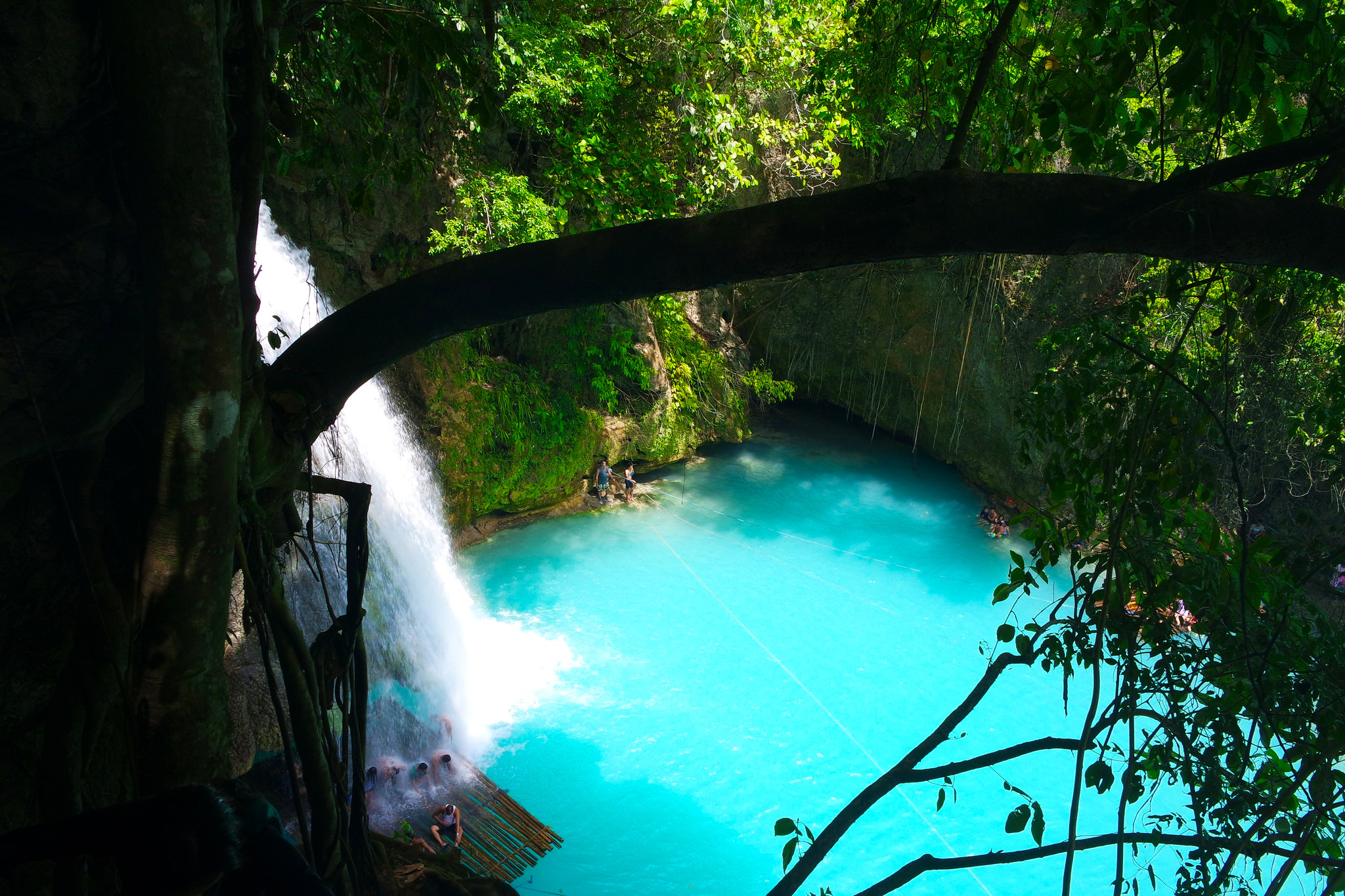 Location: Cebu
Height: First waterfall; 40 meters (131 ft), second waterfall; 20 meters (66 ft)
Being one of the most popular waterfalls in the Philippines, Kawasan Falls made a wonderful remark for having cool, turquoise-blue water. The falls contain two sets of falls, the first one is 40 m high, and the second one is 20 m high. The water that flows through Kawasan Falls comes from the Kabukalan Spring. Visitors can enjoy going under the biggest stream by using bamboo rafts. 
Suggested Tour: Cebu Kawasan Waterfalls & Osmena Peak Day Tour
Location: Laguna
Height: 120 meters (394 ft)
This is a very popular waterfall in Laguna that's always a part of history books in schools in the Philippines. It is located in the town of Cavinti and not in Pagsanjan. However, it is marketed as Pagsanjan falls since Pagsanjan is the most famous way to reach the falls. 
Going and seeing the Falls is already an absolute adventure. Visitors need to ride a boat 1-hour from Pagsanjan to go there. After a wonderful experience on the falls, expect a thrilling adventure ride downstream.
Suggested Tour: Pagsanjan Falls Private Day Tour from Manila
Location: Cotabato
Height: Approximately 25 meters (82 ft) 
A hidden gem that was just recently discovered. The name "Asik-Asik" means "Sprinkle-Sprinkle". It is located in Sitio Dulao of Barangay Upper Dado, Alamada, North Cotabato. Some people claim that the military discovered this waterfall in 2012, others say that locals have already known that this place exists ever since.
But how beautiful Asik-Asik falls is? Well, it is extremely gorgeous and mysterious. There is no river or stream on top of the falls. It is still a mystery as to where the water comes from. However, sources say that there is a hidden spring within the mountain that's covered by rocks and lush vegetation. And from there, the water flows in its full glory in a green ravine pouring down a pool, then going to the Alamada river. 
Location: Negros Oriental
Height: Approximately 9 meters (30 ft)
Situated in the Ocoy Valley in Valencia Negros Oriental, Pulang Bato Falls is known for its seemingly red water. The red color is due to the reflection of the reddish-like rocks that are in the area. Thus, they got the name "Pulang Bato" which means "Red Rock".
A lot of people love going there not only because of its beauty and uniqueness. They say that this is the ideal place for a calming deep into its warm sulfur water. Pulang Bato falls is also non-commercialized which makes it awesome as the natural beauty is preserved.
Location: Negros Occidental
Height: 8 meters (25 ft)
Located in the city of Kabankalan, Negros Occidental, Mag-Aso Falls is making noise from the smokey effect of the water. This is why they got the name Mag-Aso which came from the Hiligaynon word "Aso" meaning "smoke". The aesthetic scenery of the falls is undoubtedly enchanting especially if you look at its powdery blue waters.
Visitors who want to go here should pay only PHP 50.00 for the entrance fee. If you want to stay for a long time, you can also rent a cottage amounting to PHP 100.00 – PHP 1,000.00. There is also a man-made pool inside which you can enjoy as well. The water in the pool comes from the falls themselves. So if you want that wonderful and relaxing experience, Mag-Aso Falls is the place to be.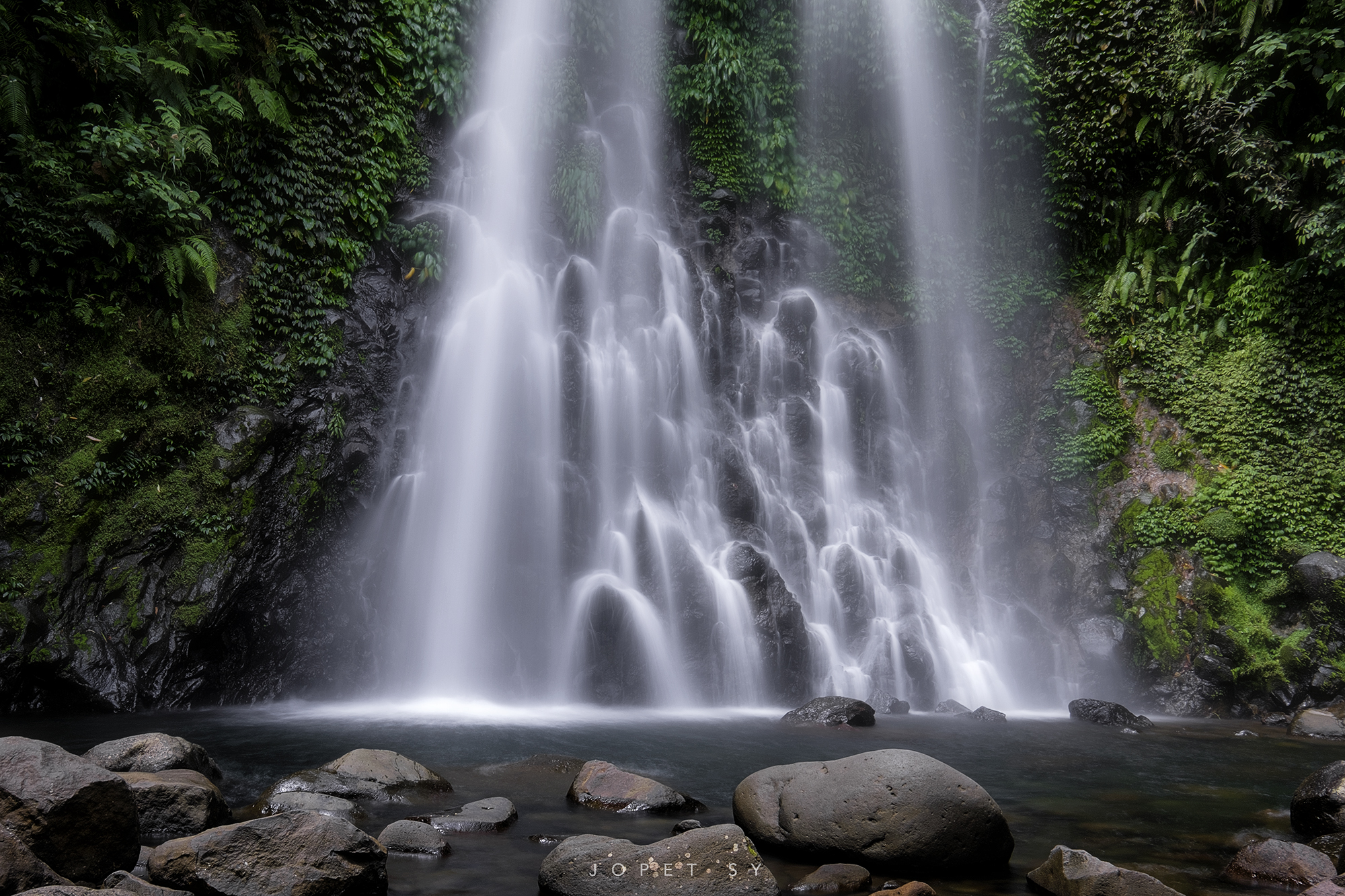 Location: Biliran
Height: 25 meters (82 ft)
The name "Ulan-Ulan" means "rain" in the local dialect. The reason behind this is that the force of the falling waters results in a mist that resembles the rain. Visitors can enjoy swimming in its cool waters. Unfortunately, there are no cottages available in the area so it is not possible to stay overnight. It is also quite challenging to reach Ulan-Ulan falls as you have to pass through a river, a mountain, and a few waterfalls along the way. However, the trip plus the view after a challenging walk is very rewarding.
10. Sinulom Falls
Location: Cagayan de Oro
Height: 80 meters (262 ft)
With its majestic 28 curtain-like waterfalls, Sinulom falls made its way to the list of the city's top tourist attractions. The name "Sinulog" came from the Visayan word "slum" which means "black ant". The water of the Sinulog Falls flows directly through the Cagayan de Oro River. Its clean and clear water also makes it a perfect place for swimming, The place is also surrounded by lush greenery with a very scenic nature view. Anyone who loves nature would enjoy staying here.
Location: Lanao del Norte
Height: 265 meters (870 ft)
Being the second-highest waterfall in the Philippines, Limunsudan Falls is still considered a hidden gem in Iligan City. It is because the waterfall is surrounded by forest and it's not easy to reach. The pathways are challenging and walking through them makes the journey strenuous.
But what's interesting about going there? Visitors will be able to pass by a community of the Higaonon tribe. In this place, a ritual will be done to tourists because they believe that the guidance of the Magbabaya or "God" will protect them before they could see the majestic Limunsudan Falls.
Location: Negros Oriental
Height: 30 meters (100 ft)
One of the most unique waterfalls in the Philippines. Also, a part of Dumaguete's pride is Casaroro Falls. This waterfall has been attracting visitors for its beauty. The 100 feet of Casaroro Falls are narrow compared to a common waterfall which has a wide cascade. The water that falls is absolutely heavy and stunning. As the water touches the pool, it creates a relaxing splashing sound. There are also huge rocks around the area so tourists can take some time to rest and chill while admiring the falls.
Although going to Casaroro Falls is not easy due to the steep trails, a lot of travelers still go in for an adventure. Just to witness how gorgeous the waterfall is. The hike to the falls would take you at least 30-45 minutes. Expect to encounter boulders, rocks, and streams. But we can guarantee you that all the challenging trails would give you a rewarding view of the majestic Casaroro Falls.
Location: Abra
Height:  Approximately 500 meters long
An enchanting fall within Tineg Abra. Kaparkan Falls or Mulawin Falls deserves to be on every adventurer's bucket list. It was nicknamed as "Terraces" waterfall because it resembles the Rice Terraces in Mountain Province. The majestic flow of the waters and the formation of the terraces are just breathtaking. However, it is highly recommended to go here during the rainy season. Locals say that there isn't so much to see in the dry season. For that reason, it is more challenging to reach the falls, especially when it's raining, of course. If you're planning to go here on a  rainy day, we recommend you to bring waterproof clothes or bags, and of course water. Expect that the trails would be very challenging. But to see such a wonderful view after the long trail? All worth it.
Location: Laguna
Height: 70 meters (230 ft)
A small town in Laguna named Louisiana is making noise for its hidden gem, the Hulugan Falls. These 70-meter falls are stunning especially if you look at them closely. It is huge and the water current can be strong depending on the season. If you want to see the waterfall, you have to register first at the barangay. After that, they will provide you with a tour guide. Expect to walk quite a lot. On your way to Hulugan Falls, you'll see other treasures like streams, the Talay Falls, and the Hidden Falls before reaching your destination. This makes the journey more fun and worthy. When you're already at the falls, you can swim or camp if you want to. There are boulders and rocks that you can rest on. Admire the beauty and take your time chilling in this wonderful creation.
Location: Siquijor
Height: Less than a hundred feet
Don't expect to see turquoise blue water in Cambugahay Falls. Instead, be amazed and stunned to witness spectacular light green water. This color of the water just added to how beautiful this waterfall is. As you watch the water flow, you'll notice that it has a very soothing effect since it falls calmly. Plus the warm water of the basin would make you want to soak in longer. The surrounding boulders and nature are also very rewarding that they made Cambugahay Falls popular with both local and foreign tourists. The unique color of the water is very inviting, who wouldn't want to come here?
Suggested Tour: Siquijor Cambugahay Falls and Heritage Day Trip
Location: Mountain Province
Height: 200 meters (656 ft)
This large waterfall in Sagada is another falls that you shouldn't miss. Bomod-ok means "big" which makes sense since the fall itself measures 200 meters high. But what's interesting about going here? Well, visiting Bomod-ok Falls is like hitting two birds with one stone. Since the waterfall is located just in the Northern part of Rice Terraces, you'll have the opportunity to see this view that was once a part of the Seven Wonders of the World. The long trek-hike is pretty challenging and will take you for about an hour. However, if you like photography, you'll probably spend more time trekking. The boulders and the views are just breathtaking, you'd take a lot of pictures. When you reach the waterfall, you'd be welcomed by the stunning Bomod-ok Falls and its cascading water.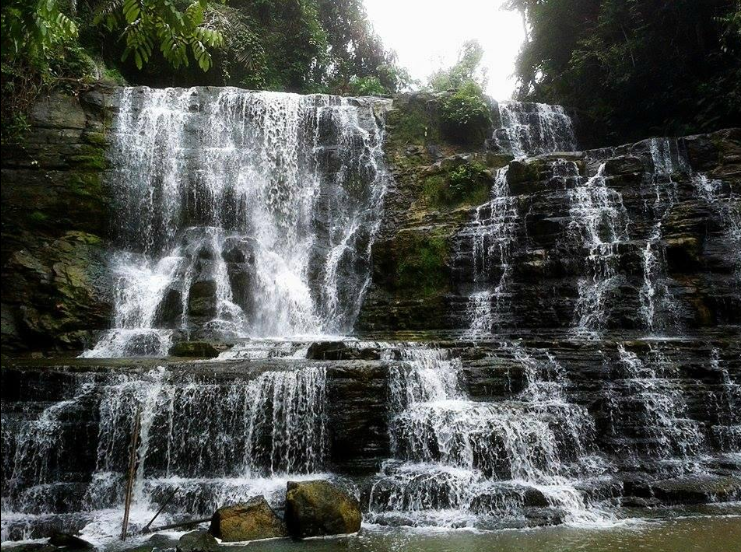 Location: Zamboanga
Height: Base tier: approximately 10 meters (32 ft); upper tier: approximately 5 meters (16 ft)
This two-tiered waterfall is not known to a lot of people but undoubtedly deserves attention. Since Zamboanga City is not popular for waterfalls, it isn't surprising that only a few people know about the existence of Merloquet Falls. And for me, that's a great one since you will not see so much crowd when you get here, and you can enjoy the waterfall. 
Merloquet Falls' waters cascade gently through its stair-like tiers of rocks. The stunning curtain waterfalls are a sight to see! Also, since the water isn't as strong as the other waterfalls in the country, you can climb to the rocks without the hassle. So do it and enjoy a relaxing hydromassage.
Location: Samar
When it comes to exploring waterfalls in the Philippines, it is not likely that you will hear "Lulugayan Falls". This waterfall may not be as popular as the other, it may not be as high as what you expect a waterfall should be. But Lulugayan Falls is as majestic as the other waterfalls in the country. Located in Calbiga, Samar, Lulugayan Falls is another yet-to-be-known wonder of mother nature just waiting to be explored.
Going there would only require you a 20-30 minutes walk through the trail. And when you get to your destination, prepare to be stunned. The roar of the water in this 50-meter breadth waterfall shouldn't be missed. The cool water is refreshing and there are also areas wherein you can have a picnic if you don't plan to swim. Just remember to be a responsible visitor and clean up after yourself to preserve the beauty of this enchanting waterfall.
19. Panigan Underground River and Waterfalls
Location: Sultan Kudarat
With a lot of mysteries that surround nature, especially in the Philippines, this waterfall is not an exemption. Panigan Underground River and Waterfalls is a hidden treasure in Sultan Kudarat. Going here is a challenge you have to endure. It will take you at least 3 hours of a bouncy ride and you have to pass through wooden bridges and rocky roads. After that, you need to walk for at least 20 minutes to reach the waterfall. BUT, that's just the tail of the Panigan Falls, you still have to trek to get to the mouth.
When you reach the mouth of the waterfall, you'll be in awe as you will witness the strong splash of water. Unfortunately, it doesn't have a basin so you cannot dip into its cold water. But what's mysterious about Panigan Falls? It's the cave! The underground water that flows through it comes from the cave itself. However, you can only see the tip of the cave that would give you a view of a waterfall that looks like a vomiting mouth. The mystery is that no one knows where the water in the cave comes from. Nobody explored the cave yet until now. Even the locals living behind the mountain that's connected to the cave said there's no stream of water around the area. This waterfall remains mysterious and would leave you to wonder how can mother nature create such mystical wonder?
Location: Surigao del Sur
Height: 55 meters (180 ft)
Considered the "Niagara Falls of the Philippines", Tinuy-an Falls in Bislig, Surigao del Sur has three-tiered cascading water. Being one of the best tourist spots in the city, Tinuy-an Falls is a must-visit. It is one of the widest waterfalls in the country having 95 meters in width. Visitors can either swim in its pool or ride a bamboo raft that will allow them to explore what's beneath the waterfalls. Not only that, don't miss the chance to see the rainbow that appears in the waterfall between 9 am to 11 am. This added to the already gorgeous appearance of Tinuy-an falls itself.

Are you on Pinterest? Pin these!

About the Writer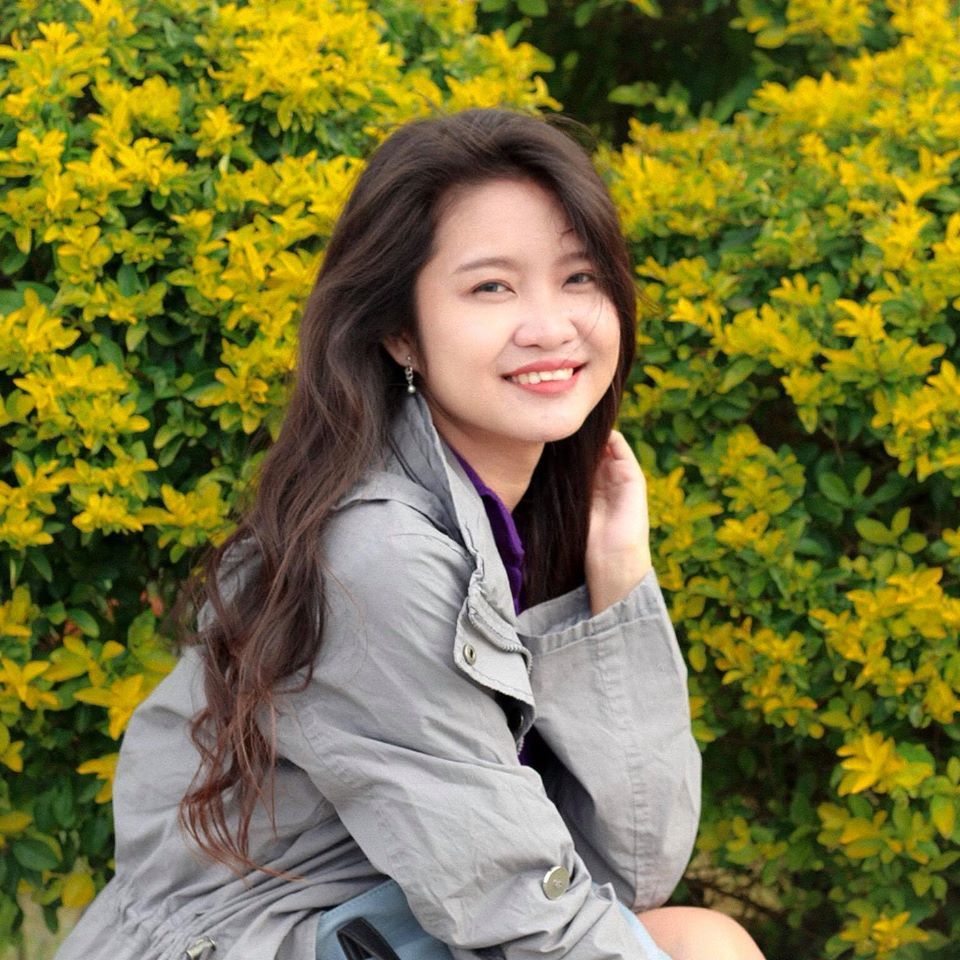 Hi there! I'm Fatima. My first major travel was in 2016 to the beautiful city of Cebu. After that, I got interested in traveling. Now I enjoy learning languages and other countries' cultures. My goal is to visit at least one country each year and to share my experiences with other people through writing or blogging. Witness my journey by following me on Instagram.​​​​​​​​​​​