10 Traditional Chinese Medicine Activities You Can Do in Beijing, China
After spending the four days in Beijing, China on a press trip last November 29 to December 3, in collaboration with Ctrip and Juicertrip to experience traditional Chinese medicine, I hope to provide you with some ideas of Traditional Chinese Medicine (TCM) encounters and experiences you may wish to try if you are visiting Beijing. I have been asking the contacts that I've made while I was in Beijing for their own personal opinions as well as some of the things we did during our time in the city that I think you wouldn't want to miss, for example, the outdoor natural hot spring spas in the winter! So go ahead and check out my list of the top 10 suggestions to get you inspired to delve into the adventure that is exploring Traditional Chinese Medicine.
1. Maliando Tea Street
Two Monkeys Travel – Photo – David Dennis
What better way than to start with a street full of tea vendors?  With a selection of regional teas and room for haggling, you can't go wrong! Tea has been used for health purposes for centuries in China, and the locals' knowledge of herbs that are used to prevent mental and physical ailments is both fascinating and impressive, to say the least. It is evident that these ancient traditions have been carried through generations and perfectly maintained even as our current society progresses further into the world of modern medicine. I recommend this lovely area for picking up some souvenirs to take home for your loved ones, as well as selecting some teas for yourself, which have the most delicate flavors and the added advantage of benefiting your health and wellbeing!
2. Tai Chi Lessons
The practice of tai chi leaves you feeling energized yet relaxed while you also regain an important feeling of connection to yourself and the world around you. Tai Chi can help keep your muscles active and your posture aligned. You can't leave Beijing without attending a lesson! The exercise has become somewhat of a craze throughout Europe and has encouraged many people to slow down, breathe, and focus on truly experiencing the present. I strongly encourage a little tai chi session to take a break from the busy city. You may even find yourself enchanted and find time for tai chi in your daily life after trying it!
3. Go and Experience the Natural Hot Springs
 Two Monkeys Travel – Photo – Caitriana Nicholson
The city of Beijing has a great abundance of natural hot springs. Their water is rich in minerals which provide a healing effect for those that frequent them. Bathing in hot springs will certainly relax your muscles and your mind while it also cleanses your skin. Many of the hot spring spas include indoor and outdoor facilities, so if you like the sensation of feeling the warmth of a spa while sitting outside in almost freezing temperatures, I encourage you to give them a go! Lounging around in the water with temperatures of around 40 degrees Celsius is a wonderful way to pass the time in the capital.
4. Go on a Medicated diet
Medicated diet is the combination of Chinese culinary practices and traditional Chinese medicine. This is a great way to touch on two things that China is famous for: the food as well as traditional medicines! You'll find that almost everything you could imagine from the weird to the wonderful is ingested in China for health reasons, and you're sure to find a dish that'll intrigue you, shock you, yet leave you feeling satisfied and perhaps even with your health improved! Many restaurants offer traditional Chinese medicinal foods, and the lovely locals serving you are sure to be happy to provide information about their benefits!
5. Go to the Museum of Chinese Medical History/the Chinese Materia Medica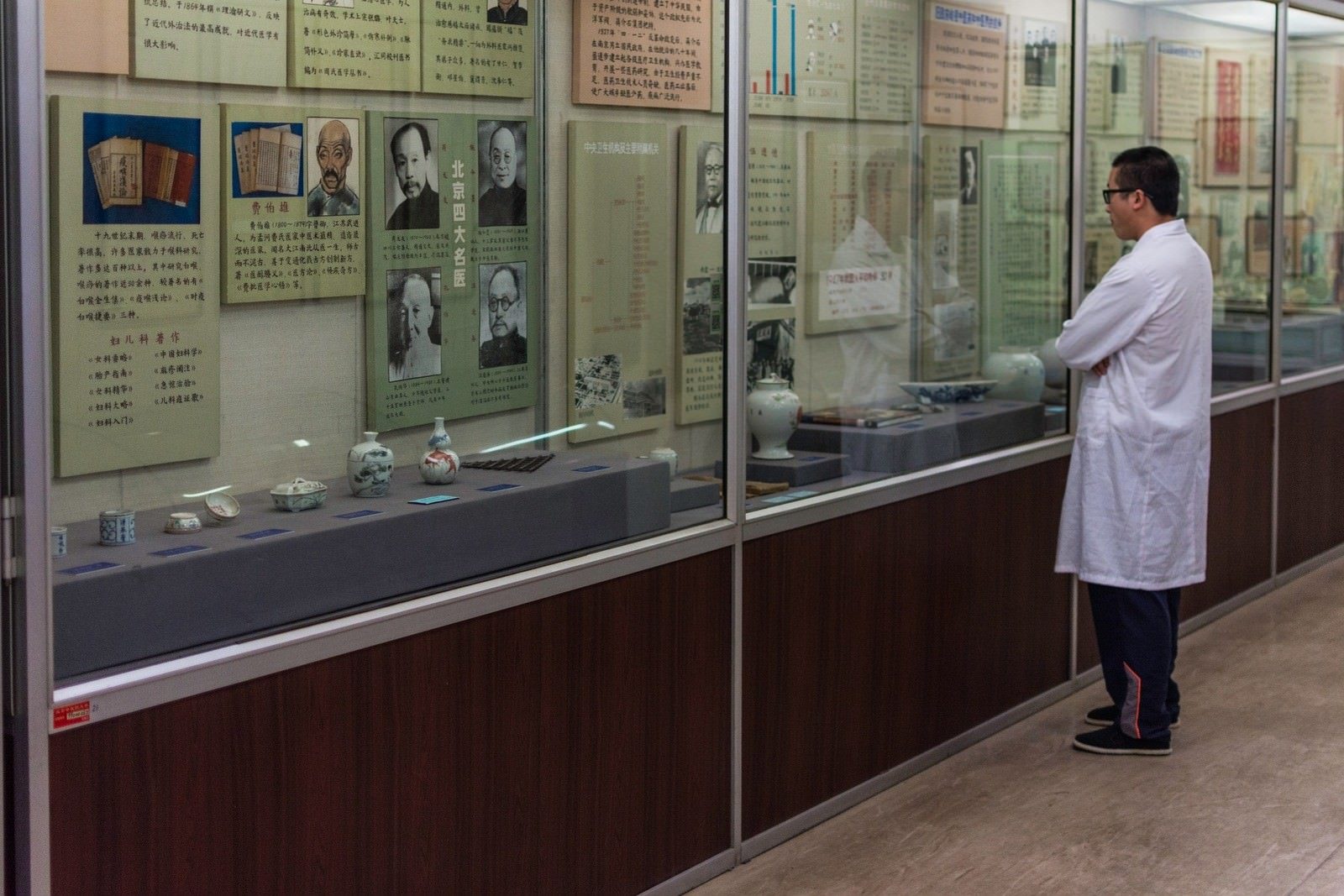 Located at the Beijing University of Chinese Medicine, this has the best selection of traditional Chinese medicinal artefacts in Beijing and has wondrous exhibitions that are a must see! They run guided tours throughout the two museums so not only do you get to witness the history of botanical and herbal medicine, but you will also leave with a greater understanding of their uses and purposes. Each exhibition is as interesting as the last! They have a huge selection of everything from herbs and spices, submerged plants, ancient books and taxidermy (including tigers!). 
6. Visit the Traditional Chinese Medicine Cultural Center in Ditan Park
Ditan Park has a large selection of TCM things you can participate in, from attending galleries, fitness facilities, walking paths and tea houses. You really do feel a sense of the ancient techniques and lifestyles of Chinese people that remain to this day as important as they did centuries before our modern world!
7. Get Acupuncture Treatment From An Expert
By using a series of pressure points determined by Chinese medicine, traditional Chinese medicine practitioners use needles to relieve pressure, whether it is emotional or physical. Acupuncture can alleviate a variety of ailments and is popular worldwide in the world of alternative medicine. If you've wanted to try it, why not begin in the country that it originates from!
8. Try the Cupping Therapy
                                                                                                             Two Monkeys Travel – Photo – Quatro.Sinko
Cupping is when the air inside of the cup is heated to create a vacuum so when the cup is placed over the skin, it will be sucked to the skin. This can relieve swelling and pain from the areas that are treated! Like getting a massage, but certainly a strange sensation for those that haven't tried anything of the sort before! Beijing boasts hundreds of practices that perform this odd feeling treatment, and I assure you that you'll leave feeling refreshed and rebalanced!
9. Try the Qigong Exercise
This is an exercise that is unique to China; it combines calm meditation, deep breathing, and slow movements. Sound interesting? Within Beijing, you can try this by attending classes or retreats. If you're searching for peace of mind or would like to relax and rejuvenate, this one's for you!
10. Stay at a Traditional Chinese medicine-themed Resorts
Two Monkeys Travel – Photo – Byron Howes
Why not make your whole trip traditional Chinese medicinal friendly? Beijing has many traditional Chinese medicine themed resorts where you can incorporate the past nine things I have mentioned all within one beautiful resort! Sounds like my type of holiday!
I hope that these ten tips can inspire you on your next adventure in Beijing to explore traditional Chinese medicine and embark on a health and wellness expedition in a way you won't have encountered before!
About the Author
Jackson is a Tasmanian native living in the South West of England that has been writing for the Two Monkeys Travel Blog since  2013. He loves to be in and around the ocean as much as possible or behind the lens of a camera capturing his many adventures around this globe of ours. Jackson is currently working on a photography book documenting the different cities, countries and especially the people he has met along the way. Jackson is taking 2017 off from his daily occupation (head chef at the Green Rocket, Bath, England) to concentrate on traveling and immersing himself in other cultures and countries; he believes this can only be accomplished by going and living like a local.

Are you on Pinterest? Pin these!