6 Days Herceg Novi Itinerary – What To See If You Have 6 Days in Montenegro During Summer Season
This is my second time in Montenegro and I always feel like it's never enough. Tourism Organization of Herceg Novi – Turistička organizacija Herceg Novi was kind enough to welcome me (for the second time), my sister Krista, and her boyfriend Kees. They arranged the perfect itinerary for us which I'm sharing with you now so I bet you'll never go wrong with this 6 Sizzling Summer Days Itinerary (Wow this could be a tongue twister haha)! I won't bore you with some lengthy introduction this time so let's begin 🙂
THE BEST TIME TO VISIT MONTENEGRO
The best time is always summer for me where you can always take advantage of the warm weather, the cool winds, and of course, the blue and oh so refreshing ocean. All of the attractions are opened during this time of the year (April-October) and there's some festival you could watch. If you want "lesser" people during the trip then come on the 3rd week of September onwards.
Winter is perfect for those who love winter sports such as lope or cross-country skiing, snowboarding, mountain biking, hiking, ski-doo or snowshoeing. Kolasin Mountain is the place to be during this time of the year.
WHERE WE STAYED IN HERCEG NOVI, MONTENEGRO
We stayed in the family-owned Master 5 Apartments (Check the Latest Room Rates Here) which is located in the most beautiful part of the city– the fine line between the heart of the Old Town of Herceg Novi and the coast. Very close to the apartment are numerous exclusive boutiques and the famous City Cafe called Park Boka, the latter being well-known for its flora, tourist agencies, banks, post office, municipal building, and monuments.
They have 5 apartments in total: The Palm Island, Riviera Smile, Seaview See You, Cruiser Line, and the Flamingo Bay, all of which are a modern version of the former Hotel Balkan which opened its doors to the guests at this very place in the 1920s and 1930s. Each apartment has its luxurious and unique charm. They all have a fully-equipped kitchen, a flat-screen TV with satellite channels, and a private bathroom with shower. Toiletries and fresh towels are also provided.
We had the Cruiser Line Room which is nautically inspired– from the cute wallpaper up to the red and blue pillowcases and bed sheets. The fully-equipped kitchen is literally fully-equipped. We had a kitchen table and chairs, coffee machine, cooking hob, electric kettle, kitchen utensils, glasses, and a fridge. If you're very frugal then you can just cook here 🙂
Our room also has a French Balcony which gave us a divine view of the ocean. Overall, I was impressed with how clean it is, how beautiful and tidy it looked, how it smelled (really!!) and of course, the captivating view of the Bay of Kotor right by our window. The location is also impeccable. If you like comfort and a dose of some luxury, I highly recommend staying here!
THE RESTAURANTS WE LOVED IN HERCEG NOVI
1. Ribarsko Selo aka The Fishing Village– Every day between 11 AM and 12 PM, local fishermen visit the village and bring in the newly caught fish and seafood here. It is then cooked with organic vegetables and herbs that are planted on the nearby garden. Can you imagine how fresh and tasty the food is? Ribarsko Selo also has a spacious and comfortable beach with an impressive view of open sea and the entrance to Boka Kotor Bay.
2. Restoran Kantula– This is not a drill: You must try all the seafood here.
3. Gradska Kafana– This is one of the best restaurants in town. Their T-Bone Steak and Shrimps is tdf!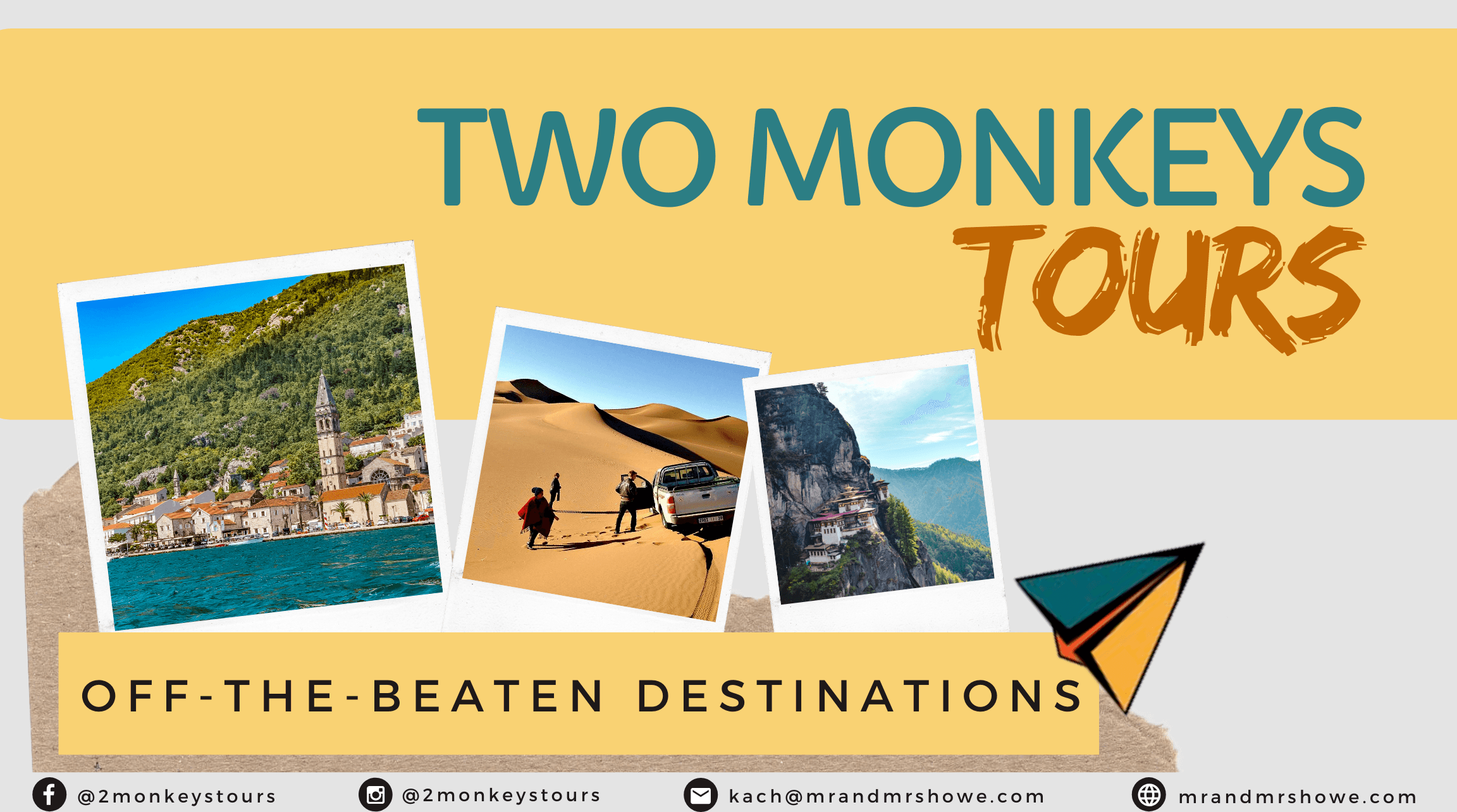 OUR 7 SIZZLING SUMMER DAYS IN MONTENEGRO: AN ITINERARY
DAY 1: TOUR AROUND HERCEG NOVI AND GO TO THE FAMILY HOUSEHOLD MORIC FOR AN OLIVE PLANTATION TOUR AND AN ATV RIDE
Just a few steps from the hotel is the Old Town. Spend your day walking around and you'll find yourself in historical pathways, quaint cafes, interesting alleys, posh restaurants, beautiful churches, majestic views and what not. The Fortresses Forte Mare, Citadela, Sat Kula, Tora, Kanli Kula, and Španjola couldn't be missed. The Churches of St. Jerome, St. Arhangel Mihailo, and Leopold Mandic are a must-see.
It's easy to go around Herceg Novi so you'll still have plenty of time to go to Family Household Moric. One of the best producers of Olive Oil in the world is Montenegro and one of the best producers in Montenegro is the Family Household Moric. Can you imagine? They're like the best of the best!
They make organic extra virgin olive oil of superior quality. Here, you'll have the opportunity to learn about the history of Luštica, cultivation, and production of olives and olive oil, the importance of olive oil for health, and the uniqueness of Luštica olive oil.
Here, we got the chance to feed the donkeys, had a taste of their special doughnuts (yep not donuts!), visited their plantation and their house in the small village to eat a freshly home-cooked breakfast. To end your day, you can go to an ATV ride to the viewpoint.
DAY 2: GO SAILING AROUND THE BAY OF KOTOR AND STOP AT ROSE VILLAGE, BEACH ZANJICE,  AND CAMPER VILLAGE PONTA VESLA
A great way to spend the day here is by sailing, swimming, and snorkeling. The beautiful Bay of Kotor, its mountains, and the caves which are perfect for snorkeling is just beautiful. While sailing, we stopped by Rose village, Beach Žanjice, and Camper Village Ponta Vesla. Montenegro Outdoors can help you with this. And oh, don't forget that bottle of wine and some snacks to cap off your day.
DAY 3: HIKE UP MT. ORJEN AND/OR PARAGLIDE FROM THERE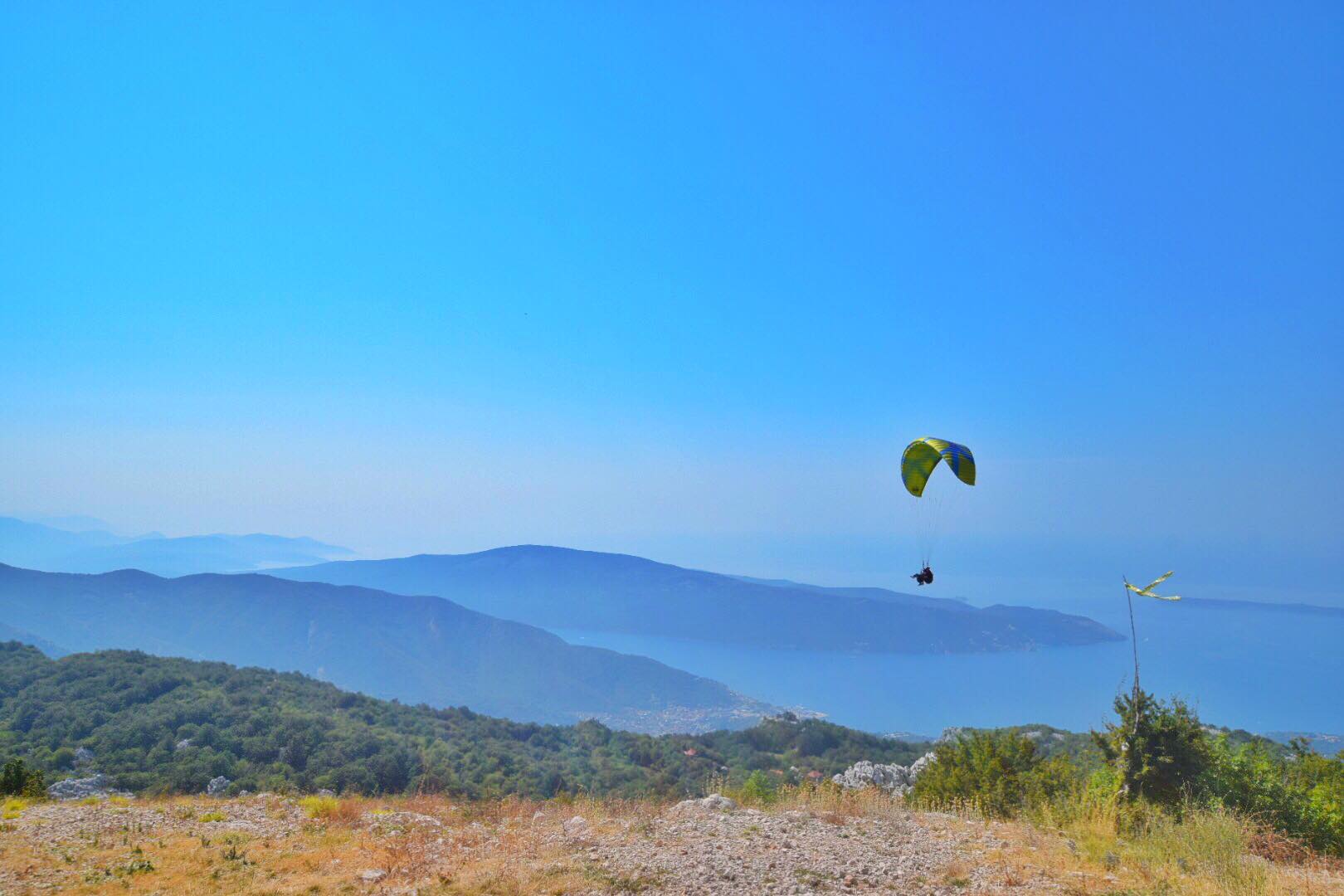 This impressive mountain is a popular spot for hiking and mountain biking. There are mountain trails around but it's always good to get a guide 🙂 Last year, Jonathan and I went hiking but this time, I went Paragliding with Adriafly overlooking this beautiful town in Montenegro!
The owner, who happens to be a professional paraglider, Dusan Stevovic was the one who instructed me on what to do and what to expect on the fly. I flew with Denis Bozovic, another paragliding instructor. I got a birds-eye-view of this beautiful coastal town and it was momentous! We landed on a farmland with cows and I was insanely happy. I really enjoyed it and so grateful to experience it during this trip! I suggest you do this too!
DAY 4: GO SCUBA DIVING IN THE MORNING AND GO WATCH A CONCERT/OPERA AT NIGHT
There's no better way to spend the day by the Adriatic Sea than by plunging deep into its turquoise blue waters. This time, we went with Diving Montenegro and headed to Mamula Island. Everyone on the team was very professional and we had the best time of our lives. Read about my diving experience here.
At night, you could be lucky to get to watch an Opera or Concert like what we did. We were right in time for the Opera Music Festival 2018! It was held in Old Town, Forte Mare, Kanli Kula, overlooking the sea and underneath the stars.
The performances are lovely and the venue was just magical. Plan your trip ahead and see the list of their events here!
DAY 5: TAKE A BOAT TOUR TO PERAST, PORTO MONTENEGRO, AND OUR LADY OF THE ROCKS WHERE YOU CAN ALSO KAYAK, PADDLE BOARD, AND SUP
Montenegro Outdoors took us again this time to these beautiful places. Our Lady of the Rocks is very interesting… It is a Catholic Church built in 1630 situated in an artificial island created by sinking old and seized ships loaded with rocks. Here, you'll find 68 paintings by Tripo Kokolja, a famous 17th-century Baroque artist from Perast alongside notable Italian Artists. It also houses a collection of silver votive tablets and a famous votive tapestry embroidered by Jacinta Kunić-Mijović from Perast.
There are some beaches nearby every destination where you can simply take a break, chill, or do some water activities like kayaking, paddle boarding, swimming, snorkeling, or do a stand-up paddleboard.
DAY 6: LIVE OFF THE GRID
Just a 15-minute drive from Herceg Novi is Full Monte Camp, an eco-campsite situated in an area of peaceful natural beauty in the hills above the main Montenegro/Croatia border. Being an eco-campsite, they try to reduce their environmental impact as much as they can. They use solar power to generate electricity and heat the water. They also have compost toilets (same thing we use in our sailboat!) which are waterless and rest-assured odorless. Sometimes in the summer, guests are allowed not to wear any sort of clothing too! Guests have the option to walk around naked, so if your choice is not the same as theirs, I hope you don't make others feel uncomfortable. It is so close to the Croatian border where you have the option to continue your travel and move forward to Croatia or head back home via the Dubrovnik Airport.
I chose this to be the last day in your itinerary because I think learning how to live with 'nothing' (even just for a night) will make you realize a lot of things. Sometimes we get too engrossed by how much we don't have that we forget about what we have. Looking back and taking a break from all these luxuries will make you feel more alive and for me, that's the best way to end your journey ♡
P.S. If you're a Philippines Passport holder like me but you have a valid USA Visa, then you can enter Montenegro visa-free without the need of Schengen Visa! ⭐️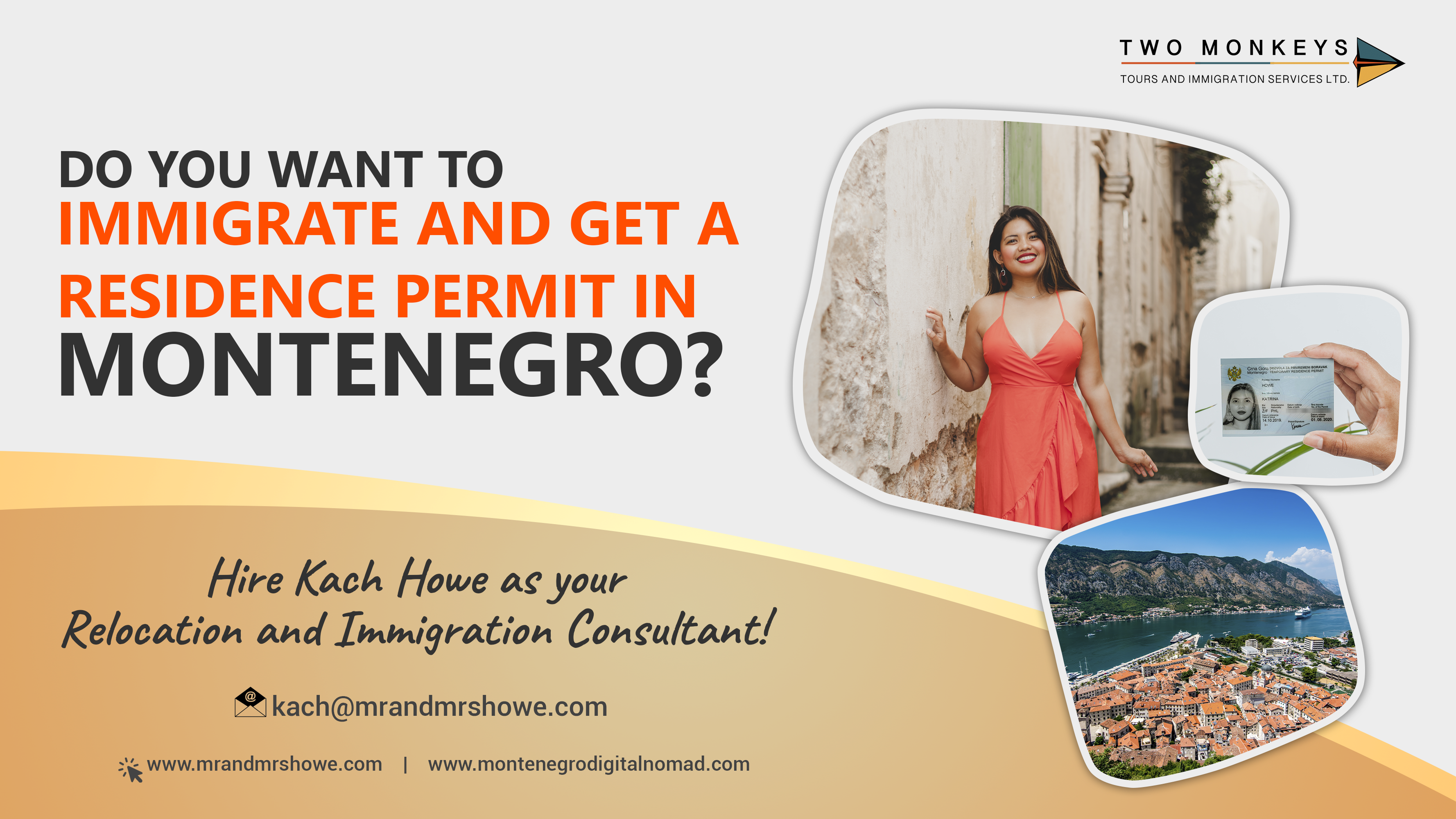 Are you on Pinterest? Pin these!