Flying Business Class with Turkish Airlines from Istanbul to Buenos Aires
If you must know, Turkish Airlines plays a huge role not just in our travel blogging life, but more so in our personal lives. I believed this company had opened so many opportunities for us. Turkish Airlines took us to amazing places such as Colombia, USA, Croatia, London and of course Turkey to name a few. They even helped us accept the honor of speaking at the World Tourism Forum in Istanbul.
Our relationship with the airline is still young as we only started working with them last 2015, but every memory created with them brought joy to us. Every experience with the company seems like a dream unfolding right before my very eyes.
And speaking of dream – like experience, I had another one with Turkish Airlines. On our recent flight from Istanbul to Buenos Aires, Jon and I enjoyed a business class experience, and I am so ecstatic to share our adventure with you. Yes, they upgraded us, and if you have watched my live videos, you'd honestly see how happy I was! It was like winning a lottery. Again, they never fail to surprise us.
It was my first time to see the business class of this massive plane from Turkish Airlines, and it did not disappoint. Why you may ask? Well, let me just tell you the highlights of our awesome 18 – hour flight. Some of you will dread such flights, but that will not happen if you book your ticket with Turkish Airlines.
 Airplane's Features (Business Class)
If you know stuff about airplanes, you are probably aware that a Boeing 777 is a huge aircraft. I was so excited to see what's in there, especially their business class. I hope I can give justice to it through my photos and words because it was the bomb!
Leg Room
Goodness Gracious! I was astounded at how long the leg room was. I mean, of course, it's not much of a problem to me because I'm 5'1 (feet) but for someone like my husband, leg room is important. If you haven't seen my video, I asked Jon to stretch his legs and he amazingly and comfortably able to do it!
Seats
Aside from that, you can also recline your seats up to 166 degrees. Yes, I know that the number is quite odd, but that's what they said. Being able to recline to such degree, you can sleep soundly thousands of feet above the ground.
In-Flight Entertainment
If you want to kill time, then you can watch movies or maybe work using your laptop. Mind you; they have facilities so you can charge your gadgets and you don't have to worry about your batteries.
My favorites!
And what are my favorite things about this flight? As much as I love hotel beds, I am a complete fan of fluffy pillows and slippers. During our business class flight with Turkish Airlines, we got both! We even had our amenity kit which has all the essentials for our long-haul flight. It was like a hotel up in the air, I tell you.
You know I'm bubbly and cheerful, right? So when I sat down in my seat I was my usual self, only to realize that most people in the business class were SERIOUS. I had to calm down myself. It was a funny experience, though.      
Flying Chef
In 2010, Turkish Airlines and Turkish Do&Co entered a joint venture that took their in-flight meals to a higher level. They introduced the Flying Chefs where Turkish delicacies and international dishes are freshly prepared using the best ingredients. The menu changes on a weekly basis and is carefully thought of by the experts.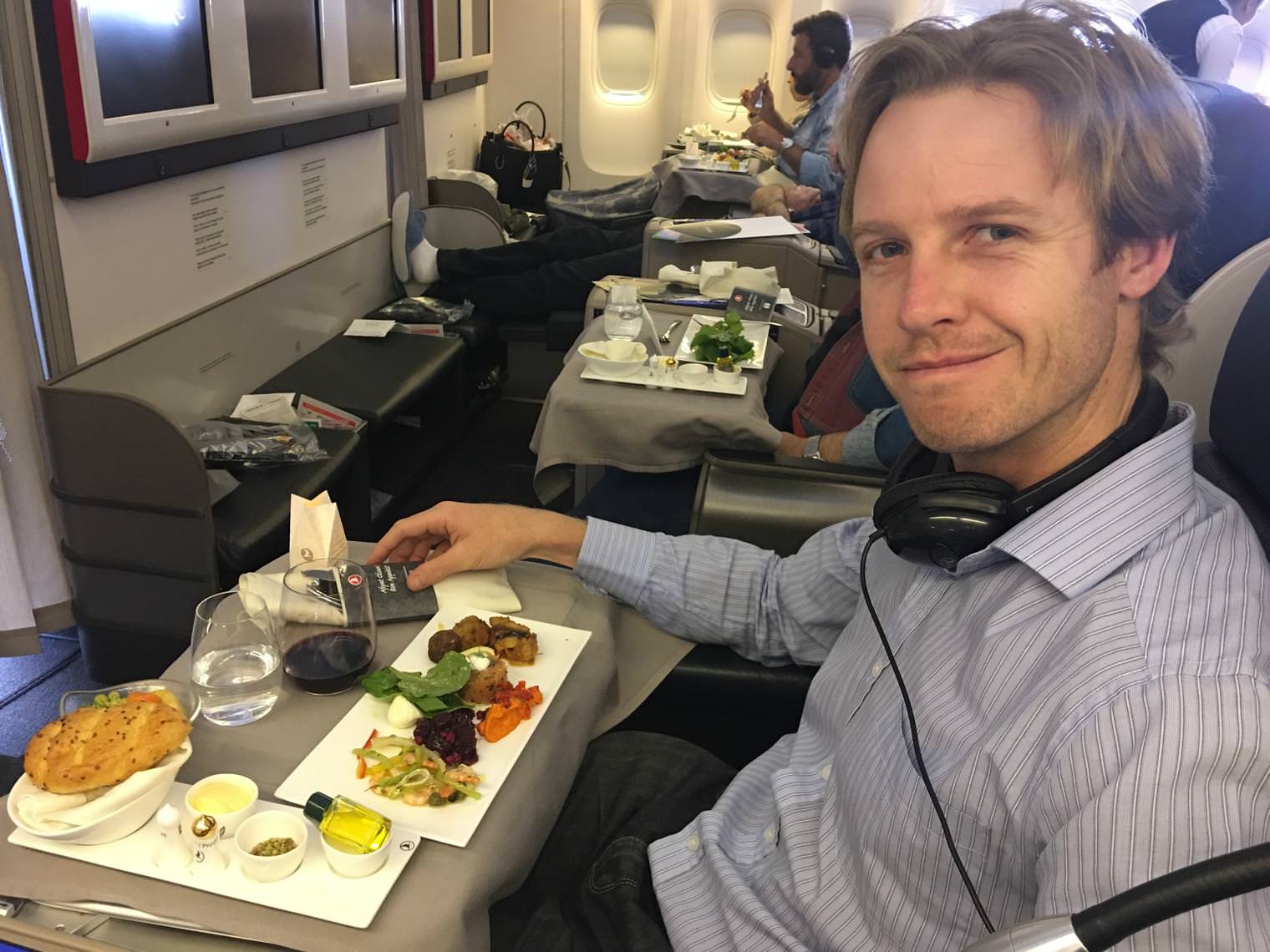 As of the moment, there are more than 260 Flying Chefs and around 250 Flying Serving Chefs that will give you that fine – dining experience. If you are traveling with your partner, then you can consider this as your date – no less! The food is nothing short of outstanding. And even if I am on a diet, it was so hard to resist the food choices. I wanted to try them all! Well, you can always opt for the healthier options.
The Lounge  
We checked out the CIP lounge at Istanbul Airport. This is open for Turkish Airlines' business class passengers, Miles&Smiles Elite, Elite Plus card holders and Star Alliance Gold membership card holders. It was beautiful, and I could not ask for a better lounge.
I think most, if not all people hate the waiting time in airports. But if you will stay in a lounge similar to CIP, I think you would want to stay even longer. This one would be included on my top list. It's a mixture of classic pieces and modern facilities that any traveler would fall in love with. They have this Grand Piano, comfortable chairs and computers should you want to check things online. They also have this mini – virtual golf course and even a facility where you can watch movies and have popcorn! But do you know what's the best thing about the CIP lounge? It has to be the private rooms where you can sleep like a baby. And of course, the bathrooms where you can freshen up before your long-haul flight. If you are traveling with kids, there is a playroom to kill their boredom as well. It's as if you are in a hotel. It doesn't stop here guys; they also have a billiard hall and even a library!
My tip for you though is to watch the time. You might get too excited and miss your flight. Trust me, one of my writers experienced this so beware!
A quick note to my fellow Filipinos. Why don't you take Turkish Airlines if you want to visit South America? I highly recommend them not just because they are our sponsors but the quality of service is always superb.
Who would have thought that a long haul flight can be this good? Dear Readers, I know you are tired of reading or hearing this line from me but again, 'Dreams Do Come True.' Getting sponsored by one of the most amazing airlines and experiencing business class flights coupled with a lounge is just what a traveler needs. This is a far cry out from our backpacking days! While I still miss getting the cheapest flights to save costs, this life we have right now is a testimony that – yes – again – DREAMS DO COME TRUE!
Note: Our flight from Istanbul to Buenos Aires was sponsored by Turkish Airlines. Nevertheless, we based our posts on our personal experience with them.
Are you on Pinterest? Pin these!