Travel Guide to Iran – My 8 Day Cultural Itinerary Visiting Cities of Mashhad, Shiraz, Yazd, Ishfahan and Tehran
Iran is probably one of the most underrated tourist destinations in the world, thanks to the impact of mainstream media. As they report conflict and hatred, viewers establish fear and indifference to the country. Not a lot of people care about the true status of Iranians let alone set foot on their soil. 
This is one of the compelling reasons why I wanted to see this country for myself. I want to get to know their people, their culture, and see how beautiful their country is. I want to experience more than what I see and hear on the news or on television, this is aside from the fact that I wanted to visit every single country in the world.
A lot of people think I'm crazy or stupid for traveling around Central Asia, Iran in particular. Well, let me tell you that I probably am! I have crossed the border from Djibouti to Somaliland, sailed from the Florida Keys to the Bahamas, traveled to 15 countries around Africa, and I even went Mountain Gorilla Tracking in Uganda so there's no way I wouldn't visit Iran! :p 
EXTRA TIPS: I recommend booking your Iran travel services through Exotigo, a trusted Iranian online travel agency. Through their web platform, you can find a large variety of Iran hotels, domestic flights, tour packages and experiences, car rental as well as Iran visa and insurance. They accept all major debit/credit cards and PayPal as well.
This time, Visit Our Iran planned and arranged this trip, as well as my visas and flights and Marcopolo Iran Touring, hosted me and Bohemian Vagabond Travel Blog: Jacki Ueng for 8 full days! Here is a very interesting cultural itinerary that they prepared for us! 🙂
DAY 1: CROSSING THE BORDER FROM ASHGABAT, TURKMENISTAN TO BAJGIRAN, IRAN AND MY OVERNIGHT STAY IN HOMA HOTEL IN MASHHAD
From Ashgabat in Turkmenistan, I crossed the Bajgiran border to Iran with my Philippines Passport and pre-arranged Iranian Visa. It was relatively easy since the two Immigration Offices are close to each other.
Right before I crossed the border, the environment instantly changed (at least that's what I felt). Other than the fact that I had to cover myself from head to ankle to follow the rules in Iran, I felt a warm welcome from the Iranian starting from the Immigration Officers who even called a taxi and assisted me with my luggage without asking for anything in return.
Marcopolo Iran Touring Co. booked a room for me at Homa Hotel in Mashhad (3-hour drive from Bajgiran) which happens to be one of the most popular luxury chains of hotel in Iran. It was so nice to have a little staycation from all the hardcore traveling I'm doing! :p 
After a couple of hours' rest, I met Pouyan. He was super nice and he showed me around!
Places we visited in Mashhad: 
Jaghargh Village just close to the city which is a hub for local restaurants

Imam Reza Shrine which is believed to be one of the holiest places in the world.
DAY 2: TRAVEL TO SHIRAZ
Visit Our Iran arranged my flight to Shiraz (note that foreigners can't purchase local flights because international debit and credit cards have sanctions). It is a 2-hour flight from Mashhad.
I stayed in another 5-star hotel for 2 nights (thanks to Visit Our Iran and Marcopolo Iran Touring Co so I had a really good sleep before we embarked on a once-in-a-lifetime journey. 
Note that before starting a group tour, I highly suggest you get a full-day rest! Traveling and moving around can be very exhausting so I always recommend you take a solid and power rest 🙂
DAY 3: EXPLORE SHIRAZ 
Visit Our Iran arranged a 1,500-kilometer drive for us where we explored one of the oldest cities in Ancient Persia, which is Shiraz. This is the capital of Fars Province and is now the 5th Most Populous City in Iran. We learned so much from our Tour Guide and he took us to local restaurants where we've tried delicious local food!
Places we visited in Shiraz: 
Nasir al Molk Mosque, also known as the Pink Mosque known for its extensive coloured glass on its facade and pink interiors

Citadel of Karimkhan Zand which happens to be one

of the most prominent architectural structures from the of Zand Dynasty

Vakil Bazaar (main bazaar in Shiraz) where you can go shopping for Persian rugs, spices, handicrafts, etc. and see its beautiful courtyards and bathhouses

Eram Garden which is a Historic Persian Garden where you can just watch the day go by

Mausoleum of Hafiz built to honor the 14th Century Persian Poet

Hafiz

who was a native of Shiraz from birth until death

Shah-e-Cheragh Holy Shrine which you may find underwhelming on the outside but the interior tells a fascinating story with its stained glass, ornamentation, inscriptions, and courtyard
DAY 4: DRIVE TO YAZD AND STOP ALONG VARIOUS UNESCO HERITAGE SITES
Yazd is the capital of Yazd Province and is recognized as a World Heritage Site by UNESCO. It is a beautiful city in the middle of the desert and is the center of Zoroastrianism. This is the ancient pre-Islamic religion of Iran.
This city is home to unique Persian Architecture and this is why you shouldn't miss this on your visit!
Places we visited in Yazd: 
Persepolis, the capital of the Achaemenid Empire which Darius I himself founded. The earliest remains of this complex structure date as far back as 51C BC.

Pasargadae is yet another

capital of the Achaemenid Empire under Cyrus the Great, who ordered its construction. It is believed that his body lies on a limestone tomb which can be found there.

Naqsh-e Rostam

is where you'll find

colossal tombs of Persian kings and their families carved on the facade of a mountain range

Dowlat Abad Garden which is one of the oldest gardens in the city of Yazd
DAY 5: HALF-DAY TOUR AROUND YAZD AND THEN DRIVE TO ISFAHAN
There are so many interesting things to see and do in Yazd so one full-day isn't enough! We had another half-day tour to see more of the City and then drove to Isfahan in the afternoon.
More places we visited in Yazd: 
Towers of Silence which was built by the Zoroastrians for dead bodies to be exposed to birds, a process called excarnation

Fire Temple, a place of worship for the Zoroastrians

Jami Mosque, built and rebuilt from 771 to the 20th Century due to several destructions, this is one of the oldest standing mosques in Iran 

Amir Chakhmaq Square, one of the most outstanding buildings in Yazd, considering its importance and aesthetics
Stopovers on the way to Isfahan:
The Historical Bridges of Si-O Se, one of the symbols of Isfahan and Khajou, described as the city's finest bridge
DAY 6: FULL DAY TOUR AROUND ISFAHAN
Isfahan is the capital of Isfahan Province and is famous for its Perso–Islamic architecture, tree-lined boulevards, covered bridges, palaces, tiled mosques, and minarets. This is one of the tourist's favorite stops and you'll know exactly why with my photos :p 
Places we visited in Isfahan: 
Naghsh-i Jahan Complex, the most famous attraction in Isfahan City with its blue-tiled mosaics. It is al where you can also find the Sheikh Lotf Allah Mosque and the Ali Qapou Palace

Abbasi Mosque, regarded as one of the masterpieces of Persian Architecture during the Islamic era

Qeysarie Bazaar where you can go shopping for handicrafts, copper, jewelry, carpets, etc.

Chehel Sotun Palace, a Pavillion for entertainment and guests of Shah Abbas II, the 7th Safavid King of Iran
DAY 7: DRIVE TO TEHRAN AND HAVE STOPOVERS AT KASHAN
This time, we left early in the morning to drive to Tehran. En route, we stopped at Kashan which is another City in Isfahan Province. Archaeological conquests show that this city dates as far back to the Elamite period of Iran. 
Places we visited in Kashan: 
Fin Garden, where you'll find

Kashan's Fin Bath, where

Amir Kabir

, the

Qajarid

chancellor, was murdered by an assassin

The Holy Shrine at Qom, considered to be one of the most valuable Islamic architecture in the world
DAY 8: FULL DAY TOUR AROUND TEHRAN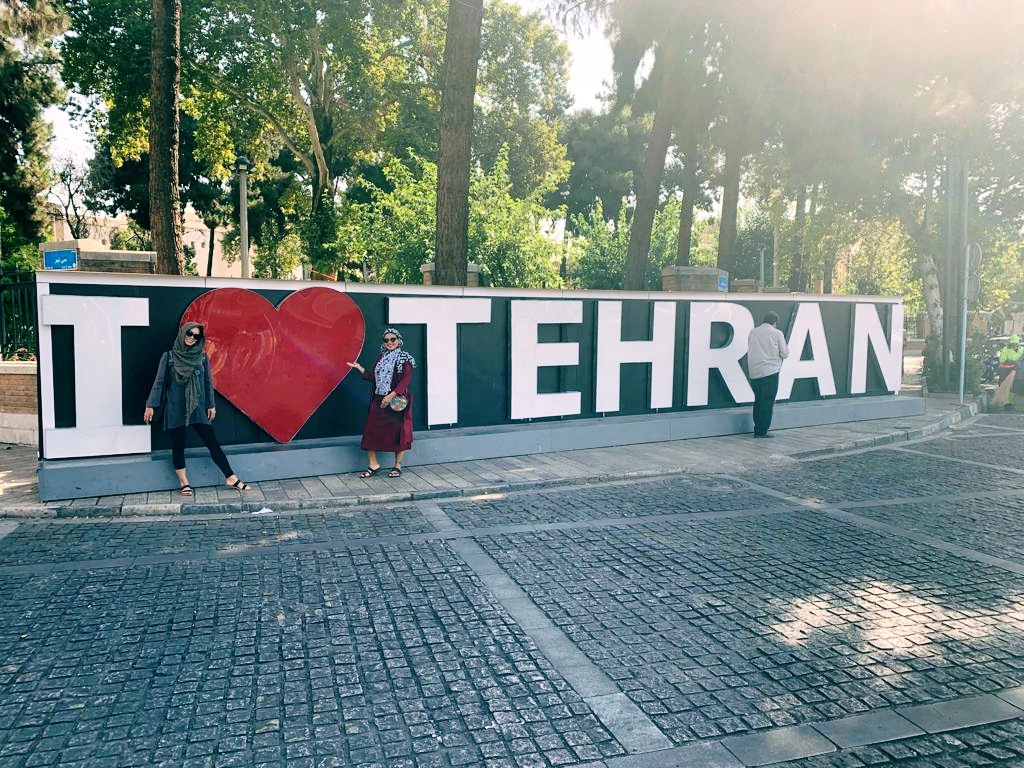 Tehran is the capital of Iran and Tehran Province. This is the most populous city in Iran and Western Asia so expect this day to be a little chaotic. 
Places we visited in Tehran: 
Golestan Palace where you'll see royal buildings, vast gardens, and collections of Iranian crafts from the 18th and 19th Century

The Archeological Section of the National Museum where you'll find interesting pieces of ceramics, pottery, and carvings mostly from the excavations made in Persepolis, Shush, Rey, etc.

Tajrish Bazaar, an interesting bazaar where you'll find a lot of local food from fresh fruits and vegetables, herbs, sweets, homemade sauces, kebab, etc.
Niavaran Palace, home of royal textile works and museum for clothes, Niavaran exclusive Palace, Ahmad Shahi Palace, Sahebgharanieh Palace, Hoz-khane museum, Jahan Nama' Museum, garden, etc.
DAY 9: FLY BACK HOME
After 8 days of traveling around this beautiful country, immersing in their culture, indulging in their local delicacies, learning about their religion, and seeing their historical monuments, it's now time to go home or move forward with our trips. 
Visit Our Iran made sure we experience and see Iran's best-kept gems! With our knowledgeable Tour Guide, we got to see the country from the eyes and perspective of a local and we learned so much from him! The Iranians are one of the most generous and sincere people I've met throughout my entire journey. 
If you want to visit this country stress-free, then I suggest booking your trip with Visit Our Iran. Their tours are all-inclusive, which means that you don't have to worry about Accommodations, Transportations (except international flights), Entrance Fees for places named on the itinerary, Mid-day refreshment, and English speaking Tour Guide. Get a 10% Discount when you use our code TWOMONKEYSTRAVELVOI2019.
P.S. Don't forget to leave your driver and tour guide some tips! Enjoy your vacation! 🙂

Are you on Pinterest? Pin these!