My Solo Trip to Papua New Guinea – Luxury Hotel Experience with Hilton Port Moresby
Papua New Guinea is my 141st country! I was a bit nervous if I will be able to board the flight because they were fully-booked because many flights with Air Niugini were canceled due to Taal Volcano Eruption. Though there was an hour delay with my flight arrival in Port Moresby, I was happily collected from the airport by the staff from Hilton Port Moresby, who hosted my entire stay.
Papua New Guinea is a free visa-on-arrival for 60 days for Philippine Passport Holders; however, I decided to get an E-visa for USD 50 for a much easier process. There are a lot of Filipino OFWs working in PNG so I'm glad to meet them during my journey. Papua New Guinea was not "dangerous or boring," but it was full of fun and friendly locals. My stay at Hilton Port Moresby was also fantastic. Here's my review of this hotel in Papua New Guinea.
About Hilton Port Moresby
Hilton Port Moresby is a hotel in Hohola District that showcases PNG's lifestyle and heritage. It has impressive amenities; 5 restaurants, an outdoor swimming pool, and a fitness center. This 5-star hotel is not only a great place for sleeping or relaxing but also offers stunning views and is near malls and the Kutubu Convention Center. Enjoy 212 luxurious rooms and suites this hotel offers.
My Room
I got a King Room in Hilton Port Moresby. It has the usual Hilton Vibes, and I was happy since I got welcome flowers and kit with a souvenir for Jonathan. The room was very spacious with a huge comfortable bed as well as four fluffy pillows. The bathroom was also big with a shower and I loved the simplistic design and the round mirror. The toiletries were adorable and were inside a box. My room also featured a flat-screen TV and a great view of the city and mountains. The design on the headboard also features Papua New Guinea's unique style.
Here are also rooms available in Hilton Port Moresby:
King Room (with Disability and non-disability access) – an air-conditioned room with an extra-large bed offering a view of the garden, mountain or the city
Double Room – an air-conditioned room with two double beds that can be good for up to three guests
Executive King Suite – an air-conditioned two-room suite with a living room, private king bed bedroom with a toilet for guests. There is also exclusive access to the lounge
The Food
I invited few people to join me on a dinner with me in one of Hilton Port Moresby's restaurant – Mumu, Tito Eddie and his son, Eryk, who I met on the flight and one of our readers, Wella. Mumu Restaurant serves local dishes, the meals are big and it was set for a family-style. Good thing I was not alone since it's going to be hard to eat all of this.
The pictures don't do justice; they look juicy and tasty in the photos – and yes, they are very delicious and exceeds expectations.
Service in Hilton Port Moresby
The personnel is very accommodating and full of high energy. Even if we were delayed, the shuttle waited for me. The Chief Concierge, Mama Raga (my Mom in PNG), joined me during my day tour in Port Moresby even on her day off. The staff are definitely world-class, as they are incredibly hospitable, well-trained and friendly.
Location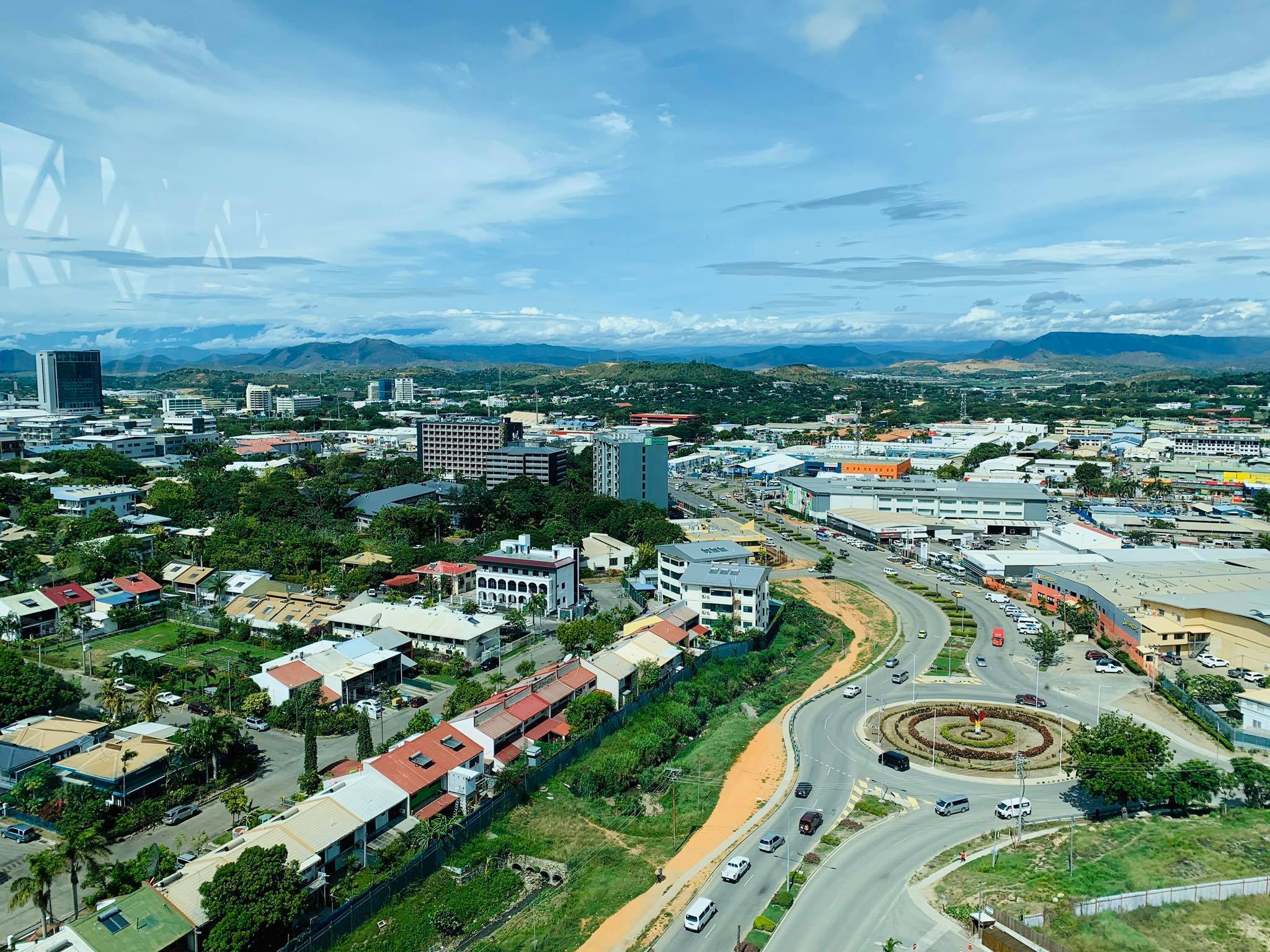 The Hotel, Hilton Port Moresby, is located in Hohola, Port Moresby. It's just 7 kilometers away from the airport and in the government district. It is also connected to a walkway to Kutubu Convention Center which is a great space for art events. The hotel is also just a few minutes away from tourist attractions or recreation area in Port Moresby. This is an excellent choice for those who want to wander around the capital city!
Things to do in Port Moresby
Initially, I wanted to go scuba diving but due to my flu, I changed my itinerary. Most of my tour was done with PNG Shalom TOURS Taxis.
1. Eat the best seafood at Koki Fish Market
Koki Fish Market is the leading seafood shop in Port Moresby. You could buy fresh seafood here and also a variety of tropical fruits. The area is clean and big and the people are friendly. I tried the grilled octopus and it was really delicious.
Suggested Tour: Port Moresby Day Tour
2. Swim at Ela Beach
Ela Beach or Turtle Beach, in one of PNG's dialect, is a public beach in Port Moresby. You can relax and enjoy the blue waters and white sand in this 1 km long coast. Since I was in a hurry, I got a picture of the "Amazing Port Moresby" sign as well as with the local kids who were playing.
3. Shop at Tabari Craft Market
Support local by buying souvenirs at Tabari Craft Market. There are bags, dresses, statutes, accessories, and many more on display and for sale in this place. It's quite expensive; however, you can make friends with the locals and they might give you a great deal.
Suggested Tour: Full day Sogeri Jungle Village Trip
4. See the National Parliament Haus
See the PNG's stunning Parliament Haus. The artwork and carvings on the building are representing the culture and history of this lovely nation. There are also sculptures and ponds on the grounds, so it's a great place to relax or walk around. I got lucky since I got an unexpected VIP tour inside with Mr. David.
Suggested Tour: Half day Port Moresby City Sights
5. Stroll at Port Moresby Nature Park
Going to Port Moresby Nature Park is a must-do if you are visiting PNG. It's great for all ages, family, friends, or solo travelers. You will enjoy the natural flora and fauna of PNG as well as various species of birds too. It's a great place to walk and have a break from the city.
Suggested Tour: Varirata National Park
Frequently Asked Questions on Hilton Port Moresby
1. How much is the rate in Hilton Port Moresby?
To inquire about rates, availability or promo, check the links below:
Own website | Agoda | Booking.com
2. Do they accept walk-ins?
Yes, they do. However, for peak seasons, it is always best to make reservations.
3. What is the check-in/ check-out time for Hilton Port Moresby?
Check-in is at 2:00 PM while check-out is 11:00 AM.
4. Is there a parking area in the hotel?
Yes, there is free parking as well as complimentary valet service.
5. Do they have shuttle service?
The property offers a shuttle service; airport pick-up and drops off.
6. Are pets allowed?
No, pets are not allowed; however, service animals are welcome.
7. Where exactly is Hilton Port Moresby?
They are located in Wards Road, Hohola, Port Moresby, 121, Papua New Guinea.
Why I love staying at Hilton Port Moresby
The gorgeous Hilton Port Moresby, it is truly one of the best hotels in the city. With a modern design with the fusion of Papua New Guinea's style and culture, it's genuinely a stunning hotel. My room was very spacious with complete amenities.
The food is delicious and I was delighted to try PNG's local cuisine. With only a few days in this bustling capital, I really got to see a glimpse of this amazing country, luckily Hilton Port Moresby is just near tourist spots so it was only a short drive. The staff is really amazing and friendly. Hilton Port Moresby is truly world-class, a place where you should stay when you visit Papua New Guinea!​
[list]
Are you on Pinterest? Pin these!