Last Nights in the Philippines: A Lavish Family Staycation at Hilton Manila Philippines
Before going back to Montenegro (where I currently live with my husband & cats), I spent my last 3 days with my family at the newest Hilton Hotel in the Philippines, the Hilton Manila. I've stayed recently with Hilton Port Moresby in Papua New Guinea and other Hilton hotels around the world. I have finally gotten a taste of Hilton with a brand of Filipino Hospitality!
I stayed for 2 nights in their King Executive room with a balcony overlooking the swimming pool. And also got to indulge with as much Filipino food I could eat. The location is also perfect as it is near NAIA Terminal 3 and Resorts World Manila and they also offer a free shuttle service which is perfect since I'd be flying with Turkish Airlines at the Terminal 3. Check out below about my personal experience with Hilton Manila!
About Hilton Manila
Hilton Hotels had an outstanding comeback in Manila with the classy Hilton Manila located in Resorts World Manila and Ninoy Aquino International Airport Terminal 3. It just recently opened late of 2018 and was awarded a Certificate of Excellence by TripAdvisor.
It's not only a fantastic hotel close to the airport but also a fabulous place to have a staycation with the family. From the 357 sophisticated rooms or suites to the gorgeous pool, a kid's play areas, to delicious restaurants. It's a soothing get away from all the bustles of the outside world.
The Room
We stayed at a King Executive Room that has a great pool view and lounge access. It's on the fifth floor and with a balcony. My room had a large bed and soft pillows in front of a 55-inch LED TV. The bathroom features a toilet, rain shower, and a free-standing bathtub; they're all separate. There's also a sofa and a study table.
I also loved Hilton's Travel With Purpose Campaign. For sustainable tourism, they have appreciated efforts in conserving water and energy as well as lessening pollution. The room has a light motion sensor and there's a ban on plastic in the hotel. There's also a use of glass water bottles instead of the regular plastic ones; it's really commendable!
Here are also rooms available in Hilton Manila (other options may be with or without Pool View):
Double Guest Room – a 40 m2 room with two double beds, a separate toilet, bathtub, and shower as well as a seating area
King Guest Room – a 40 m2 room with a king-sized bed, a separate toilet, bathtub, and shower as well as a seating area
Double Executive Room – the same as the Double Guest room but with executive benefits
King Executive Room – the same as King Guest Room but with additional executive benefits
King One Bedroom Suite – an 80 m2 room with a king bedroom a living room-dining area, and an executive lounge access
A King One Bedroom Deluxe Suite – a 90 m2 room that has the same benefits as the One Bedroom Suite
King One Bedroom Premium Suite – a 120 m2 room the same benefits as the One Bedroom Suite
A King Governor Suite – a 160 m2 room with two bedrooms (1 king and 2 double beds), a living room, dining room, a panoramic view of the city, and an executive lounge access
The Food
As I've mentioned earlier, we had a King Executive Room, one of the executive benefits is access to the lounge. The lounge is open from 6:00 am to 10:00 pm. My family and I got to eat pastries and have unlimited cocktails at night. They also have 3 restaurants but I mostly ate at the Kusina restaurant as I wanted to eat all the Asian food that I couldn't find in Montenegro.
As for breakfast and lunch, we had it at Kusina Sea Kitchens which is a buffet. The breakfast was with western and Oriental Cuisine, while the lunch had more Filipino options. My personal favorites were the Kare-Kare, Sinigang na Salmon Belly, Lechon, Crispy Pata, Honey Prawn, and Salted Egg Crab. You can get them to cook your seafood based on whatever style you want – plain grilled, salted egg, sweet & sour, etc.
I've also got Halo-Halo for dessert even though I still have a cough because I'm indulging in my Filipino cravings. It would be a long time to taste authentic Filipino cuisine while in Montenegro.
Other desserts were mango Sago, puto bumbong, red velvet cakes, Ice cream, samalamig (cold drinks), and bibingka. The vegetables and fruits were proudly fresh and organic. I also ate a lot of fresh seaweed, Pinoy ensaladang talong, green mango and Mexican Turnips with bagoong.
There were also Japanese dishes like tempura and sushi, Italian like Pizza, and Paella from Mexico. There was a great selection of food, my Filipino cravings were satisfied and I wish that I've felt much better so that I could eat more.
If you want another cuisine, try Hua Yuan. Hua Yuan specializes in authentic Shanghainese cuisine. I wasn't able to eat there because I really wanted Filipino food. However, specialties there include Roasted Duck, Braised Pork, Crab, Crayfish, and Dumplings.
There's also Madison Lounge and Bar, where you could get drinks and food. They offer coffee, gin, wines, sandwiches, spring rolls, and food like burgers, baby back ribs, and many more. You could totally enjoy it there.
If you want to stay late and have drinks with your friends, try Port. They have cocktails, juices, wines, beers, whiskeys, appetizers, and many more. It opens from 4 PM on weekdays and 2 PM on weekends.
Facilities
There are a pool and a fitness room. But as usual, my sister and my niece enjoyed their time with the pool.
It's big; there's an area for adults, lounging, for kids, and Jacuzzi. Plus there's a bar in case you want a drink, too. If you're a party animal, the Vega Pool Club opens on Friday and Saturday nights.
Service in Hilton Manila
I was welcomed with Filipino food with the TwoMonkeys logo on it (it was adorable). The Filipino hospitality the hotel showed was world-class. Shout out to Lloyd, our bellman, Rhea from the Executive Lounge and Jean, Ceejay, and Gener from Kusina Restaurant for the exemplary service.  I loved the warmth and friendliness of the Staff here.
Area Guide of Hilton Manila
Hilton Manila is such a great place to stay. It's near many popular locations, near the airport, a mall, casino, theatres, and many more. It's also accessible in case you want to explore more of Metro Manila.
1. NAIA Terminal 3
Ninoy Aquino International Airport is only a few minutes away from Hilton Manila. There's shuttle service to and from there too! NAIA T3 is the largest of the 4 terminals and caters mostly to domestic flights.
2. Resorts World Manila
The Hilton Hotel is operating inside the Resorts World Manila. But it's this place is not only full of hotels but there are also high-end restaurants, a casino, and the Newport Performing Arts Theater.
3. SM Mall of Asia
The SM Mall of Asia is the biggest mall in the country. There are countless shops, restaurants, and forms of entertainment in this place. If you are up for fresh air, then go out and feel the breeze of Manila Bay.
Frequently Asked Questions on Hilton Manila
1. How much is the rate in Hilton Manila?
To inquire about rates, availability or promo, check the links below:
Own website | TripAdvisor| Booking.com
2. Do they accept walk-ins?
Yes, they do. However, for peak seasons, it is always best to make reservations.
3. What is the check-in/ check-out time for Hilton Manila?
Check-in is at 3:00 PM, while check-out is 12:00 PM.
4. Are children allowed?
Yes, they are. Up to 2 children under 17 can stay for free when traveling with a paying adult.
5. Are pets allowed?
Yes, however, the maximum weight of your pet should be 30 pounds. There is also a deposit of Php 7,500.00. You need to book in advance, though; there are only limited pet-friendly rooms available.
6. What credit cards are accepted?
Yes, major credit cards are accepted.
7. Is there a parking area?
Yes, there is. You can have 1 car per room.
8. Is there a shuttle service to the airport?
Yes, they are for free.
9. Where exactly is Hilton Manila?
It's in 1 Newport Blvd, Newport City, Pasay, Manila, 1309.
Why I love staying at Hilton Manila
Hilton Manila is a great place to enjoy a getaway with your loved ones in the bustling Metro Manila. Its location is perfect, near the airport, malls, and delicious restaurants. It has an elegant vibe! Our rooms are very comfortable, from the bed to the extra sofa space for guests. I actually enjoyed the pool view as well as the bathtub.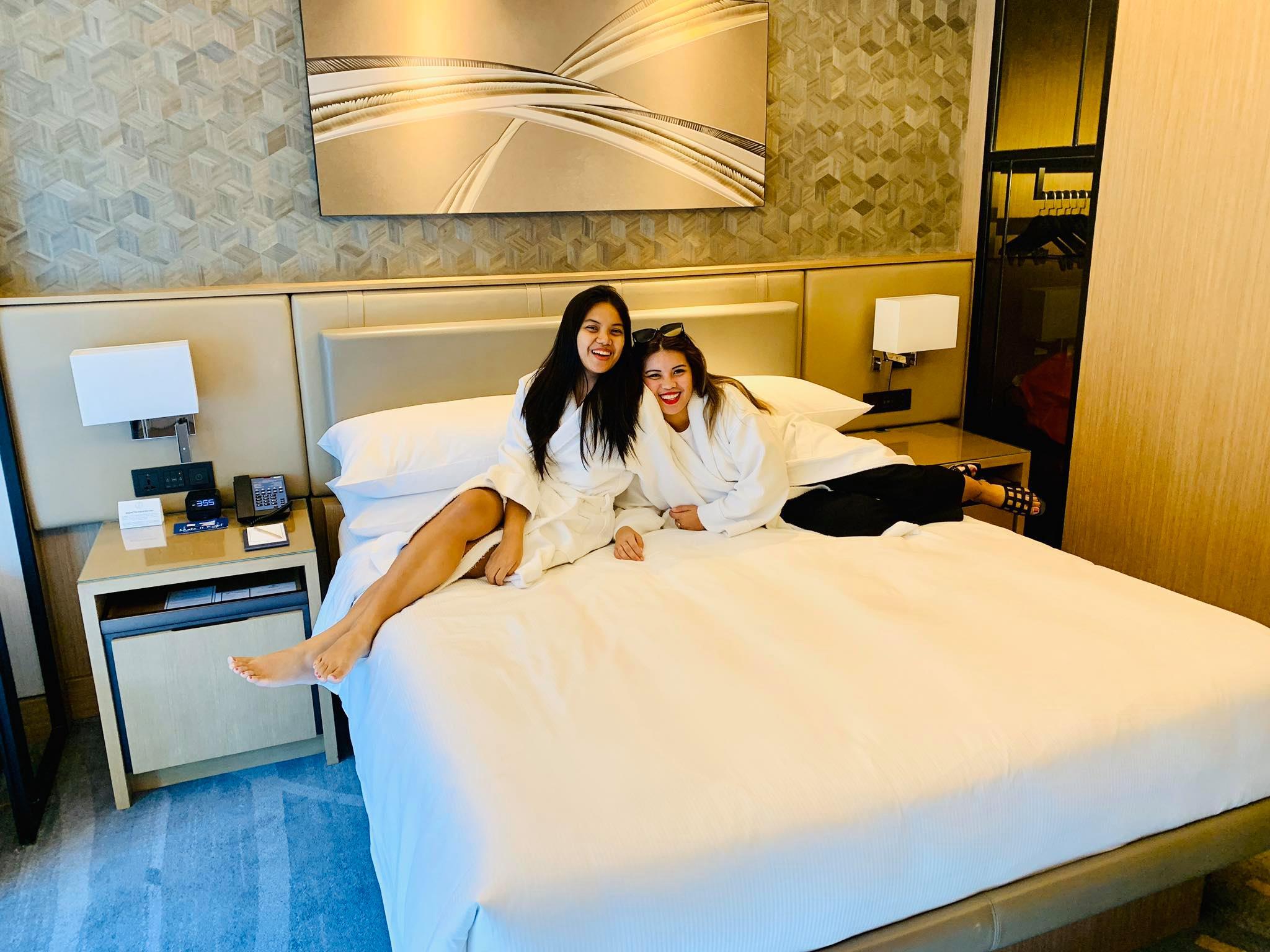 Their efforts in saving mother earth through energy conservation, the glass bottle and plastic ban are well-appreciated. I fell in love with Kusina Sea Kitchens as they have served delicious and comforting Filipino meals and delicacies I was craving for. The facilities are well-kept and the staff were truly showing Filipino hospitality. My last few days in Manila has been truly memorable with my staycation experience, thanks to Hilton Manila. I would love to come back and stay here!​

Are you on Pinterest? Pin these!