The 4 Most Luxurious Chalets In Courchevel 1850 – Guide to the French Alps
Courchevel is a ski resort in the French Alps. It is a part of the world's largest linked ski area, Les Trois Vallées. Courchevel refers to towns and so the name has an added number depending on which area you are staying in such as Courchevel 1300 (Le Praz), Courchevel 1550, Courchevel 1650 (Moriond), and Courchevel 1850.
Below, you will find the luxurious chalets in Courchevel 1850 and what makes them so wonderful.
1. Chalet Edelweiss in 1850
As you walk in through the front door and you will be welcomed by works of art that you see only in museums. It seems quite fitting as in 2012 the owner opened the 'Mougins Museum of Classical Art' in southern France, showcasing his collection. Chalet Edelweiss is the Amuse Bouche.
Edelweiss is a super chalet with eight bedrooms, perfect for families and the ideal party chalet too. Everything inside and out is gorgeous. Each room has the latest technologies and designs; it's very modern and crisp here. Have a blast getting lost on the way to your very own swimming pool, night club, cinema and bar.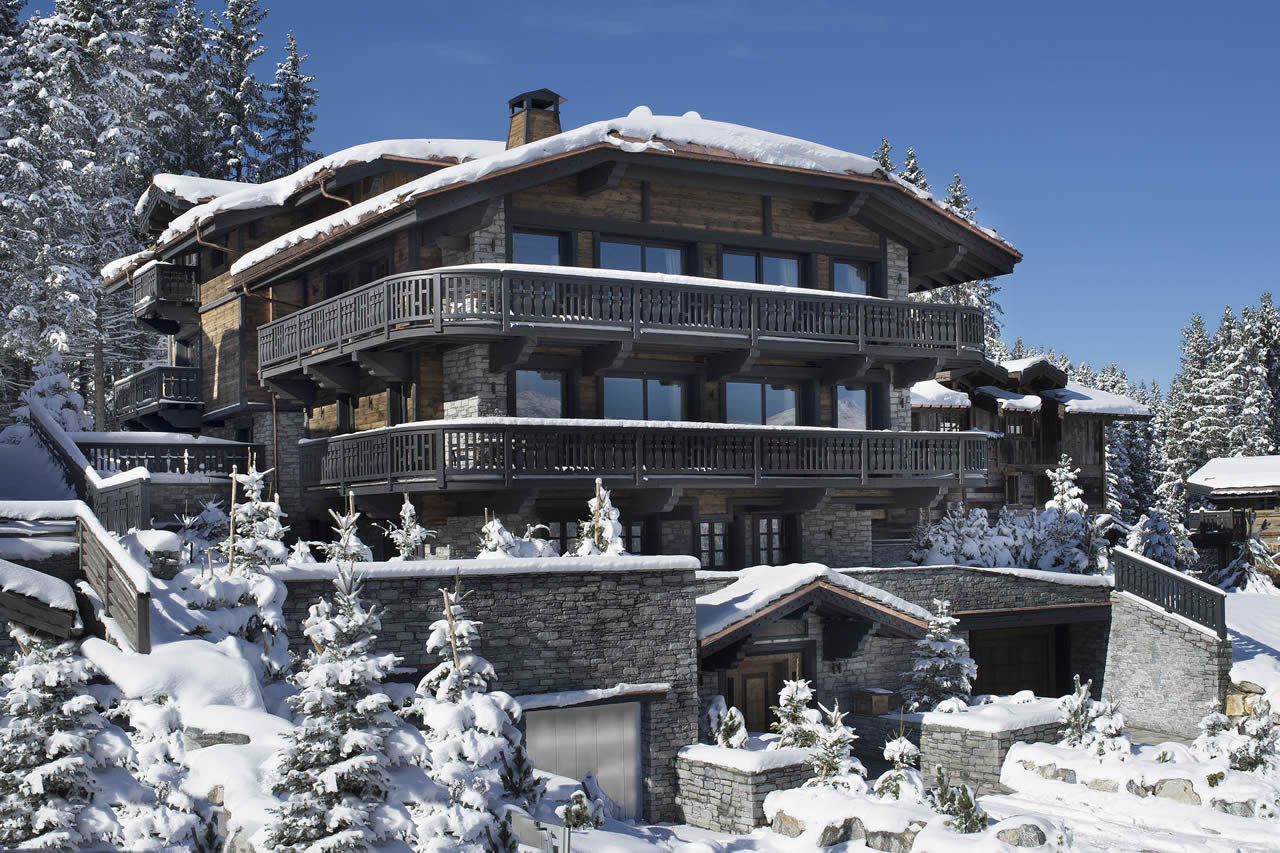 If you get lost, your 6-person team of private staff can accompany you to where you need to be. You don't need to ski while staying in this residence. Still, if you do decide to have a couple of goes on the snow, the in-house ski instructor will wait patiently in the boot room for you. When you're ready, he/she can whisk you away on untouched tracks before dining in one of the many Michelin-starred restaurants on the slopes.
2. Chalet 777 In 1850
At the moment, art seems to be the theme in Courchevel, this chalet is a strong rival for Edelweiss, not only neighbouring the super chalet but it also houses paintings, sculptures, original drawings, lithography, and silk-screen prints by famous international artists such as Picasso, Dali, Mathieu, Hartung, Miotte, among others. Incredible.
A Hilton McConnico piano will be waiting for you in the music area to delight your guests. Champagne and canapés can be created by a highly talented chef, and there is staff to serve them.
Naturally, this chalet has bedrooms, eight in total, but let's not dwell on where one's headrests when there are many more exciting things to discover.
The ground floor houses a movie room, pool table, recreation room, lounge, and its own nightclub! The lower ground floor has yet more delights offering a children's play area, fitness area, sauna and hammam spa area, swimming pool, whirlpool, and even a massage room.
3. La Bergerie in 1850
Built just three years ago on the grounds of what used to be the ' Bergerie ' restaurant, 2013/14 was the first season the new super chalet opened in Courchevel. The chalet is really extraordinary, from the carpeting to the chairs, yes, everyday furnishings but not as you've ever seen them before.
The chalet was designed with much thought and the bedrooms perfectly laid are out for families, children, and groups of friends, and amazingly there is always a masseuse and beauty therapist in the chalet who is located on the lower ground floor beside a striking 20mx5m pool. The chalet also boasts a Technogym.
In total, the chalet sleeps 14 people through an assortment of beautiful bedrooms with bathrooms big enough for a pool party.
4. Chalet Pearl in 1850
This chalet is a regular feature on French TV for its outstanding levels of customer service. It has a total of 10 employees including managers, hosts, masseuses, chauffeurs, chefs, and housekeepers all at the chalet guests beck and call. There's nothing the manager can't organise, last year the team worked together to create differing surprises each night in their guests' bedrooms, the surprises ranged from ice sculptures to rooms completely full of roses. This place really is the cherry on top of the pudding.
The gorgeous chalet has seven en-suite bedrooms that can accommodate up to fourteen guests in absolute luxury; it also has a large master bedroom suite with a whirlpool spa tub.
The chalet's superb relaxation area includes one of the best spa and fitness facilities ever seen in a private chalet.
The world is truly at your fingertips in Courchevel and money can buy anything.

Are you on Pinterest? Pin these!