Your Complete Do-It-Yourself (DIY) Travel Guide to Azerbaijan
Azerbaijan, the country where Sovietism and the Middle East are mixed up in the most chaotic way possible.
Azerbaijan is an ex-Soviet, Muslim country. Physically, Azerbaijanis are a mixture between Iranians and Turks, but they wear Russian caps. They speak both Azerbaijani (a Turkish dialect) and Russian. They drink tea in the same way as Iranians, using the same cups, pots and add the same extravagant amount of sugar. They enjoy drinking it in Arab cafés, but do you know what the difference is? They drink it alongside vodka! When you enter a café, they greet you with "Salam." But when you have a vodka shot with them, they will exclaim "Nasdrovia!". They possess Middle Eastern cordiality but, at first, they may seem to have the seriousness of a Russian. It's hard to tell where you actually are. Soviet buildings, Arabic food, and Russian signs. The blend is too chaotic and, for me, this is the most interesting thing about Azerbaijan. 

Quick Travel Tips
Moving around the country – The most common, easiest and cheapest way to move around is by the local mini-vans. They go to any place in the country at any time. Each city or village has its own bus station but, as long as it isn't completely full, they can pick you up from anywhere on the road.
Metro – In Baku, there are two metro lines. The system is efficient and fast, and one ride costs as little as 0.2AZN. You need to buy a Metro Card (2AZN) to be able to use it.
Taxi – Azerbaijan is a country rich in petrol, therefore traveling by taxi is relatively cheap. Short taxi rides cost 4AZN. Outside of Baku, sharing taxis is pretty common among locals.
Language – Azerbaijani (a Turkish dialect) is the official language, but Russian is also widely spoken. Please, keep in mind that most people in Azerbaijan don't speak English at all!
Currency – Manats (AZN) is the official currency. 1AZN = 0.54USD. Exchanging money outside of Baku can be difficult sometimes. Bring USD or Euros, as other currencies might be difficult to exchange, even at banks.
Tourism development – Bear in mind that Azerbaijan is a country where tourism is not developed yet. There are no tourist buses, tour groups or signs in English. Outside of Baku, the hotels on offer are poor and limited. It's a real off the beaten track destination.

Trip Highlights – Top 6 Places to See
Baku – Few capitals in the world are changing as quickly as Baku and today, thanks to the oil business, this city has become a cosmopolitan and westernized city at the level of any European capital. Endless luxury stores, the fanciest cars, the best fine-dining restaurants in the region, awesome pubs and an amazing social life make Baku one of the most surprising and must-see destinations. For more information, check out our Simple Guide to a Quick Trip to Baku
Qobustan – Located 50 kilometers away from Baku, Qobustan is internationally famous for having the most ancient petroglyphs ever found, one of the country's top tourist attractions. During the Stone Age, around 12,000-15,000 years ago, when the Caspian coast was richer and more fertile, a big group of hunters settled down in a set of caves, in which they carved more than 600 petroglyphs (from the Greek words Petros meaning "stone" and glyphein meaning "to carve"). Today, many of these stone carvings remain and, the Qobustan Petroglyph Reserve has become a UNESCO-listed Heritage Site. For more information, I recommend reading this post: Qobustan: Petroglyphs and Sovietism
Xinaliq – If you count Azerbaijan as part of Europe, Xinaliq would be the highest village (or one of the highest) in the continent. Located at 2,350 meters above sea level, Xinaliq (or Khinalug) has always attracted all sort of visitors (both local and foreign), as it is surrounded by the most striking mountain scenery in the country. Xinaliq is located in the most northern part of the country, in the Greater Caucasus, very close to the Russian border. Xinaliq is a remote village whose inhabitants belong to a different ethnicity, speak a distinct language and still preserve their traditional way of life.
Ivanovka – Almost two centuries ago, during the Russian Empire, The Russian Orthodox Church kicked Protestants out of Russia and, in one of those coincidences of life, they all ended up in a place called Ivanovka. Ivanovka is the most surreal place I visited in Azerbaijan. Here, people speak Russian and are blonde with blue eyes. Besides, it's one of the very few places in the world where Soviet collective farms are still functioning. What's a collective farm? It's a farm that, during Soviet times, was controlled by the Soviet government, meaning that they were like public companies where the farmers were just employees. Why do you wanna go there? To visit the collective farms and, if you go during spring or summer, the place is surrounded by beautiful, green meadows. The few locals who go to Ivanovka come to relax and eat the best cheese in the country.
Shaki – Located in the beautiful Greater Caucasus and, probably, the most tourist-friendly place in Azerbaijan, Shaki (or Seki) is the locals' favorite destination, as it has the largest concentration of cultural sites, defining almost 3,000 years of Azerbaijani history. Shaki was an important market place on the Silk Road, linking the southern-western part of Russia with the Caucasus. Awesome day hikes, the best local cuisine, and lovely architecture are among the highlights for anyone visiting Shaki.
Kish – Not very far from Shaki, Kish (Kiş) is a delightful village with tile-roofed houses and stone pavements, located in a valley that looks towards high-altitude snowy peaks. It sounds weird to say it, but the village has a beautiful cemetery, built on a hill, from where you get to see fantastic views of both the village and the Caucasian mountains. Kish is also famous for having an Albanian church, which was built by the commonly called mysterious Caucasian Albanians, a Christian nation that once lived in the northern part of Azerbaijan.

Azerbaijani Food
From Middle Eastern chicken kebabs to the hearty Russian soups and Central Asian dishes such as plov, the cuisine in Azerbaijan, like its people and culture, is a real mix of Turkish, Iranian and Russian food. Nevertheless, since 9 out of the 11 climates can be found here, the cuisine in Azerbaijan is extremely rich, and besides this Middle-Eastern-Soviet blend, there are plenty of local, genuine and mouth-watering dishes. Some of my favorites are:
Dushbara – A dumpling soup typical of the northern-western part of the country.
Piti – One of the most traditional dishes, piti consists of lamb, vegetables, and chickpeas cooked in a ceramic pot and all covered by a lump of lamb fat.
Ovrishta – Chicken marinated in pomegranate sauce and slowly cooked along with chestnuts and barberries.
Pomidor Yumurta – The Azerbaijani version of the Middle Eastern shakshouka, pomidor yumurta consists of scrambled eggs cooked with fried butter tomatoes.

Best Restaurant in Baku
Xurma – A local eatery run by a local elderly couple, Xurma is one of those restaurants that have no menu, only opens for lunch and serves the most authentic home-made dishes. They serve market cuisine, which means that they cook according to what they find available in the local market. This lovely and kind couple don't speak English, but they are happy to invite you into the kitchen and show you the dishes of the day. It's located at the heart of the Old City. The best choice in the area.
Araz Café – A proper restaurant located right at Fountains Square, in Central Baku. Araz Café has an extensive menu that offers a wide selection of Azerbaijani dishes. The dining area is huge, and the place is always crowded with locals, as they boast of having the most competitive prices in the area. They serve beer, tea and have wifi. Here you should try ovrishta, as it's the only place in the country where I found it available.
Best Restaurant outside of Baku
Outside of Baku, the choices are pretty limited, and most of the options will be simplified to local eateries that don't even have a name. How to choose the best one? It's very simple, just eat at those places where you see the largest number of locals.
Nevertheless, in relatively big cities like Quba and Shaki, local people recommended the following ones to me, all of them serving traditional food.
Quba
Xinaliq Hotel and Restaurant seemed to be quite a popular place. They have plenty of dishes at a very low price. Try bozbaz, a meatball stew-soup. Where? In the city main's bazaar. Ask for Xinaliq hotel, as the restaurant is attached to the hotel.
Shaki
For many locals, Qurjana was the favorite choice. Where? At the beginning of Merza Fatali street, that main road that goes up to the Palace.
Qaqarin is by far the best restaurant I tried in the country. You must order licho and orcico (two tomato based side sauces), pomidor yumurta and dushbara.

Where to Stay in Azerbaijan
Where to stay in Baku 
Budget Hotel in Baku – Baku Sports Hostel Don't get confused by the name. There are no backpackers in this hostel, but they offer the cheapest dorms in town. It's just 15 minutes from the city center by metro. Dorms from $4.
Best Mid-Range in Baku – Main Street Hostel Located at the city center, this hostel offers both individual rooms and dorms. Individuals rooms from $20
Best Luxury Hotel in Baku – Sultan Inn Boutique This luxurious hotel is located in the Old Baku and Lonely Planet classifies it as elegant, cozy and modern. Prices from $80
Where to stay outside of Baku
Outside of Baku, Azerbaijan is a real off the beaten track destination, therefore, in some areas, the hotels on offer might be limited to budget options. Here's a list of hotels in those cities that were part of my itinerary.
Quba
Best Budget Hotel in Quba – Xinaliq Hotel A small hotel located at the Quba's main bazaar. It's run by a local family who don't speak English at all. It has a restaurant attached (the one previously recommended), heavily frequented by locals. There are wifi and rooms with a private bathroom. Double rooms from $8.
Best Mid-Range Hotel in Quba – Shane Hotel On the of the few proper hotels in the city which is affordable. Rooms from $35.
Best Luxury Hotel in Quba – Rixos Quba Located 9km south of Quba, Rixos is the most luxurious hotel in the city. Rooms from $95.
Ivanovka
In Ivanovka, there's only one Guest House or Hotel, and it's called John and Tanya. The owner is a young local guy from Baku (son of Tanya). The rooms are spacious, cozy, have a high-speed internet and hot water. For me, the best place I stayed in Azerbaijan. Ivanovka is a pretty remote destination but, if you wanna make sure you get a room, call this number: +994502258861. Rooms are $10 per night
Shaki
Best Budget Hotel in Shaki – Ilqar's Guest House A small guest house/home-stay ran by an awesome local who speaks amazing English and gives you a proper and interesting conversation. He has a couple of double rooms which can be shared with other backpackers. Breakfast and wifi are included. Prices from $8.
Best Mid-Range Hotel in Shaki – Karavansaray Hotel The most popular hotel in the city and also Lonely Planet's top choice. The rooms are not luxurious, but the hotel has the beautiful old architecture that characterizes Shaki. Rooms from $20.
Best Luxury Hotel in Shaki – Sheki Palace Hotel, The most expensive hotel in Sheki. Rooms from $90.

Travel Budget
Azerbaijan is one of the cheapest countries I've ever been to. There are plenty of budget guest houses and, the price of the food, transportation, and alcohol is just ridiculous. In addition, since the country has never been a touristic destination, you can't spend your money on any activity because basically, there are no activities to do.
The below table shows my average daily budget for a two weeks trip.
Before taking any conclusion, bear in mind the following points:
I only used taxis when strictly necessary
I stayed in the most budget hotels
I only ate at local eateries (and quite often, they are the only choice)
You should add a 25% extra (alcohol, water, personal care products…)

Travel Itinerary
 Day 1 – Arrive at the airport of Baku
A taxi to the city center costs 25AZN. Nevertheless, there are frequent buses that also stop there and cost only 1.5AZN (+ the Metro Card which can be used afterward).
If you come by bus and you're staying at Baku Sports Hostel, take the metro to Gyandjelik
 Day 2 – Baku Old City and Central Baku
On day two, head to the city center to explore the Unesco-listed walled Old City. Wander around its fancy and narrow alleys to see the old mosques and stone minarets that date back centuries. Don't forget to visit the Maiden's Tower (2AZN), a 29-meter stone tower and the most iconic building in the city, and also the Palace of Shirvanshahs (5AZN), a sandstone palace where Azerbaijan's ruling dynasty lived during the Middle Ages.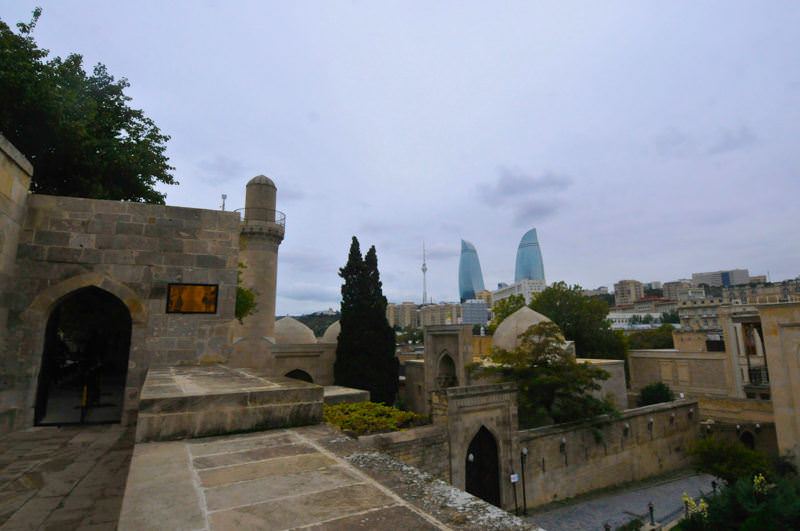 Have lunch at Xurma, the restaurant previously recommended. After eating, go to Central Baku and wander around Fountains Square and the shopping streets and boulevards. If you are into museums (I'm not), the Historical Museum is claimed to be the most interesting one.
In the evening, several pubs offer happy hour on drinks. I highly recommend Secrets Bar, as they offer one pint of Nouxani (a local beer) for just 1AZN. Get two pints (or five) and then head to Soviet Union pub, an underground bar with more of a party atmosphere.
Day 3 – The Marina, Flame Towers, and the petrol extractors
After spending the morning walking around the Marina, go to the famous and iconic Flame Towers. Until January 2017, only one out of the three towers was operating. There's not much to do around the area other than taking pictures of the towers and admiring the city views.
When you are done, continue going up towards the television tower. Once you reach it, keep walking until you are at the top of the hill, where actual petrol extractors are placed without any surveillance. You'll also get the best city views ever.
Day 4 – Day trip to Qobustan
For this day, book a day trip to the city of Qobustan. As I mentioned previously, Qobustan is internationally famous for having the most ancient petroglyphs ever found, one of the country's top tourist attractions.
How to get there? Getting there independently is a bit tricky. Read this article to find out how to get there on your own: Qobustan: Petroglyphs and Sovietism
Allow yourself 3-4 hours to visit the petroglyphs, the museum, and the mud volcanoes. Have lunch at any of the local cafés and then, give yourself few of hours to explore the city of Qobustan.
Day 5 – The journey to Quba
After spending a couple of days in the cosmopolitan city of Baku, you may want to explore the northern Caucasian mountains. For this, I definitely recommend going to Quba, a small city located 180 kilometers from Baku, that is perfect to use as a base for exploring the surrounding mountains and villages.
How to get there? Wake up as early as possible and take the metro to Avtogavzal (the main bus station). The buses to Quba cost 4AZN, and the journey takes around 3 hours.
If you are staying at the same hotel I did (Xinaliq Hotel), once you are in Quba, go the city's main bazaar. A taxi shouldn't cost you more than 1 or 2AZN.
Day 6 – The Caucasian village of Xinaliq
The different mountain villages are definitely the highlight for anyone visiting this region and, perhaps, Xinaliq is the most special one. As I explained previously, Xinaliq is a small village located at 2,350 meters above sea level and surrounded by the most striking scenery in the region.
How to get there? The bad news is that there's no public transport. If you are in Azerbaijan during high season, it will be easy to find some locals to share the taxi with. I was there in early November, so I had to get a private taxi on my own. I paid 30AZN for a round trip.
You want to spend a full day wandering around the village of Xinaliq. It's interesting to see how this village (almost European) is still keeping a traditional way of life. By the way, unlike the rest of Azerbaijan, Xinaliq is a pretty conservative Muslim village, and it's the only place where I've seen most of the women veiled.
There are no restaurants in this village. My taxi driver had friends living in Xinaliq, so we had lunch at their place. I paid an extra 10AZN for that. Otherwise, you had better bring your own food.
Unfortunately, since the area is so close to Chechnya (Russia), most of the hiking trails are closed unless you have a permit. Getting a permit can be quite a pain in the ass, as you need to apply for it in Azerbaijan and it can take up to four weeks so, unless you are an expat or a resident, there's no way to get one.
 Day 7 – Laza
On your second day in Quba, I definitely recommend going to Laza, which is another village from where you can do short half-day treks among waterfalls, cliffs, and colorful meadows.
If you go during winter, Laza is the biggest (and I think the only) ski resort in the country.
How to get there? From Quba, take a bus to Gorus (1AZN, 20 minutes). From Gorus, you have two options: Either take a taxi to Laza (10AZN) or catch the 12 pm bus to Kozam. Tell the driver you are going to Laza so, he'll tell you eactly where to get off. From there, you have to walk up the road for around 5 kilometers before reaching Laza. It's quite a journey. Remember to bring your own food, as the only available option is the restaurant of a 5-star hotel.
Day 8 – The journey to Ivanovka
The western part of the country is separated from the east by high altitude mountains, so, unfortunately, if you wanna go the west, you need to first go back to Baku.
If you wish to go to Ivanovka, get the morning bus to Baku and, from there, catch another bus to Ismayilli (5AZN). There are only one or two buses a day to Ivanovka. If you don't catch it, a taxi there costs 6AZN.
Ivanovka is fairly small, so finding the John & Tanya Guest House is particularly easy.
Day 9 – Exploring Ivanovka
Don't expect Ivanovka to be the most awesome place on Earth. It's a place to relax and enjoy your time in what is the best budget guest house in the country.
If you are interested in the Soviet Union's history, you will like visiting the collective farms. As I said, they are among the few remaining ones. Nevertheless, be careful where you go. Some locals don't like any visitors to see their farms, as they are in very poor condition. They are dirty, and there's old rusty machinery all over the place. You might get kicked out of a few of them.
If you go during summer or spring, wandering around the colorful meadows might also be a feasible choice. I went there early November so, as you can see from the previous pictures, the weather sucked. Nevertheless, I enjoyed my stay in Ivanovka a lot. Besides, the local family running the guest house are very good cooks, and they offer you three amazing meals a day for just 20AZN extra.
Day 10 – The journey to Shaki
To go to Shaki, you should go back to Ismayilli, to the place where the bus coming from Baku dropped you off. Just stand next to the road and wait for any bus going towards Shaki. Normally, there won't be a direct bus, so you should make a connection in Qabala.
In Shaki, if you are staying at Ilqar's Guest House, the one I stayed in, ask for directions to the Palace (three kilometers away from the bus station). The guest house is two minutes from the Palace. For dinner, go to Qurjana (previously recommended)
Day 11 – Exploring beautiful Shaki 
Shaki is the cultural capital and a city with a particular and beautiful architecture. You may want to spend the morning visiting its famous fortress, which contains the Palace of Shaki Khans, a building which is claimed to be the most iconic one in South Caucasus and a UNESCO-listed site. The Palace used to be the Khan's administrative building.
For lunch, go to Qaqarin Restaurant (previously recommended), which is by far, the best restaurant I tried in the country. It's a little bit pricier than others, but you pay for the quality and the views are fantastic.
Day 12 – A day trip to the village of Kish
Seven kilometers from Shaki, located in a valley that looks towards striking snow-capped peaks, the village of Kish stands.
How to get there? You could take a taxi but, to be honest, the journey by foot is more than pleasant. Don't forget to check the Albanian church and the beautiful cemetery. Allow yourself a couple of extra hours for hiking around the village.
Day 13 – Back to Baku or continue to Georgia
Getting back to Baku is a long journey, so try to leave one day before the plane leaves. If you are continuing to Georgia, from Shaki, take a bus to Zaqatala.
Zaqatala in the place where dushabra is originally from so, you must stop there for lunch.
From Zaqatala, take another bus to Balakan and, from Balakan, look for a cab to the Georgian border. After negotiation, it shouldn't cost you more than 10AZN. Probably, even less.

VISA Requirements
Finally, Azerbaijan has started to liberalize its visa regime. Starting January 10, 81 countries can apply for the e-visa without the help of a local travel agent. Check their official Website. Price: Starting from $20

About the Writer
My name is Joan. Spanish, from Barcelona. Wherever I travel, I always try to get off the path. In fact, tourist crowds piss me off. I am a heavy beer drinker, and all different cultures fascinate me. Where do I enjoy traveling? The weirder, the better. I have a curiosity for those countries which nobody knows about. Otherwise, where's the excitement on visiting a place which you already know what to expect? I blog at Against the Compass. Know more about Azerbaijan here and here.
Social Media:
Facebook: Against the Compass
Instagram: againstthecompass
Twitter: @AgainstCompass

Are you on Pinterest? Pin these!