The Best City Center Hotel in London for a Great British Break – Hampton by Hilton, Waterloo
Can you believe it? We are to say goodbye to the UK once again to explore South America. Of course, the UK will hold a special place in my heart because Jon and I tied the knot here. Plus, we visited so many countries and experienced a lot of 'firsts' here as Mr and Mrs Howe. As much as we wanted to stay a bit longer, my visa is about to expire and we have obligations as travel bloggers. In short, it's time to get back to work!
Hampton Hilton Waterloo – City Center Hotel London – A Great British Break
You know, the universe has its way of surprising us because I couldn't think of a better way to end this leg of our journey than staying in a city center hotel in London. We were fortunate enough to stay in Hampton by Hilton, which I must say, has one of the best views of London in the entire city. It is romantic, whimsical, fantastic and jaw–dropping. And no, I am not exaggerating, we stayed in their Queen room and needless to say, that's exactly how I felt!
Check the room rates and deals at Hampton by Hilton, Waterloo
Own website | Booking.com | Agoda | Expedia | Tripadvisor
 Hotel address: 157 Waterloo Road South Bank London England SE1 8XA

Reasons to stay at Hampton by Hilton, Waterloo
Its proximity to London's attractions
This city centre hotel in London is so close to so many tourist attractions which make it an ideal accommodation if you are not a fan of taking long road trips. Hampton by Hilton, Waterloo is a 10 – minute walk to Royal National Theatre and Imperial War Museum. And of course, who can forget London Eye which is just 15 minutes away and beautiful locations just outside the city centre and only a short train journey away. At least you can save on transportation costs because you can get there with just your trusty feet.
Hampton Hilton Waterloo – City Center Hotel London – A Great British Break – Image by – Pedro Santos
Close to Waterloo Station for easy transport
Now, if you want to get to other parts of London, it should be a breeze as well if you stay in Hampton by Hilton as the Waterloo station is just around the corner.
The view from your room at night is incredible
It might be hard for you to sleep right away because of the view that your room has to offer. This romantic city centre hotel in London will give you an amazing sight, especially at night. The buildings and other attractions are perfectly lit, check out the gleaming lights of the London eye through the window!
Hampton Hilton Waterloo – City Center Hotel London – A Great British Break
Beds that seduce you to sleep anytime of the day
Even the distracting view of London from Hampton by Hilton, Waterloo won't be able to keep you awake when you lie down in one of these beds.  These beds will seduce you to take a nap whether it's broad daylight or late at night. Not only that, the soundproof windows provide a rare chance to look out over the centre of London in complete silence!
Hampton Hilton Waterloo – City Center Hotel London – A Great British Break
Inviting and 'social–friendly' reception area
Most hotel lobbies, while grand and boast luxurious furniture, can be boring at times. But in this city centre hotel in London, things are a bit different. There are a lot of seats, and it is designed to invite guests to stay, make friends or have a couple of drinks. The very stylish ground floor reception area with lots of seating and social space creates a lively buzz. The reception counter itself projects along the length of the space, which seamlessly becomes the bar, encouraging guests checking in, out, or just moving around to hang out and enjoy a beer or coffee with friends. City centre hotel lobbies have a tendency to become soulless spaces for unconnected people to pass through on their way to something more important – Hampton by Hilton Waterloo seems to do exactly the opposite!
Hampton Hilton Waterloo – City Center Hotel London – A Great British Break

The Rooms and Suites at Hampton by Hilton, Waterloo
Queen Room
The Queen Room comes in several varieties, all of which offer the same main points, with the exception of the City Views rooms which do exactly what the name suggests!
Stay in a queen –sized bed, perfect for couples that need some well-earned rest in between exploring London. You can even work comfortably with their in-room desk and high-speed WiFi. Store your laptop in their safe and stroll around London's best spots. You can also have tea or coffee as you start your day. And with the iron and ironing board, you are sure to have well–pressed clothes every single day. Unless you're like us, because we haven't ironed anything for the last three years!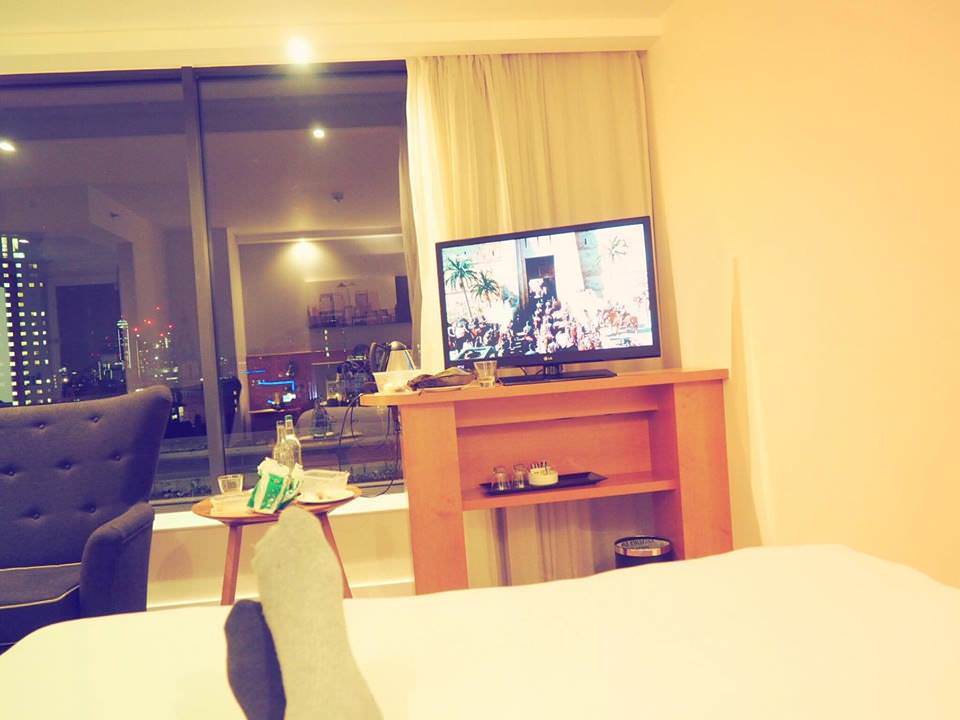 Hampton Hilton Waterloo – City Center Hotel London – A Great British Break
Twin Room
If you are staying with a friend, then opt for the Twin Room and get a good night rest in their 120cm x 200 cm beds.
All rooms have HDTV, easy to use an alarm clock (because the beds will make you sleep in otherwise!) and full bathroom amenities.
The Gastronomic Experience
Before you leave, make sure that you grabbed some grub from the stylish but laid back restaurant of this top city centre hotel in central London. Hampton by Hilton, Waterloo offers hot and cold breakfast with your room, as well as serving an a la carte lunch and dinner, including stone-baked pizzas! The hotel's café is great for a quick coffee or a snack any time of day.
Hampton Hilton Waterloo – City Center Hotel London – A Great British Break
Other Facilities
Fitness Room
As you may have known, we try our best to promote a healthy travel lifestyle, even if it doesn't always seem that way! I gained a lot of weight through our 'luxury hotel' adventures because I was always lounging in super-comfortable beds or just enjoying the amazing food. In the past, I would rarely use hotel gyms. But now, highly recommend it especially for long term travellers. In this city centre hotel in London, you can stay fit with their state–of-the-art gym facilities.
Hampton Hilton Waterloo – City Center Hotel London – A Great British Break
Business Center
Travelling to London for business? That's cool! You can use Hampton by Hilton's business center where you can even print, photocopy, and rent equipment. The open plan and very social setting feel as much like a communal working space as it does a hotel lobby and bar!

Great things to do in London, nearby Hampton by Hilton, Waterloo
London Eye
Why would you miss this iconic feature in London? You can either have a ride or savour its majestic beauty during the night from down below.
Big Ben
Similar to the London Eye, any tourist should be able to find time to visit Big Ben even if only to watch the hands of time tick slowly towards the tolling of the bells!
Imperial War Museum
This is something that history buffs will love to visit. However, if you are bringing your kids, there are areas in the museum which are not recommended for them. (Some exhibits are 'dark' and perhaps 'morbid' for young ones to see.) There are, however, plenty of interesting exhibits that the whole family can enjoy!
Royal National Theatre
Fan of great plays? Then why not check out the National Theater for classic and contemporary entertainment?
Borough Market
Food lovers, we recommend that you make time for this foodie heaven and munch on some local delicacies.
Harry Potter Store and Platform 9 ¾
Yes, because Harry Potter has become an icon and you need to take photos at Platform 9 ¾!
Buckingham Palace
Buckingham Palace is the residence and administrative headquarters of the reigning monarch of the UK. One of the busiest tourist attractions in the UK, be prepared for crowds and make sure that you arrange a visit in time to catch the daily Changing of the Royal Guard.
Summary and Tips
City centre in London has so much to offer. You will never run out of activities. Make sure that if you stay in Hampton by Hilton, Waterloo, you will take full rest after each day. Trust me; a day isn't enough to see the best spots in London.
Hampton by Hilton fact box:

Hampton by Hilton

value-conscious and quality-driven travellers

Nearly 2,200 properties totalling more than 218,000 rooms in 20 countries and territories

High quality accommodations and amenities, such as complimentary Wi-Fi, Hampton's On the House® hot breakfast and the signature Clean and fresh Hampton bed®

Hampton by Hilton Team Members deliver friendly, authentic, caring and thoughtful service defined as Hamptonality

Hilton HHonors members who book directly through preferred Hilton channels receive instant benefits, including an exclusive member discount that can't be found anywhere else, free standard Wi-Fi and digital amenities like digital check-in with room selection and Digital Key (selected locations) available exclusively through the industry-leading Hilton HHonors app

For more information about Hampton by Hilton visit 

www.hampton.com

 or 

news.hampton.com

and connect online at

Facebook

,

Twitter

,

YouTube

and

Instagram

.
Note: We had a complimentary stay as guests at Hampton by Hilton, Waterloo. All opinions and views are based on our observation and personal experience.

Are you on Pinterest? Pin these!