8 Amazing Sailing Gifts for Men Who Love to Sail
Find the best sailing gifts for men here! If you're thinking of the best present to give, we provided you a list of various types of sailing gifts for men. 
Sailing gifts for men can be quite varied, such as waterproof watches, electric kits, sailing kits, etc. It would be better if the gifts are stylish, useful, and thoughtful. If you're planning to give your man a sailing gift, we have several options that can help you to pick the right one. The listed gifts can be suitable for any man in your life, whether your dad, husband, boyfriend, brother, son, friend or anyone.
List of our Recommended Sailing Gifts for Men
| Product Names | Product Images | About this Product | Price |
| --- | --- | --- | --- |
| Waterproof Jacket | | Since sailing has a lot of contact with water, waterproof clothing is recommended to wear, such as a waterproof jacket. A product from Helly Hansen can be your best option for the waterproof jacket. The jacket is made from 100% polyester at the front and 100% polyurethane at the back. The designed is equipped with a fixed hood, YKK zipper, anti-chafe chin guard, bottom hem cinch-cord, adjustable cuffs, and two zippered pockets. | |
| Cap | | One of the best options for an outdoor cap that you can give to your man is from Navis Marine. They made a waterproof, breathable cap with UV protection. The design of the cap originally is baseball cap design, but then modified so it can be suitable to be a sailing cap. It's made from pure cotton with a non-corrosive metal adjustor to get the right head size. | |
| Sunglass | | Constant contact with sun rays reflected on the water can damage a sailor's eyes. Hulislem is producing S1 sport polarized sunglasses that are equipped with FDA certificate. The frame is made from thermoplastic material and manufactured using Swiss technology and Italian design. The lenses are using HD grade lenses, polarized, and equipped with iridium coating that prohibits the sun rays with wavelength under 400 nm from damaging your retina. The coating does not only protect you from any type of UV rays but also blue light that is mostly produced by gadgets. | |
| Waterproof Camera | | A camera is never a wrong gift. As a reputable waterproof camera producer, GoPro gives you an undeniably superb camera. GoPro HERO6 is equipped with great video stabilization, voice control, touchscreen, and waterproof design. The video recordings from GoPro can also be synchronized with iOS or Android devices using the Quick Stories app. The batteries run time is 1h 20m while using GPS and Wi-Fi, and more than 2h when the GPS is off. | |
| Power Bank | | While on the water, access to electricity is limited. You can purchase a power bank from Transmix which has a lot of features and advantages. The power bank uses solar energy to charge power, so it has an unlimited power source. It has 4 foldable solar panels, and when you open and place it under the sun, it will immediately charge. | |
| Watches | | Since sailors spend a lot of their time on the water, you must choose a waterproof watch. You can purchase an eco-drive watch from Citizen as an option. The watch uses solar power and equipped with a low-charge warning, luminous hands, and push-button clasp. Even though the strap and bezel use stainless material, but it's anti-rust. The machine uses Japan quartz movement with analog display. | |
| Compass | | To determine the right direction, sailors need help from a compass. That's why a compass will never be a wrong gift for a sailor. You can try Eyeskey's compass which has a lot of features and functions. It's built-in a solid metal material which makes it sturdy, rugged, and long-lasting. | |
| Journal | | Julie documented her sailboat journey through this book. It contains a lot of personal true story that will excite those of you who are eager to start your sailboat journey. Even though it is not a guide book, it can still be an excellent reference for sailboat enthusiasts. | |
Pro's and Con's of Each Sailing Gifts
Pros:
Waterproof, windproof, breathable, and comfortable.

Great durability.

Adjustable hood.
Cons:
Not delivering to some countries.

Double-check on the size before purchasing so you can get the fittest size.
Pros:
Equipped with gift box.

Lightweight and inexpensive.

Comfortable for any weather.

It has eyelets at the top for circulation, so your head wouldn't too humid.
Cons:
One size hat. Even though adjustable, it still looks bulky for small head users.
Pros:
Lightweight.

Stylish frame and comfortable.

Durable.

Stress-resistance frame.

1-year warranty.
Cons:
One size frame that can be too large or too small for a user's head.

Doesn't equipped with anti-fog features
Pros:
Featuring 5GHz Wi-Fi makes it has a 3x faster offload speed.

Rugged and waterproof up to 33 feet.

Works perfectly in lowlight.

12MP camera with video capacity is 4K60 and 1080p240.

2-inch display.

Lightweight and compact size.

1-year warranty.
Cons:
It doesn't include SD Card.

Pricey compared to other brands.
Pros:
Power capacity: 25,000 mAh, 92.5 Wh.

Covered with waterproof materials.

High-speed charging with 2 USB ports that can be used at the same time.

It includes manual and USB cable.
Cons:
Forbidden to charge on the car dashboard.

Quite heavy (560 gram / 1.2 lbs).
Pros:
Features dual time and date display.

Uses a non-reflective crystal case.

Water-resistant up to 200 m underwater.

Lightweight.

5-year limited warranty.
Cons:
Not delivering to some countries.

It doesn't including user manual.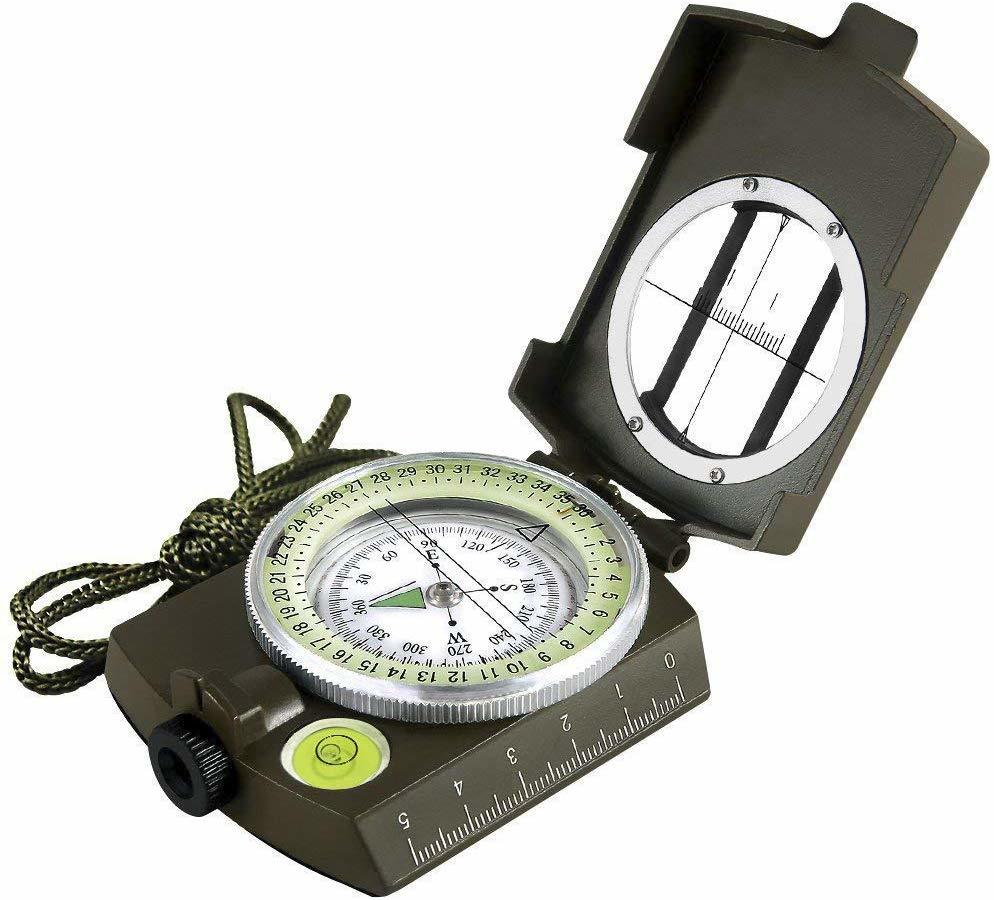 Pros:
Water and shake-proof.

Featuring map measurer, straight and distance measurer, and measurement conversion chart.

Handy in a compact size and lightweight.

Readable even though under the minimum light.

Highly accurate.

Temperature resistance from -50°F to 150°F.

1-year warranty.
Cons:
Not using USGI standard.

Beginners need a lot of practice to get used to operating the compass.
Pros:
Easy to carry.

The cover has an elegant and unique design.

Papers are refillable.

Lightweight and durable.

Perfect for a gift.
Cons:
The paper inside is quite flimsy.

Doesn't equipped with a pen holder.

Are you on Pinterest? Pin these!