Best Books for Travelers, recommended by Two Monkeys Travel Group
Travelling allows us to be in different places, discover hidden beauties and experience different cultures. Reading a book, however, can bring us not only to different places but in different dimensions, or even out of this world adventures that we all wish to experience in real life. We get to be kings and queens in our favourite stories, or we can travel to the moon and back without having to worry about booking a flight.
The joy that reading provides for wanderlusts like us is far more different and enticing to those who barely see the world. There is more to life and living, more than what we can feel and what we can imagine. We can experience both through reading books and travelling.

Here are some of the best books for travellers who would want to have something to keep them entertained during those long bus or train rides or while on a flight. Some might also enjoy bringing a nice book while sunbathing in Mykonos or while catching coffee on your favourite cafe in Amsterdam. No matter where in the world you are, a good book can even bring you further.
1. Off the Beaten Path: A Travel Guide to More Than 1000 Scenic and Interesting Places Still Uncrowded and Inviting
If you see the United States as one of your go-to places for vacations and adventures, you might want to get your hands on this book to see more of America's off the beaten path. See new destinations that remain to be a secret for many and experience unforgettable memories from the undiscovered gems of the country. Travel bloggers can come prepared and informed thanks to the new road maps and information about the beauties featured in the book.
Price: Hardcover $19.46
2. How to Travel the World on $50 a Day: Travel Cheaper, Longer, Smarter (Revised)
Every smart traveller would love to save money while getting the opportunity to have a taste of the world. Matt Kepnes, the genius behind the travel blog Nomadic Matt shares his decade experience on how to travel the world on a budget through this book. Get free flights, hotel rooms, stretch your budget and find attractions to go to -for free, through the tips and techniques shared in his book. A comfortable, enjoyable and budget-friendly adventure is what this book is about. This is also perfect for families who would want to save for a big adventure abroad.
Price: Paperback $10.56, Kindle $10.03
3. Destinations of a Lifetime: 225 of the World's Most Amazing Places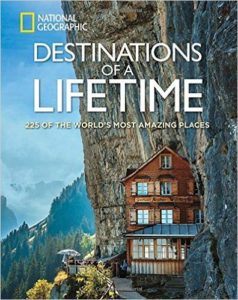 National Geographic is one of the best resources when it comes to places where travellers can get the most spectacular experiences. Both natural and man-made destinations are featured vividly in the pages of the book, motivating travel nomads to save more and work harder to be able to explore these sides of Earth.
Price: Paperback $26.012, Kindle $16.99
4. 1,000 Places to See Before You Die: Revised Second Edition
A basic must have for the adventurer at heart. Satisfy the cravings of your soul as you go through the pages of this travel book. Jot down notes as you fall in love with beautiful pages of the book as you set yourself on a new adventure – everywhere on Earth. Get tips on where to stay, what to eat and how to have an unforgettable experience on a budget with this rewritten and made fuller adventure guide.
Price: Paperback $14.99, Kindle $9.99
5. The Travel Book: A Journey Through Every Country in the World
One of the most redeeming possibilities that a travel blogger can achieve in their lives is being able to be in every country and continent in the world. Get a bigger idea on where to go and how to get there by going through the pages of this book. It's a book for any generation who would want to get a piece of everything on this Earth.
Price: Paperback $31.25, Kindle $19.25
6. The Most Scenic Dives in America: 120 Spectacular Road Trips
If you would rather take your time in enjoying what the world have to offer, you might want to start your adventure in America. Go on a road trip and bring nothing less than your love for the outdoors and adventure together with our most favourite book out of the 15 of the best books for travellers in our list. Discover when it's the best time to travel in a particular area, events to look forward to and nearby attractions you shouldn't miss.
Price: Paperback $23.79, Kindle $17.99
7. Life is a Trip: The Transformative Magic of Travel
Living the nomadic life is indeed spontaneous and exciting. But, when adrenaline levels are low, you might want to retrace your roots and discover the enchantments that brought you to where you are right now. This book will inspire you once more in embracing cultures around the world and creating magical experiences out of every travel adventure you have or will have in the future. A life changing piece any travel enthusiast should not miss.
Price: Paperback $9.15, Kindle $7.99
8. Quit Your Job & Travel the World: The Complete Guide to Making Your Dream A Reality
How many times have you daydreamed at your office table seeing yourself waking up in the morning and enjoying a sunrise in a different country or region in almost every day of your life? Do you imagine yourself reviewing luxury hotels and attending to festivals a way to generate your income? The world is waiting for you. Discover how you can quit your job, fund your travels and start a whole new lifestyle, this book is the best book for the traveller spirit in you.
Price: Paperback $9.99, Kindle $3.99
9. Rick Steves Europe Through the Back Door 2016: The Travel Skills Handbook
Looking forward to your European tour next year? Gear yourselves with the knowledge and make your way through Europe with style and ease with this full-color guide book. Travel via plane or explore the Old World appeal of the trains stations in the metro armed with the knowledge that will bring you to the best restaurants and most comfortable accommodations – all within your budget.
Price: Paperback $18.87, Kindle $15.99
10. The Scapegoat by Daphne du Maurier
Basking in the sun on a nice sunny afternoon at the L'Ile de Riou, Marseille beach? You might want to go on an adventure with John, an imposter who is trying to hide the truth from his family and several mistresses as he tries to unravel an enigmatic mystery that will unveil the truth behind the existence of everyone living in the pages of this classic masterpiece.
Price: Hardcover $66.64, Paperback $17.59
11. The Blue Sky by Galsan Tschinag
Discover how the nomadic Tuvan people of Northern Mongolia transcended into living an ancient life in the modern world, how they had to fight relentlessly or for some embrace the influence of today's generation. Live in the shoes of a young shepherd boy, how he lost his love ones one-by-one to faith, destiny and death. An enigmatic literature about life, cultures and traditions that will always have a soft spot for travellers and explorers alike.
Price: Hardcover $22.00, Paperback $15.00
12. The Twenty-One Balloons by William Pene du Bois
This Newbery Medal Winner takes you to Krakatoa, the world with unimaginable wealth and eccentric inhabitants, together with Professor William Waterman Sherman, the protagonist in the book. A reading perfect for the adventurer at heart – of all ages. Your cravings for imagination and brilliant artistry will be satiated with this classic piece.
Price: Hardcover $15.85, Paperback $6.09, Kindle $5.70
13. Stamboul Train by Graham Greene
Travel back in the past and enjoy a thrilling spy story while enjoying the waves at the Bahamas. This story set at the Orient Express, travelling from Ostend to the Constantinople where murder, mystery and politics create a rather chaotic relationship between Myatt and Coral. A love story set at the vast railroads of Europe – your perfect companion for your long overnight travels.
Price: Hardcover $10.00, Paperback $10.27
14. The Sun Also Rises by Ernest Hemingway
A classic from Ernest Hemingway that will bring you back to the disillusionment and angst that existed after the World War I. A rather chaotic generation where Jake Barnes and Lady Brett Ashley fell in love but were blinded by the spiritual dissolution and vanishing illusions of that time. A perfect entertainment as you enjoy a long flight from Asia to London.
Price: Hardcover $20.65, Paperback $9.75, Kindle $0.99
15. Underneath New Orleans by Nick Laurel
Enjoy Jazz music while enjoying the view of the docks in New Orleans as you enjoy stories shared by bloggers on how they enjoyed and made the most out of their stay in charming, quaint city. Enjoy the food, tune in to live music at night and celebrate life and living with this book as your guide and inspiration as you enjoy the culture and tradition that is uniquely New Orleans.
Price: Paperback $11.99, Kindle $6.99

It's time to travel the world! Grabbed a book listed above? Share us your experience in the comments section below.