List of The Best Beaches in Davao, Philippines
The Davao Region, comprising of five provinces namely Compostela Valley, Davao del Norte, del Sur, Oriental, Occidental is what used to be Southern Mindanao. This place doesn't only pride itself with luscious flora and fauna and culture but also of its amazing beaches.
Being near the Pacific, expect the best beaches Mindanao could offer. The best time to visit here would be December to May, which is considered the dry season in the Philippines. With this, we have listed the best beaches in Davao for you.
For those who want to have a relaxing getaway by spending time by the beach or getting vitamin Sea and D, here are the top 10 best beaches in Davao: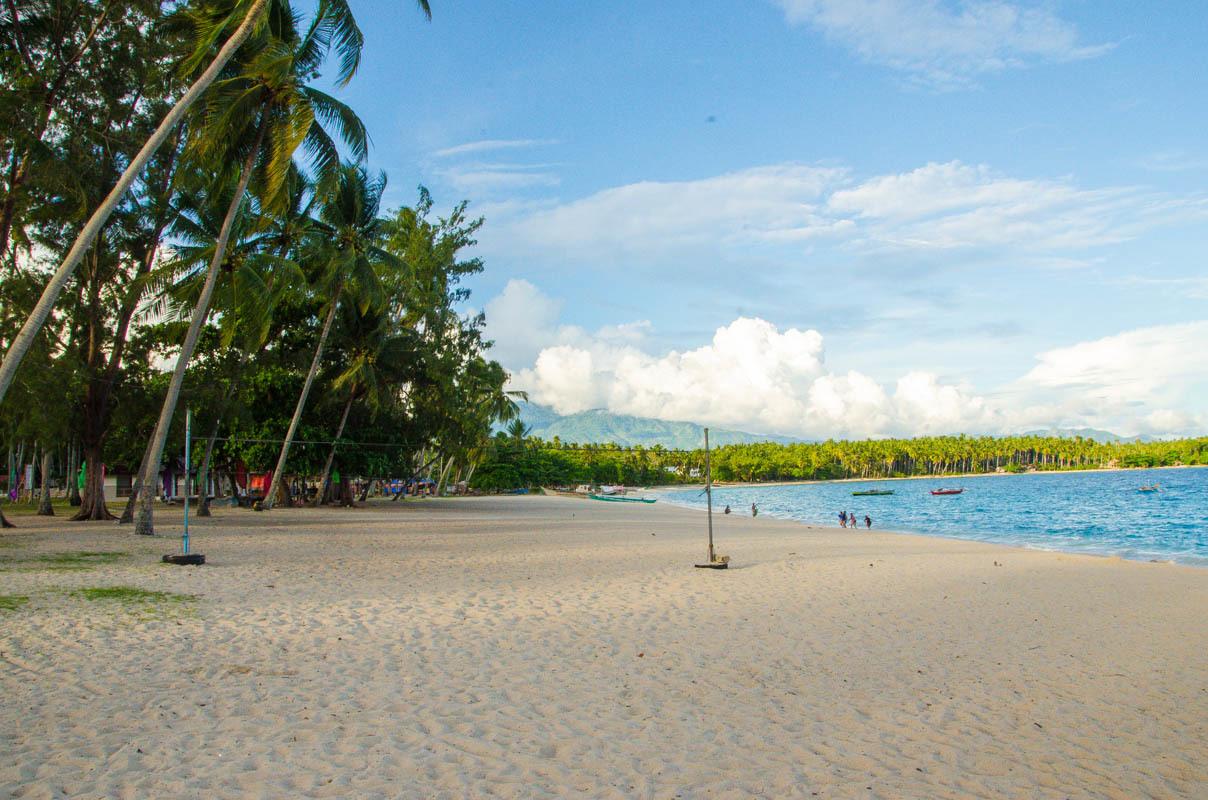 Want to try surfing? Well, Dahican Beach is where to go. It's a long public beach with palms everywhere. It's super clean, and you will love how smooth the sand is. There are high waves, so support local and get taught how to surf there. With clear blue waters, a long stretch of sand, you can surely find a spot for yourself. If you are lucky, you can see turtles hatching. Relax and have fun in one of the best beaches in Davao.
Recommended Hotel: Legends Dormitel
An escape from the crowded cities is in Canibad Beach in Samal Island. It's pretty far from the city center and not advisable to elders as the way down is steep. You could try cliff jumping or enjoy a walk on the talc-like sand while hearing the calming waves of the ocean. Bring money as there are an entrance fee and food as well as no restaurant is by the beach. However, this is one of the best beaches in Davao, offering you a serene place. You will find comfort and peace in Canibad.
Recommended Hotel: Canibad Point Resort
Right in front of the Pacific Ocean is a scenic Island, San Victor Island, one of the best beaches in Davao. Not does it only have white sand and pristine waters, but abundant marine life. The Diocese of Mati maintains it as it also has a Catholic Chapel on the beach. Come here and enjoy swimming and seafood with your friends and family. It will be a fantastic vacation.
Recommended Hotel: Slapen Chillen
Want to stay at an exclusive luxury resort and have the white sand and the water for yourself? Stay at Pearl Farm Beach Resort; it's also owned by a Ms. Universe 1973, Margie Moran. In the white sand beach, lush greenery, and clear waters, what more could you ask for? If you get tired of the saltwater, some pools could help you relax or dive to explore marine life nearby. Restaurants are in here too. For a private, romantic getaway; this is your answer.
Recommended Hotel: Pearl Farm Beach Resort
The water is not that blue, and the sand isn't as white as the other beaches, but still, Banana Beach is one of the best beaches in Davao. With luscious trees and a plantation nearby, you'll get more than a dip in the sea. There's a jungle path when you can see monkeys and lizards as well as hanging bridges. This is undoubtedly a different adventure from a typical beach outing that you wouldn't want to miss.
Recommended Hotel: Hijo Resorts
With milky white sand and turquoise blue waters, the Vanishing Island has one of the best beaches in Davao. Witness how it appears and vanishes; you would totally be in awe. As the water is very clear, you might see marine life like starfish and little fishes too. A budget-friendly place to enjoy the sun.
Recommended Hotel: Club Samal Resorts
7. Babu Santa Beach, Samal
At Talikud Island in the Island Garden City of Samal lies a beach that fits to be on the list of the best beaches in Davao. With a gorgeous shoreline; white sand and crystal blue waters, you will undoubtedly be stress-free. Bring also snorkeling gear as you can explore marine life, e.g. the coral reefs near the beach. This is the best place to spend time with your family or friends.
Recommended Hotel: Punta del Sol Mangrove Resort
Balut Island is a volcanic island that is in the south of Davao Occidental. With white sand, many palm trees and crystal blue waters; this makes it one of the best beaches in Davao. It's a hidden treasure, so there aren't many tourists or visitors here, you can have the island to yourself. If you want; you can island hop in the islands nearby or spend an overnight here. A paradise on earth, indeed.
Recommended Hotel: Shangri-La Restobar
9. Baganga Sunrise Boulevard, Davao Oriental
Want to go somewhere eerie? Well, try the beach at Banganga Sunrise Boulevard. With trees without life in the middle of the beach, you will find it creepy but unique. Those were actually mangrove trees that have been destroyed way back 2012. However, they seemingly are recovering. It's a free beach by the road, and you would love the blue water and its aesthetics.
Recommended Hotel: Slapen Chillen
Another Island that has one of the best beaches in Davao is the Passig Islet. Ride on a boat for an affordable price and enter the island; you will have a place to relax. Have fun with family and friends, and maybe you could spend overnight there and meditate. That surely will be a great getaway.
Recommended Hotel: Jared Suites
Davao indeed has lots of incredible beaches, especially as it is near the Pacific and there are uninhabited virgin islands present. Don't forget to pack some sunscreen and but new outfits as you have a vacation in Davao. Relax and enjoy the best beaches in Davao.

Are you on Pinterest? Pin these!