Where to stay – The best accommodation for backpackers
There are far more accommodation options available than you might think and I don't just mean different hotels. Whether you want to meet new people, sleep in a luxury bed, enjoy a relaxing spa, or just save money, there's something for everyone. Here's our seven favorite ways to bed-down for the night!
This little-known gem in the world of travel allows you to connect with homeowners worldwide who don't want to leave their home vacant and at risk for a length of time and so are looking for someone to live there, for free, while they travel, work abroad or a variety of other reasons. They have peace of mind, you get a free house. What else could you wish for?! Check out more details here on how you can become a House sitter.
Dorms are great. You're guaranteed to meet people with shared interests, passions, ideas and even itineraries. It's the best way to meet new people on the road. You might not like everyone you meet, but you'll definitely find someone to hang out with wherever you are and maybe even someone to travel with!
There are various sites you can use, here's our Ultimate Guide of Best Hostels around the World.
Family/Relatives/Friend's House
If you know someone in a town or city, give them a call! If they can fit you in somewhere, they will. If not, you can be pretty sure they'll know the best places to stay and invite you over for a meal!
No one expects you to live on a minimal budget every day, so treat yourself with a real hotel, with a pool, a spa and a huge, feather pillowed bed! There are a lot of different deals out there, you just have to know where to look and check more than one site. We've been using Agoda and Booking.com when we need some inspiration – sometimes you can even book now and pay later. Check out our list of recommended Luxury hotels around the world.
Couchsurfing connects travelers in need of a bed or sofa for the night with friendly locals who have exactly that. Growing in popularity all over the world, it's the perfect way to meet interesting people from all over the world and get to know new places and cultures outside of the usual tourists' perspective. Here's my Couchsurfing account so you'll have an idea on how to create your own account.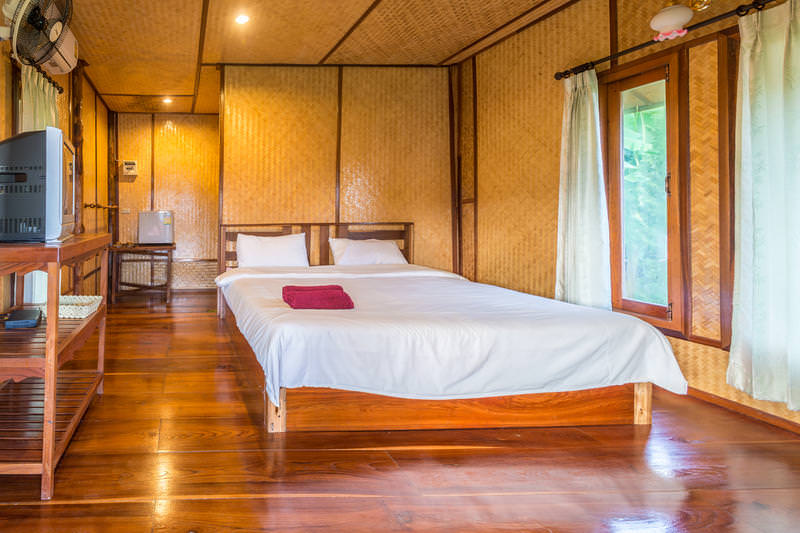 If you want something a bit more independent, your own space and maybe even your own kitchen, an apartment or shared house might be for you. AirBnB offer exactly that in locations all over the world.
Trains, boats and bus are great for backpackers looking to save their valuable daylight time and some money by travelling through the night instead of paying for accommodation. Don't stretch yourself too far though, if you arrive exhausted, it might not be worth the money you save!

Are you on Pinterest? Pin these!