Guide on How to Register and Contribute as a PhilHealth Member
Being a Philhealth Member has perks? Why? Because nobody is immune to sickness and not a lot of people have the means to pay hospital bills or medicines. Operations are quite costly and some don't have a budget for that.
Here comes PhilHealth, a government corporation that is in charge of the National Health Insurance Program of the Philippines. The NHIP will help pay the medical bills for a PhilHealth member or his/her dependents who are sick or hospitalized, a portion or wholly. 
Being a PhilHealth member not only allows you less payment in your hospital or clinic bills but also of your dependents. Sometimes, from Php 50,000 total bill – you can pay less than half of it. If you can afford contribution, hurry and register now. But if you don't have a job or can't really afford it then there is a program for Indigents were the government pays for you.
This is really helpful, so be a PhilHealth member now! 
Who can be a PhilHealth member?
Anybody, Filipino or Foreigner, can be a member of PhilHealth, however, your category will depend on your status of employment. 
Categories of a PhilHealth Member
Formal Economy
Private or Government Workers

Regular

Casual

Contractors or Project-Based

Business Owners

Househelpers and Family Drivers
Informal Economy
OFWs

Documented or undocumented Overseas Filipino Workers

Sea-based or Landbased

Informal Sector

Vendors – market or streets

Drivers – tricycles

(and the like)

Self-Earning Professionals

Doctors, Engineers, Lawyers, etc.

Dual Citizenship Filipinos

Naturalized Filipino Citizens

Foreign Citizens

Working, residing or studying in the Philippines

Organized Groups

Missionaries like Priests, nuns, pastors, etc.
Sponsored
People whose contributions are paid by a sponsor – another person, government or private entity
Indigent
People with no means of getting income or have insufficient financial resources

Identified by DSWD
Senior Citizens
60 year old +

Filipino residents of the Philippines

Not in any other membership categories
Lifetime Members
60-year-old + individuals

56-year-old + uniformed personnel 

55-year-old + underground miner-retirees

All must have at least 120 paid monthly contributions in PhilHealth
Dependents of a PhilHealth Member

When you register with PhilHealth, you can also add dependent family members. They can have separate coverage for up to 45 days in a year but they are shared. So, if you have 2 dependents, A and B. A has been sick and was covered for 10 days and B has been hospitalized for 40. Then 5 days shall not be covered for both of them, only a total of 45.
In your registration, please don't forget to name them so that it is included in your MDR.
Qualified dependents:
Legitimate husband/wife who is not a PhilHealth Member

Children – legitimate, acknowledged and illegitimate (your name must appear in Birth Certificate), adopted, stepchildren below 21 years old. They must be unmarried and unemployed.

Children – 21-year-old plus but suffering a disability (mental or physical) that makes them ask for support from qualified members

Foster child

Parents – 60 years old plus not a member of PhilHealth

Parents of any age with a permanent disability that makes them dependent on you for support
How to register as a PhilHealth Member?
Walk-in PhilHealth Office11
1. Download, print, and fill-out PhilHealth Member Registration Form. 2 Copies, please.
(You can get this at the PhilHealth Office though)
2. Go to a PhilHealth Express Outlet or a Local Health Insurance Office.
3. Submit PMRF at the office. Bring also a photocopy of your Birth Certificate, a Valid ID. If you are a foreigner; include a copy of your Alien Registration Card.
4. Wait for your Member Data Record (MDR) and PhilHealth ID Card.
Online PhilHealth Membership
This is for Employed Members, Self-Employed, OFWs, and Retirees
1. Go to this website
If you belong to the category, click proceed.
2. Read the terms and conditions.
Check the box and click Accept.
3. Fill-up the necessary information.
4. Don't forget to add all your dependents. You may "Add Beneficiary" if you have more than one.
5. Upload a document certifying your identity.
It can be any Valid ID or Birth Certificate or Barangay Certificate, and many more.
Upload also your ER2; if you are an employee or your Employment Certificate.
6. Review the details you have typed.
7. Enter the captcha, check the box and click "submit registration".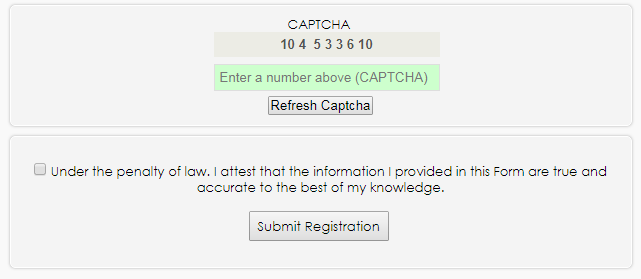 8. Check your email for the confirmation and your PhilHealth number.
PhilHealth Regional Offices
You can go to this link to see where you could apply or inquire about your PhilHealth membership. However, this is the list of the regional offices of PhilHealth.
Philippine Health Insurance Corporation
Citystate Centre, 709 Shaw Boulevard
1603 Pasig City

PRO I – Dagupan
EMDC Bldg., Sec. Francisco Q. Duque, Jr. Road, Tapuac District,
Dagupan City, Pangasinan
PRO II – Tuguegarao
The Builder's Place, Del Rosario St.
Tuguegarao City, Cagayan 3500
PRO CAR – Baguio
SNOBT Inc. Building, No. 19 Leonard Wood Road
Baguio City 2600
PRO III-A – San Fernando
G/F PhilHealth Bldg., Lazatin Blvd., San Agustin,
San Fernando City, Pampanga C-2000
PRO III-B – Malolos
The Cabanas Mall of Malolos 2nd and 3rd floors N4 Bldg.
Km. 44/45 MacArthur Highway Longos, Malolos City, Bulacan
PRO NCR
VCP Building, Block 56, Lot 11, 68 Kalayaan Avenue
Teacher's Village West, Quezon City
PRO IV-A – Lucena
Lucena Grand Central Terminal, Brgy. Ilayang Dupay
Lucena City
PRO IV-B – Batangas
Caedo Commercial Center
Calicanto, Batangas City 4200
PRO V – Legazpi
ANST III Building
Alternate Road, Legazpi City
PRO VI – Iloilo
Gaisano Capital Building, Luna Street
Lapaz, Iloilo City
PRO VII – Cebu
Golden Peak Hotel & Suites
Gorordo Ave. corner Escario St., Cebu City 6000
PRO VIII – Tacloban
PhilHealth Building 167 P. Burgos St.
Tacloban City, Leyte
PRO IX – Zamboanga
BGIDC Corporate Center, Gov. Lim Ave.
Zamboanga City
PRO X – Cagayan De Oro
8F Gateway Tower 2, Limketkai Center, C.M. Recto Avenue
Cagayan de Oro City
PRO CARAGA – Butuan
Lynzee's Building, 766 J. Rosales Avenue,
Butuan City
PRO XI – Davao
Valgosons Building Bolton Extension
Poblacion, Davao City
PRO XII – Koronadal
CSA I Building Cor. Zulueta Street, General Santos Drive
Koronadal City
PRO ARMM – Marawi
Kouzbary Business Complex, Alibin Talib Street, New Capitol HTs,
Marawi Poblacion, Marawi City
PhilHealth Member Contribution
For Employees
The new rate is 3.00% for 2020 of your Monthly Basic Salary. The lowest premium is Php 300.00 which will be shared 50:50 by your employer and you. So for example, your salary will be deducted Php 150.00 for PhilHealth membership contribution while the other Php 150.00 is paid by the employer.
There has been a new table for the year 2020. Check the table from PhilHealth Website: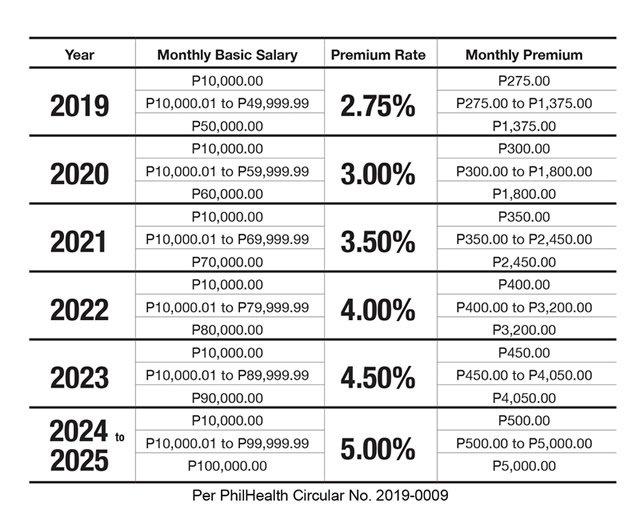 For Individually Paying Members
Monthly income of Php 10,000 and below – Php 300 monthly or Php 3,600 per year

Monthly income of Php 60,000 and above – Php 1,800 monthly or Php 21,600 per year
PhilHealth Contributions Deadline
Monthly – Until last day working day of the month e.g. January 31 (January)

Quarter – Until last day working day of the quarter e.g. March 31 (January – March)

Semi-annual – Until last day working day of the first quarter of the semester e.g. March 31 (January – June)

Annual – Until last day working day of the first quarter of the year e.g. March 31 (January – December)
PhilHealth Collecting Partners
As per PhilHealth Website, you can pay at these places for your PhilHealth member contribution:
Over-the-counter Collection in the Philippines
Asia United Bank Corporation

Bank of Commerce

Bank One Savings & Trust Corporation

Camalig Bank Inc. (A Rural Bank)

Century Rural Bank, Inc.

Century Savings Bank Corporation

China Banking Corporation

China Bank Savings, Inc.

CIS Bayad Center, Inc.

Citystate Savings Bank, Inc.

Development Bank of the Philippines.

East West Rural Bank, Inc.

Land Bank of the Philippines

Local Government Units (selected LGUs only)

Maybank Philippines, Inc.

Money Mall Rural Bank, Inc.

One Network Bank, Inc. (A Rural Bank)

Overseas Filipino Bank, Inc., (formerly Philippine Postal Savings Bank)

Penbank, Inc. (A Private Development Bank)

Philippine Business Bank, Inc.

Philippine Veterans Bank

RCBC Savings Bank, Inc.

Rizal Commercial Banking Corporation

Robinsons Bank Corporation

Rural Bank of Bambang (N.V.), Inc.

Rural Bank of Jose Panganiban (CN), Inc.

Rural Bank of Sta. Catalina (NO), Inc.

Saviour Rural Bank, Inc.

SM Retail, Inc.

UCPB Savings Bank

Union Bank of the Philippines

United Coconut Planters Bank
Over-the-counter Collection outside the Philippines
Bank of Commerce

CIS Bayad Center

Development Bank of the Philippines

iRemit, Inc.

Ventaja International Corporation
Online Payment
Bank of the Philippine Islands (via Bizlink)

Citibank N.A. (via Citiconnect)

Land Bank of the Philippines (via EPS)

Security Bank Corporation (via Digibanker)

Union Bank of the Philippines (via OneHUB)

BancNet Inc.(via e-Gov facility)
Online PhilHealth Membership Record
Register your PhilHealth Account
1. Go to this link and fill in your information.
2. If you have successfully registered, please check your e-mail to activate your account.
3. Check your e-mail. Click the link to activate your account.
You will be given a temporary password to use.
Check your PhilHealth Record
1. Go to this link
Log-in using your PIN and the password sent in your e-mail.

2. Click on what you would want to know – your record, your contributions or your MDR
Being a member of PhilHealth is easy! You can do it online. You can process less than an hour at a PhilHealth office. You can do it outside the Philippines, too! The contributions are also cheaper compared to other health insurance.
The minimum is only Php 1,800.00 per year if you are an employee. It's Php 3,600 if you are an individual payer. However, you could save more than that if someone gets sick. But, I always prefer no one gets sick or admitted to the hospital. In case of emergencies, this is very helpful. It's really worth it to have a PhilHealth membership!

Are you on Pinterest? Pin these!