7 Awesome Things to Do in Perth, Australia @amandakendle
Perth is the capital city of Western Australia, and it's usually called the most isolated city in the world – it's a two-day drive to the next proper city. But I think that's probably why it's one of the most beautiful places in the world because if it were right around the corner from you, you would have moved here for our perfect weather and amazing beaches and it would be totally overcrowded!
Just the same, I highly recommend coming for a visit some day, and here are seven awesome things to do while you're exploring Perth.
1. Grab a snack in Perth's laneways
Downtown Perth has been revitalized hugely over the last few years, and as someone who grew up here, I can barely recognize it these days – but in a good way! When I was a kid, I would avoid the dark, dingy laneways but now they are places to dive into happily and explore.
You can find amazing laneway artwork and murals now and also all kinds of small bars, restaurants, and cafes.
One of my favorites is Toastface Grillah which specializes in not-so-humble toasted sandwiches. If you're not from Australia, then you have to try the Vegemite and cheese version so you can say you've tasted our favorite salty toast spread.
2. Spend a day at a Perth beach
If you're in Perth in summer, then a day at one of our beaches is basically compulsory. I've traveled to many parts of the world and seen lots of beaches which people have told me are the most beautiful in the world, but I still think Perth beaches are easily among the best. The sand is always white, the beaches wide, the water clean and a lot of the time there'll be hardly any other people there.
There are dozens of perfect beaches to choose from but if you're using public transport then heading to somewhere like Cottesloe Beach or Sorrento Beach at the Hillarys Marina is going to be easier; if you have a rental car then just head west to the coast and stop wherever takes your fancy.
3. Go to prison in Fremantle
The Fremantle Prison in Perth's port town, was still in use when I was a kid, but now it's a major tourist attraction and one that offers some really unique ways to learn its history. I've been terrified (in a fun way!) on the evening torchlight tour which features ghost stories and more, but my favorite is the tunnels tour, where you climb beneath the prison and can ride boats in tunnels prisoners dug under the prison (for water, not to escape!). The prison has won heaps of tourism awards and for really good reason, because after probably a dozen experiences there with various visitors I still want to go back.
4. Learn thousands of years of history with indigenous tours
Properly recognizing the indigenous heritage we're lucky to have here in Australia has taken a lot of time, but we're slowly getting there, and hanging out with someone like Walter from Go Cultural tours will enlighten you in ways that no museum exhibition ever can.
Walter runs walking tours at Perth's new Elizabeth Quay on the foreshore and what fascinated me most was his description of various nearby parts of Perth before white settlers came, and how his ancestors used them for rituals and ceremonies throughout the seasons.
5. Eat in the State Buildings
An abandoned government building has recently been turned into the most amazing set of restaurants and bars at the State Buildings, right in the center of town.
You can't really pick a bad spot to eat or drink there, but if you're coming from abroad, I'd recommend Wildflower, which has a menu including lots of local foods like Marron, kangaroo, and quandongs, to name a few.
6. Spot a quokka on Rottnest Island
Less than an hour's ferry ride from Perth, Rottnest Island is great for a day trip (and perfect for a few days' stay!). It's always been the place Perth people go for a holiday, but it's now popular with tourists too, and many of them are on the hunt for the small animal that lives only there the quokka.
We usually describe it as a cross between a rat and a kangaroo, but they are much cuter than that sounds!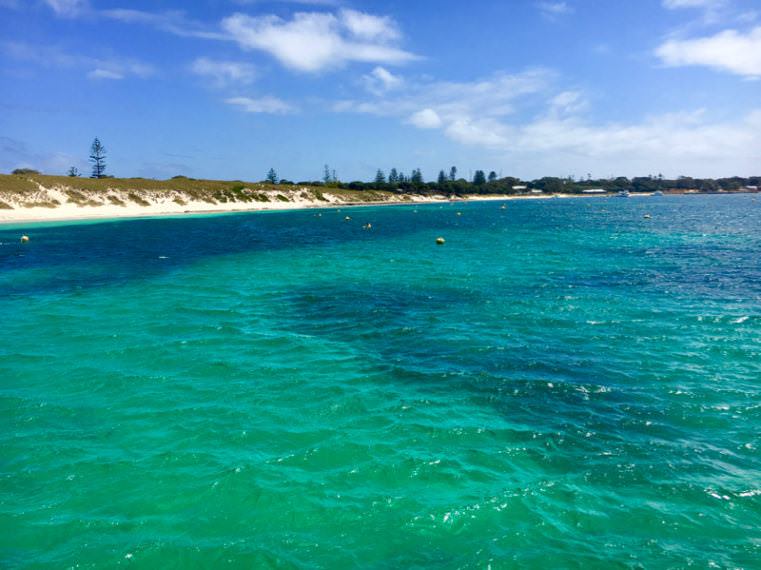 Rottnest Island is a relaxed, car-free place and the best way to explore it is to hire a bicycle for the day, ride around the island and stop in at the beaches for a swim or snorkel along the way.
7. Explore Northbridge's small bars
Most of the nightlife of Perth still centers on Northbridge, the suburb immediately across the railway tracks from the central business district – railway tracks they are planning to put underground soon which will make exploring Perth a whole heap easier.
Northbridge has a Chinatown district, lots of pubs and nightclubs and a growing number of boutique bars and other interesting places to stop for a drink. Go for a random stroll or join a tour like the small bars walking tour run by local specialists Two Feet and a Heartbeat who always know the best spots of the moment.
8. Find accommodation in Perth, Australia

Where to stay in Perth, Australia
Best Budget Hotel in Perth, Australia – Sullivan's Hotel
Sullivans Hotel Perth is located at the edge of Kings Park, just 200 m from the Kings Park War Memorial. Perth Convention and Exhibition Centre is a 15-minute walk away.
Sullivans Hotel offers boutique accommodation with a flat-screen TV. Guests have access to an outdoor swimming pool and a bar. Free WiFi is available on the ground floor, restaurant and bar areas. All air-conditioned rooms include a refrigerator and tea and coffee making facilities. Some rooms also feature a private balcony with views of the city and the park.
Sullivans Café is opened for breakfast, lunch and dinner every day offering a variety of Australian, European and Asian cuisines. The bar serves a range of beers, wines, and spirits and a wide selection of tea is also available.
Best Mid-Range Hotel in Perth, Australia – Alex Hotel
Located in Perth CBD, Alex Hotel Perth is a 10-minute walk from Hay Street Shopping Area and a 10-minute drive from Kings Park and Botanic Garden. Perth Airport is a 20-minute drive away.
Alex Hotel boasts free WiFi and an onsite bar and restaurant. Guests can enjoy a drink and relax on the rooftop terrace, which offers beautiful views of the city.
All rooms are air-conditioned and feature city views. Some offer a balcony. All rooms feature a flat-screen TV and a bathroom with free toiletries.
Best Luxury Hotel in Perth, Australia – Crown Perth
Situated on the banks of the Swan River overlooking the Perth city skyline, Crown Metropol Perth offers modern and stylish accommodation within a 15 minutes' drive from Perth's International and Domestic Airports. Perth city center is a 5-minute drive away.
Each spacious guest room features natural light, high-tech entertainment facilities, plush furnishings, a large executive desk area and large private bathrooms.
Guests have access to the resort-style pool area, 24-hour casino, and a theater. The selection of world-class restaurants and bars includes Neil Perry's Rockpool Bar and Grill.

About the Writer
Amanda Kendle is an Australian-based travel blogger who has lived in Japan, Slovakia, and Germany and traveled to over 40 countries. She counts crossing Russia on the Trans-Siberian, backpacking around Tunisia and taking her young son to Iceland amongst her favorite trips. Her travel blog at NotABallerina.com has been published since 2005, and she also runs The Thoughtful Travel Podcast, interviewing fellow travel lovers about the favorite travel tales they tell, why everyone should travel and what benefits we get from exploring the globe.
Social Media: 
Facebook: NotABallerina
Instagram: @amandakendle
Twitter: @amandakendle

Are you on Pinterest? Pin these!