5 Reasons Why You Should Eat At Fogo De Chao In Manhattan
Great things are coming for our little family and with us making 'the big move' to Europe, we decided to do quick stopovers in various countries to meet my relatives whom I haven't seen in a long time– one of which is my uncle who is now based in New York.
We landed in New York JFK Airport early in the morning after a three-hour flight from Ponce, Puerto Rico. We had successfully completed the first leg of our relocation from our sailboat in the Caribbean to our new home in Europe; a journey that would last several weeks and take us through six different countries. We wouldn't usually think twice about a trip like this, as we've traveled further in less time than this in the past, but this journey was a little different because we were traveling with everything we had accumulated in two years of boat life, plus our two cats!
There was no way we were going to attempt any part of this mission using public transport, as many of our other adventures – we needed a car! Luckily we had been able to arrange a small SUV for the whole of our time in New York and New Jersey, a 2019 Mitsubishi Outlander. Frankly, this was one of the very few times that I had almost zero interest in what kind of power, styling, accessories, or even driving capability our car had, all of which I'm usually very interested in. This time, we had only one requirement – 7 check-in suitcases, 4 carry-on bags, and two travel-weary cats!
Despite my initial reservations about the size of this quite petit SUV, the Outlander's rear seats folded flat to the floor and the massive pile of luggage was swallowed whole, with room to spare. I even managed to keep my view out of the rear view mirror! With the ease of fitting everything we owned inside, it was easy to enjoy the drive to New Jersey, where we would be staying for a week before flying to Germany.
One of the reasons why we also wanted to go to New York is to try Fogo de Chão Brazilian Steakhouse on 53rd Street for lunch and to celebrate "Mother's Day" since I'm a crazy cat meowmy now!! Hahaha ?? You might remember that we loved the Fogo de Chao Churrascaria Steakhouse in Puerto Rico and decided to check out their much bigger sister-ship restaurant in Manhattan! It is so good and here's why we think you should try it too if you are taking a trip through Manhattan 🙂
1) They practice the Gaucho Way of preparing meat
The heart of this restaurant is their chefs who are trained in the centuries-old grilling tradition of churrasco, respecting the quality of ingredients by cooking them slow and exposing their natural flavors. Churrasco is a style of roasting meat over wood fires developed in southern Brazil in the early 1800s, and the verdict? It's the tastiest, juiciest, melt-in-your-mouth kind of meat that we have ever tried in our entire lives.
2) It's Fogo's flagship store
We all have a thing about flagship stores, don't we? Just think about how tourists are dying to bring home an expensive bag straight out from the Hermes flagship store in Paris. Haha. I think the same goes for the Fogo de Chão Brazilian Steakhouse. We have tried their Churrascaria Steakhouse in Puerto Rico (which is amazing) but we wanted to really wine and dine at their flagship store. We were awed by how massive and intricate its interior is, housed in a 3-story and 16,000 square foot location right in Manhattan. The stunning architectural design also includes a 17-foot bas-relief sculpture of Antonio Caringi's "O lacador", a historical monument in Porto Alegre, Brazil.
3) You can have an out-of-this-world full churrasco experience!!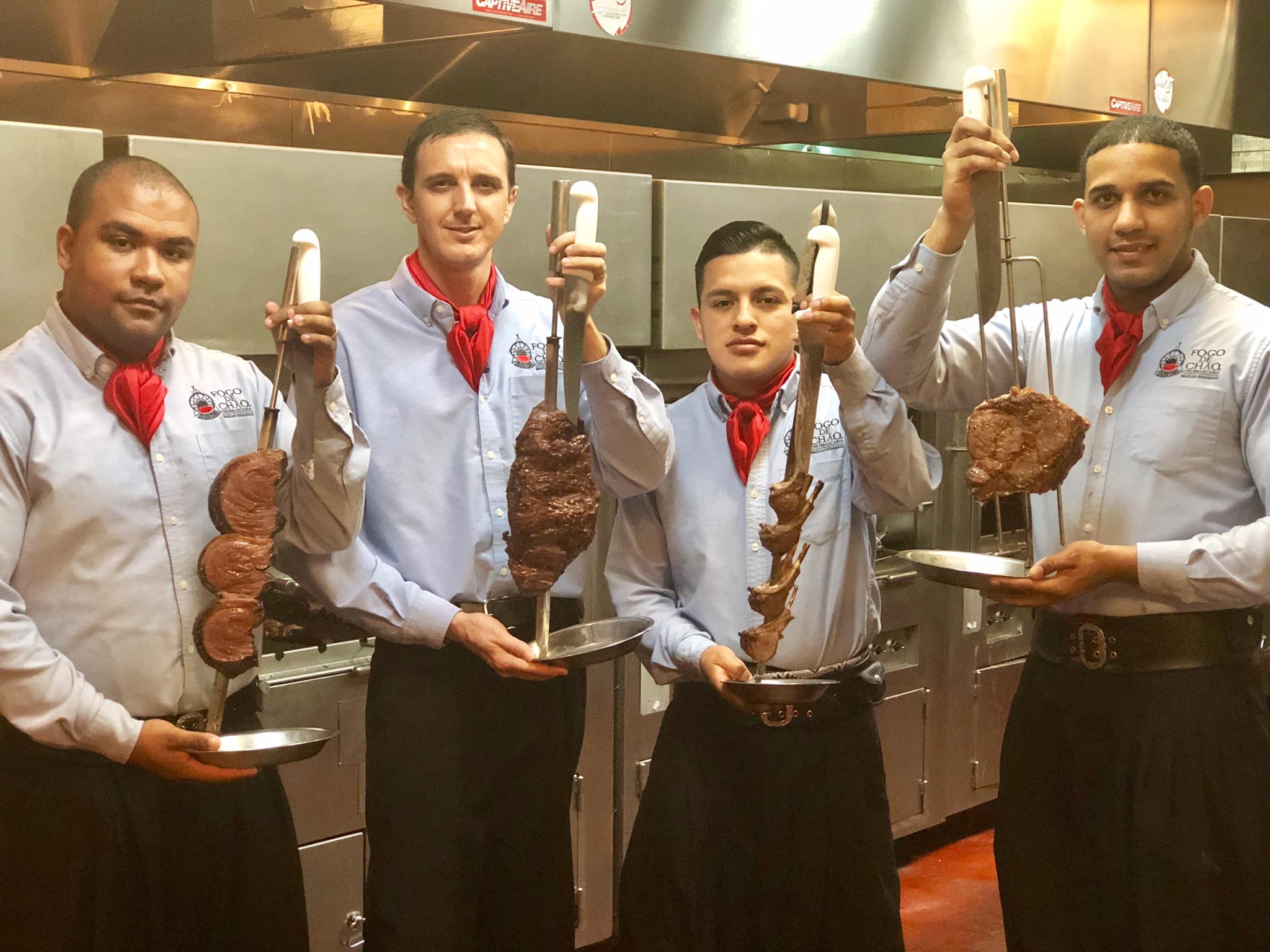 One of the highlights of our visit is their full meat table experience which includes continual service of their fire-roasted meats carved tableside by Brazilian trained gaucho chefs, including house specialities like Picanha (signature sirloin), Filet Mignon, Ribeye, Fraldinha (Brazilian sirloin) Cordeiro (lamb) and more. You'll start this wonderful experience at the gourmet Market Table & Feijoada Bar which features seasonal salads, fresh vegetables, feijoada (traditional black bean stew served over rice), soups and more. In addition to the main dishes, you can enjoy a variety of traditional Brazilian side dishes such as the world famous pão de queijo (warm cheese bread) served tableside. The best part is you can come back as often as you like!
Our favorite: The Top Sirloin and Ribeye Steak and their Dry Aged Tomahawk Steak. YUM!!!
4)  They also have a seafood and salad bar
If you want your meal light and tasty, then feel free to select their fresh seafood options such as Smoked Salmon, Chilled Lobster, and Shrimp Appetizer, Mango Chilean Sea Bass, Pan-seared Salmon, Jumbo Shrimp Cocktail and Garlic Shrimp. It is deli-seaious!!
5) And everybody's favorite – they have a HAPPY HOUR!!!
It's good to pair your meat or seafood with their delectable wines and spirits, but going there just for drinks is also a brilliant idea. Visit Bar Fogo from 4:30-6:30 and enjoy the lovely ambience with a $4 Brazilian Bites, $8 Brazilian Inspired Cocktails, $6 South American Wines, and $4 Brazilian Beer. This is such a good deal for Manhattan! 🙂
This wine and dine experience we had here is definitely one for the books. It was an amazing way to treat Meowther's Day and it's a good way to celebrate Jon's first time in New York (yes, it's his first time!). More than the delicious food, the very fancy yet chilled ambiance, and the marvelous interior of this flagship store, one thing we especially loved most about this is how customers are treated very nicely. Everyone in the crew was very warm and all the chef, waiters, and even the guards are friendly! Many many thanks to Jessica and Chris for making sure we have a great experience!
TWO (HUNGRY) MONKEYS SAILING SCORE FOR THIS RESTAURANT: 5/5

Are you on Pinterest? Pin these!