Our Experience Staying In Copamarina Beach Resort & Spa In Guanica, Puerto Rico
After living in the Dominican Republic for quite some time as we fixed things in the sailboat, we continued our adventure and sailed to Puerto Rico. Our first stop was in La Parguera located in the South where we got to see one of the Bioluminescent Bays in the world and we continued our adventures to Guanica.
For this stopover, we were extremely lucky to be welcomed by Copamarina Beach Resort & Spa in Guanica, South of Puerto Rico– a tropical hideaway located on a half-mile beach amidst 20 acres of luscious gardens.
This is one of our best stopovers yet, thanks to the impeccable service of all the staff here who made us feel like home. Here's our review of this lovely beachfront property.
THE ROOMS AT COPAMARINA BEACH RESORT & SPA
We stayed in the beautiful Deluxe Ocean View Room, a 25 sq. m. cozy room complete with a Shower & toilet, Safe, TV with cable channels, Telephone, Air conditioning, Refrigerator, Desk, Sitting area, Free toiletries, and a Sofa.
What we especially love about this room is how luxurious it is yet it never failed to give us the ample coziness and the coastal vibes everyone is looking for in an ocean view property. The comfortable king size bed and the shower is heaven sent especially after a few days of sailing! Our favorite is the private patio which gave us the sweetest view of the sunrise and sunset.
Other rooms you can book are the Deluxe Room and the Deluxe Double Room with Seaview. You can always ask for two separate queen size beds in either of the rooms and whatever you'll end up booking, you'll get the same perks as we had! 🙂
THE RESTAURANTS AT COPAMARINA BEACH RESORT & SPA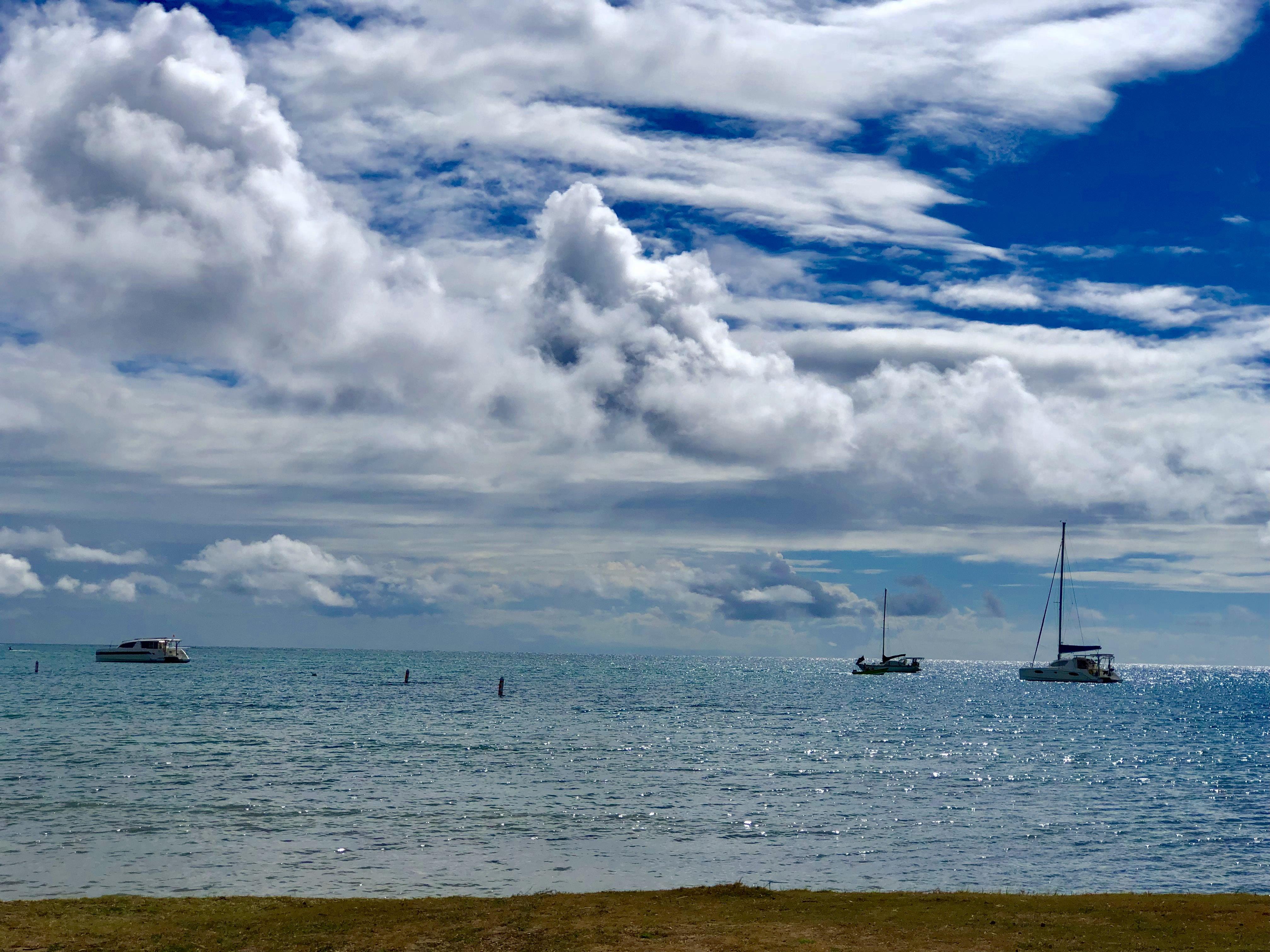 The food they serve at their restaurants is surely a must try when you visit the South of Puerto Rico. It is truly a gem to find a unique farm-to-table dining experience which serves extremely delicious food made out of the freshest ingredients. Not only is it yummy, but it's also very healthy too!
P.S. Everything is aesthetically pleasing you might want to stare at it for a while and take photos before you eat it! :p
Las Palmas Cafe-

If you want some cocktails or good old beer paired with some delicious appetizers in a relaxed atmosphere capped off with a majestic view of the sunset, then this restaurant is the place to be! Enjoy hearty meals from breakfast, lunch, and dinner. Watch out for their happy hour too! 🙂
Restaurante Alexandra-

If you fancy dressing up a little and you want to spice up your night with some glamour, then head on to Restaurante Alexandra and be mesmerized by its elegant interior with some cozy sea view. A fancy night wouldn't be complete without savoring a contemporary Puerto Rican cuisine prepared by their internationally acclaimed chef paired with a glass of excellent wine.
Check this out for seasonal happenings– Mondays wouldn't be the same once you get to experience their 'Stuffed Homemade Burgers O'clock'. Tuesdays are for 'Arepas Rellenas' and Fridays are for 'Seafood Extravaganza'. YUM! Whatever day of the week it is, I'm sure they have something special in store for you!
FACILITIES AT THE COPAMARINA BEACH RESORT & SPA
2 Swimming Pools and 2 Jacuzzis-

After a non-stop sailing, dipping in one of their pools and jacuzzis is our little luxury. I don't know how long Jon and I stayed here but we definitely had a good time as we had freshly made yummy cocktails on the side.
NI Spa-

For a total mind, body, and soul rejuvenation, treat yourself with a massage from NI Spa. Jon and I had a massage by the beach and it was amazing!! Right after, we jumped right into their outdoor rain shower and sauna– and this is something we have to take advantage of as we can't get it easily while we're out on the ocean! :p
Fitness Centre-

Keep in shape and go for a quick workout in this fitness centre. Trust me, it doesn't smell like sweat at all!
AREA GUIDE: WHAT TO DO AROUND COPAMARINA BEACH RESORT & SPA IN GUANICA, PUERTO RICO
Copamarina Beach Resort & Spa is centrally located it seriously is like a gateway for all the attractions around Guanica. Here are some of them:
Kayak through the mangroves of Gilligan Island-

Officially known as Cayo Aurora, this is a tiny island which happens to be a part of the Biosphere Reserve of Guanica. I was actually supposed to go diving but the weather didn't cooperate so we ended up here. No regrets because it's beautiful place to spend the day!
Take advantage of the daily hotel activities-

It's always summer in Copamarina Beach Resort and there's always something going on at the resort the whole day. Enjoy watching or even playing a Soccer, Pingpong, or Basketball game and Kite Flying. For the kids and the kids at heart, join the Water Ring Game, Color Search, Sand Castle Competition, and a whole lot more.

Relax by the beach-

One of our favorite places in this resort is this beach where the colors of the sky change gloriously at the peak of the sunset. Grab your mat, your sunblock, and probably and marvel at the beauty of how a day ends (or begins).
Walk through the sunflower fields at Finca El Girasol-

Just a 20-minute drive from the property is this very instagrammable sunflower farm. The best time to go is on weekdays where farmers sell their fresh produce.

Visit the Bioluminescent Bay-

One of the top attractions here is this bio bay which will make the inner child in you gleam with joy. During the night, kayak through the mangrove forest and through the bay, dip your hands in the water and watch the planktons glow. It wouldn't also hurt to stop for a while and watch the stars shining above you.
Hike up to Fuerte Capron-

Less than a 10-minute drive from the property is the trailhead to Fuerte Capron, a Spanish fortress considered as a UNESCO Biosphere Reserve. Hike for 10 kilometers and be rewarded with the view of the Caribbean Sea.

Treat yourself a little!-

Whether you're coming here alone or with a special someone, it wouldn't hurt to treat yourself to a massage at their NI Spa and a romantic 3-course exquisite dinner by the beach. We did both and it was instantly the highlight of our stay. There's nothing better than a rejuvenated mind and body as well as a happy tummy 🙂
FAQS:
1) How much are the room rates at Copamarina Beach Resort & Spa?
You may check out the rates at the Hotel's Website, Booking.com or Hotels.com.
2) What is the check-in and check-out time?
3 P.M. and 12 P.M. respectively.
3) Are children welcome?
Definitely! In fact, 2 children under 12 years old get to stay for free when they use existing beds. One child under 2 years old gets to stay for free when using a crib.
4) Are pets allowed?
Nope.
5) Do they have promos?
Yes. Check out this link to see some of their special treats!
6) Do they refund fees in case of cancellation?
They do but you have to cancel 72 hours before arrival. Cancellations made less than 72 hours before arrival will incur a fee equivalent to a one-night charge plus taxes.
Are you on Pinterest? Pin these!