List of The Best Beaches in Mindanao, Philippines
Mindanao is the least traveled part of the Philippines; this is due to news on terrorist attacks, possible combats, and kidnaps for ransom where tourists and missionaries are usually involved. Even Filipinos like me are a bit wary of this part of the country. However, we are mostly wrong. With much military presence in Mindanao, it has been safer than Luzon or Visayas.
Mindanao is indeed a treasure of the Philippines, but not only is it famous because of the Philippine Eagle, the luscious forests and mountains but also we are proud of their beautiful beaches. With over 7,000 islands in the Philippines, Mindanao is the biggest and also has tiny islands nearby, and with islands comes breathtaking beautiful beaches.
We have summarized the best beaches in Mindanao for you. There are countless resorts as well as beaches offering you salty clear waters, the sun, and the shade, but we have listed the top 10. When you are on vacation in the Philippines, make sure to come at least one of these beaches.
On the island that is called "Island born of fire," is an uninhabited beach of the White Island. Its fine, white sand and crystal-clear seawater canopied by the blue sky makes it one of the best beaches in Mindanao. The ambiance will hypnotize you to enjoy every striking wave to the seashore. The last trip to the island is at 4:30 pm as the tides changed, but the best time to go there is during sunset because it's undeniably breathtaking.
Suggested Hotel: Guerrera Rice Paddy Villas
Unlike most beaches in this list, the scenic rocks at Magpupungko Beach make the place look cooler. There are many fees you need to pay when going there, but it's worth it. Cliff dive on pools filled with luminous, cold water. You can also swim all you can as you explore several little coves above and under the surface. Good timing applies here as it is best to visit the place during low tide. This is undeniably one of the best beaches in Mindanao.
Suggested Hotel: Villa Margarita's Homestay
Are you tired of white beaches? Well, Zamboanga, particularly Great Santa Cruz Island has a pink one. Its unique color makes it one of the best beaches in Mindanao. The pink is because of the red organ pipe corals that were pulverized and mixed with the white sand. It's quite popular, so you better book a slot; however, the place is stunning, and you can see corals onshore or snorkel to see them too and maybe some stingless jellyfish.
Suggested Hotel: Hotel Primera
A lot may fear this place, but when you brave this adventure, you will find a hidden treasure. Malamawi Beach is a hidden sanctuary and one of the best beaches in Mindanao. Get to see the calmness of the ocean and fascinating landscape where they can take limitless Instagram-worthy photos. No need to worry about photobombers because the area is less populated. It's unexploited and truly a gem.
Suggested Hotel: Sophia Hotel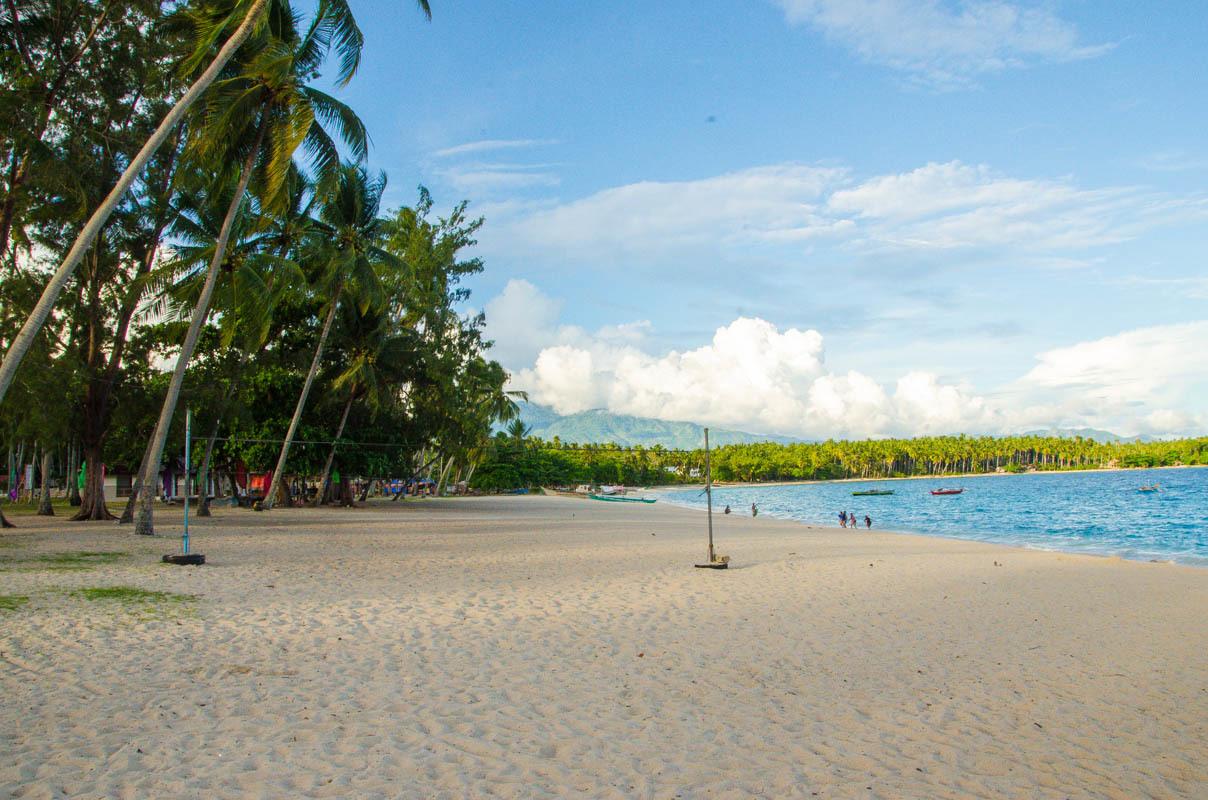 Want to try surfing? Well, Dahican Beach is where to go. It's a long public beach with palms everywhere. It's super clean, and you will love how smooth the sand is. There are high waves, so support local and get taught how to surf there. With clear blue waters, a long stretch of sand, you can surely find a spot for yourself. If you are lucky, you can see turtles hatching. Relax and have fun in one of the best beaches in Mindanao.
Suggested Hotel: Legends Dormitel
Gumasa Beach is the Boracay of Mindanao. It's powdery, talc-like white sand is comparable with what's in Boracay. It's a tranquil beach and one of the best beaches in Mindanao. Aside from the fascinating view, you get to savor the bragged, fresh tuna of the locals as they are known as the "Tuna Capital of the Philippines". It's paradise on earth.
Suggested Hotel: Shangri-La Restobar
An escape from the crowded cities is in Canibad Beach in Samal Island. It's pretty far from the city center and not advisable to elders as the way down is steep. You could try cliff jumping or enjoy a walk on the talc-like sand while hearing the calming waves of the ocean. Bring money as there are an entrance fee and food as well as no restaurant is by the beach. However, this is one of the best beaches in Mindanao, offering you a serene place. You will find comfort and peace in Canibad.
Suggested Hotel: Canibad Point Resort
Right in front of the Pacific Ocean is a scenic Island, San Victor Island, one of the best beaches in Davao. Not does it only have white sand and pristine waters, but a rich marine life. The Diocese of Mati maintains it as it also has a Catholic Chapel on the beach. Come here and enjoy swimming and seafood with your friends and family. It will be a fantastic vacation.
Suggested Hotel: Slapen Chillen
Another beach, unlike any other; not the usual white sand, but there are amazing rocks or pebbles on the beach. With smooth stones and a great view of the sunset, this is what you call one of the best beaches in the Philippines. It's very accessible so that you can come easily with family and friends. There are also restaurants nearby so you can have a great experience.
Suggested Hotel: Native Garden Apartelle
The water is not that blue, and the sand isn't as white as the other beaches, but still, Banana Beach is one of the best beaches in Mindanao. With luscious trees and a plantation nearby, you'll get more than a dip in the sea. There's a jungle path when you can see monkeys and lizards as well as hanging bridges. This is undoubtedly a different adventure from a typical beach outing that you wouldn't want to miss.
Suggested Hotel: Hijo Resorts
The best time to come to Mindanao, or the Philippines, is during dry or summer season; December to May. So book your trips and pack your bags, especially your swimwear, and go have fun under the sun on the best beaches in Mindanao. You will honestly say that these places are heaven on earth.

Are you on Pinterest? Pin these!