10 Reasons Why Almeria In South of Spain Is Worth A Visit
There's more to life to Spain than its famous cities like Barcelona, Seville, and Granada and that is the reason why I'm here taking the road less traveled by visiting Almeria. Is Almeria worth a visit? I think so because I'm pretty sure this is going to be another tourist hotspot in no time.
The Andalucian Region is an autonomous community of modern Spain blessed with a good weather all-year round. While the rest of Europe is freezing in the winter, the Andalucia Region, especially Almeria, boasts the sun even in the middle of winter, its warmth, and the sea. For someone who's been based in a sailboat, this is a relief for me! Here's what I've loved about Almeria and here are 10 Reasons Why I Think It's Worth A Visit!

1. It's named as the "Gastronomic Capital of Spain" for 2019
Famed for its "unique and exceptional culinary offer that combines land and sea," Almeria was hailed as the Gastronomic Capital of Spain for 2019 and I absolutely agree. This is my 4th time in Spain and the food in Almeria gave me something like a love at first bite. Apparently, this City is one of the top suppliers of agricultural products in Europe to the point that 3 families in Europe regularly consume their local produce.
Now I know what makes their food special– the flavors create a burst of a fresh aroma right onto your taste buds. It's very tasty, yet not overpowering. Just like good music, it's a perfect balance of all the right notes. A must-try is their Seafood Paella and of course, their Spanish Tapas!
Suggested Tour: Almeria Like a Local: Customized Private Tour
2. Most restaurants offer "Free Tapas"
It's nice to drink but it's even better if you get some legit Spanish Tapas on the side for free. Don't we all agree on this one? Order a bottle of beer, a glass of wine, or even a bottle of cola from restaurants in this city and you'll be surprised with what comes alongside with it.
3. The Cabo de Gata – Níjar Natural Park is a haven for nature lovers
From its picturesque landscapes, sleepy fishing villages, rugged cliff, vast rock formations, and secluded beaches, this Natural Park is truly a paradise. This is the largest coastal protected area in the Andalucia Region and is home to 1,000 species of fauna, most of the birds.
Prepare for a scenic drive along the coast as you get here and brace yourselves for activities such as swimming, beach bumming, hiking, and visiting attractions like fishing villages, lagoons, and the famous lighthouse where you'll get to see a birds-eye-view of the park.  
Suggested Tour: Boat Tour to 5 Coves
4. It's perfect for adventure seekers!
Hiking, caving, horseback riding, sailing, 4×4 excursions, name it and they got it! We were only here for 4 days and Cámara de Comercio de Almería made sure our itinerary was jam-packed with activities fit to keep the adrenaline rushing. We went to Cuevas de Sorbas (the largest gypsum crystal cave in Europe) where we hiked, crawled, and walked for 2 hours! You can even visit more parts of the cave if you're really into it!
If you want to know more about the things you can do around Almeria, check out Esfera Celeste, Paseos Veleros Almerimar, Malcaminos, Caboteando, NaveGata, Xplora Almeria, Imagine Luxury Tours and Zonaktiva.
5. It is cheaper than the nearby Andalucian Cities of Malaga and Alicante
It is not uncommon for touristic places to be a "tourist trap" where everything comes with a high price. Malaga and Alicante are Almeria's neighboring cities in the Andalucian Region and because it is more frequented by tourists, expect it to be more expensive.
For drinks with free tapas, you can have it for as low as 2 Euros, depending on the place. Your 20 Euros could already take you to a fancy restaurant. Yum!
6. It is the biggest desert in Europe which makes it a Prime Film Location for Hollywood Movies and TV Series
Thanks to its vast desert, Almeria had been a hotspot for filming locations of various International Films since the 1940s. Among which are Never Say Never Again, Doctor Who, Indiana Jones, and The Last Crusade, as well as several episodes of Game of Thrones (which is my favorite!).
Head on to Fort Bravo and enjoy a spectacle of live shows which are snippets from the movie Indiana Jones which was filmed exactly in this place. You'll surely feel as if you're starring in the movie as you tour the set in a horse-drawn carriage!
Suggested Tour: Day Trip to Western Theme Park Fort Bravo
7. They have a rich history and perfect weather
As per Wikipedia, Almería enjoys about 3000 hours of sunshine with over 320 sunny days per year on average making it one of the sunniest cities in Europe. They also have the warmest winters in any city in the European Continent. Wow!
Considering this, no matter what time of the year you're visiting, you'll always have the will to head on to Alcazaba Fortress built on the 10th Century where you can stumble upon old courtyards and gardens, the Cathedral of the Incarnation of Almería which is a sight from the outside through the inside, the Almeria Museum which is very engaging, and the Museo Refugio de la Guerra Civil which will take you back into those haunting days during the war.
Suggested Tour: Legends and Mysteries Evening Walking Tour
8. There are fresh vegetables and fruits everywhere!
This is my favorite! Almeria is an Agricultural City and if you've been reading well, they are one of the top suppliers of agricultural products in Europe to the point that 3 families in Europe regularly consume their local produce. YUM! They even have the World Tomato Festival to pay homage to their staple produce– fresh and yummy tomatoes!
They are also the largest producer of fruits in Europe so can you just imagine how fresh and how cheap it is? I'll leave it up to you to taste and see!
9. They have warm beaches, beautiful villages and small towns waiting to be explored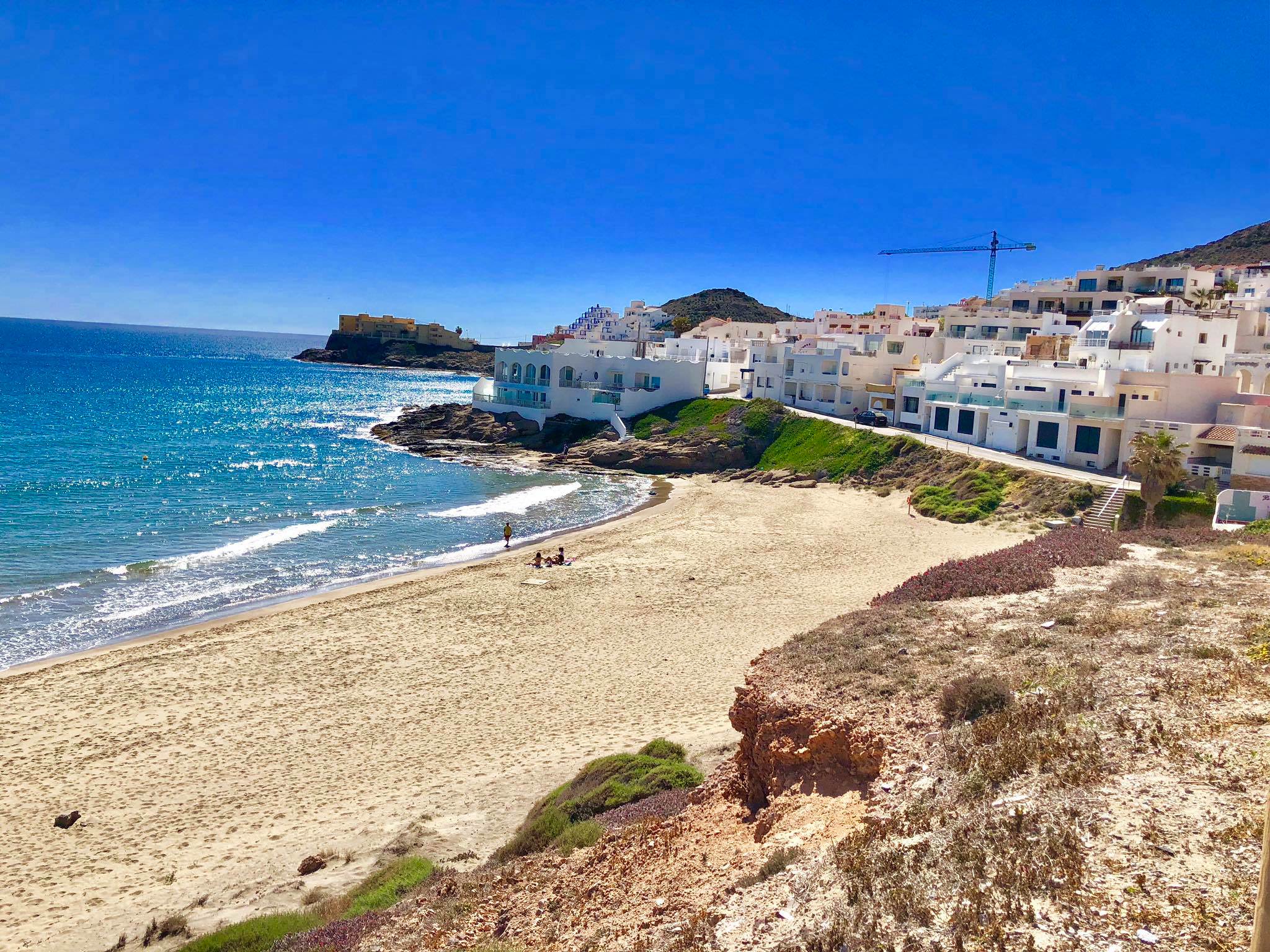 Walk along the calles alongside small and huge Spanish cazas, explore plazas, stumble upon small pueblos, go to secluded playas, and see old iglesias when you visit Almeria. Among the towns and pueblos waiting to be explored are Almerimar, El Ejido, Lubrin, Cabo de Gata, San Jose, Agua Marga, and Isleta, among many others.
10. They have beautiful boutique hotels, international brand hotels, self-catering apartments, and luxury villas– all for an affordable price.
Hotels can be insanely expensive in European Cities especially in touristic places. This is what I love about towns still waiting to be explored because for the same price as an ordinary hotel in Paris, you can get a nice self-catering apartment or even a luxury hotel! Here are some of my favorites:
The Best Time To Visit Almeria, Spain
Because it's sunny all year long, I bet you can go for a visit any time of the year! June to September are the warmest months reaching up to 30 degrees Celsius so if you're after some sunshine, it's the best time to go!
How To Get To Almeria
Fly To Almeria Airport-

There is an airport in Almeria which is only 30 minutes away from the City Center. However, there are no direct flights as of the moment and flights usually stop at Madrid or Barcelona.  I think this is the best option!

Fly to Malaga Airport- If you want to have a direct flight, then Malaga Airport is the best option for you. From there, you can either rent a car and drive for 2 hours or take the bus which would roughly be around 4 hours.
Fly to Alicante Airport- From here, you can rent a car and drive for more or less 3 hours to Almeria.

Are you on Pinterest? Pin these!